RV Texas Y'all Podcast Episode 017
Listen Here!
Audio: RV Texas Y'all Podcast, Ep 17
Published June 4, 2022
If you cannot see the audio player just above this sentence, click on this link to play the episode.
In This Episode
We were RVers for many years before we attended our first RV rally. We had no idea what to expect from a rally, that there were different kinds and sizes of rallies or if an RV rally was worth the time and money. We attended our first RV rally in 2019 and have participated in many since. We have come to really enjoy RV rallies and always look forward to experiencing new rally groups.
In this episode, we discuss the different rallies we have attended, the benefits of each and what types of rallies we plan to sign up for in the future.
Mentioned In This Episode
FMCA (Family Motor Coach Association)
AIM Club (All Inclusive Motorhome Club)
Newmar Kountry Klub (Newmar Owners' Club)
Blanco State Park Visitors' Guide
Subscribe to the RV Texas Y'all Podcast!
Like what you hear? Subscribe to us on your favorite podcast network including: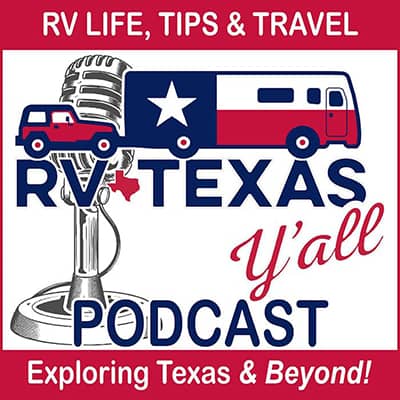 - Audible
- Deezer
- Pandora
- Spotify
- Stitcher
- TuneIn
If you enjoy our podcast, please leave us a review in your favorite podcast app and share our episodes with your friends and family!
Of course, you can always listen to any of our episodes right here on our website!
Subscribe to our Newsletter for weekly updates on new content and other interesting stuff!