RV Texas Y'all Podcast Episode 016
Listen Here!
Audio: RV Texas Y'all Podcast, Ep 16
Published May 20, 2022
If you cannot see the audio player just above this sentence, click on this link to play the episode.
In This Episode
We are honored to be joined again this week by our friends Brett Davis (Founder, CEO and President) and Angie Morell (National Director of Sales) from National Indoor RV Centers (NIRVC). Brett and Angie and their team recently returned from the Newmar Dealer Meetings getting a first look at the 2023 Newmar Motorhomes lineup. They share their experiences from the event and some of the new features that they are most excited about on the 2023 Newmar motorhomes.
We love our 2021 Newmar New Aire, but it's always fun to see the latest and greatest and what is new for the model year. We look forward to seeing the 2023 Newmars in person at the Newmar Kountry Klub International Rally this summer in Rock Springs, Wyoming.
We also look forward to seeing what's new with the 2023 American Coach Class A diesel motorhomes at the AIM Club rally in Branson, Missouri.
By the way, we mentioned that the NIRVC team installs Proteng fire suppression systems and Retroband tire safety systems at rallies. We documented their install of these products on our coach in our RV Upgrades for Safer Travel Video.
If you missed last week's podcast, we had a great time visiting with Brett and Angie about How Angie Became "Angie"!
And you can learn about our solar and lithium battery setup in our post about Our Extreme 48-Volt Solar and Lithium Battery System.
Mentioned In This Episode
National Indoor RV Centers (NIRVC)
AIM Club (All Inclusive Motorhome Club)
Newmar Kountry Klub (Newmar Owners' Club)
Watch Angie's Preview of the 2023 Newmar Motorhome Lineup
Video: Angie's 2023 Newmar Preview
Subscribe to the RV Texas Y'all Podcast!
Like what you hear? Subscribe to us on your favorite podcast network including: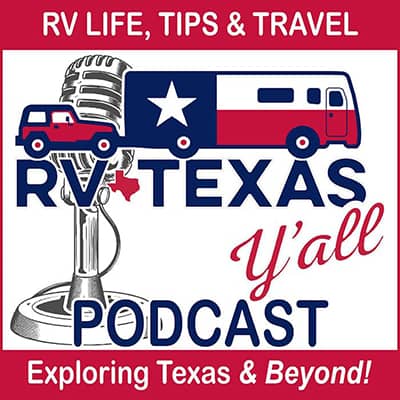 - Audible
- Deezer
- Pandora
- Spotify
- Stitcher
- TuneIn
If you enjoy our podcast, please leave us a review in your favorite podcast app and share our episodes with your friends and family!
Of course, you can always listen to any of our episodes right here on our website!
Subscribe to our Newsletter for weekly updates on new content and other interesting stuff!