RV Texas Y'all Podcast Episode 002
Listen Here!
Audio: RV Texas Y'all Podcast, Ep 2
Published January 23, 2021
If you cannot see the audio player just above this sentence, click on this link to play the episode.
In This Episode
In this episode, we share some tips for buying an RV and how the RV buying experience might be a bit different thanks to the Pandemic.
Our Texas Tidbit this week revolves around how the Texas State Parks got started.
And, we introduce a new segment: The ABCs of RVing. This week, Tom discusses the difference between 30 amps and 50 amps.
Mentioned In This Episode
Lake Corpus Christi State Park
Things to Think About When Buying an RV
National RV Training Academy (Tell them RV Texas Y'all sent you!)
30Amp to 50Amp Pigtail Adapter
50Amp to 30Amp Pigtail Adapter
Subscribe to the RV Texas Y'all Podcast!
Like what you hear? Subscribe to us on your favorite podcast network including: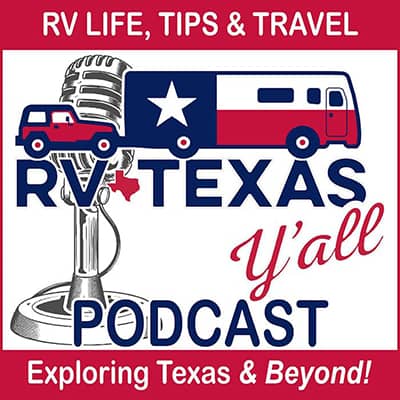 - Audible
- Breaker
- Castbox
- Deezer
- Spotify
- Spreaker
- Stitcher
- TuneIn
If you enjoy our podcast, please leave us a review in your favorite podcast app and share our episodes with your friends and family!
Of course, you can always listen to any of our episodes right here on our website!
Subscribe to our Newsletter for weekly updates on new content and other interesting stuff!