RV Texas Y'all Podcast Episode 009
Listen Here!
Audio: RV Texas Y'all Podcast, Ep 9
Published June 27, 2021
If you cannot see the audio player just above this sentence, click on this link to play the episode.
In This Episode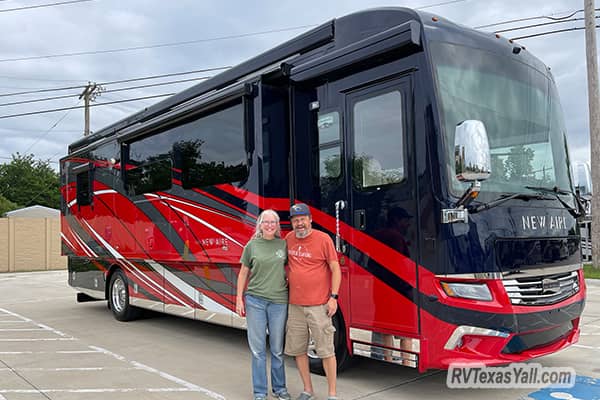 Picking Up Our New Aire!
Where the heck have we been?? LOL It's been a few weeks since our last podcast episode. Sorry about that! Life has been pretty crazy for us over the past several weeks. And we have a lot to catch you up on.
This week we're talking about what it was like changing RVs as a full-time RVer. It was definitely a challenge! (Especially since our Tiffin Breeze sold a full month before our Newmar New Aire was ready for us!) In this episode, we share how we met the challenge and what we did with all of our stuff while we were between RVs. Would we do it again?
We also talk a bit about where we are today, our recent RV road trip, what we're up to and what you can look forward to in the next podcast episode.
This week's Texas Tidbit: historic West Columbia, Texas.
And in the ABCs of RVing: G is for Grey Tank.
Mentioned In This Episode
West Columbia TX: Small Town, Big History
Our Sale Listing for Our Tiffin Breeze
How to Buy an RV in 2021 (With NIRVC's Angie)
Video: Our New Home: The Big Reveal!
Video: RV/MH Hall of Fame Museum Tour
National Indoor RV Center (NIRVC) Website
Subscribe to the RV Texas Y'all Podcast!
Like what you hear? Subscribe to us on your favorite podcast network including: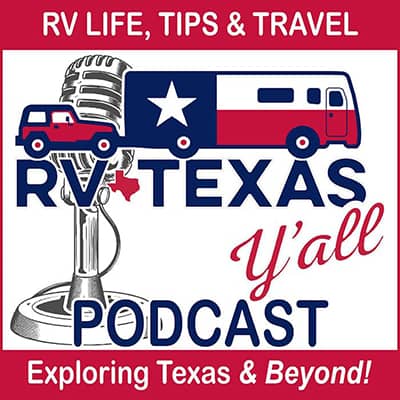 - Audible
- Breaker
- Deezer
- Pandora
- Spotify
- Stitcher
- TuneIn
If you enjoy our podcast, please leave us a review in your favorite podcast app and share our episodes with your friends and family!
Of course, you can always listen to any of our episodes right here on our website!
Subscribe to our Newsletter for weekly updates on new content and other interesting stuff!