RV Texas Y'all Podcast Episode 013
Listen Here!
Audio: RV Texas Y'all Podcast, Ep 13
Published November 9, 2021
If you cannot see the audio player just above this sentence, click on this link to play the episode.
In This Episode
One of our ongoing goals for years is to live a healthier life. Like many folks, we are always working to take steps to improve our health and hopefully gain active years of life together.
This week, we're sharing some of the steps we have taken over the years to be healthier. We thought that the process would become easier when we became full-time RVers, but that wasn't the case. We still have to work at it every day and make positive, healthy choices. Healthy living is an ongoing process for us and we are certainly not perfect. But in this episode, we talk about some of the healthy choices that work for us.
A Few Things We Forgot to Mention
We've all heard how important hydration is to healthy living, but it's not easy to drink the water you should when the water in the park smells, has deposits floating in it or leaves a ring around the glass. Our Travel Berkey has solved all of those issues for us. Since the spring of 2019 we have been using it to filter all of our drinking and cooking water no matter where we are... and our water is always perfect and easy to drink. So we drink a lot more of it than we used to. If you'd like more information on our experience with our Berkey, how we clean it and where we carry it as we travel, check out our post about How We Improve Our Drinking Water.
Some additional ways to be active on a budget: many RV parks have swimming pools and fitness centers, and some have pickleball courts. Use the amenities available to you in the parks that you visit.
Mentioned In This Episode
Video: Getting Our RV's Body Damage Repaired
Subscribe to the RV Texas Y'all Podcast!
Like what you hear? Subscribe to us on your favorite podcast network including: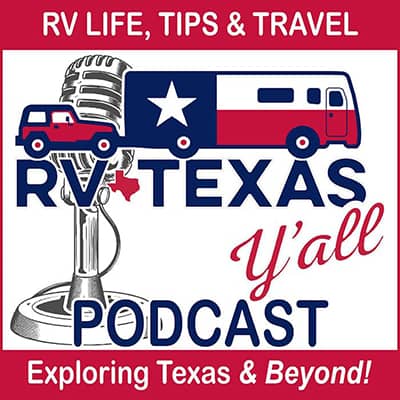 - Audible
- Breaker
- Deezer
- Pandora
- Spotify
- Stitcher
- TuneIn
If you enjoy our podcast, please leave us a review in your favorite podcast app and share our episodes with your friends and family!
Of course, you can always listen to any of our episodes right here on our website!
Subscribe to our Newsletter for weekly updates on new content and other interesting stuff!