RV Texas Y'all Podcast Episode 007
Listen Here!
Audio: RV Texas Y'all Podcast, Ep 7
Published March 24, 2021
If you cannot see the audio player just above this sentence, click on this link to play the episode.
In This Episode
In this episode, we share our recent experience at the FMCA Convention in Perry, Georgia. (FMCA stands for Family Motorcoach Association.) The organization welcomes all types of RVs, both motorized and towable. Each year they hold 2 big rallies, which they call conventions; one in the Spring and one in the Summer.
The Perry rally was our second big FMCA rally. We attended the FMCA convention in Minot, North Dakota in August 2019. We had a great time then and we had a great time in Perry.
We share what to expect from an FMCA rally, what we enjoy most, and tips for attending a big RV rally like an FMCA convention.
In our Texas Tidbit this week, we talk about Texas State Parks returning to "normal capacity". What does that really mean, are all parks completely open and fully operational right away, and what do we expect for the coming weeks?
And in the ABCs of RVing: E is for Egress!
Mentioned In This Episode
Learn More About FMCA and Save $10 On Membership
Video: Our First Big Rally: FMCA Convention in Minot, North Dakota 2019
Video: What It's Like To Attend a Big RV Rally
Video: Look Who We Found at the Minot FMCA Rally
Texas State Parks Return to Normal Capacity
Make Reservations for a Texas State Park
Subscribe to the RV Texas Y'all Podcast!
Like what you hear? Subscribe to us on your favorite podcast network including: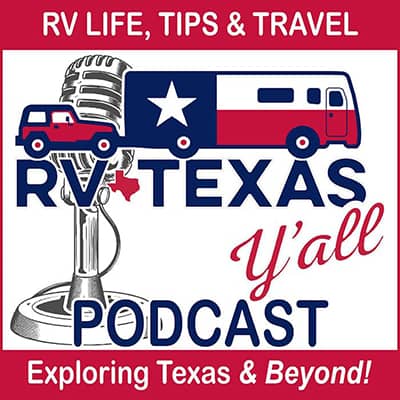 - Audible
- Breaker
- Deezer
- Pandora
- Spotify
- Stitcher
- TuneIn
If you enjoy our podcast, please leave us a review in your favorite podcast app and share our episodes with your friends and family!
Of course, you can always listen to any of our episodes right here on our website!
Subscribe to our Newsletter for weekly updates on new content and other interesting stuff!