RV Texas Y'all Podcast Episode 012
Listen Here!
Audio: RV Texas Y'all Podcast, Ep 12
Published October 28, 2021
If you cannot see the audio player just above this sentence, click on this link to play the episode.
In This Episode
If we have learned anything from our almost 3 complete years as full-time RVers, it is to embrace change.
Our plans change ALL the time and for a lot of different reasons. In this episode, we talk about some of those changes, what we've learned and why embracing change is just part of the adventure for RVers.
Mentioned In This Episode
Video: Visiting a Friend in North Carolina
Our 48 Volt Solar and Lithium System
Podcast Episode with Master Tech RV
Podcast Episode with Jason Mabie, the RV Headlight Guy
Subscribe to the RV Texas Y'all Podcast!
Like what you hear? Subscribe to us on your favorite podcast network including: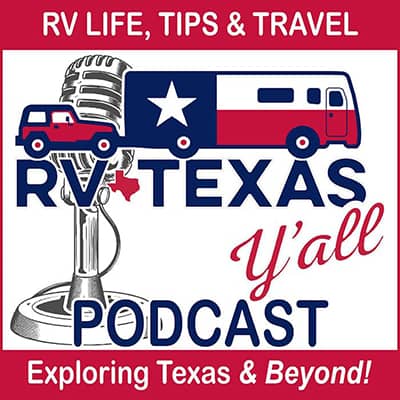 - Audible
- Breaker
- Deezer
- Pandora
- Spotify
- Stitcher
- TuneIn
If you enjoy our podcast, please leave us a review in your favorite podcast app and share our episodes with your friends and family!
Of course, you can always listen to any of our episodes right here on our website!
Subscribe to our Newsletter for weekly updates on new content and other interesting stuff!