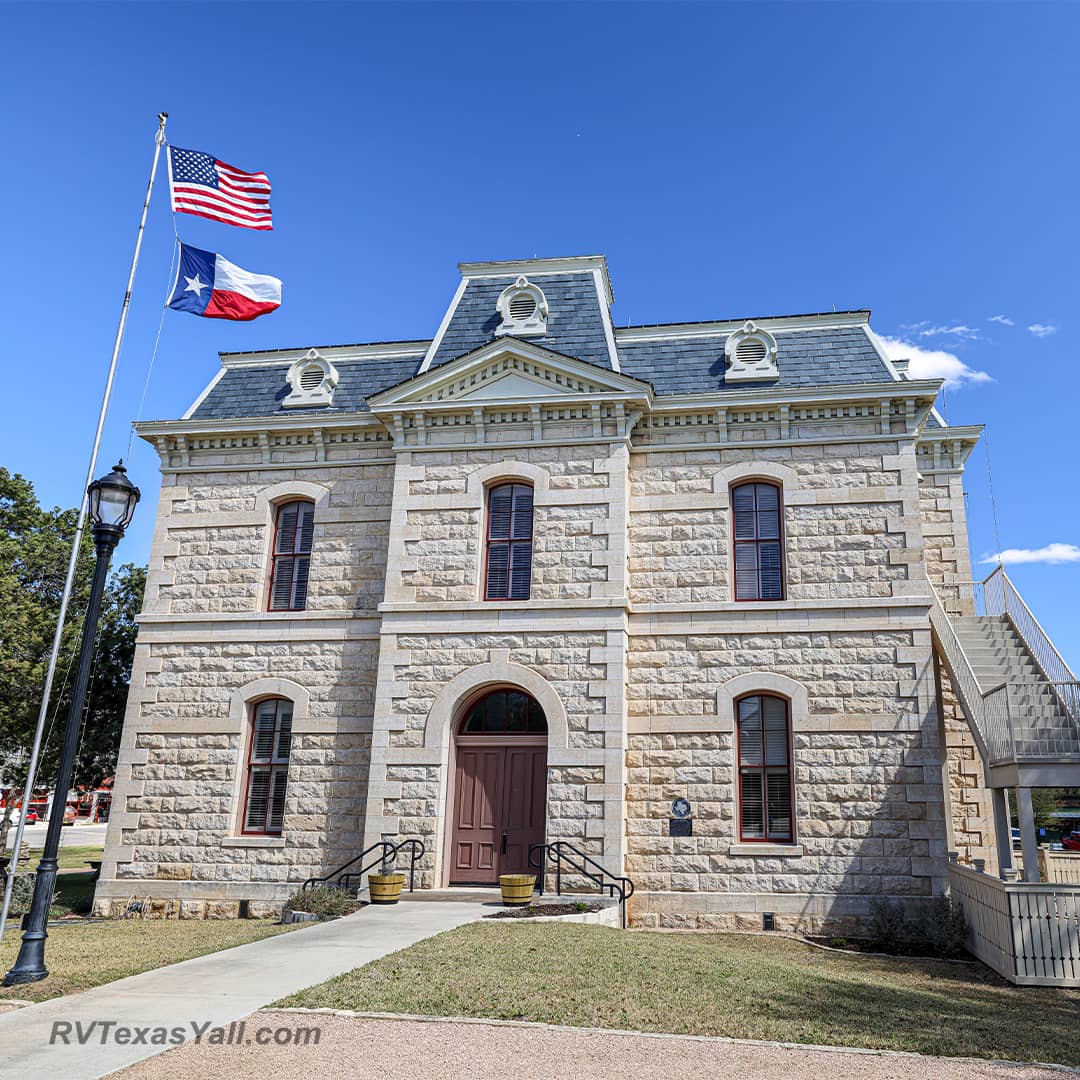 The Old Blanco County Courthouse
Blanco TX
Region: Texas Hill Country
Population of Blanco TX (2019): 2,071
In the stunningly beautiful Texas Hill Country on Highway 281, you'll find a thriving small town that offers a glimpse into history with tons of unique choices for outdoor recreation, dining, shopping and so much more. This is Blanco, Texas!
We first visited Blanco back in 2019 during a local Escapee's Rally that was meeting at an RV park between Blanco and Johnson City. We knew then that this was a town that we definitely needed to come back to and spend some time. So in March 2022 we made an easy drive straight up Highway 281 from Choke Canyon State Park, through San Antonio and into the Hill Country to spend an entire week exploring Blanco.
We quickly learned that a week isn't nearly enough to see and do everything here!
Watch Our Video On Our Visit To Blanco TX
Video: Visiting Blanco, Texas
18 Things To Do in Blanco, Texas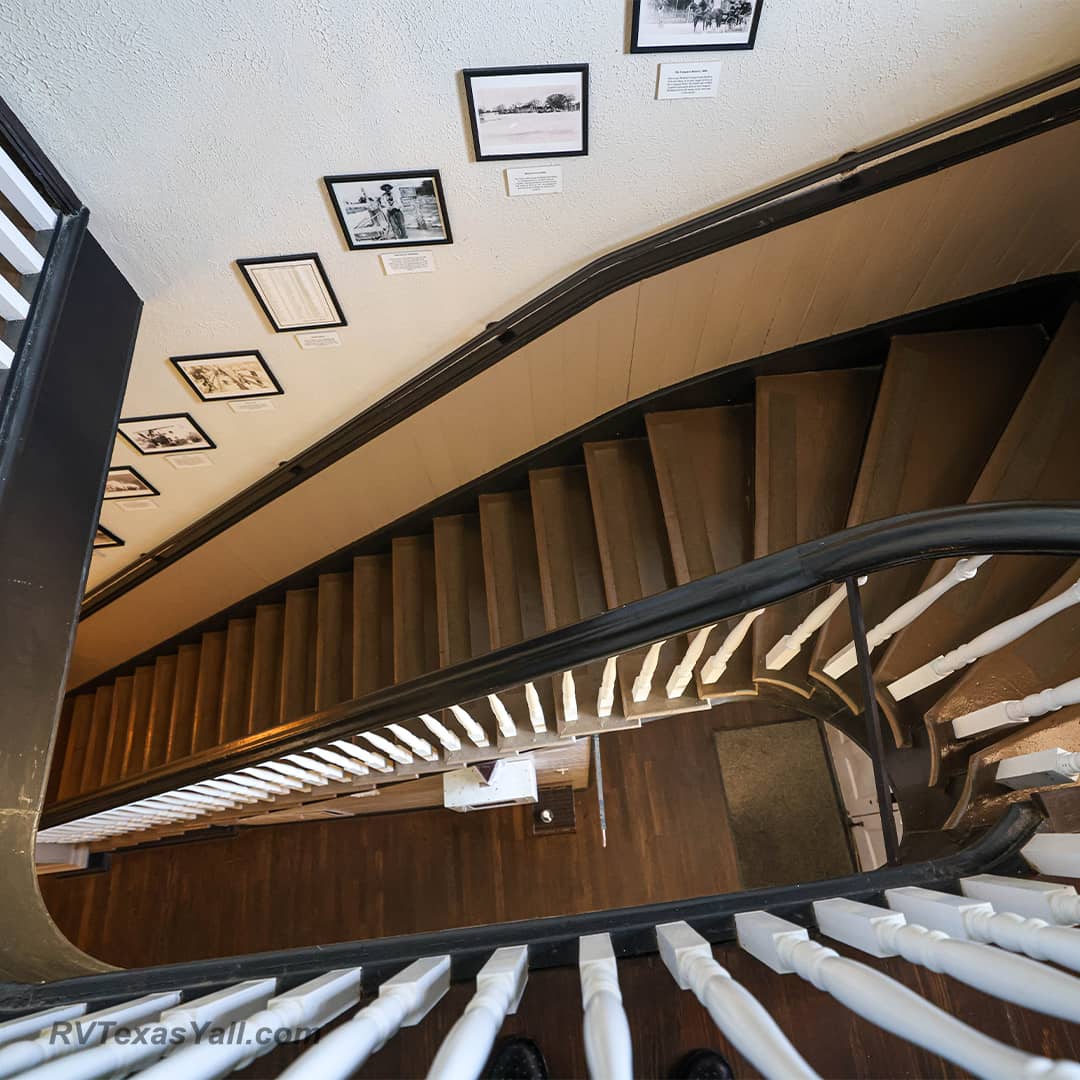 Courthouse Stairway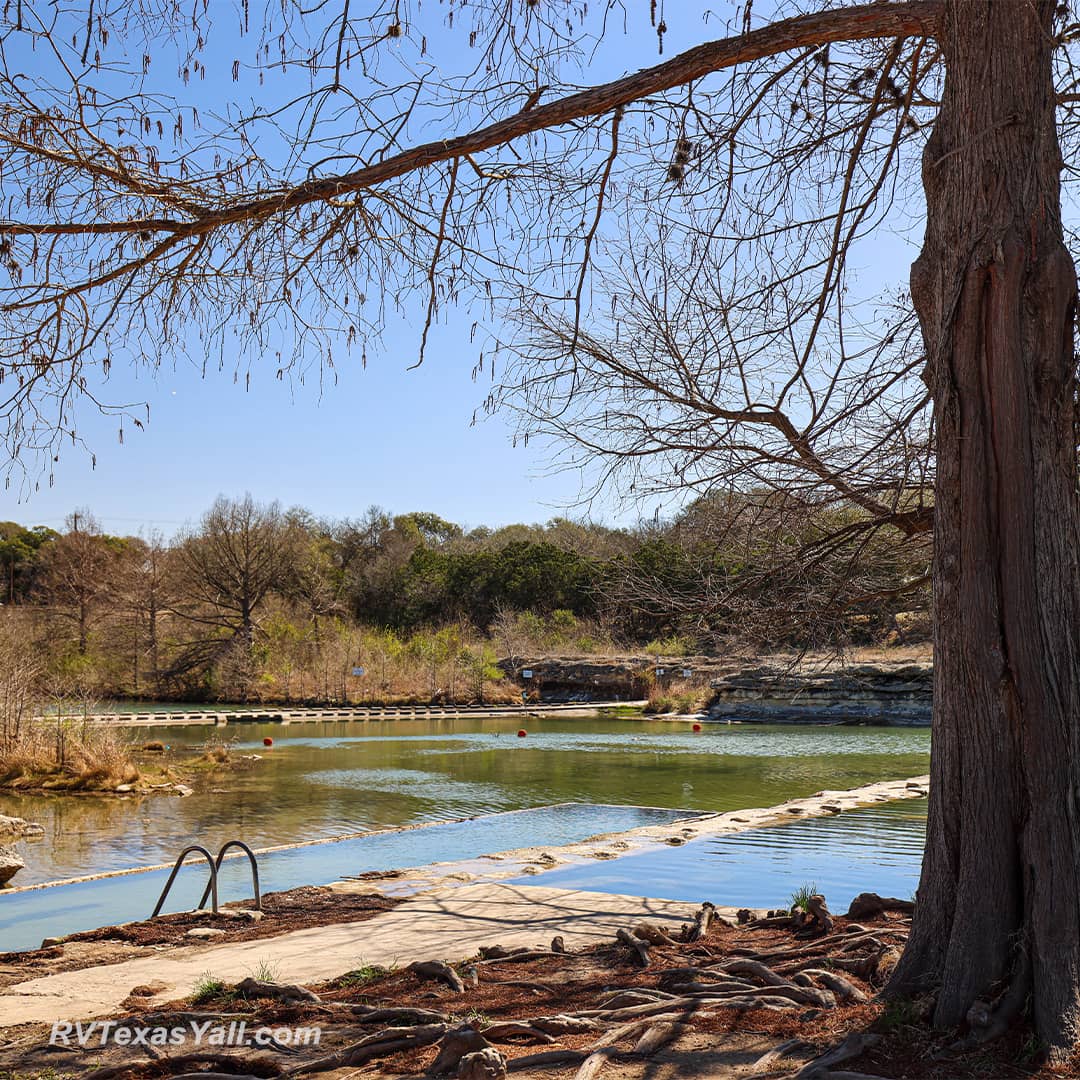 Blanco State Park
Old Blanco County Courthouse
Walk through history at the Old Blanco County Courthouse. Built between 1885 and 1886, this Blanco County Courthouse was only used as the county courthouse for 4 years! The Blanco County Seat was moved to Johnson City in 1890, which at that time was closer to the geographic center of Blanco County.
Over its life, the old courthouse in Blanco has been used as offices, a school, a hospital, the tax collection office, a bank, the home of the Blanco County News, a restaurant and a meeting place. Between 1971 and 1973, she was home to the Blanco Museum of the Early West. It was during this time that the courthouse was named a Texas Historic Landmark.
In 1986, a citizen bought the old courthouse with plans to take it apart, move it to his ranch and rebuild it as his private home. When the community heard these plans, the Old Blanco County Courthouse Preservation Society was formed to raise money to buy the building back, renovate it, and reopen it as a museum.
Today, the Old Blanco County Courthouse is free to tour. Donations are appreciated. It features an interesting photographic history of Blanco and Blanco County. Be sure to go upstairs to see the old courtroom.
The Blanco Chamber of Commerce is also housed here, making this a great first stop to learn more about what to do in the area.
Blanco State Park
Located right on the edge of town, you'll find one of the original Texas State Parks! Blanco State Park was built by the Civilian Conservation Corps (CCC) in 1933 and 1934. it was one of the first seven state parks in Texas.
Though this state park only stretches one mile from end to end, it is a nice place to take a hike, go for a swim, have a picnic, try your luck at fishing, or kayak or tube the beautiful Blanco River. This was our base camp during our visit to Blanco. The park has partial and full hookup sites for RVs and is within walking distance to Blanco's historic square and many of the restaurants and attractions. To learn more about Blanco State Park check out our Blanco State Park Visitors' Guide.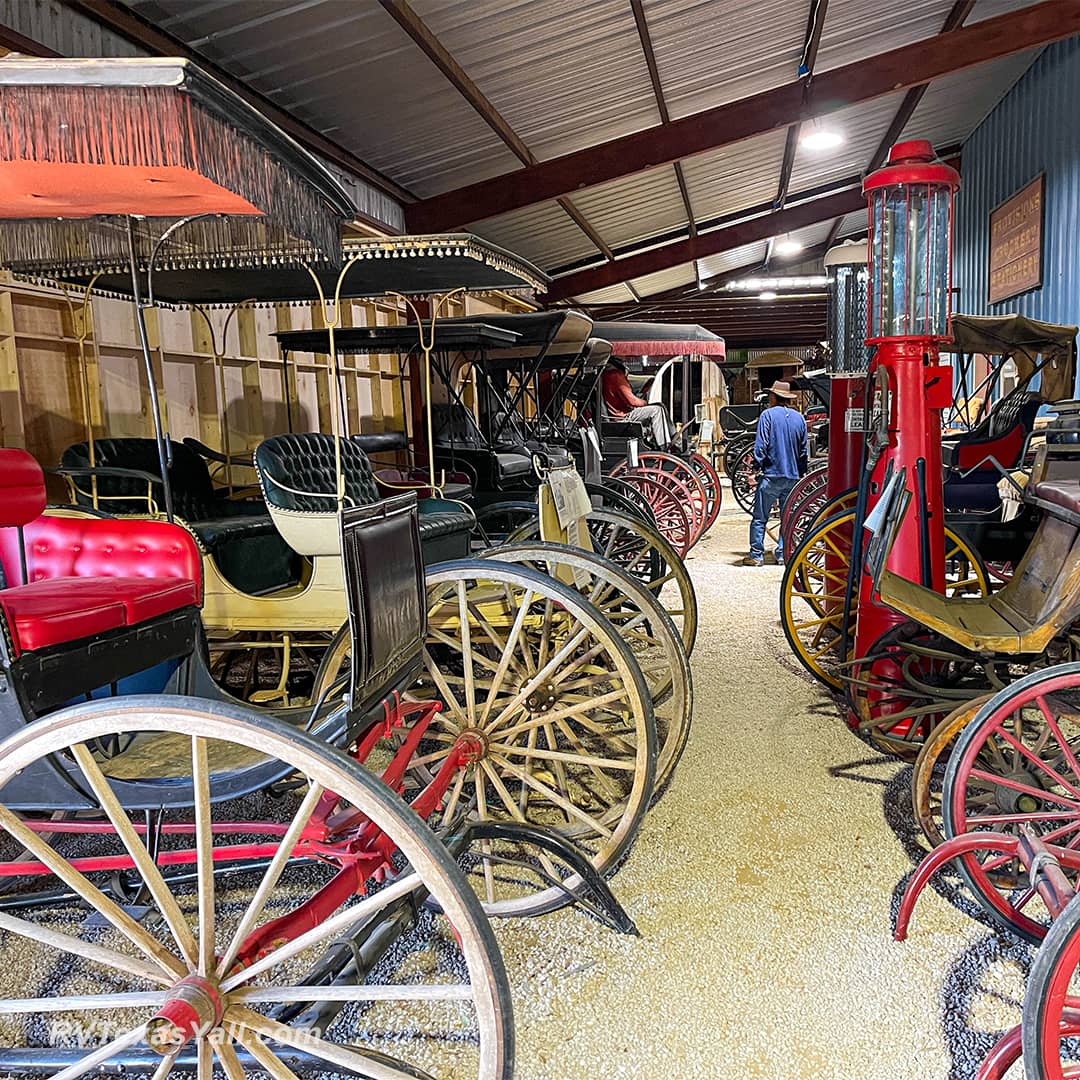 Buggy Barn Museum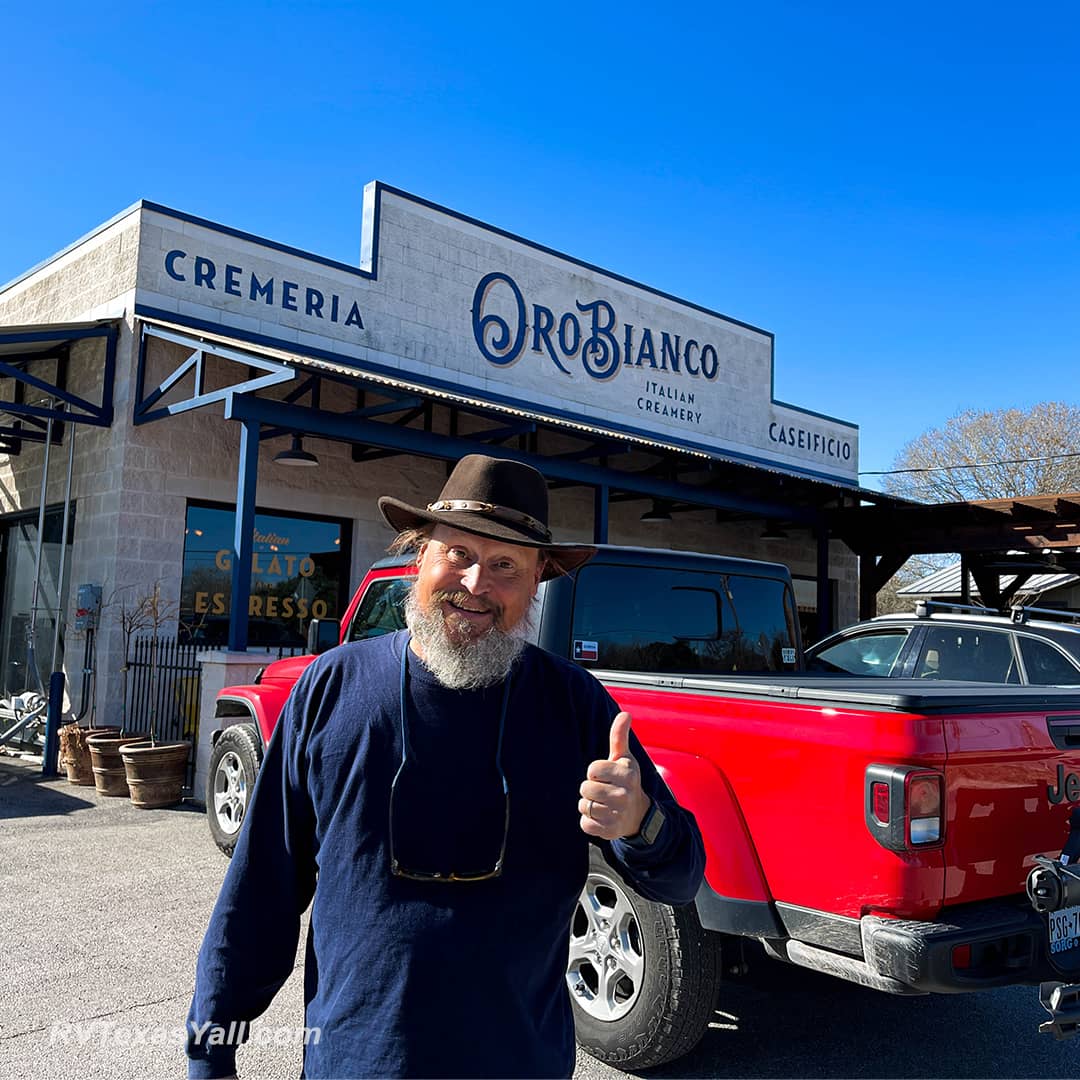 Oro Bianco Creamery
Buggy Barn Museum
One of the most unique collections that we've come across, the Blanco Buggy Barn Museum is home to more than 200 unique buggies, wagons, and carriages from all over the world! Most of their collection dates back to between 1860 and 1900. Some have been used in TV shows or movies including Dr Quinn Medicine Woman, the remake of True Grit, and Abraham Lincoln Vampire Hunter.
Besides seeing vintage buggies from all over the world, this property is also home to the Pine Moore Old West Studio. Walk the streets of an old west town complete with sheriff's office, church and hotel. Be sure to go upstairs to check out the building facades up close.
Oro Bianco Italian Creamery
For a truly unusual (and delicious) experience, stop in to Oro Bianco Italian Creamery to try their gelato hand-made here from 100% grass-fed Water Buffalo milk. Yes, you read that right... water buffalo milk!
Everything here is fresh! Their milk comes from their own herd in Floresville TX. They also raise their own ducks for eggs, make their own chocolate, grow their own herbs, and only use fresh fruit from local farmers.
If you've never tried small-batch gelato, this is the place to do so. Oh my goodness, we wish there was an Oro Bianco in every town we visit!
They also make their own cheese and soft sausage. Coffee and wine are also available.
Hill Country Lavender Farm
While it wasn't opened during our visit in March 2022, we visited Hill Country Lavender Farm during our visit to this area back in 2019. This is the first commercial lavender farm in Texas.
Each year, the season opens in late April and runs until August, with blooms beginning in late May and typically ending in early July. The farm is free to visit and walk amongst the 2,000 lavender plants. A store is on-site carrying all kinds of lavender products.
And by the way, it's worth noting that Blanco is the Lavender Capital of Texas!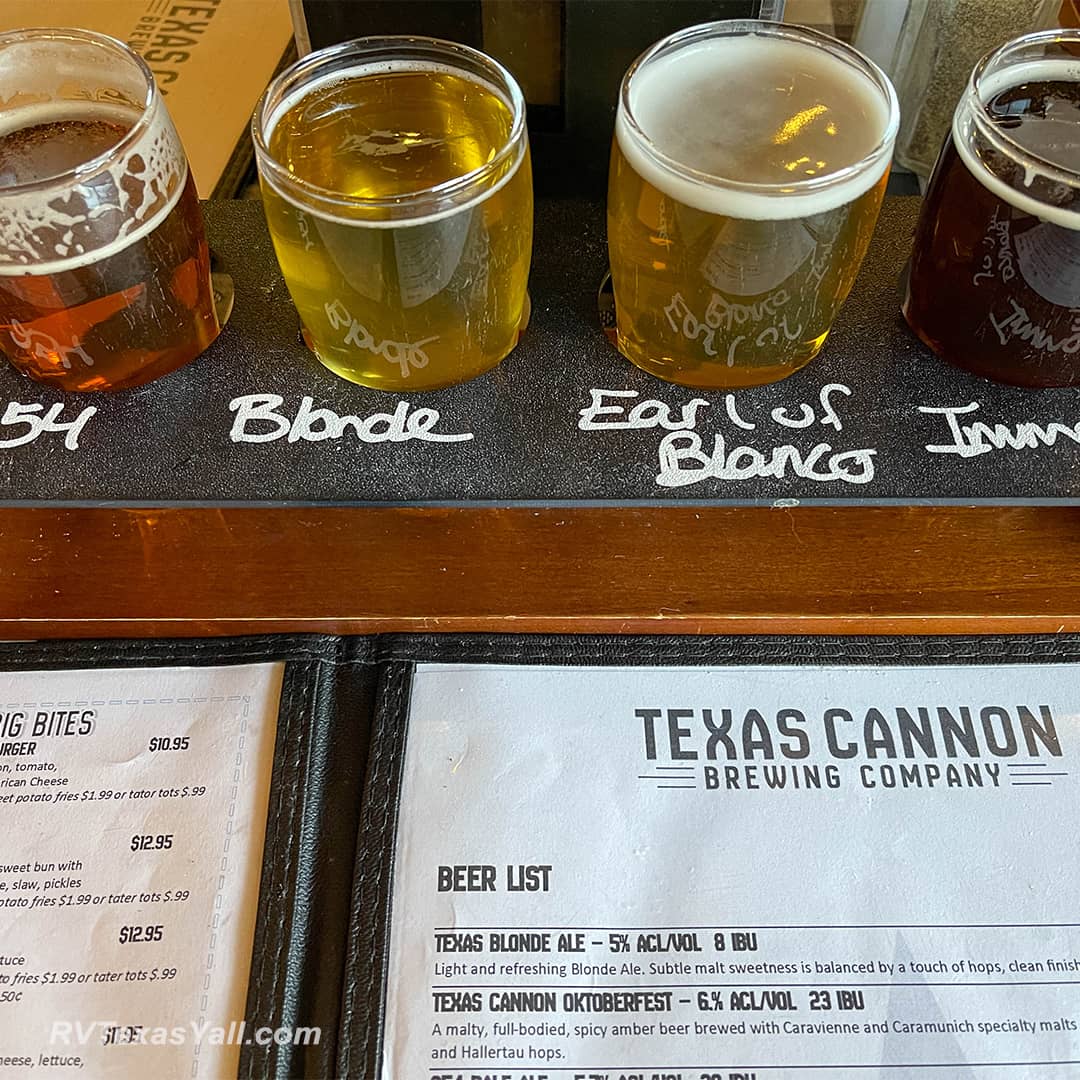 Texas Cannon Brewing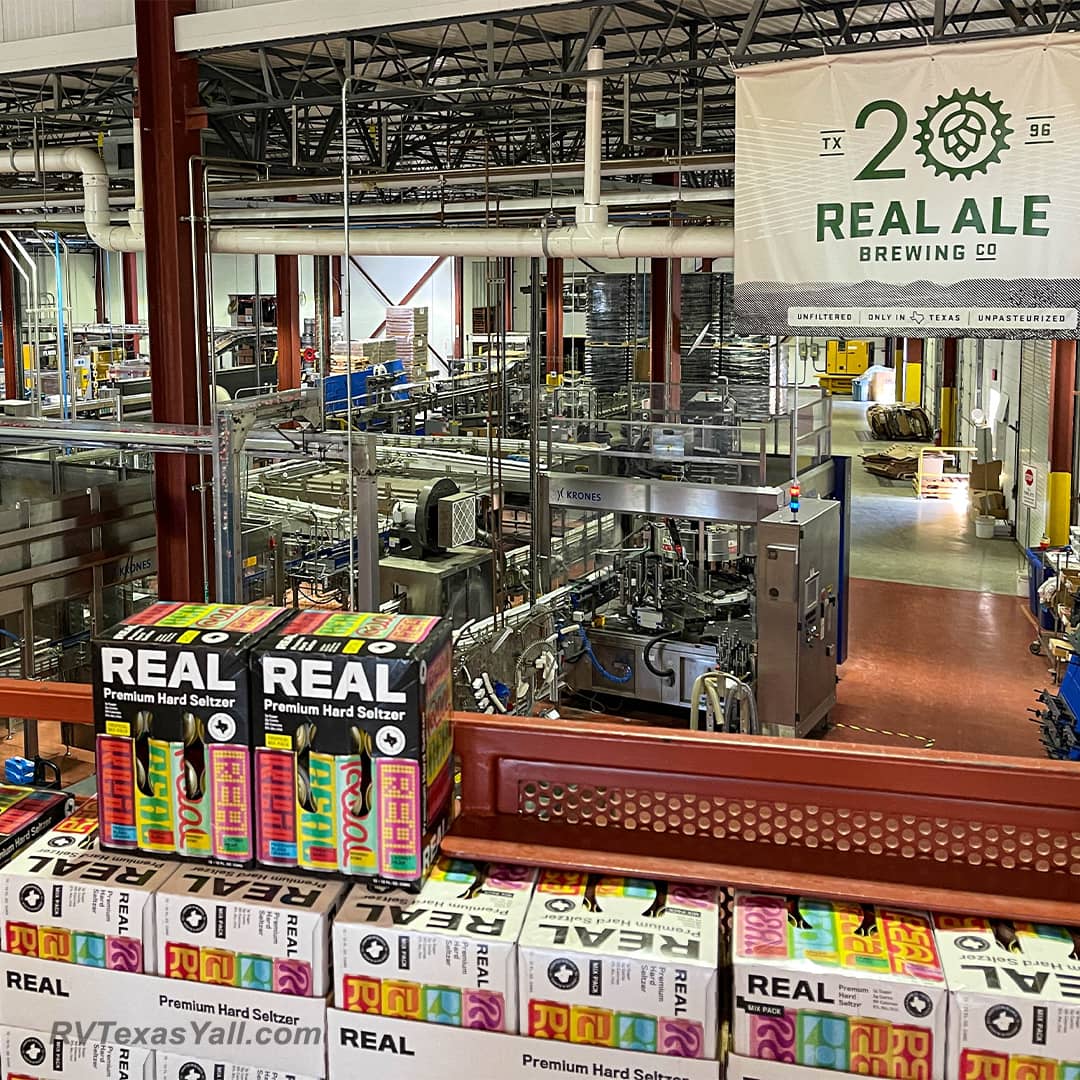 Real Ale Brewing
Attend a Local Festival
The Annual Blanco Lavender Festival is held each June in the Blanco town square with shuttles running to Hill Country Lavender Farm.
The Texas Marigold Festival happens in the courthouse square in October.
Go Shopping In The Blanco Town Square
The town square, centered by the Old Blanco County Courthouse, isn't just for festivals. Most of the historic buildings are currently being used by antique stores, restaurants and shops of all kinds. Spend some time strolling the sidewalks. You never know what you might find.
Real Ale Brewing Company
You may have seen their craft beer in Costco or your local liquor store, but there's nothing like enjoying it fresh at the brewery. Real Ale Brewing has grown a lot since their start here in 1996, and their facility today is pretty impressive. Enjoy a beautiful day amongst the trees in their beer garden or sit inside in the taproom and try something new. Be sure to check out the view of their brewhouse from the balcony next to the taproom.
And if gin or whiskey is more your thing, in 2017 they expanded into spirits with Real Spirits Distilling Company. You can find these in the taproom also.
Texas Cannon Brewing Company
That's right folks... the small town of Blanco, Texas is home to not one, but two quality craft breweries! Texas Cannon Brewing Company is a craft brewery and restaurant located just off of the town square. We enjoyed everything we had here. Great service, good food, friendly people and a good selection of craft beers. What more do you need?
Blanco Bowling Club
Unfortunately, we didn't get a chance to check this out during our recent visit to Blanco, but the Blanco Bowling Club is definitely on our list to visit next time. This is a rare 9-Pin Bowling Club. Yes... 9 pins.
Nine pin bowling is a German style of bowling that only exists in Texas. Started in 1948, the Blanco Bowling Club is one of only eleven remaining clubs. We understand that the rules are a bit different from the bowling we all know, and there is no automation in this club. Local teens reset the pins and send the balls back to the bowlers.
Bowling is reserved for club members, but the public is welcome to watch competitions on some evenings. Check with the club for a current schedule if you'd like to see it in action.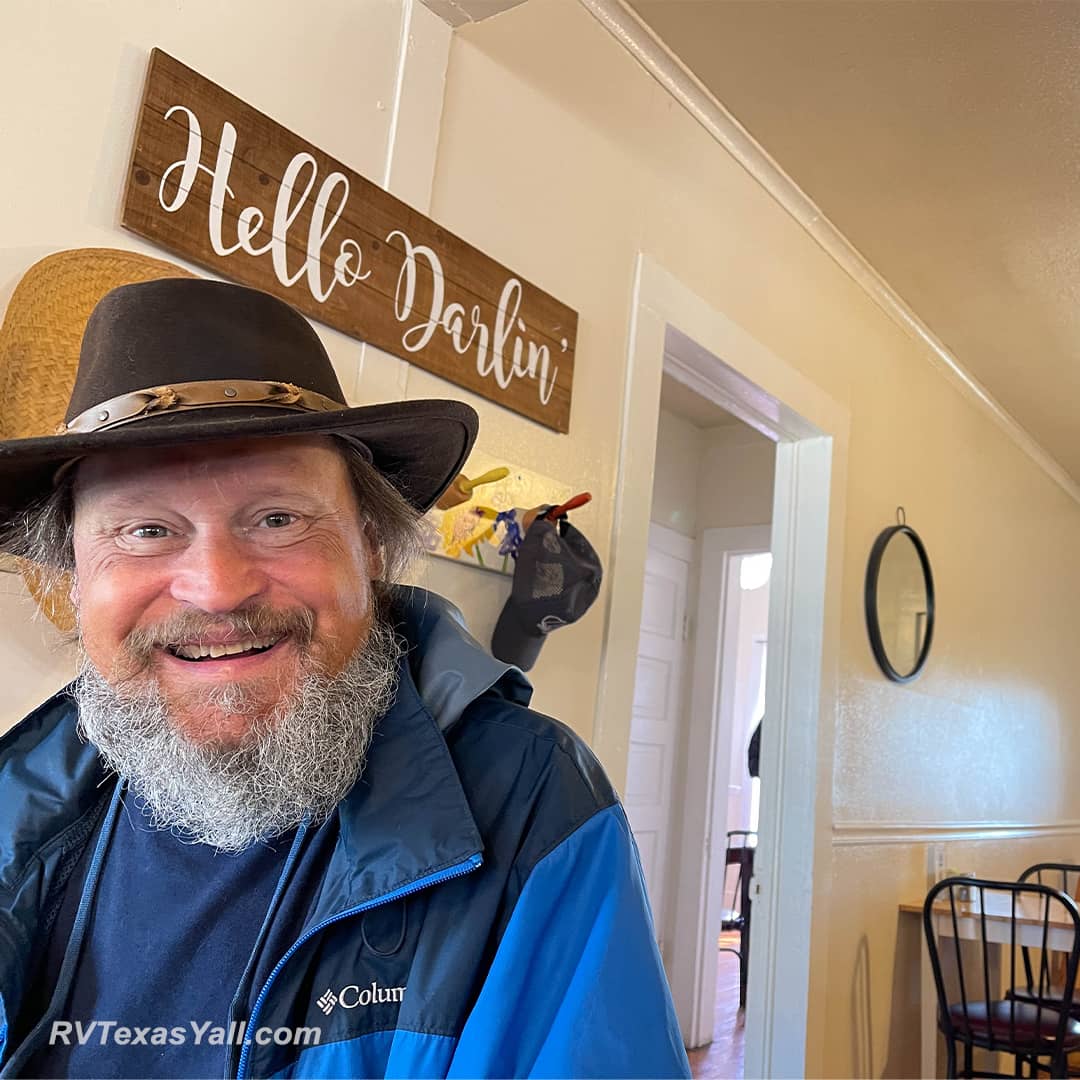 Chess Club Cafe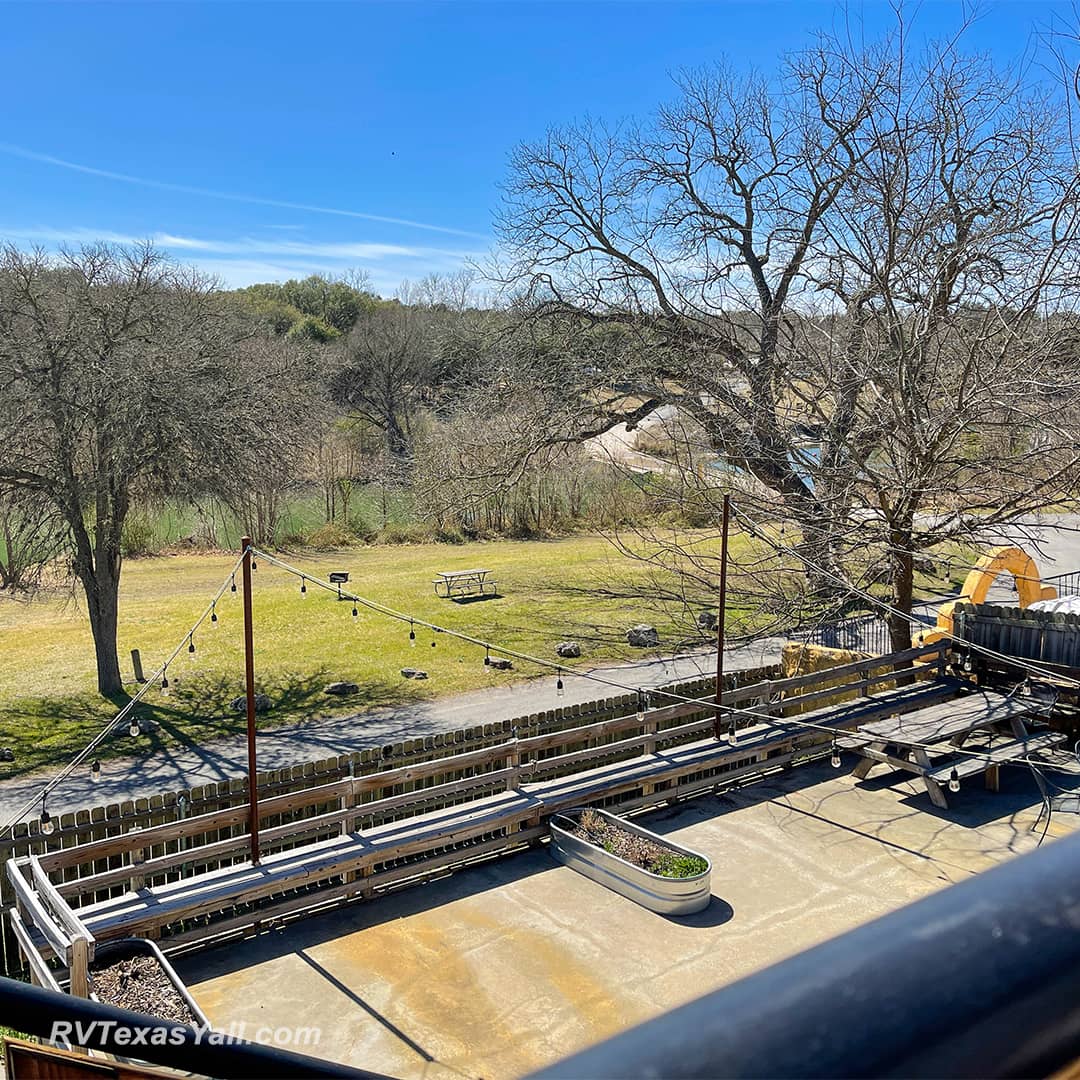 View of the State Park from Josie's Kitchen
Milam and Greene Whiskey
So we mentioned that Real Ale is distilling whiskey, but for the full distillery experience and a wider variety of whiskeys, you can cross the street and spend some time at Milam and Greene Whiskey. Created by Whiskey Expert Marsha Milam, Master Blender Heather Greene, and Kentucky Veteran Master Distiller Marlene Holmes (yep, that's right... 3 ladies!), Milam and Greene has a long list of awards including the People's Choice Award at the Texas Whiskey Festival and Best in Show from the American Craft Spririts Association.
Bring your picnic and try out their spirits and cocktails in their tasting room or outside under the trees. They also offer free training via their online Whiskey School.
Herb's Hat Shop
Tom has been wanting a new hat for a while now. A nice hat. Luckily, we stumbled across Herb's Hat Shop as we were walking around downtown Blanco. This old school hat shop started in 1982 in San Antonio. Their Blanco location offers new hats and everything from sizing, reblocking, and cleaning to complete hat restoration. Even if you're not in the market for a hat, it's a neat little shop to step into and explore.
Monthly Blanco Market Day
We arrived 2 days too late for this one, but we hear it's fun... if you happen to be in Blanco, Texas on the third Saturday of the month between March and November, head over to the town square and the Old Blanco County Courthouse for Blanco Market Days. Vendors circle the square from 9am until 4pm.
A special Christmas Market is held on the second Saturday in December.
Twin Sisters Dance Hall
Another fun place that we'll try to schedule around next time. Twin Sisters Dance Hall has been hosting community dances in Blanco since 1870. Yes y'all... NOT 1970... we said 1870. Like so much in the Texas Hill Country, this historic dance hall was built by German immigrants. The traditions continue today with public dances on the first Saturday of each month.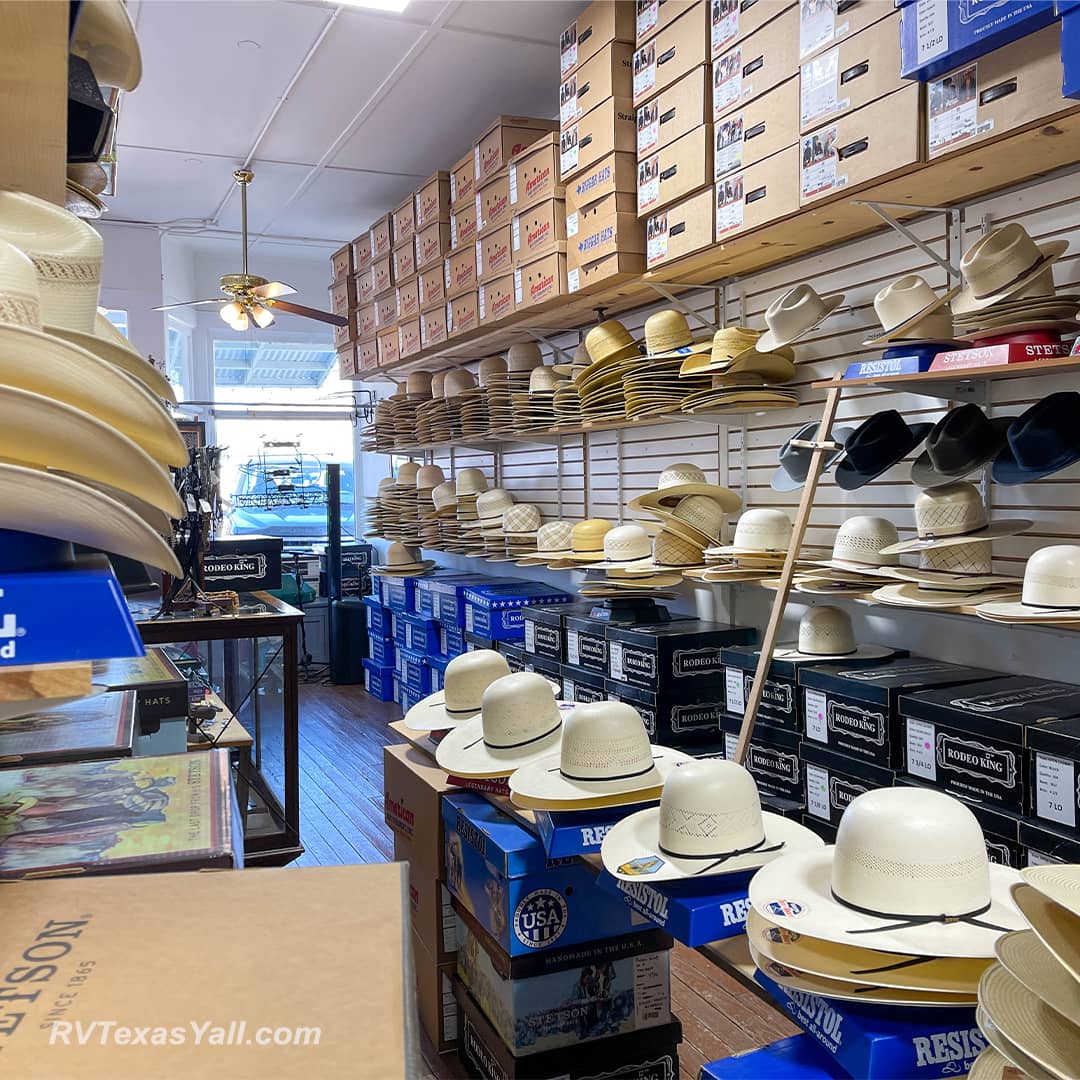 Herb's Hat Shop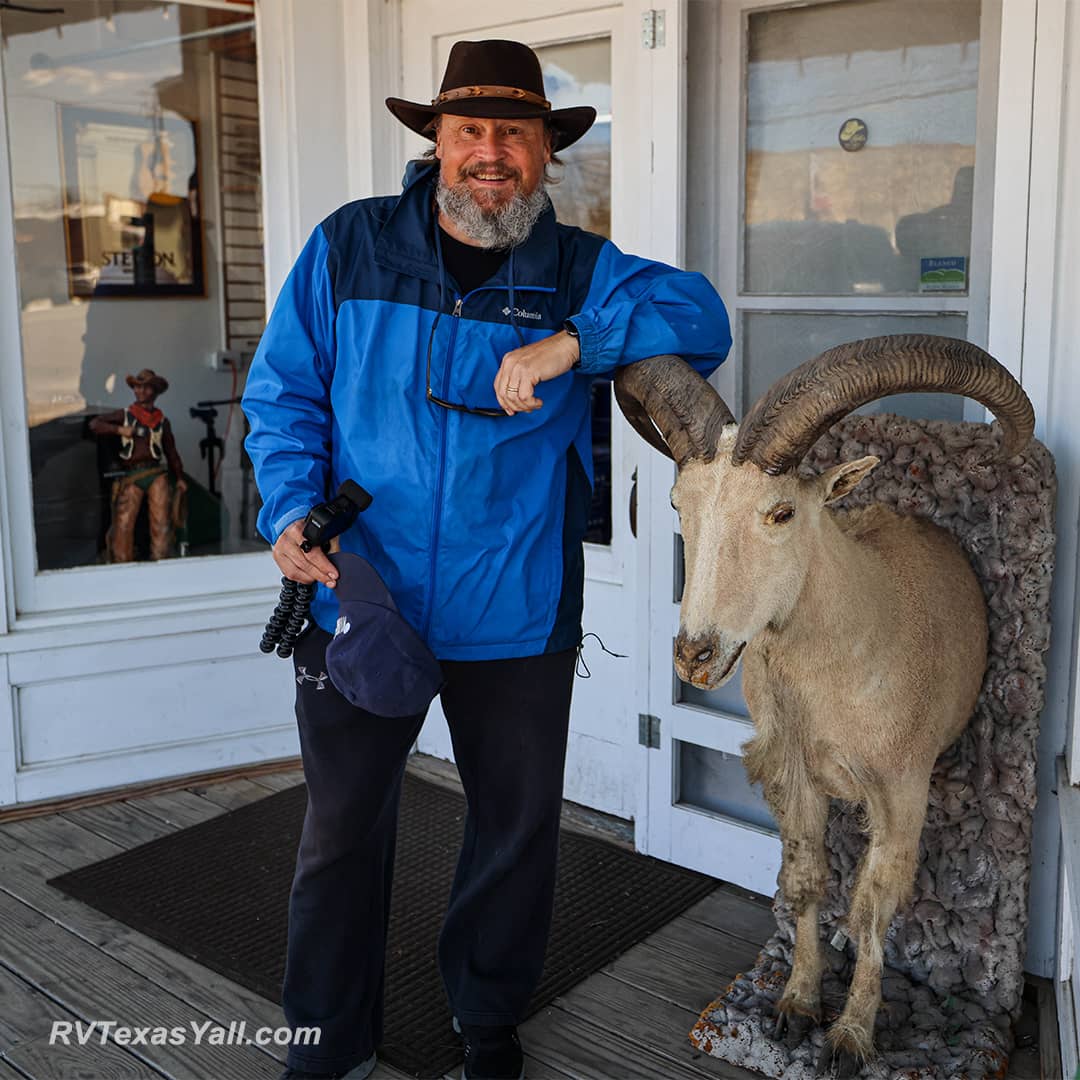 Tom Makes Friends Everywhere
Vaaler Creek Golf Club
Did you know that the #1 golf course in the Texas Hill Country is located in Blanco TX?? If you're into golf, you'll want to check out Vaaler Creek Golf Club. This 18-hole course opened in 2009 and has been voted one of the Best Courses in Texas by Golf Advisor.
Historic Churches
As you drive through Blanco, you'll likely notice several historical markers around town. And several of these markers tell the story of historic churches. Check out the Blanco Methodist Church (organized in 1854), First Baptist Church of Blanco (organized in 1859), Mt Horeb Baptist Church (organized in 1874), and Saint Mary's Help of Christians Catholic Church (organized in the 1850s).
Arnosky Family Farms
If flowers and plants are your thing, and it's the growing season, you'll want to add a stop at Arnosky Family Farms to your trip. Take a picnic and sit on the porch of their blue barn enjoying the view of the fields of flowers or maybe buy a few to take home.
They've been welcoming the public to their fields of flowers since 1990. In the fall, the Arnosky Farm is known as the Marigold Capital of Texas!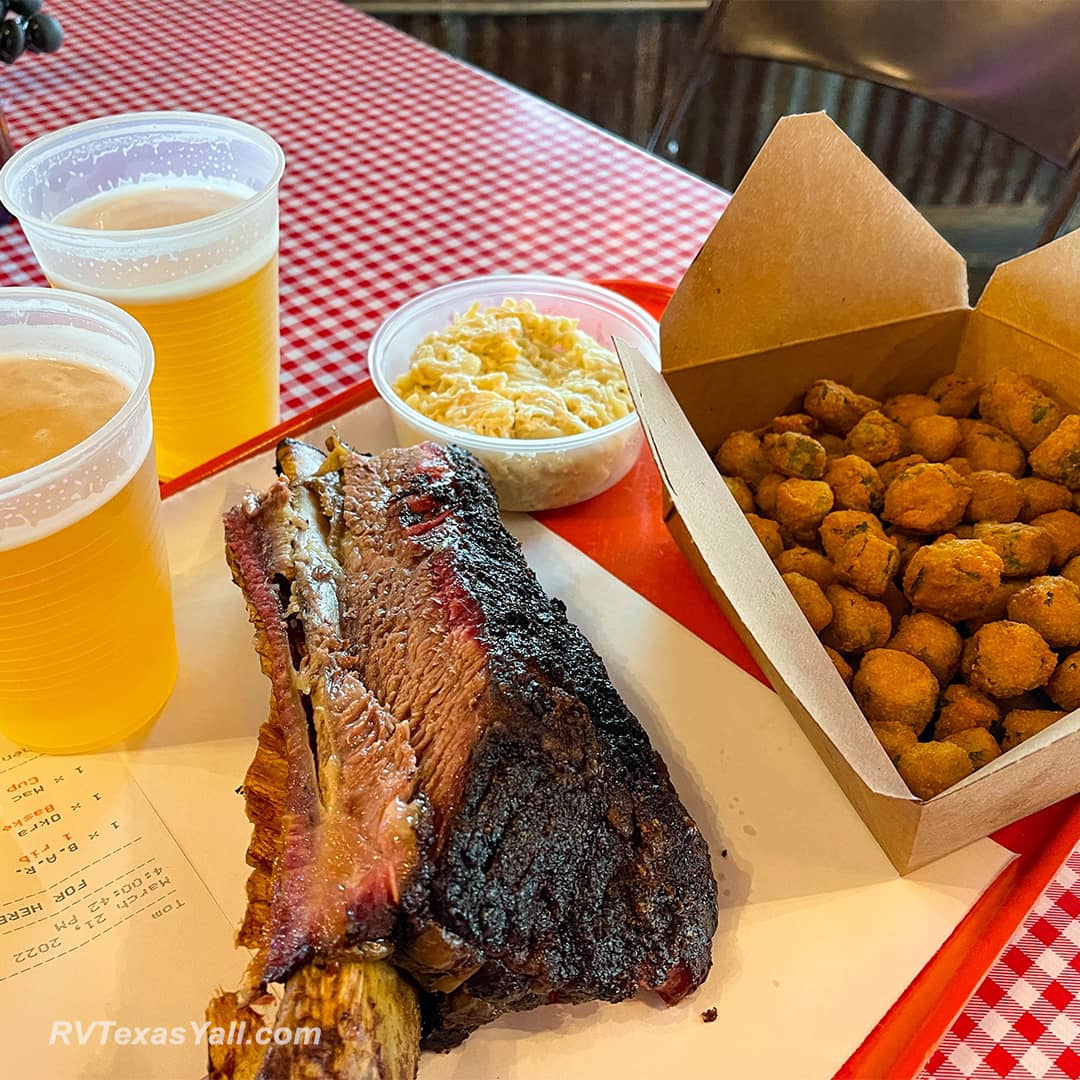 Old 300 BBQ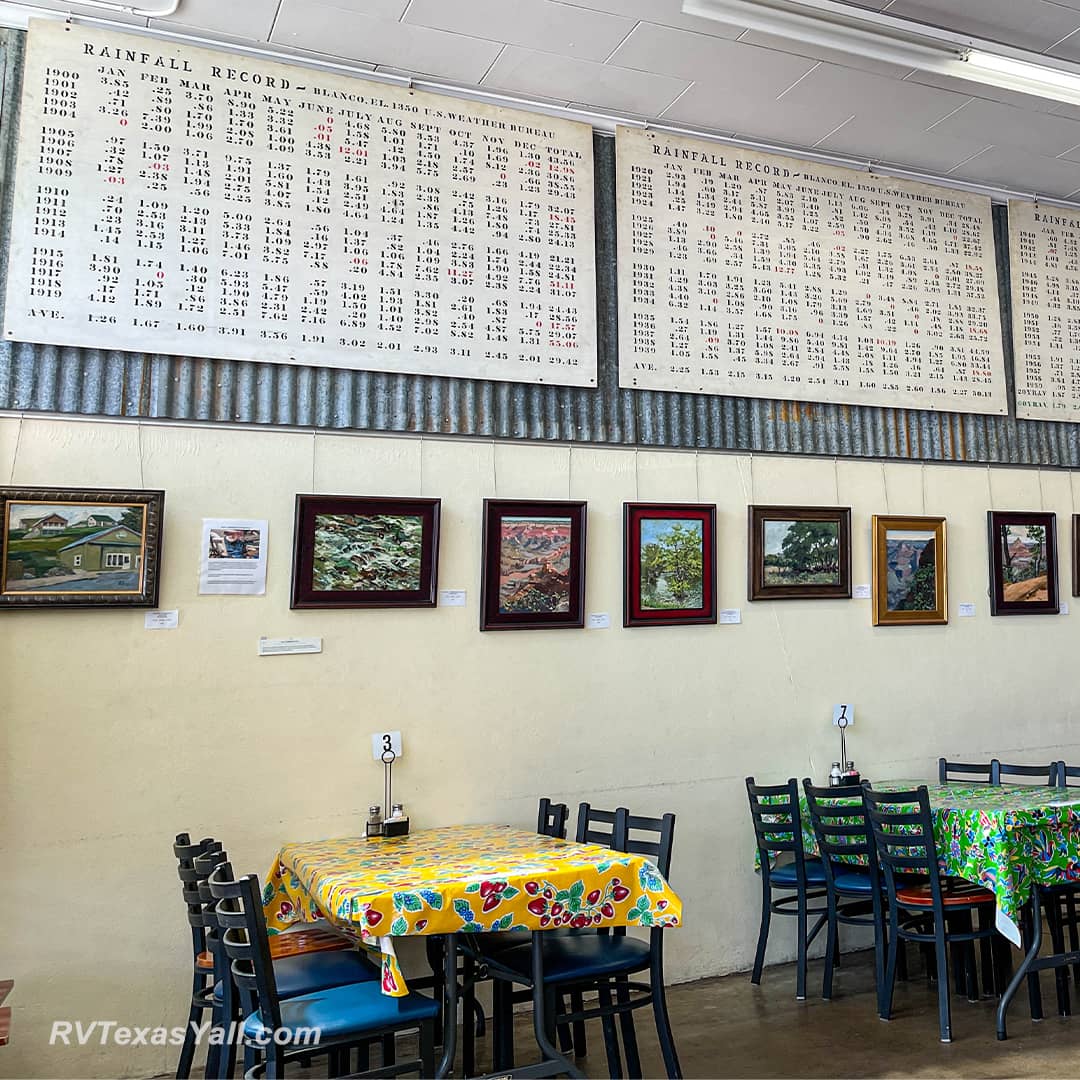 Historic Rainfall Records in Redbud Cafe
Eat Like A Local
There are so many good restaurants in Blanco that you could literally eat out every meal for an entire week if you wanted to. Seriously, you don't have to cook while you're here! Blanco has a lot of unique Mom/Pop restaurants that you won't find anywhere else. So if you're wondering where to eat in Blanco, we've got you covered. Here are some of the local restaurants that we enjoyed during our visit to Blanco...
Chess Club Cafe - Breakfast and lunch served in a 100+ year old house just a mile from Blanco State Park.
Josie's Kitchen - Breakfast, lunch and sometimes dinner overlooking Blanco State Park. We love the back patio.
Redbud Cafe - Breakfast, lunch and sometimes dinner in the historic town square facing the Old Blanco County Courthouse. (The couple who owns Redbud also owns the adjoining shop, Brieger Pottery.)
Old 300 BBQ - We love their tagline: "Come and Eat It". One of the few restaurants in Blanco that's open 7 days/week, Old 300 features your Hill Country BBQ favorites as well as their famous Mega Beef Rib on certain days. They are in the corner of the town square just down from Redbud.
Deutsch Apple Bakery - Open from 9am until 2pm 4 days a week during our visit, get there early for the best selection. They are known for their Apple Pecan Cake. To find Deutsch Apple, take Chandler Street from the town square past Old 300 and Texas Cannon. You'll find them just a bit down the street on the other side of the bridge.
Hacienda El Charro - Less than a half-mile walk from our campsite in Blanco State Park! This is the other Blanco restaurant that offers longer hours on more days than most. A solid option for getting your fix of Mexican food and Tex Mex.
Main Street Donuts and Kolaches - Located right next to Hacienda El Charro, a good option for donuts and other traditional bakery options in the morning.
Blanco Pioneer Museum
We were hoping to visit the Blanco Pioneer Museum during our stay. We found the building directly behind Old 300 BBQ just off the town square. Sadly, the museum was closed every time we went by, we were unable to find an active website, and they haven't updated their Facebook page in almost a year. Sadly, it appears that the Pioneer Museum has closed.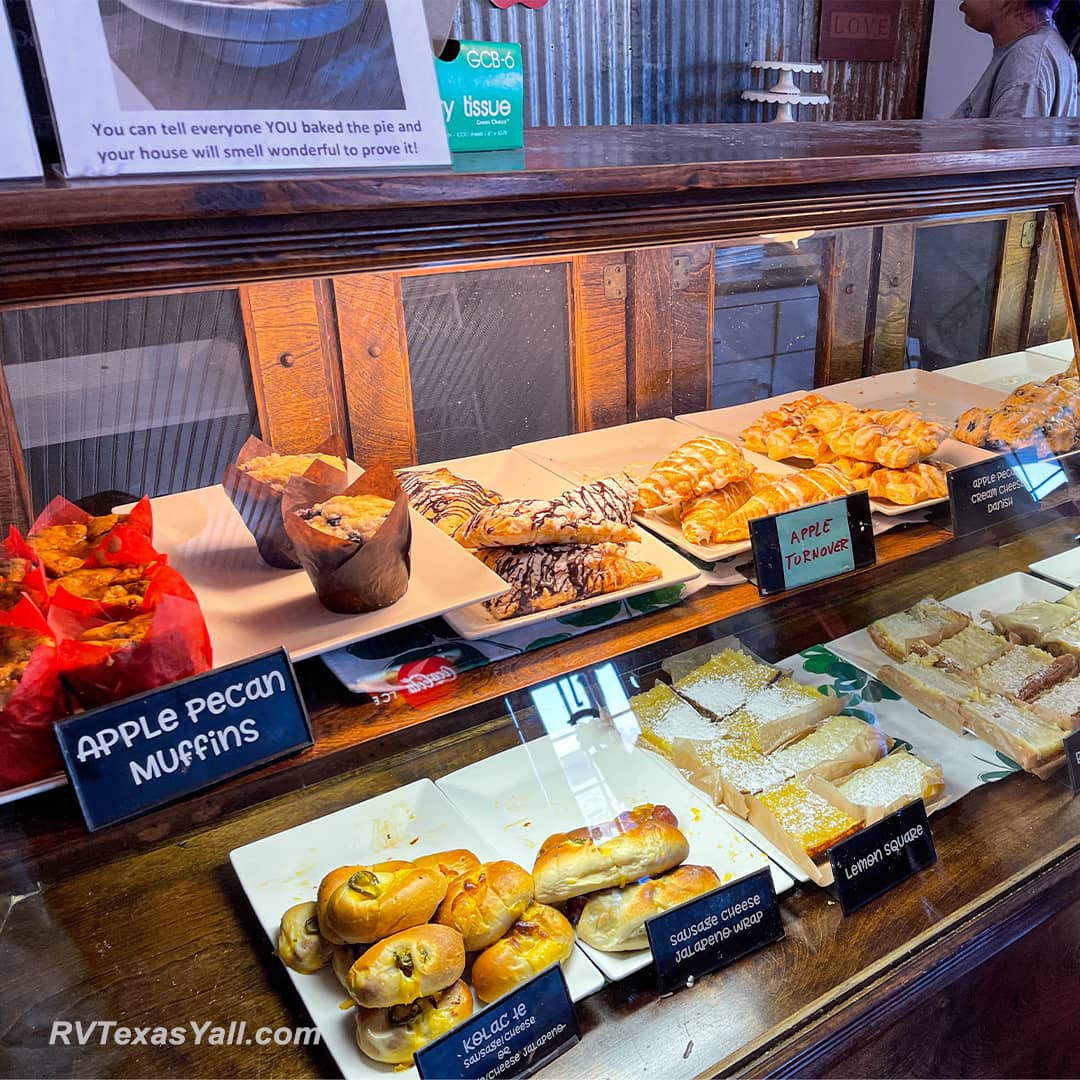 Deutsch Apple Bakery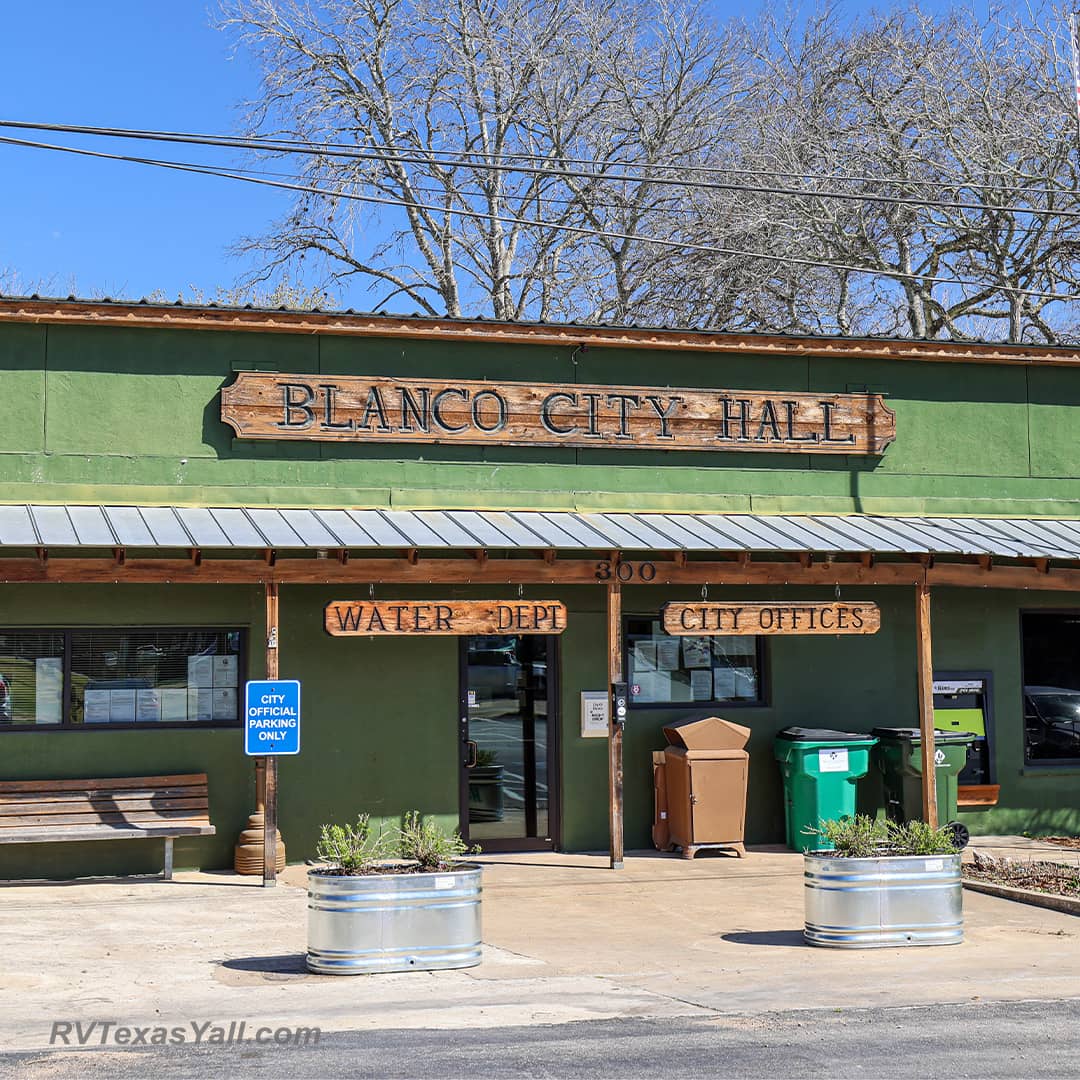 Blanco City Hall
Where Is Blanco TX?
You'll find Blanco in the beautiful Texas Hill Country, just 50 miles west of Austin and 50 miles north of San Antonio on US Highway 281. The beautiful Blanco River flows through town.
Blanco is also a great location to serve as a basecamp for exploring other Hill Country communities. Other nearby towns that you might want to visit during your trip include Johnson City (14 miles), Stonewall (21 miles), Wimberley (24 miles), Dripping Springs (27 miles), Canyon Lake (32 miles) and Fredericksburg (34 miles). Luckenbach TX is 23 miles from Blanco.
How Do You Pronounce Blanco?
The locals pronounce the town "Blank-O". The State Park Rangers call the state park and river "Blahhnk-O" which matches the Spanish pronunciation for "White". The Blanco River gets its name from the white limestone rocks that make up its riverbed and banks.
Where To Find Groceries in Blanco TX
There is a Lowe's Market on US Highway 281 less than one mile south from Blanco State Park.
A Bit of History on Blanco
Historians believe that over the years what is now Blanco County was inhabited by the Tonkawa, the Lipan Apache and the Comanche. They were likely drawn to the area by the river while following buffalo herds. Archeologists have evidence that people may have been in this area as early as 1150 AD.
The Blanco River was named by Marques de San Miguel de Aguayo in 1721 during a Spanish expedition.
Settlers came to this area and began building cabins along the river in 1853. All of Blanco County was Comanche Territory at the time and battles for the land were common.
Blanco County was established in 1858 from pieces of Comal, Hays, Burnet and Gillespie counties. It was named for the Blanco River. As the county was formed, law stipulated that the county seat would be called Blanco and that it would be located within five miles from the center of the county. A townsite was selected along the Blanco River, the first courthouse was built in the town square, and the town of Blanco was born in 1860.
The new town of Blanco was populated primarily by settlers from Alabama, Tennessee and Germany (German immigration was common in the Texas Hill Country). The agrarian economy was based mostly on cattle, milk cows, sheep, wheat, corn, tobacco and cotton.
In 1862 a large section of southern Blanco County was taken to establish Kendall County. In return, Blanco County received more of Hays and Burnet Counties, sliding the county's geographic center northward, and after years of political battles and secret moving of records back and forth, the county seat of Blanco County was moved north to the now more centrally located Johnson City in 1891.
Today agriculture continues to lead the Blanco economy, along with tourism.
We share more of the history of Blanco in our post about Blanco State Park.
When Is The Best Time To Visit Blanco TX?
Weather-wise, spring and fall are great times to visit Blanco. From March to May and September to December, the weather can be amazing (like it was for our visit in March with the exception of the one hail storm on the day we arrived). Lavender typically blooms from late May to early July and Marigolds take over in October.
There are a lot of outdoor seating options in restaurants, breweries, distilleries and wineries in the area as well as outdoor fun and scenic drives. So our best advice is to go to Blanco when the weather has you wanting to spend time outdoors.