RV Texas Y'all Podcast Episode 003
Listen Here!
Audio: RV Texas Y'all Podcast, Ep 3
Published January 31, 2021
If you cannot see the audio player just above this sentence, click on this link to play the episode.
In This Episode
In this episode, we talk about camping etiquette: those unwritten rules of the campground that we always keep in mind when we're out at a campground.
In our Texas Tidbit this week, Stacie shares the history behind how Christianity came to Texas.
And in The ABCs of RVing: B is for Batteries! Tom talks about how to protect the heart of your RV... your house batteries.
Mentioned In This Episode
Presidio La Bahia: The Oldest Fort West of the Mississippi
San Antonio Missions National Historical Park
Goliad State Park and Historic Site
San Felipe de Austin State Historic Site
Our Top Tips for Traveling With Pets
Subscribe to the RV Texas Y'all Podcast!
Like what you hear? Subscribe to us on your favorite podcast network including: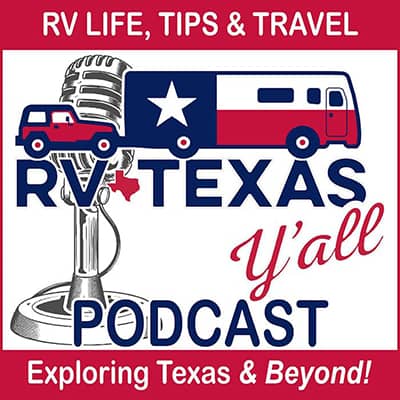 - Audible
- Breaker
- Castbox
- Deezer
- Spotify
- Spreaker
- Stitcher
- TuneIn
If you enjoy our podcast, please leave us a review in your favorite podcast app and share our episodes with your friends and family!
Of course, you can always listen to any of our episodes right here on our website!
Subscribe to our Newsletter for weekly updates on new content and other interesting stuff!