RV Texas Y'all Podcast Episode 024
Listen Here!
Audio: RV Texas Y'all Podcast, Ep 24
Published April 21, 2023
If you cannot see the audio player just above this sentence, click on this link to play the episode.
In This Episode
There is A LOT that we enjoy about full-time RV life! As full-time RVers, we get to experience a seemingly endless stream of beautiful landscapes, interesting places, unique regional flavors, and great people. BUT, with all of the great things about full time RVing, the lifestyle is NOT all rainbows and butterflies. In this episode, we talk all about the challenges we have faced over the past 4 1/2 years as full-time RVers.
Mentioned In This Episode
Services We Use
More Stuff We Talked About This Week
Podcast Episode 12: Embracing Change
How to Handle Family Emergencies as a Full Time RVer
Subscribe to the RV Texas Y'all Podcast!
Like what you hear? Subscribe to us on your favorite podcast network including: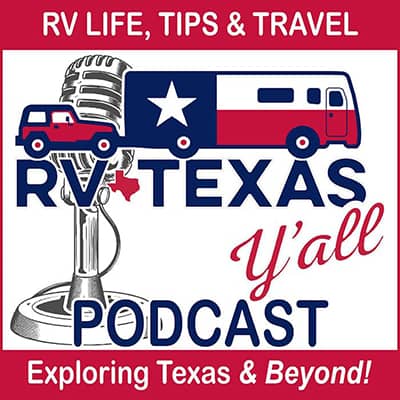 - Audible
- Deezer
- Pandora
- Spotify
- Stitcher
- TuneIn
If you enjoy our podcast, please leave us a review in your favorite podcast app and share our episodes with your friends and family!
Of course, you can always listen to any of our episodes right here on our website!
Subscribe to our Newsletter for weekly updates on new content and other interesting stuff!