Wingin' It!, Episode 49:
Weather Safety is one of the most important variables in RV life and camping. It is critical that RVers stay weather aware and have a plan for what they will do to stay safe if severe weather strikes. And of course, the same is true for tent campers and car campers. Tents, cars, trucks and even the largest RVs are no match for really horrible weather and you need to have a weather safety plan just in case. In this video, we share some of the tools we use to stay weather aware and steps we take to be prepared in the event of a weather emergency. Here are a few of those tips and a few more that we didn't mention in the video...
Tools We Use To Track The Weather
Apps can be helpful and there are a lot of weather apps available. We've found some to be more reliable and accurate than others. Our current go-to weather apps include Storm Radar, Accuweather, and WeatherBug. We've also received strong recommendations from folks regarding the NOAA Weather App and Highway Weather. In order for the apps to work properly and provide reliable alerts, you need to do 2 things: 1) allow at least your favorite one to run in the background on your phone or device, and 2) Open the app and let it find your new location every time you move to a new campsite. If you don't take these steps, you either won't receive alerts of approaching weather or you'll get notifications of weather events where you used to be instead of where you currently are.
Sometimes you might be in an area where there is little or no cell signal. In that case, apps won't help you. In that case, it's a good idea to carry a weather radio. Today's portable weather radios typically offer traditonal AM/FM radio signals as well as a band of weather station radio signals. Depending on how far you are from the radio stations, the signal may or may not be that great, but we can typically bring in some information. And in the case of weather, some information is better than no information. Here's the weather radio we carry: FosPower Emergency Solar Hand Crank Portable Radio. This small, easy to carry weather radio can run off of batteries, hand crank or solar power. It also includes a flashlight and a phone charging port, as well as a carabiner to easily attach it to a backpack.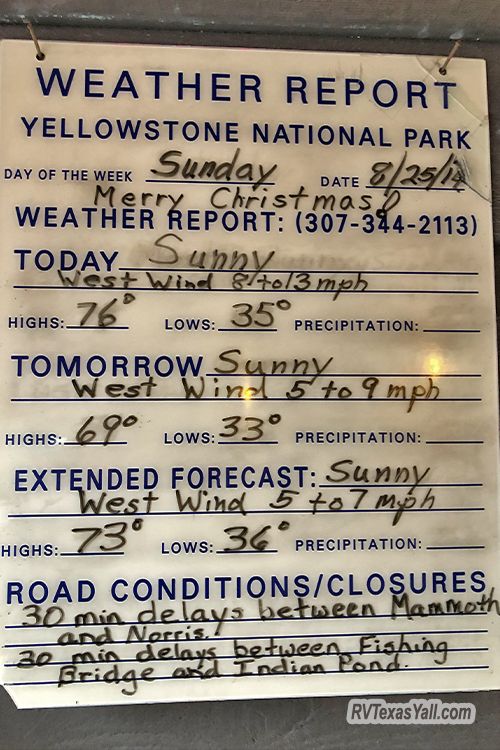 Yellowstone Weather Sign
Another, bit more fun, way we have tracked the weather is through a Wireless Weather Station. When we arrived at camp, we would clamp the wind reader to our picnic table. It would communicate wirelessly with the small display unit inside our RV to give us temperatures, wind speed, barometric pressure, and weather forecasts. It needs no cell signal to operate which is a real plus in a lot of the state and national parks! Ours recently broke after 7 years of use, so I guess it's time for a new one!
A fourth tool we use to stay aware of the weather coming our way requires zero technology... The park rangers, visitor centers, and campground bulletin boards can be a great source of weather information. We really found this to be true and incredibly helpful while camping inside several US National Parks. Theodore Roosevelt National Park, Yellowstone National Park, and Grand Teton National Park all provided daily and weekly weather forecasts in the campgrounds and visitor centers. It was a really simple way for us to know what was ahead.
How We Prepare for Severe Weather
Our weather preparation begins before we leave a campsite. Before we hit the road, we use the apps and weather forecasts to get an idea of what we might be driving into. If the weather looks too bad, we'll consider changing our route or our departure time.
We pay attention to expected weather when we choose a campsite. For example, we avoid riverside camping if there has been (or is expected to be) a lot of rain upriver. and we try not to park under trees if high wind is expected. We'll also avoid parking our RV on grass if there has been a lot of rain or if the forecast calls for it. We'd rather not be stuck in mud.
Once we arrive at our campsite, we locate the nearest storm shelter. We do this even if the skies are blue. Weather can change quickly and unexpectedly, so we want to know where to go before we need to go there.
When we check in, we like to confirm what county we are in. That way, if we see a weather alert for local counties, we know if our area might be affected. We learned this one the hard way when severe weather was coming into the local news area and we had no idea where we were on the map!
If we have cell service, we open our main weather apps to update our location. This is important to ensure that we receive the correct alerts.
Power surges are a real possibility during storms. We never plug our RV directly into the power pole. We always plug our RV surge protector in to the pole first to protect our electrical system. Here are some surge protectors like we have used for years: Southwire 50amp Surge Guard and Southwire 30amp Surge Guard.
What to Do If You Drive Into Bad Weather
If it is safe to pull off of the road and into a large parking lot, it's good to do so and wait out the storm.
High winds can be a real safety issue when driving an RV. If you run into high winds, find a safe place to pull into a parking lot and wait it out.
Avoid driving through high water. Even heavy RVs can be swept away in flood current.
If there is no where to safely pull over or the weather isn't that bad, slow down, make sure your headlights are on, and leave extra room in front of you. It will take longer to stop. Stay calm and focused and on the lookout for pooling water or road debris.
Remember, that severe weather can cause power outages, so be prepared to pay extra close attention to traffic lights.
How to Stay Safe When Severe Weather Hits
We've been in a few places where the wind really kicked up. The RV was rocking in the wind and our slide toppers looked like they were being pulled up by the Jolly Green Giant! Pulling in the slides will protect your slide toppers, cut down on wind resistance (and therefore some of the rocking), make it quieter inside the RV and give you an overall smaller footprint until the weather passes.
Have a "bug out bag" prepared and ready to go. A bug out bag is a pre-packed bag with things like medications, important papers, anything that you'll need if you have to bug out from your RV and run for cover. If something were to happen to your RV, these are the essential things that you would need. You might also consider a few light snacks, a bit of bottled water and a few dollars in cash. Just in case. (and don't forget food and anything essential for your pet).
When the threat of severe weather arises, put away anything you have in the campsite... camp chairs, lanterns, tables, grills, camping rugs... they can fly against your RV or into someone else's site. Make sure to secure anything like bikes or kayaks.
Never try to travel in severe weather unless you have absolutely no choice. Hunker down and wait it out.
Keep an eye on upriver reports if you are near a river. Closely monitor the weather radars and don't be afraid to get to the shelter if necessary. RVs can be replaced, you can't.