RV Texas Y'all Podcast Episode 022
Listen Here!
Audio: RV Texas Y'all Podcast, Ep 22
Published March 4, 2023
If you cannot see the audio player just above this sentence, click on this link to play the episode.
In This Episode
In the last episode, we talked about how we plan our RV travels. But no matter how much you plan and how perfect the trip looks on paper, sometimes things can and do go wrong. So today we're talking about something that RVing has taught us: Over the years, we've learned to expect the unexpected!
Like we mention this week, we've experienced the trifecta of issues that most RVers fear the most...
- Our RV had a mechanical breakdown in Wyoming in 2019...
Video: 2 Breakdowns in 2 Weeks... Now What?
- Our RV was hit by a car in Georgia in 2021...
Video: Our Motorhome Got Hit! Now What?
- And our RV had a front tire failure in Texas in 2022...
Video: Class A Motorhome Steering Tire Blowout... Here's What Happened
And then of course there was 2020...
the year that brought extensive unexpected to everyone. But those are not the only unexpected events that have altered our travel plans. What do we do when our plans change? Is it stressful? This week's discussion is all about embracing the unexpected aspects of RV travel.
Mentioned In This Episode
Our Extreme 48 Volt Solar and Lithium System
Video: Getting Our RV's Body Damage Repaired
Video: Dealing with Family Emergencies as Full Time RVers
Video: COVID-19: Returning to Texas to Shelter in Place
Video: America's First Automated RV Park
Subscribe to the RV Texas Y'all Podcast!
Like what you hear? Subscribe to us on your favorite podcast network including: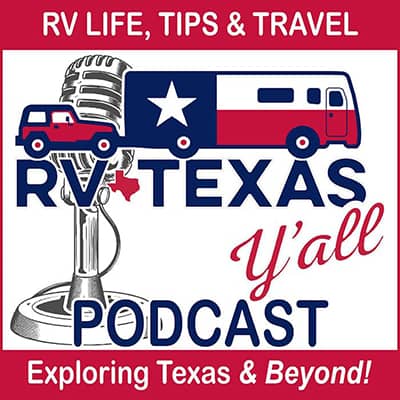 - Audible
- Deezer
- Pandora
- Spotify
- Stitcher
- TuneIn
If you enjoy our podcast, please leave us a review in your favorite podcast app and share our episodes with your friends and family!
Of course, you can always listen to any of our episodes right here on our website!
Subscribe to our Newsletter for weekly updates on new content and other interesting stuff!