RV Texas Y'all Podcast Episode 021
Listen Here!
Audio: RV Texas Y'all Podcast, Ep 21
Published January 21, 2023
If you cannot see the audio player just above this sentence, click on this link to play the episode.
In This Episode
We love to travel by the seat of our pants sometimes, wingin' it as we go and deciding where to stop for the night as we travel. But with the growth in the number of folks RVing over the past several years, trip planning has become more important. In this podcast episode, we share why we plan, how we plan and some of the road trip planning tools that are helpful to us.
Yes, we still use paper maps and an RV friendly road atlas, but we also get a lot of good information from the internet. And, though they are not perfect, we have routed using an RV GPS for the past 10 years.
Mentioned In This Episode
Tools We Use To Plan Our RV Travels
RV Park and Campground Review Websites We Use
Our Travels That We Mentioned
Podcast Episode 18: Bucket Lists
Video: Why the Albuquerque Balloon Fiesta is a Bucket List Event!
Video: America's First Automated RV Park
Video: Cheyenne, Wyoming and Curt Gowdy State Park
Video: Custer State Park, South Dakota
Video: Kearney, Nebraska: What a Surprise!
Subscribe to the RV Texas Y'all Podcast!
Like what you hear? Subscribe to us on your favorite podcast network including: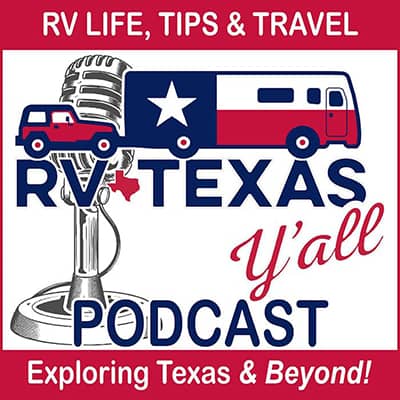 - Audible
- Deezer
- Pandora
- Spotify
- Stitcher
- TuneIn
If you enjoy our podcast, please leave us a review in your favorite podcast app and share our episodes with your friends and family!
Of course, you can always listen to any of our episodes right here on our website!
Subscribe to our Newsletter for weekly updates on new content and other interesting stuff!