RV Texas Y'all Podcast Episode 011
Listen Here!
Audio: RV Texas Y'all Podcast, Ep 11
Published August 5, 2021
If you cannot see the audio player just above this sentence, click on this link to play the episode.
In This Episode
Getting Our New RV Headlights
This week, we introduce you to our friend, Jason Mabie, also known as The Headlight Guy! Jason is a great RV technician with over 20 years of experience in the industry. He is part of the team at Master Tech RV Custom Coach and Marine in Elkhart, Indiana. Since the age of 16 years old, Jason's passion has been headlights. And today, amongst his many RV related skills, Jason Mabie is the Headlight Guy.
We talk with Jason about how he became so interested in headlights and how he has become an expert in RV headlight replacement and customization. He also shares the importance of good headlights, even for those of us who prefer not to drive at night, and the difference between standard RV headlights and aftermarket upgrades.
As we mentioned in this episode, this is NOT a paid endorsement. We paid Master Tech RV for all of the recent modifications to our 2021 Newmar New Aire (including new headlights handbuilt by Jason!). We are extremely happy with the thoroughness and attention to detail that Jason and the staff at Master Tech RV have given to us and our motorhome. For more information on improved headlights or other RV modifications, you can reach Master Tech RV at 866.895.4556. And tell them we said "Hello"!
For more information about some of the other work we've had done while here at Master Tech (including solar and lithium batteries), check out Episode 10 of our Podcast to hear our conversation with Master Tech RV owners and Father/Son team Tim and Austin Klenk.
In our Texas Tidbit this week, Stacie talks about the official and not-so-official symbols of Texas (including some submitted by our audience).
And in Tom's ABCs of RVing: H is for Hula Skirt?!?
Mentioned In This Episode
Connect with Jason on Instagram: @rv_light_guy
Subscribe to Jason's YouTube Channel: The Headlight Guy
Video: Copper Breaks State Park
Our Dutch Oven Texas Chili Recipe
Subscribe to the RV Texas Y'all Podcast!
Like what you hear? Subscribe to us on your favorite podcast network including: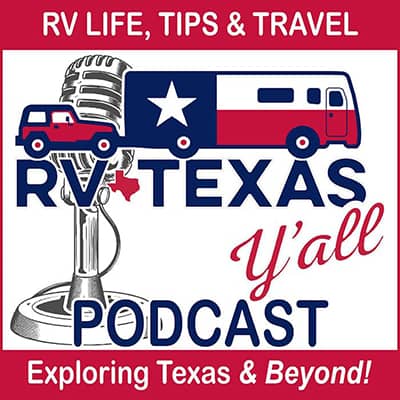 - Audible
- Breaker
- Deezer
- Pandora
- Spotify
- Stitcher
- TuneIn
If you enjoy our podcast, please leave us a review in your favorite podcast app and share our episodes with your friends and family!
Of course, you can always listen to any of our episodes right here on our website!
Subscribe to our Newsletter for weekly updates on new content and other interesting stuff!