Camp Cooking Recipe: Texas Chili Cooked Over a Campfire in a Cast Iron Dutch Oven
This post contains affiliate links. Please see our disclosure for more information.

Video: Dutch Oven Texas Chili Cooked Over a Campfire

One of our favorite meals during the cooler months! It's hard to beat the flexibility and flavor of a good chili. Here's our recipe for dutch oven Texas chili cooked over a campfire! In our video, we show you how we make this recipe using a cast iron dutch oven hanging on a tripod over the campfire.
Dutch Oven Texas Chili Recipe Ingredients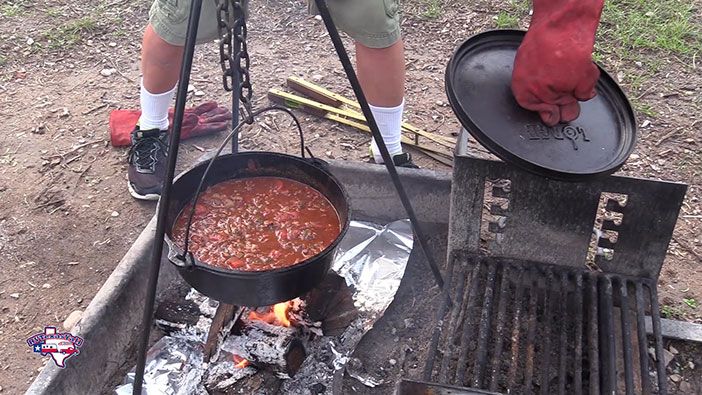 Chili Cooking Over the Campfire
What We Put in the Chili:
1 lb Beef Tips or Stew Meat
1 lb Ground Beef / Hamburger Meat
1 Large Onion, diced
4-6 cloves Garlic, minced
1-2 Jalapeno Peppers, diced
1/2 - 1 bunch Cilantro, chopped
16oz Beef Stock
1 can Diced Tomatoes
1 can Stewed Tomatoes
1 can Tomato Sauce
Chili Powder
Ground Cumin
Paprika
Salt
Pepper
Red Pepper Flakes/Chili Peppers
Olive Oil
Beans or No Beans, Your Choice
Masa or Cornmeal, for thickening if needed
What We Put on Top of the Chili:
Chopped Onion
Chopped Cilantro
Shredded Cheddar Cheese
Sour Cream
Cooking Tools We Used to Make This Chili:
How to Make Dutch Oven Texas Chili
Preheat your dutch oven by hanging it over the campfire.
Add a bit of olive oil to your dutch oven. If your dutch oven is well seasoned, you might not need the olive oil.
Add in chopped onion and garlic.
Add in beef tips and ground beef. You can substitute turkey, pork or chicken if you prefer.
Add in beef stock and stir around to make sure that the meat, onions and garlic are evenly distributed.
Add in first round of salt, cumin, chili powder.
Stir and place lid on dutch oven.
Add in jalapeno, red peppers, cilantro, black pepper, paprika and more chili powder and cumin. Stir.
Watch to make sure your chili isn't cooking too fast. If it seems to be, raise the dutch oven up higher on the tripod. If it's cooking too slowly for you, lower the dutch oven a bit closer to the campfire. You're looking for a simmer, not a boil.
Stir in tomato sauce. Then stir in diced and stewed tomatoes. (Always remember to reseason your cast iron after cooking with anything acidic like tomatoes.)
Cook until meat is tender and then taste your chili to see if you want to add more spices. All seasonings in this recipe are to personal taste.
Cook for about another 20-25 minutes to let it all come together.
If you would like to thicken it up a bit, you can stir in a little bit of masa or cornmeal. You could also thicken with flour, but it's best to dilute the flour in a bit of water before adding it to the chili to prevent clumping.
Dish out chili into bowls and top with cheddar cheese, onion, cilantro and sour cream (or any variation based on your personal preferences).
What About Beans??
To bean or not to bean... that is the eternal bone of contention and debate when it comes to Texas chili. Some folks think that adding beans to a chili makes it a stew. Others love the extra texture that a firm bean adds. Our take on the great bean debate? Do whatever works best for you! Sometimes we add kidney beans or pinto beans, sometimes we don't. It often depends on how we will be using the chili. We won a chili competition in Texas using beans, so I guess it just all depends on personal preference and taste for that day. Do whatever makes you happy.
What Do You Do With the Leftover Chili?
Unless you're feeding a big family, a small crowd or a few really hungry folks, you'll probably have some chili left over from this recipe. In the video, we show a few ways how we used our leftover chili to make 3 additional meals during that trip: chili dogs, chili mac and chili baked potatoes. You could also use leftover chili in a frito pie, as an add in to queso, in chili tacos, on enchiladas, or to top spaghetti. There are a ton of ways to use chili. What are your favorites?