Quitaque, Texas - Texas Panhandle Region
Caprock Canyons State Park in Quitaque, Texas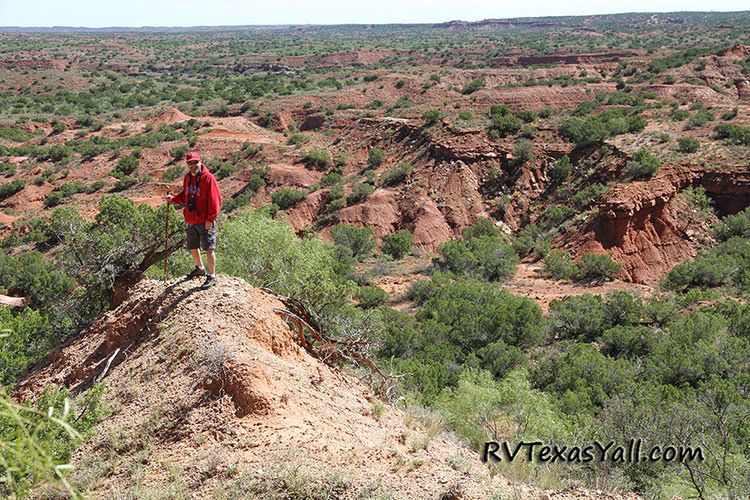 Exploring the Canyons
The stars at night are big and bright <clap, clap, clap, clap> deep in the heart of Texas! Up in the Texas Panhandle approximately halfway between Amarillo and Lubbock, you'll find a beautiful group of canyons known as Caprock Canyons State Park. Miles away from big city lights and highway noise, this is the perfect location for star-gazing. On a clear night, you can't even begin to count the number of stars. On one of our nights here, we even had an incredible view of the Milky Way! Up here, the stars really are "big and bright"!!
So how did we, Native Houstonians, end up at Caprock Canyons almost 600 miles from home (And yes, for the non-natives who might be visiting... we traveled 600 miles and were still in Texas!)? Well, it all started when we asked a question on our Facebook, Twitter and Google+ pages about "Favorite Texas State Parks". We had a number of folks respond and have moved several parks up our list of places to visit soon as a result. However, the very first response really grabbed our attention. Melany Sarafis (@MelanysArt on Twitter) suggested Caprock Canyons State Park.
Caprock Canyons is located in Quitaque, Texas. The park is known not only for its breathtaking canyons (yes, there are multiple canyons here), and star-filled nights, but also as the home of the "Official Texas State Bison Herd"! In fact, when we looked the park up on Melany's suggestion, we noticed they were hosting the 3rd Annual Bison Festival at the end of September to raise funds for extending and preserving the bison habitat. We were able to reserve the last available RV campsite for the weekend of the festival and could not wait to get up there.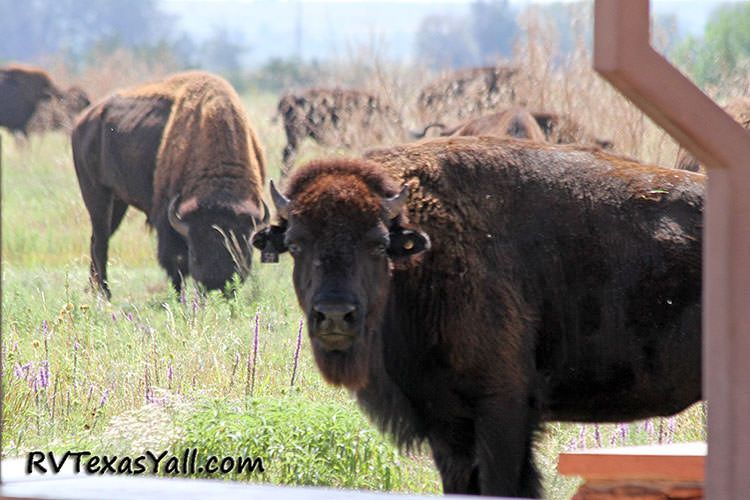 Southern Plains Bison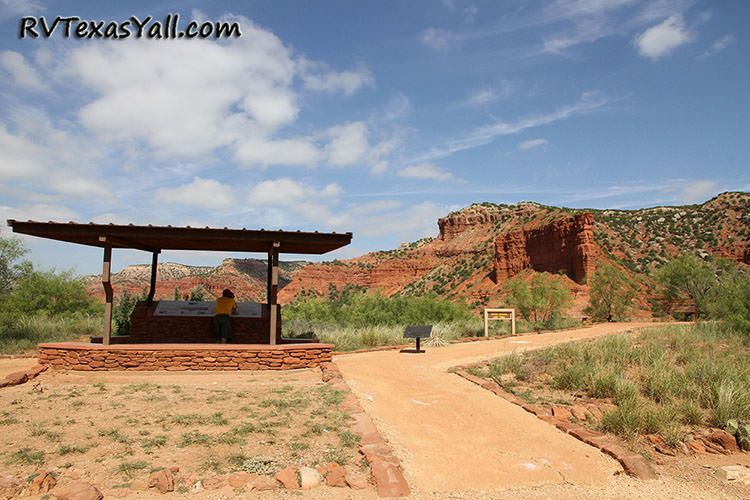 Scenic Overlook
These are the Southern Plains Bison. They only exist here in Caprock Canyons State Park. Prior to the "Great Kill" in 1877, these bison roamed the area by the millions. Theirs is an incredible story of survival. To learn more about the species' struggles and the work to rebuild the herd, watch this video from Texas Parks & Wildlife...
"Saving the Southern Plains Bison at Caprock Canyons State Park"
At 15,313 acres, Caprock Canyons State Park & Trailway is truly massive! You will want to have a vehicle that you can drive on the canyon road to get a feel for the sheer size of the park. The park road is very well maintained, but we wouldn't suggest driving your rig or pulling your RV through the entire canyon adventure. Some of the drive contains steep grades requiring lower gears. Leave your RV at the campsite and travel by motorcycle, car, pickup or (our personal favorite) Jeep! We were unaware of this until after our trip, but the park offers a free audio guide for check-out that explains the park as you explore by vehicle. This would be an interesting addition to the exploration. Check with the Park Headquarters about availability.
There are some great hiking, mountain biking, and horseback riding trails here. Some of the trails are easy to travel; some require skill (especially if you are biking or on horseback). Because of the size of the park, some of the trailheads are quite a distance from the camping loops. (Another reason to have a good commuting vehicle to aid in your exploration!) There is also a nearby Trailway which follows an old railroad line from Estelline, Texas to South Plains for a total trail of approximately 65 miles one way! The Trailway passes through the old Clarity Tunnel between Monk's Crossing and John Farris Station. They say the tunnel is a great place to see Mexican free-tailed bats during the summer.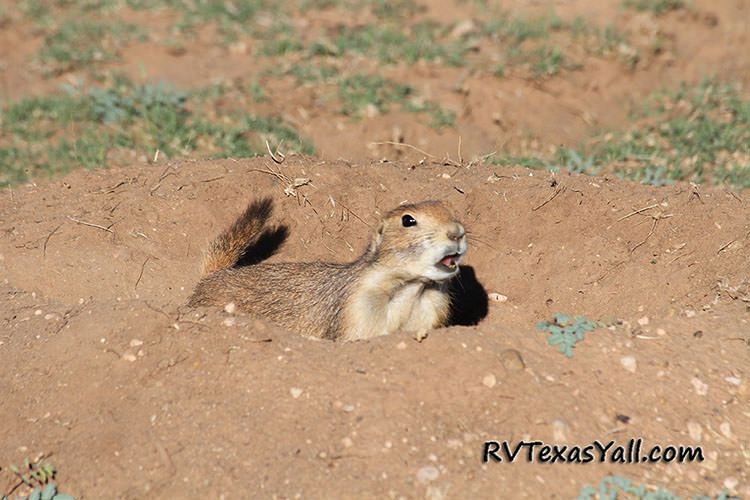 Black Tailed Prairie Dog
One of the things we enjoyed most about this park (besides the incredible scenery)? Definitely the animals. This area was once home to mammoths, giant bison, camels and black bears. Today, you might see pronghorn antelope, bobcats, grey fox, jackrabbits or deer. The current bison territory is made up of 700 acres at the front of the park. While the bison were a little smaller than we had imagined, they were still quite an impressive sight to see. During our stay we also saw raccoons, hawks and horned toads. A roadrunner visited our campsite one afternoon and we listened to the coyotes howl at night.
The bison habitat established here is part of this park's endeavor to restore native species to the area. Another species recently reintroduced was an awesome surprise to us. After we set up camp, we walked down a short path to check out the RV loop restrooms. As we walked the path, we noticed a hole in the ground to the side of the path. We noticed another hole, then another. Then we heard the chattering. There is a black-tailed prairie dog town right next to the restroom! During our stay we probably spent hours sitting and watching these fascinating little guys. They were definitely entertaining. But a word of caution: Always carry a light when you walk this area at night. Even though the paths are very level concrete, the fields are full of prairie dog holes and it gets extremely dark here. It would be easy to wander off of the path and step into a hole if you did not have a light.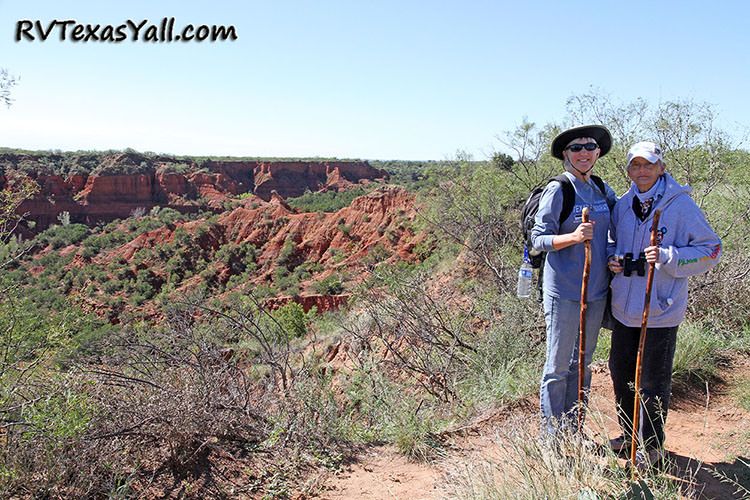 Excellent Hiking Trails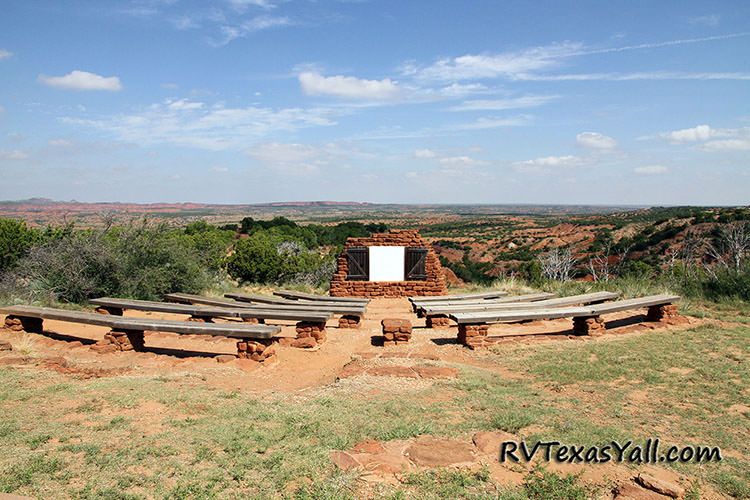 Amphitheater with a View!
Caprock Canyons State Park offers 35 back-in RV campsites with water and electricity (25 have 30 amp and 10 have 50 amp power). Each of these sites includes a covered picnic table, a lantern post and a fire ring. The RV restrooms are only a short walk on a concrete path from anywhere in the RV loop. The RV Loop (known as the Honey Flat Area) is located toward the front of the park on a high portion of the canyon wall. The drive into the canyon begins just after the RV Loop. There is a great 3 mile one-way hiking trail (Canyon Rim Trail) next to the RV Loop (on the main road nearest RV campsite 35). This is a very easy walking trail that offers spectacular views of the canyons... especially if you walk the entire trail!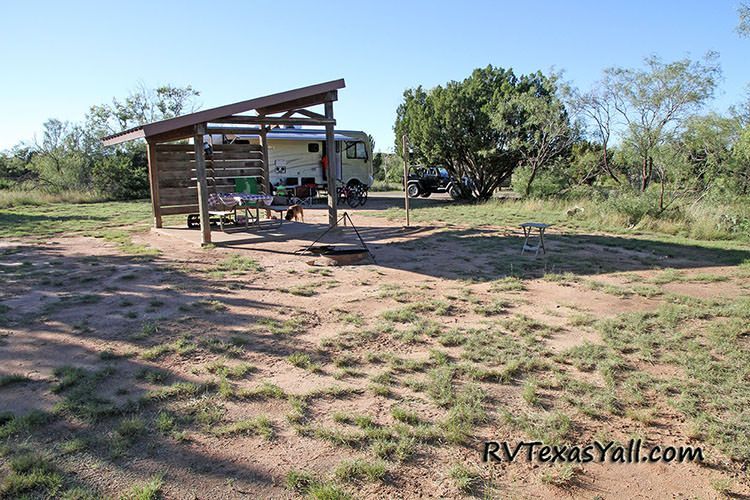 Our Campsite at Caprock Canyons State Park
Our campsite was fairly large and surrounded by brush and trees which added privacy. All of the RV sites appeared to be pretty close to level. There are no large trees here, but the covered picnic tables provide shade.
Other camping options in the canyons include 12 Equestrian Campsites, 40 Walk-In Tent Sites, 20 Primitive Equestrian Campsites, 40 Primitive Campsites along the Trailway and 50 Primitive Backpack-In Campsites. There are also 9 Tent Campsites available at Lake Theo.
Caprock Canyons State Park is located on FM 1065, 3.5 miles north of State Highway 86 in Quitaque, Texas. They offer mountain bikes and helmets for rent. Loaner fishing poles are also available if you would like to fish in Lake Theo. Bring your own bait. Interpretive signs throughout the park introduce visitors to the geological, ecological and historical attributes of the area. The elevation of this park ranges from 2,180 to 3,180 feet above sea level.
Thanks so much to Melany for the suggestion! It was great to visit with her and Roy at the state park and at the Bison Festival. Melany is an awesome photographer, ya'll! Check out her work at MelanyS Art! Thanks also to Park Hosts Nancy and Fred for all of their work in maintaining the RV campsites. We look forward to visiting this amazing area again.
If you would like to help protect the bison and other native species, or preserve and improve Caprock Canyons State Park or Caprock Canyons Trailway, please consider donating time or funds to the Caprock Partners Foundation. The number to the park is 806.455.1492.
UPDATE: The Texas State Bison Herd are now free to roam the entire park!
ALSO IN THE AREA: More Campgrounds in the Texas Panhandle
IF YOU LIKE THIS POST, CHECK OUT: Our Other Texas Campground Write-Ups
Subscribe To Our Newsletter to stay connected and receive an email with our latest posts and updates!
Tell Us What You Think! Alrighty you've heard what we think, now we want to hear about your experiences. Please share your pictures and comments in the RV Texas Y'all Community on Facebook or in the RV Texas Y'all Community on RVillage. Not a member of one of our communities yet? We'd love for you to participate! And, of course, they are absolutely FREE! Join us to share your experiences and interact with others folks in the RV Texas Y'all communities. Want more info? Learn more about our Facebook Group!
Safe Travels and Happy Camping!