Tips for Dry Camping / Boondocking in an RV
One of the best things about owning an RV is that it gives you the ability to camp just about anywhere. We filmed this video while on our second dry camping adventure. We dry camped for the first time when we camped in the parking lot of the Georgia World Congress Center in downtown Atlanta, Georgia with a few other University of Houston fans and a whole lot of Florida State fans for the 2016 Peach Bowl! On that trip, we lived without any hookups for 4 days. This video follows us on our first #BoondockingForBaseball adventure when we dry camped at Sam Houston State University in Huntsville, Texas and Franklin Ranch Community Park in Franklin, Texas for a baseball tournament.
If you enjoy this video or find it helpful, please give us a "Thumbs Up" on YouTube. If you'd like to see more of our videos as we create them, please subscribe to our YouTube Channel! Thanks!
How to Dry Camp in an RV | Boondocking For Baseball
What is "boondocking"? Boondocking is basically dry camping, or camping in your RV without hookups. Some RVers only use the term boondocking when they are dry camping out in the middle of nowhere, in nature, away from campgrounds. We called our experience #BoondockingForBaseball because, even though we were not away from everything, we were definitely not in a campground or near any type of hookup or amenity. Plus, #BoondockingForBaseball sounds more fun than #DryCampingForBaseball. :)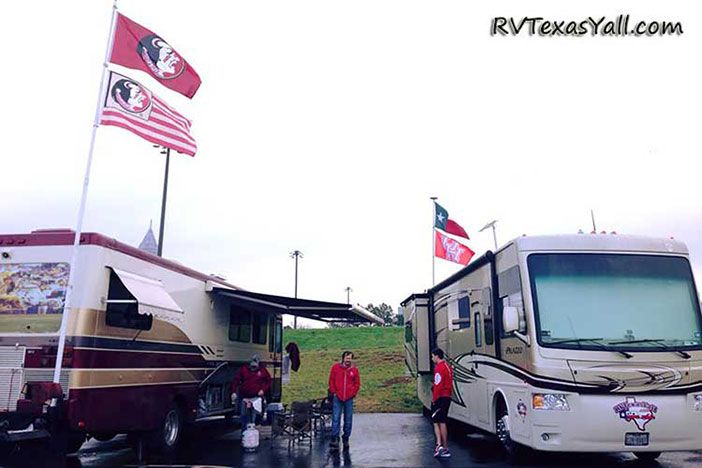 Dry Camping at the Peach Bowl!
How to Dry Camp in an RV
Step 1: Call Ahead. Before you head out on your boondocking adventure, it's always best to call ahead to the places where you would like to park. Ask them if it is okay, where they prefer that you park, and any rules that you need to be aware of. For example, Franklin Community Park locks their gate in the evening. So when we went to dinner, we had to be sure that we were back on their property before they closed for the night.
Step 2: Be Prepared. Boondocking or dry camping means that you are camping without any access to any type of hookup. Make sure that you have enough water in your fresh water tank and gas in your fuel tank. It's a good idea to start your dry camping adventure with empty grey and black water tanks. Make sure your batteries are fully charged and full of water if applicable, and that your water pump and generator are in good working order. You don't know what type of parking conditions you'll find, so be sure to carry what you need to level your RV.
Step 3: Pack Accordingly. Depending on the parking situation, you may not be able to open your slides while you are dry camping. Be sure to pack your items so that you will be able to access everything you need if this is the case.
Step 4: Pick a Spot! When you arrive at your dry camping destination, drive to the area suggested for you when you called in Step 1. Pay attention to the pitch of the area and where others are parked. You'll want to park in an area away from others so you are out of the way and in an area that is as level as possible. Also consider where other people might park. You don't want to get trapped in by other vehicles parking around you. And finally, use good judgement when parking near other RVers. If this is a tailgating situation (like at the Peach Bowl), other RVers may welcome you to park right next to them and contribute to the celebratory atmosphere. Otherwise, it might be a good idea to park your rig in the assigned area, but a bit away from other RVers so you all have some space.
Step 5: Get Set Up. Pay special attention to your surroundings when setting up. In some cases you may be able to extend your slides, and in other cases you may not. Make sure you are taking up the least amount of parking area possible and do not extend your slides if they will be in anyone's way. If you are in a populated area or with other RVers, be careful about how much you run your generator, as well as the times of day that you run it. Your goal is to be comfortable without being a nuisance to those around you. If you are dry camping in a parking lot or at an event, refrain from setting up your full camp. Unless you are in the wilderness, keep your outside setup to a bare minimum (if any).
Step 6: Be a Good Guest. Support the business or organization that is allowing you to dry camp. Buy a ticket to the events, eat at their concessions, shop at their stores. Be a quiet, unobtrusive neighbor. Always thank them for allowing you to stay. And be sure to limit your stay to one or two nights depending on the event. Never take advantage of their hospitality by overstaying your welcome.
Step 7: Leave No Trace. When you pack up to leave from your dry camping adventure, make sure to take everything with you. Do not dump grey or black water there unless they have a specific RV dump station. Please leave the area cleaner than you found it, by picking up any small trash that you find during your stay. After you pull out, there should be no indication that you camped there.
Step 8: Find a Dump Station. After your boondocking adventure, you'll obviously need to dump your tanks. If your next stop is an RV park or a campground, you can take care of that when you arrive. If not, you'll need to find a dump station on your route. Some truck stops, outdoor stores, and rest areas offer RV dump stations. Usually, this is a paid service, costing around $5-$10. There are a few phone apps that list locations of RV dump stations (we've used Trucker Path and Sanidumps). Resources like this are a good place to start, but not always 100% accurate. So call ahead to the places on your route to confirm that they have a public RV dump station you can use.
We hope this helps you to plan your boondocking adventure! Being able to dry camp really adds to the sense of freedom that comes with RVing. Don't be afraid to give it a try!
Safe Travels and Happy Camping!