RV Texas Y'all Podcast Episode 005
Listen Here!
Audio: RV Texas Y'all Podcast, Ep 5
Published February 18, 2021
If you cannot see the audio player just above this sentence, click on this link to play the episode.
In This Episode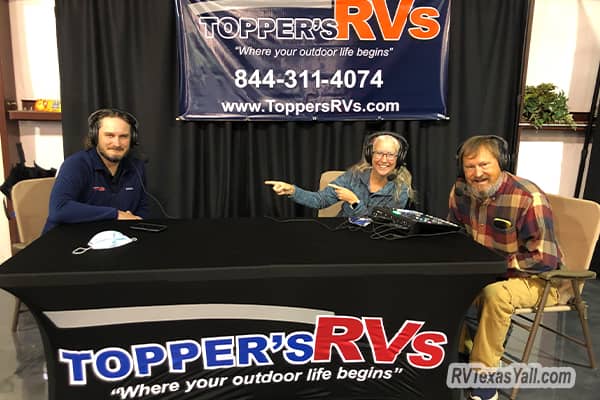 Larry, Stacie and Tom Recording the Podcast at Topper's RVs
In this episode, we sit down with our long-time friend and third generation owner of Topper's RVs, Larry Troutt III. Larry talks about what it was like growing up in the RV industry, how things have changed, and what he expects to see in the future. Topper's RVs is a family-owned and operated RV dealership located just northwest of Houston, Texas. The small business was started by Larry's Granddad, continued by his Dad, and now Larry. (Actually, all three generations share the same name: Larry Troutt.)
Larry also shares what it's been like owning an RV dealership during COVID, his thoughts on the future of RV shows, and what customers can expect from manufacturers and dealers going forward.
In this week's Texas Tidbit, Stacie tackles the age old saying "Everything's Bigger in Texas". Is it???
And in The ABCs of RVing: D is for Dry Camping! Tom shares a bit about boondocking.
Mentioned In This Episode
See the World's Largest Cowboy Boots in our San Antonio Side Trip Video
See the World's Smallest Skyscraper in our Wichita Falls Video
See the World's Smallest Active Catholic Church in our Fayetteville / Round Top Video
What We Learned When Dry Camping for 2 Straight Weeks Video
How To Get The Most Out of RV Shows
Our Annual List of Texas RV Shows
Subscribe to the RV Texas Y'all Podcast!
Like what you hear? Subscribe to us on your favorite podcast network including: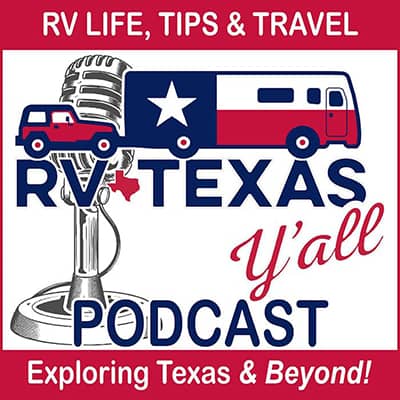 - Audible
- Breaker
- Castbox
- Deezer
- Spotify
- Spreaker
- Stitcher
- TuneIn
If you enjoy our podcast, please leave us a review in your favorite podcast app and share our episodes with your friends and family!
Of course, you can always listen to any of our episodes right here on our website!
Subscribe to our Newsletter for weekly updates on new content and other interesting stuff!