Houston, Texas - Texas Gulf Coast Region
Video: Our Tour of Highway 6 RV Resort in Houston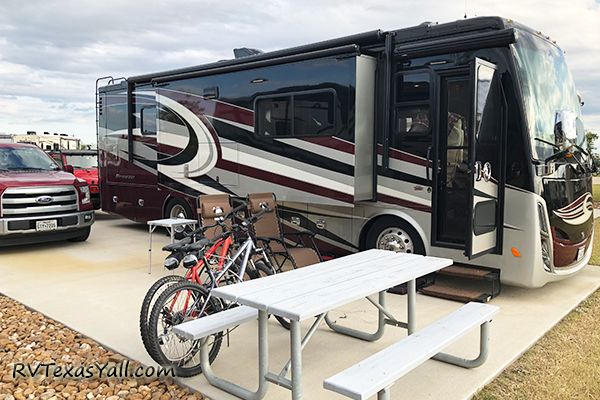 Site 133 at Highway 6 RV Resort
If you saw our recent video about beginning full-time RV life, you might remember that we wanted to find somewhere to stay for a few weeks that was near our sticks and bricks home while we finished preparing it and getting it ready to sell. Our friend, neighbor and fellow RVer, Judy, suggested we look at Highway 6 RV Resort and so we did. We came by to look at the park on a Friday and moved into the RV there on Saturday! It's the perfect location for us to begin our full-time journey while we are getting organized, deciding what we can really carry, and running back and forth to the old house while it's on the market. And bonus: it's near our family so that makes it a great spot for us to spend the holidays!
As we write this, we've been at Highway 6 RV Resort for a couple of weeks. We thought we'd share our experience with you. To see a tour, please watch the video above from our Facebook Page.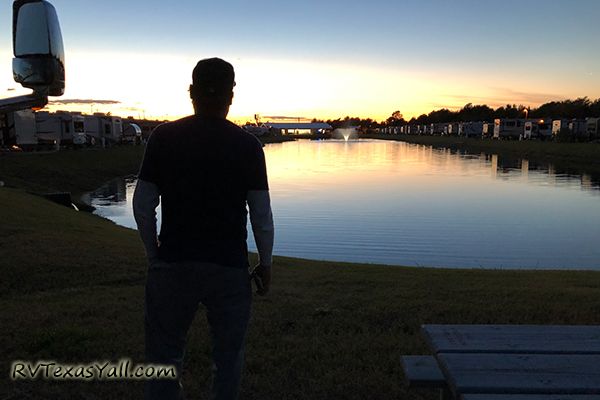 Sunset From Our Site
Located on the west side of Houston near Highway 6 and the Westpark Tollway, Highway 6 RV Resort is one of the many RV resorts in the Houston area owned and operated by Quality RV Resorts. From the couple of weeks we have spent here, we can tell that these folks put a lot of thought into this park.
Our site is a pull-in site. We were lucky to be able to reserve a site looking at the lake through our windshield for most of our stay. The park also offers back-in and pull-through sites. All sites are 30/50amp electric with full hookups, and include concrete pads with some grass between sites. The area around each site's connections is covered with rock, allowing for good drainage during rain and easy maintenance (they don't have to mow grass near electric, water and sewer connections). Driveways and roads within the park are paved and wide with drains in the middle of the road to direct water away from sites.
The park offers two dog parks (one at each end) and locked gates that lead across the street to a large park with a walking path around a lake. Access to Highway 6 RV Resort requires a gate code. We feel very secure inside the resort both day and night.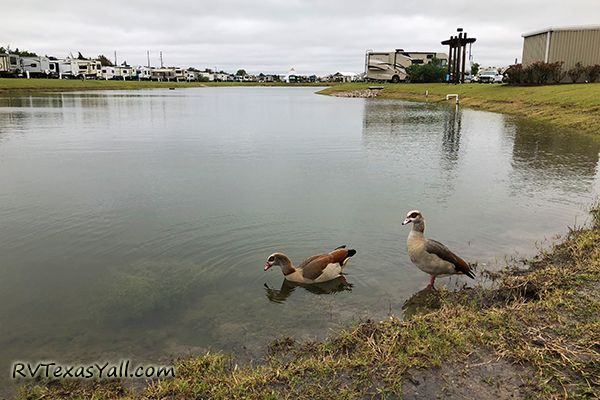 Some of Our Duck Neighbors
Other amenities include on-site propane and free air for your tires. The recreation center also offers free coffee and popcorn all day, exercise equipment, and TV viewing area, a pool table, table shuffleboard and a business computer room that gives guests free internet and printing. The recreation center is also home to the laundry room (with machines that operate on cards, not coins), vending machines and the office where you can buy a few RV related items like water hoses and such.
The resort also features a heated swimming pool, a hot tub, and two community BBQ areas with propane grills that are cleaned every day. Guests can rent a golf cart, a storage building for extra stuff or a parking space for a utility trailer or boat. Perhaps the most unique amenity here at Highway 6 RV Resort is the dog wash station. It's shaded, sturdy and big enough for even a 70 pound pup like Star. The dog wash station even includes a blow dryer so the pups can be clean, dry and fluffy!
We are really enjoying our stay here at Highway 6 RV Resort. The park is very clean, the staff is friendly, and road noise is a lot less than we expected considering the park's location. The resort caters to long-term guests, but does offer short-term or overnight stays if space is available. We would definitely stay here again!