Kemah, Texas - Texas Gulf Coast Region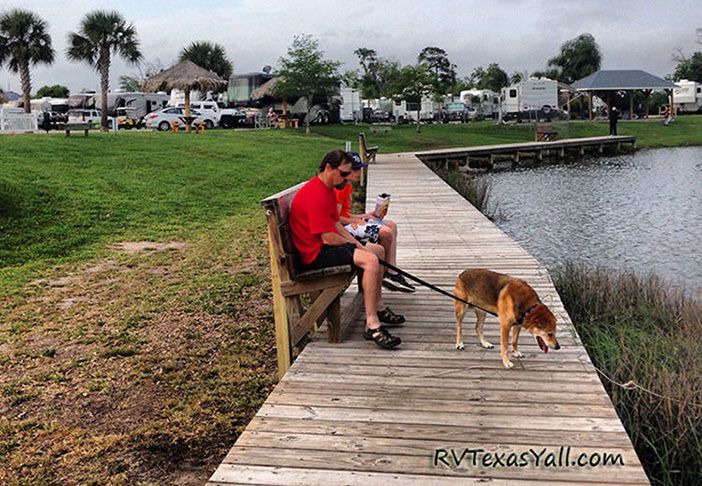 Marina Bay RV Resort Boardwalk
Long recognized as a playground for Houstonians, Kemah, Texas is home to the 3rd largest fleet of recreational boats in the United States. According to the city's history, it is considered the "Gateway to the Bay" because of its position on both Clear Creek and Galveston Bay. They say that legendary pirate Jean Lafitte lived here during the early 1800s. Today, the small town is full of recreational boating and fishing opportunities, restaurants and unique shops. It is also home to the Kemah Boardwalk entertainment complex.
Roughly a mile from the Boardwalk, you'll find Marina Bay RV Resort. This resort features 200 RV sites with 30 and 50 amp electricity and full hook-ups on level, smooth concrete pads. Some of the sites are pull-through and some are back-in. They can accomodate large rigs. The resort is also home to 37 furnished cabins.
One section of the park is reserved for Adults Only. It includes its own swimming pool, laundry, restrooms and picnic pavilion. All other sections of the park are open to families. Amenities at Marina Bay RV Resort include 3 swimming pools (1 adult pool, 2 family pools), a fitness center, 3 picnic pavilions with BBQ grills, 2 community firepits, a greenbelt along Jarboe Bayou at the back of the property, and a boardwalk for fishing or birdwatching. There are three laundry rooms and restroom locations throughout the property... all of which were completely immaculate! We have literally never seen nicer restrooms in an RV park. These are outstanding. All restrooms, laundry rooms and the greenbelt are smoke-free.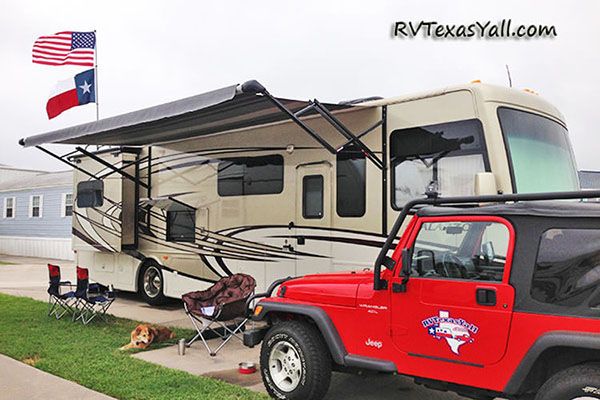 Our First Campsite at Marina Bay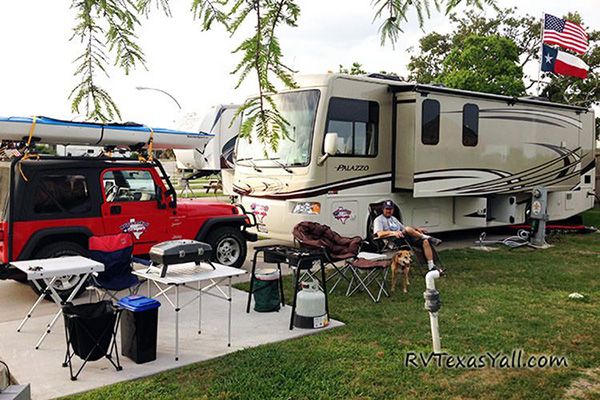 Our Second Campsite at Marina Bay
This resort was built in 2004 and renovated after Hurricane Ike hit this part of the Texas Coast in 2008. It is in great shape. All of the roads are smooth. The grass and landscaping are very well maintained and the facilities are top-notch.
While some of the sites are home to folks here for extended visits, this does not feel like a trailer park. All of the RVs are well maintained. All of the sites are clean. And all of the people are very friendly. We felt very safe here. In fact, we enjoyed our first stay so much, we returned the very next weekend!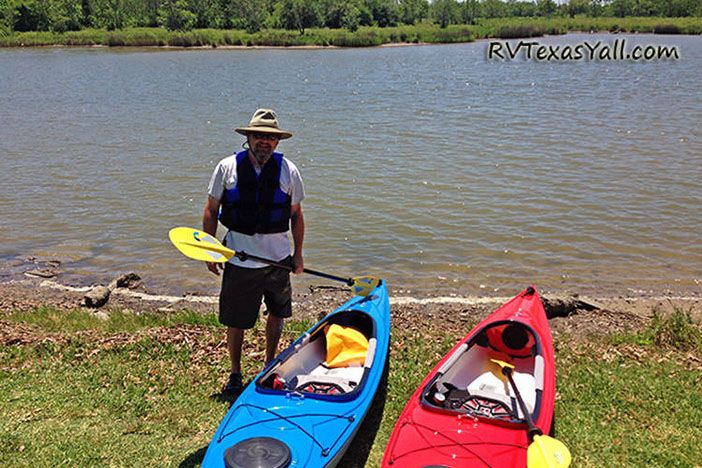 Kayaking Jarboe Bayou
The only room for improvement we could identify here was with the bayou. We really enjoyed sitting and watching the birds (and jumping fish), but it was unfortunate to occasionally see trash float up on the shore from elsewhere on the waterway. This is not to say that there is a lot of refuse. But we just hate to see any garbage in the water. When we returned for our 2nd stay, we brought along our kayaks. It was easy to put in right at the park and was an easy paddle down the bayou. We saw fish, turtles, and a variety of waterfowl.
We were lucky during our second stay that we were able to book one of the best campsites in the park... a site right on the greenbelt looking at the bayou! We almost felt like we were in a tropical oasis surrounded by palapas and waterfowl! We had a great time visiting with everyone who walked by on the greenbelt. We met folks from the Texas Valley, Hawaii, Ohio, Alabama and Canada!
Marina Bay RV Resort is located at 925 Marina Bay Drive (FM 2094), Kemah, Texas 77565. The office phone number is 281.334.9944. It is only a short drive to the Johnson Space Center (Space Center Houston) or the Armand Bayou Nature Center.
If you get tired of cooking, there are a lot of great restaurants to choose from in the immediate area. Some of the one's we really like include T-Bone Tom's and Outrigger's. The Kemah Boardwalk area also offers several good restaurant options.
Oh... and very important... Kemah is an Indian name meaning "Wind in the Face". It can get VERY windy here. Always remember to bring in your awning before you leave or go to bed!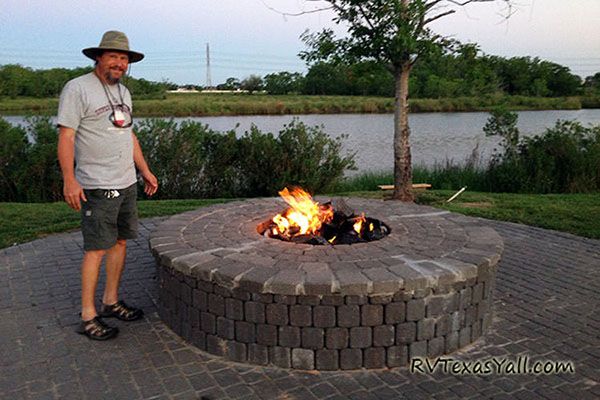 Community Firepit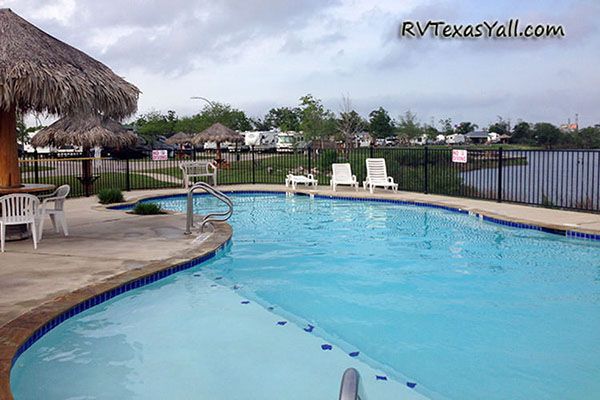 Rayford Crossing Swimming Pool
ALSO IN THE AREA: More RV Resorts in Gulf Coast Texas
IF YOU LIKE THIS POST, CHECK OUT: Our Other Texas RV Park Write-Ups
Subscribe To Our Newsletter to stay connected and receive an email with our latest posts and updates!
Tell Us What You Think! Alrighty you've heard what we think, now we want to hear about your experiences. Please share your pictures and comments in the RV Texas Y'all Community on Facebook or in the RV Texas Y'all Community on RVillage. Not a member of one of our communities yet? We'd love for you to participate! And, of course, they are absolutely FREE! Join us to share your experiences and interact with others folks in the RV Texas Y'all communities. Want more info? Learn more about our Facebook Group!
Safe Travels and Happy Camping!