Our Journey to Full Time RV Life, Episode 2:
Video: Picking Up Our New Motorhome!
In this video, we take you on the road with us as we pick up our new (to us) RV! As we begin our transition from living in our suburban sticks and bricks home in the Houston area to living and traveling full time in a motorhome, we wanted to make sure we had the right RV for us to call home.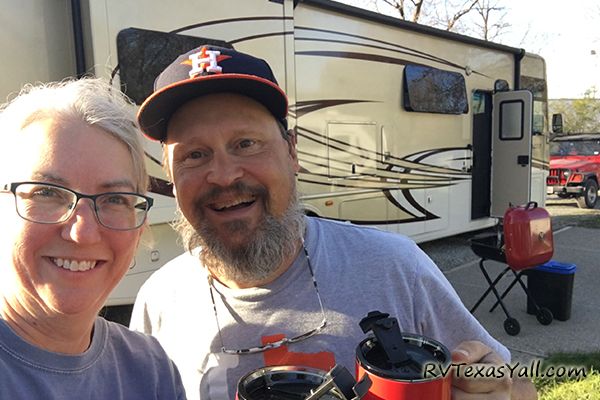 Saying Goodbye to Our 1st Diesel Motorhome
If you follow our videos or posts, you probably know that since 2014 we've owned a 35 foot Thor Palazzo 33.2 (Class A diesel pusher). Our Palazzo has taken us all over Texas and to 15 other states across the USA! It carried us to the amazing Balloon Fiesta in Albuquerque, up to Iowa for the State Fair, to see the Houston Cougars beat Florida State in the Peach Bowl in Atlanta, Georgia, and out to Disneyland in California. But now that we are looking ahead to full-time travel, we really wanted to go a little bit smaller so we could fit into more state and national campgrounds.
We looked at options for a long time, and finally found what we feel like is the perfect full-time coach for us! We are so excited to introduce it to y'all! Just like before, you can follow our new motorhome on Twitter: @DieselTex.
After weeks, months and actually years of thinking about what we really needed and wanted in our home on wheels, watching videos, visiting dealerships, touring RV shows and scouring online ads, we had our search narrowed down to late model pre-owned short diesel pushers. There aren't a lot of these out there to choose from, and when you find what you're looking for... well we felt like we got pretty lucky on this one.
As we mention in our video, we actually found this motorhome on YouTube! (Another reason to love YouTube!) Our friend, Chris Anderson at Mount Comfort RV, did a very detailed tour of both the inside and the outside of this RV. We watched the video, and then we watched it again, and then again. Before we ever made the trip and saw it in person, we knew we had found the right coach for our full-time travels.
We were a little bit nervous about driving 1,100 miles to buy an RV we had never actually seen in person, but Chris, Paul, Rob and the entire team at Mount Comfort were awesome to work with from start to finish. It was a great experience and this motorhome (which, by the way, is a pre-owned 2017 Tiffin Breeze 31BR) is everything we thought it would be and more! We couldn't be happier. Be sure to check out Mount Comfort RV when you're in Indianapolis, Indiana!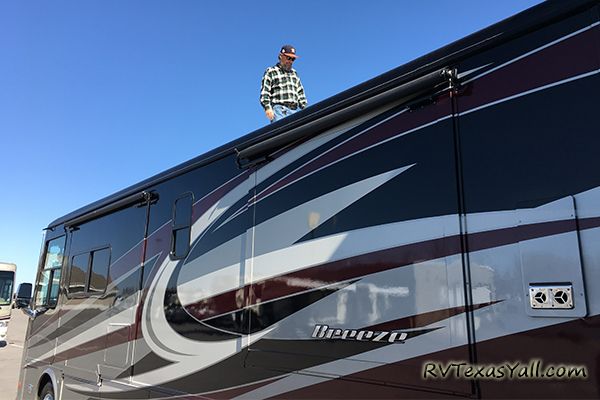 Checking the Roof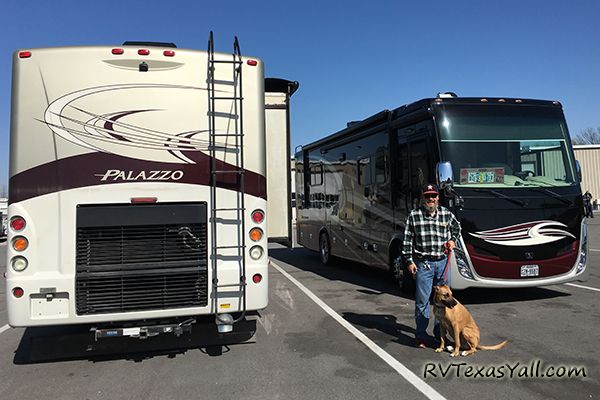 Changing RVs
In case you're wondering about where we stayed on this whirlwind trip, we stayed at the Memphis KOA in Marion, Arkansas, the Indianapolis KOA in Greenfield, Indiana, and the Rainbow's End Escapee's Park in Livingston, Texas. The Indianapolis KOA is literally right next door to Mount Comfort RV, so it's super convenient. And, just by coincidence, we ended up parked next to what looked like our rig's big brother in Livingston! What are the chances?
So, this completes the first step in our transition to full time RV life! Now that we have our full-time home on wheels, we can move on to step number 2. What is step number 2? There is so much we need to do, that is a very good question! But don't worry... we'll be sharing the journey with you every step of the way. Make sure you are subscribed to our YouTube Channel, connect with us on your favorite social media network, or just keep checking back here on RVTexasYall.com for updates on our progress. And if you have friends or family who might be interested in becoming full-time RVers, please share our experience with them so we can all learn together.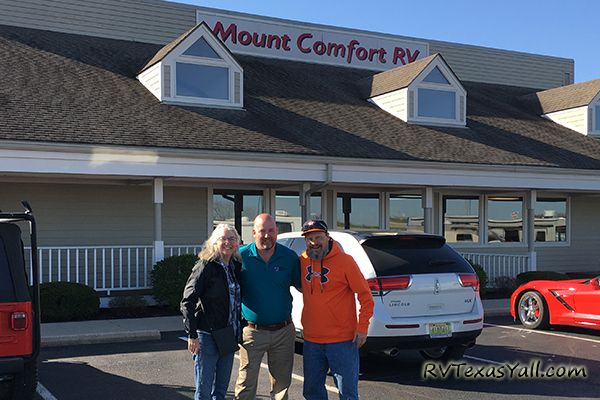 Thanks to Chris Anderson and Mount Comfort RV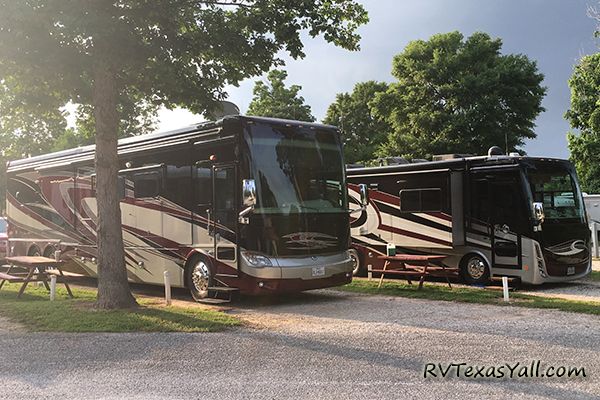 Parked Next to Our Big Brother
As always, we appreciate you joining us on this journey. It's only just begun! So stay tuned for a lot more fun! Oh, and if you'd like to see the tour (and what started this change for us), check out Chris' video walk-through of what is now our new to us 2017 Tiffin Breeze 31BR...
Video: 2017 Tiffin Allegro Breeze 31BR