Austin, Texas - Texas Hill Country Region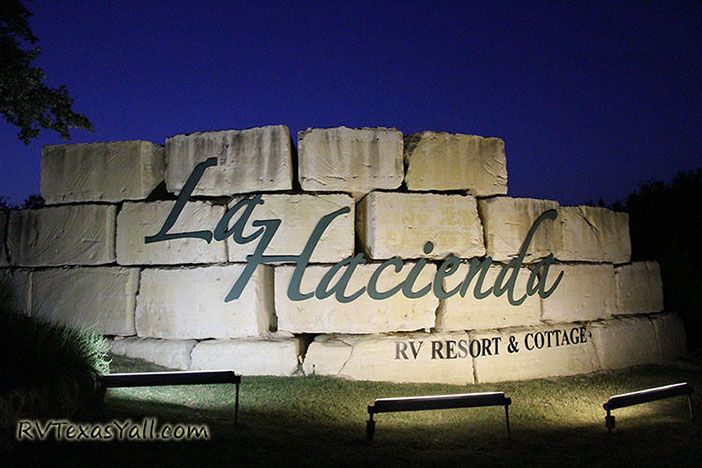 La Hacienda RV Resort Entrance Sign
Tucked up in the Hudson Bend area of the Lake Travis Peninsula just Northwest of Austin, TX is a wonderful RV Resort: La Hacienda. We spent 5 nights at this resort and enjoyed every minute of it.
La Hacienda RV Resort and Cottages opened Section A in 1999. The resort was expanded in 2008 to include Sections B and C as well as two swimming pools (a family pool and an adult pool are located side-by-side next to the Office). The resort also features two laundry rooms, a 24 hour fitness center, a playground, air hockey, basketball, ping-pong, horseshoes, a large fenced dog play area, board games with free fresh popcorn in the office, a clubhouse, a special events pavilion, and a phenomenal 4-hole pitching and putting green.
To say that this park is dog friendly is an understatement! I waited outside with our 11-year old pup, Sally, while Tom went into the Office. We were fine sitting on the covered front porch talking to folks passing by. But when the staff realized we were waiting on Tom to come out of the Office, they made sure we knew that Sally was welcomed inside. They keep a big bowl of water and dog treats in the Office for their canine guests. As you can imagine, there were quite a few guests traveling with their canine companions. But the grounds were spotless. Everyone was great about picking up after their pets. No dogs were roaming free or left outside alone and we never heard barking dogs (even on the Fourth of July when fireworks might drive dogs crazy).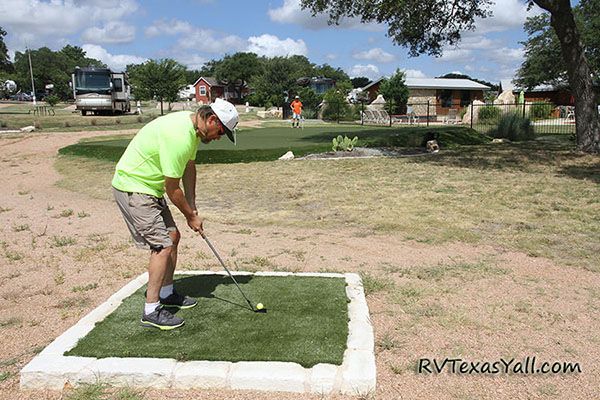 Unique Golf Chipping/Putting Green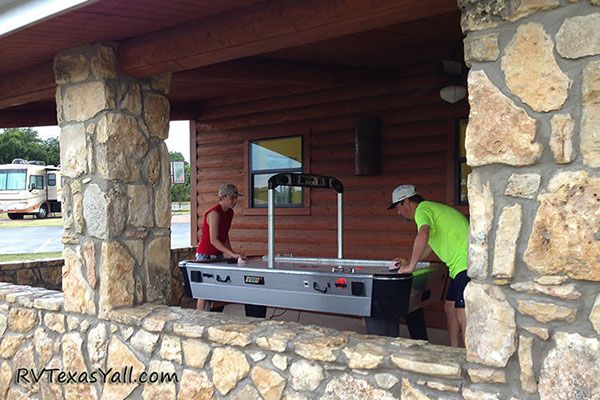 Air Hockey on a Covered Patio
This resort is located in the beautiful Texas Hill Country. Take time to enjoy the amazing views as you travel Ranch Road 620. Due to the drought that's been hanging around Texas since 2011, Lake Travis is currently only 30% full (Note: Thankfully, this has changed. See our update at the bottom of the post). So, unfortunately, the lake activities that would normally be bustling in this area are limited, at best. The drought has also drained the "pond" that appears on the La Hacienda Resort map. Hopefully, the areas up river will get much needed rain soon. In the meantime, there are a lot of other fun things to do around the resort and in the area. While we were here, we visited the Bullock Texas State History Museum, toured Inner Space Cavern, and watched the Oklahoma City Redhawks (AAA Astros) take on the Round Rock Express (AAA Rangers) at Dell Diamond. We also attended a youth baseball world series tournament at CTX Field of Dreams.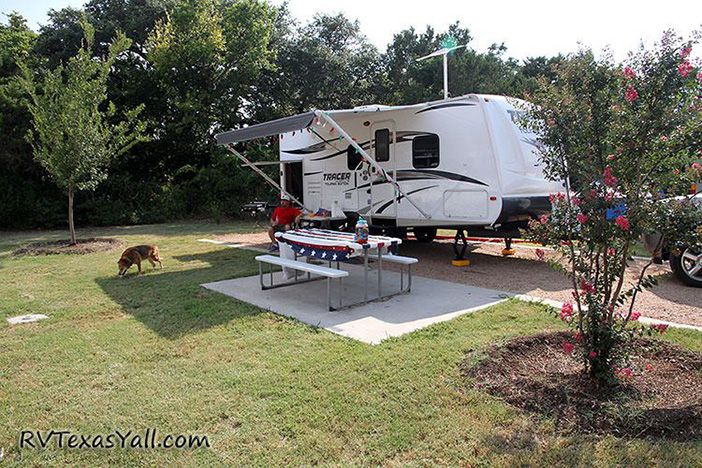 Our Campsite at La Hacienda
Our favorite activity at La Hacienda? Definitely, the pitching and putting green! Added to the facility in 2012, we've never seen anything quite like this. Designed by Phil Mickelson's short-game coach, Dave Pelz, this 4 hole green also features 5 separate chipping pads set at a variety of distances and angles. It's a great place to work on your game! You'll find this fun addition to the resort next to the swimming pools in Section C. The golf area also includes a big shade tree and a picnic table.
La Hacienda RV Resort hosts approximately 218 RV sites and 24 cottages. They offer pull-through, back-in and pull-in RV sites, all with full hook-ups. Every site includes a level gravel pad, a concrete patio with picnic table, a grassy area, and at least one tree. Cable TV and Wi-Fi are included. Trash is picked up every morning at your curb. The roads inside the resort are paved and easy to drive through. There are quite a few monthly residents here, some who have been here for several years. But the owners limit the number of monthly spaces, and all of the long-term residents we met were extremely friendly and welcoming. Shout out to our neighbors, Larry and Ruth from Colorado! Whether you are a full-timer or a weekend camper, you will enjoy this resort. The sites are well maintained and the entire property is immaculate.
La Hacienda RV Resort is located at 5220 Hudson Bend Rd, Austin TX 78734. It was very convenient to all of the places we visited during our trip (approximately 30 minutes to downtown Austin and Round Rock, and about 40 minutes to Georgetown and Dripping Springs). All of the staff is very friendly and take pride in maintaining a top-notch facility. Thank you to Ron, Lydia, Patti, Tom and everyone at La Hacienda. We will definitely be back!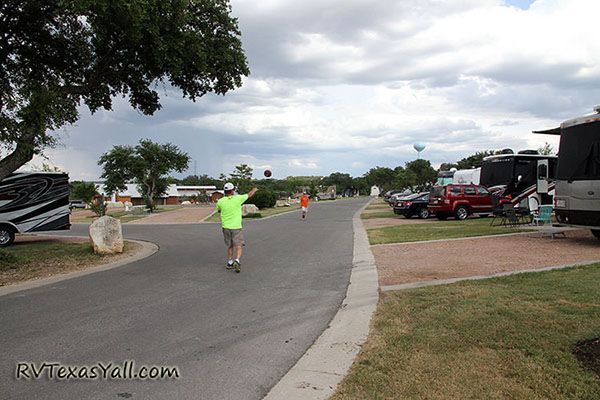 Quiet, Wide, Paved Roads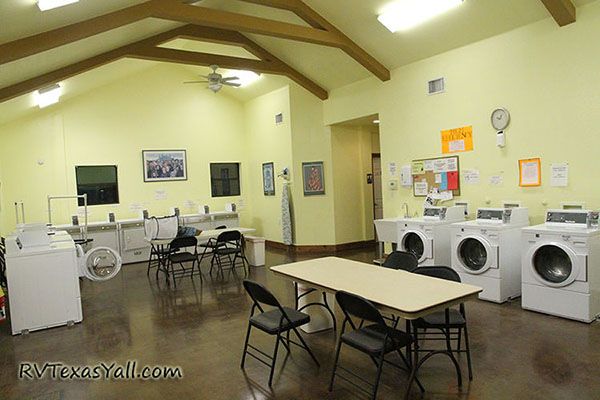 Large, Bright, Clean Laundry Room
UPDATE: Lake activities have returned to the area as Lake Travis has finally (after a long and painful drought in this region) regained 100% capacity!! This makes La Hacienda, once again, a great location for RV camping for folks who enjoy water sports and activities at nearby Lake Travis. Please note, however, the resort itself does not sit on the lakeshore. On another note, La Hacienda is now part of Sun RV Resorts. We spoke with the folks from Sun RV Resorts at the Houston RV Show earlier this year. They said their goal is to continue to build on the excellent reputation of La Hacienda.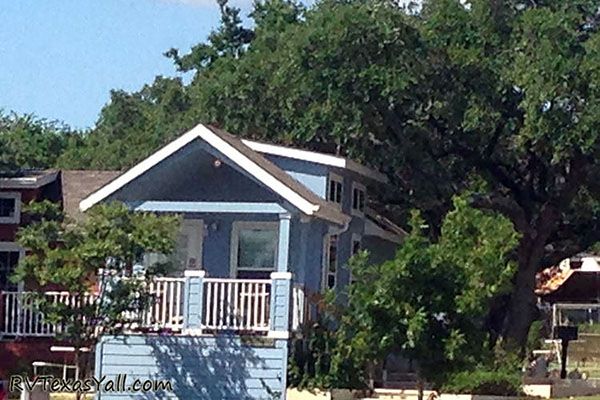 Colorful Cottages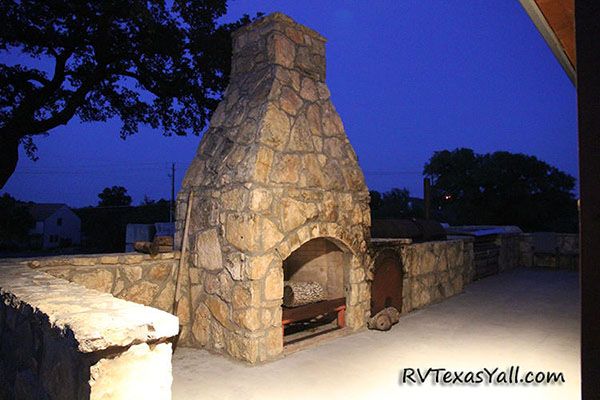 Community Outdoor Kitchen for Events
ALSO IN THE AREA: More RV Resorts in the Texas Hill Country
IF YOU LIKE THIS POST, CHECK OUT: Our Other Texas RV Park Write-Ups
Subscribe To Our Newsletter to stay connected and receive an email with our latest posts and updates!
Tell Us What You Think! Alrighty you've heard what we think, now we want to hear about your experiences. Please share your pictures and comments in the RV Texas Y'all Community on Facebook or in the RV Texas Y'all Community on RVillage. Not a member of one of our communities yet? We'd love for you to participate! And, of course, they are absolutely FREE! Join us to share your experiences and interact with others folks in the RV Texas Y'all communities. Want more info? Learn more about our Facebook Group!
Safe Travels and Happy Camping!