Galveston, Texas - Texas Gulf Coast Region
NOTE: This post chronicles our first trip to Jamaica Beach RV Resort in Galveston. Since then, Jamaica Beach has been a regular stop for us. We have an updated post on the park with videos if you'd like to see more.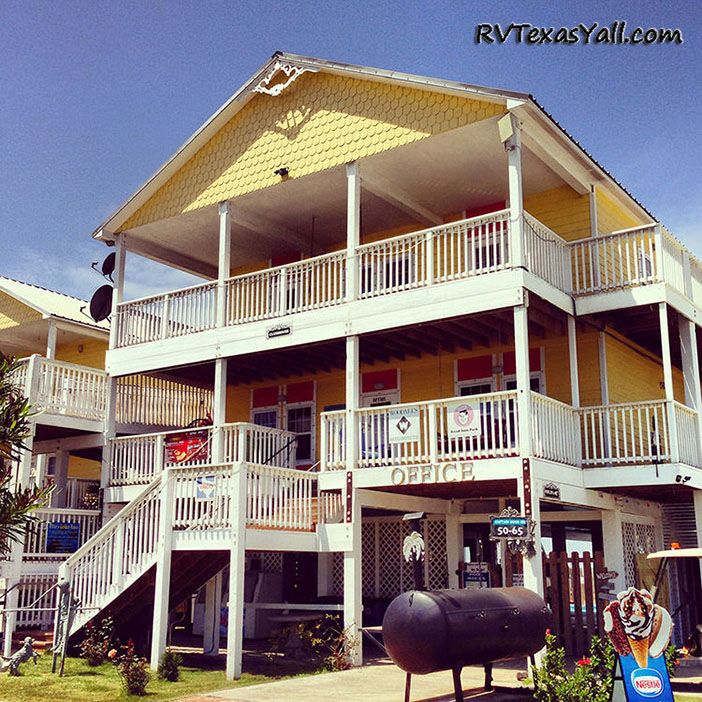 The Office at Jamaica Beach RV Park
If you're headed down toward Galveston, be sure to check out Jamaica Beach RV Park.  This family-owned and operated RV resort has only been around a few years, but they have built a very nice facility!  It's located approximately 10 miles West of the Galveston Seawall just past the city of Jamaica Beach.  We spent 2 nights here and loved it!
Our great experience began Friday night.  We did not arrive at the park until after 9pm.  We called earlier in the day to ask about their policy on late check-ins.  "No problem!", said Nate, "You'll be in site 39.  If it's late, just feel free to set up and we'll see in you in the morning!".  But when we arrived that night, his dad, Ron, was at the office ready to greet us with a smile and conversation!
Being a privately owned campground, the sites are smaller than what we've experienced at the State Parks, but we had plenty of room.  Most sites alternate rig and picnic area for privacy.  We had one of the "friends and family" sites:  our green picnic area sat next to the green picnic area of our neighbors.  This is a great setup if you are traveling with friends or family.  For us, it worked out fine as our neighbors were a friendly couple traveling from Louisiana in a Class A.  (shout out to Kendall & Deb!)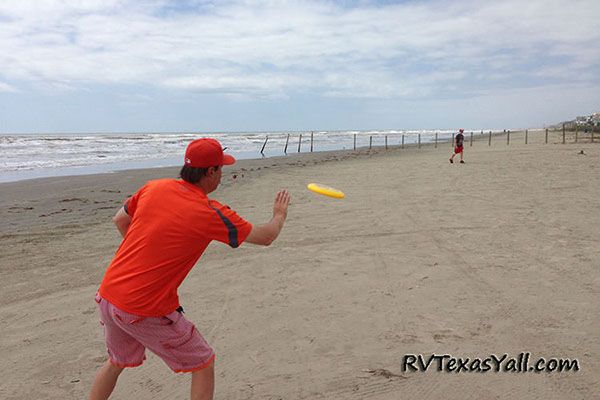 Playing Frisbee on the Beach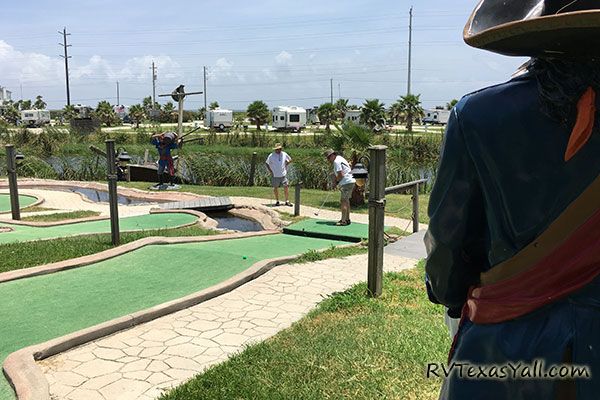 Playing Mini Golf in Jamaica Beach RV Park
If you're looking for amenities, Jamaica Beach RV Park has them!  Their recently expanded park includes 2 sparkling clean swimming pools (one for families and one for adults), a children's splash pad, a playground, horseshoes, ladder golf, a fenced dog run, an alpaca area, "water wars", ping-pong, fun carts, an awesome 18-hole mini golf course, and outdoor movies on some nights.  On Wednesdays and Saturdays, you can get a nice waffle, biscuits and gravy or combo breakfast for only $3 (nicely done by friendly folks).  In the afternoons, you can order a freshly made pizza with up to 12 toppings for about $10 (made onsite and delivered to your door)!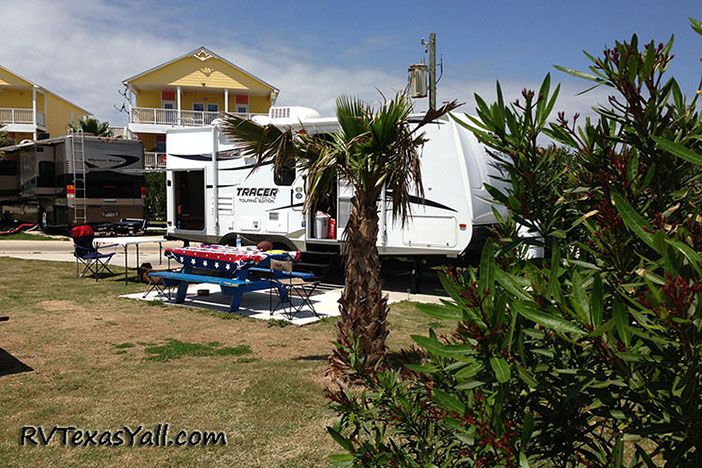 Our Campsite at Jamaica Beach RV Park
Jamaica Beach is across the street from the campground.  We walked a trail to the access about 50 yards West of the campground.  On our trip in April, we almost had the beach to ourselves!  We saw sandpipers, seagulls and pelicans.  We had plenty of room to throw the frisbee while we watched some folks fish in the surf a little ways down from us.  If you enjoy horses, S-n-G Horseback Riding is located right next door to Jamaica Beach RV Park.  They offer rides around the bay and sometimes on the beach.
Jamaica Beach RV Park is located at 17200 FM 3005 (San Luis Pass), Galveston TX 77554.  Their newly expanded grounds now include 111 pull-through, full-hookup sites.
Every site includes a concrete pad and patio area, a picnic table, 30/50 amp service, cable TV, and wifi.  You're on the coast, so don't expect a bunch of big trees or shade here, but we did notice that every site has a palm tree and many have additional bushes for privacy.  All sites have grassy areas.  The club house also features an exercise room, a large screen tv and a pool table.  Propane and ice are available.  Restrooms with showers and laundry facilities are available.  This entire property is immaculate!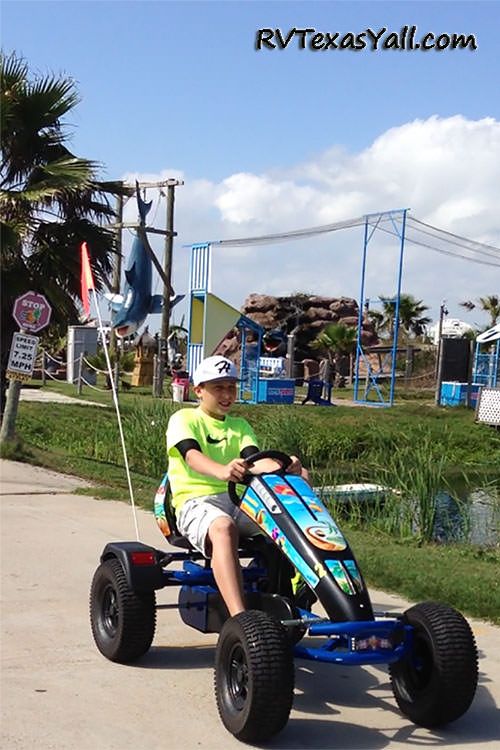 Riding the Fun Carts at Jamaica Beach RV Park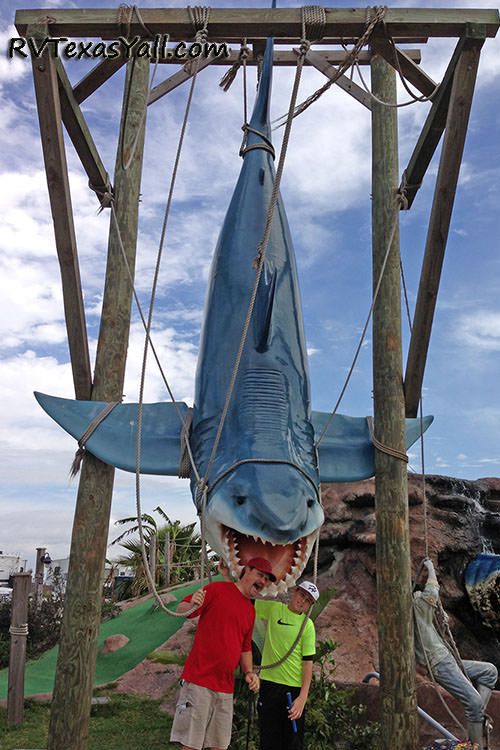 Pirates Treasure Adventure Golf
If you want to extend your fun by a few hours, ask about their late checkout program.  We paid an additional $20 to move our checkout time to 5pm so we could enjoy the day before we left.  Of course, this is subject to the availability of your site.
During our stay, the place was packed!  We met folks from all over the US and Canada down here enjoying our warm Winter and early Spring.  If you want to visit during the Summer, make reservations early!  There are even more things going on for families then.  We highly recommend Jamaica Beach RV Park.  We will definitely be back, as will all of the other RVers that we spoke with there.  Thank you to Ron, Dora, Nate and all of the JBRV crew for building such a wonderful resort!
Oh, before I forget!  If you'd like to see more pictures from our trips, we're now on Instagram and Pinterest!  Check out our pages!  See you on the road!
ALSO IN THE AREA: More RV Resorts in Gulf Coast Texas
IF YOU LIKE THIS POST, CHECK OUT: Our Other Texas RV Park Write-Ups
Subscribe To Our Newsletter to stay connected and receive an email with our latest posts and updates!
Safe Travels and Happy Camping!