Spring, Texas - Texas Gulf Coast Region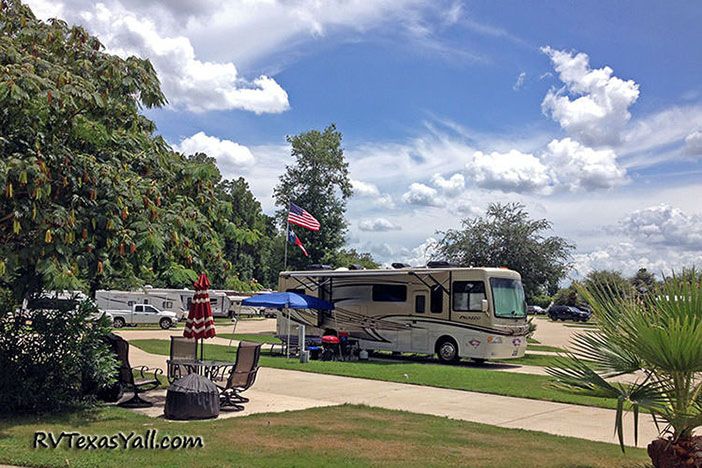 Our Campsite at Rayford Crossing
We first met the folks from Rayford Crossing RV Resort a couple of years ago, I guess, at the Houston RV Show. A generator maintenance appointment Monday morning at Cummins Southern Plains in Northeast Houston, gave us the perfect excuse to visit this park for the weekend. We could enjoy a relaxing weekend in our RV, then bypass much of the Monday morning Houston traffic. Win-Win!
Rayford Crossing RV Resort is a nice, quiet RV resort in Spring, Texas with a good number of amenities to go along with their 112 RV sites and 3 cabins. After you turn off of Rayford Road on your way to the park, be mindful of the trees (especially if you are traveling at night). The small roads between Rayford Road and the RV resort have quite a few limbs hanging over the road. Luckily, there was zero traffic when we were traveling, so we were able to easily avoid the branches. But you certainly wouldn't want to arrive minus any antennae or vent covers, so you'll definitely want to be aware!
The friendly office staff had an entire welcome bag ready for us when we arrived. It even included a couple of dog treats and a flyer advertising RVillage.com (a social networking website built by RVers for RVers - we really enjoy the site). Most of the RV sites here at Rayford Crossing are pull-through and able to handle big rigs. In fact, we saw a beautiful Prevost with a matching garage trailer in one of the premium sites. If they can fit, most rigs can fit. The park roads are paved concrete and in great shape. The pads and patios are concrete with a good width. Not all sites are perfectly level, but ours was.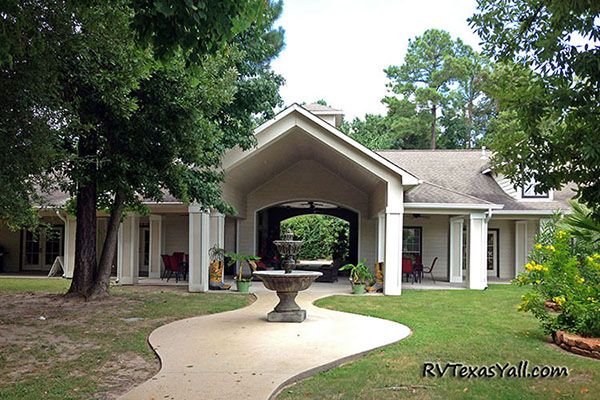 Rayford Crossing Main Building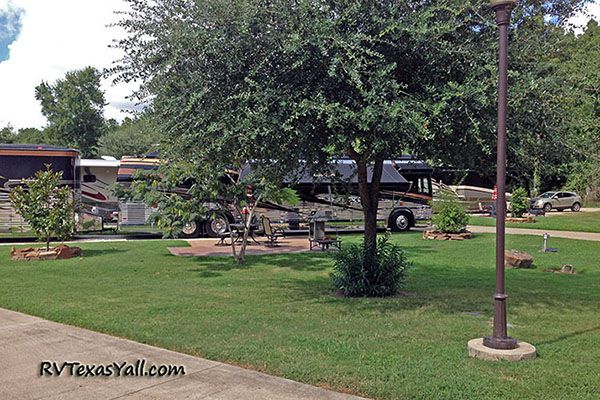 Rayford Crossing Premium Campsite
Each site also includes a grassy area, a picnic table, strong cable signal, 50 and 30 amp service, city water and sewer connections. While we had no trees for shade, there is plenty of space between rigs. We did not feel cramped at all and were able to put out our awning and set up our canopy for shade with plenty of room to spare. Their premium sites also include patio furniture (in place of the picnic table), a fire pit and a BBQ grill. The wi-fi is free and worked well during our stay.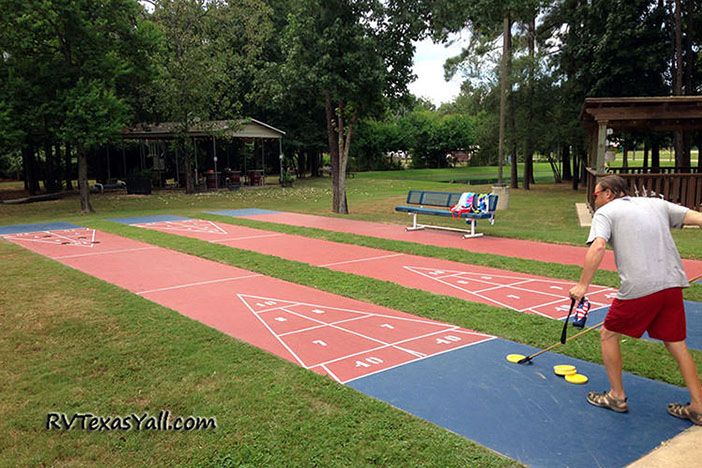 Shuffleboard at Rayford Crossing
Amenities at Rayford Crossing include a large swimming pool, a store, library, fitness center, game room, meeting rooms, laundry facility, hot tub, shuffleboard, horseshoes, catch-and-release fishing pond, ping-pong table, playground, dog park and campsite trash pick-up. We really enjoyed the fact that the park was surrounded by woods and included a wooded area in the recreation area. We also appreciated that all of the horseshoes, shuffleboard and ping-pong equipment were outside in their proper areas. It was nice to be able to enjoy these amenities without having to borrow equipment from the office during business hours.
The campsites and public areas were clean and well maintained. The only exception we saw included a few remnants of a party that took place in the outdoor pavilion on Saturday. The party-goers left a few things behind and the items were still in the pavilion Sunday night. Based on our brief experience here and what everyone else has told us about this park, we believe that this was an unusual occurrence. This is a clean park, that folks really enjoy. It's close to Old Town Spring and The Woodlands, so there are a lot of entertainment, shopping and dining options nearby. But the resort itself is quiet and peaceful. For us, it was a short drive to Cummins Southern Plains on Monday morning via the Hardy Toll Road.
Rayford Crossing RV Resort is located at 29321 S Plum Creek Drive, Spring, Texas 77386. Their phone number is 281.298.8008. The park opened in 2005, and they are now planning an expansion of another 60 sites. The owners live on property, and the staff is friendly and helpful. We hear that this is a very popular resort with the Winter Texans, so if you plan to visit during the Winter months, you'd better book early. :) We will definitely stay here again in the future.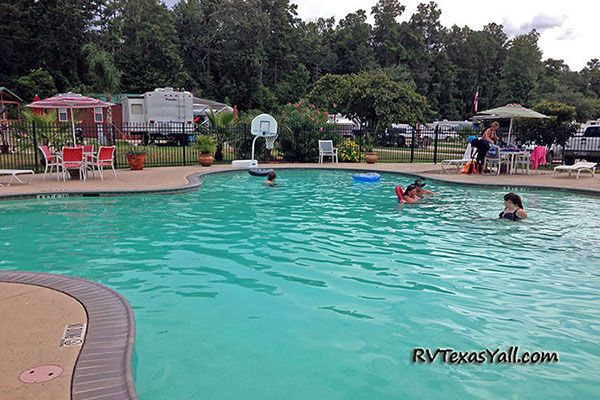 The Resort's Swimming Pool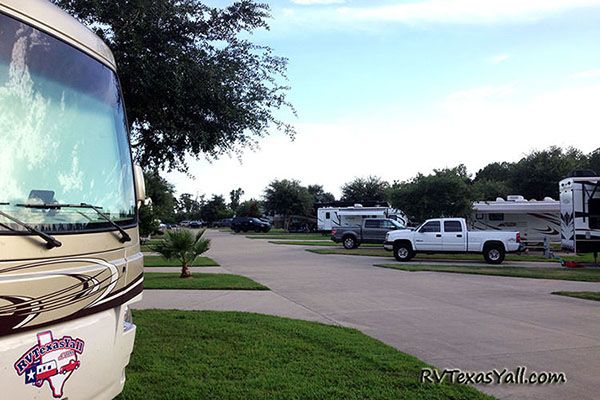 Wide, Paved Roads
Thanks to Tom's sister and brother-in-law, Ruth and Greg (and their pup, Oliver), for joining us. One of the great things about RVing is the ability to share experiences with family and friends, and we had a lot of fun visiting with them. We'd also like to give a shout out to our neighbors for the weekend: JoAnn and Marshall from San Antonio (along with their pups, Fred and Flannigan) and Mary Jane and Steve from Houston. Hope to see all of you at a campground again soon (and on RVillage!).
ALSO IN THE AREA: More RV Resorts in Gulf Coast Texas
IF YOU LIKE THIS POST, CHECK OUT: Our Other Texas RV Park Write-Ups
Subscribe To Our Newsletter to stay connected and receive an email with our latest posts and updates!
Tell Us What You Think! Alrighty you've heard what we think, now we want to hear about your experiences. Please share your pictures and comments in the RV Texas Y'all Community on Facebook or in the RV Texas Y'all Community on RVillage. Not a member of one of our communities yet? We'd love for you to participate! And, of course, they are absolutely FREE! Join us to share your experiences and interact with others folks in the RV Texas Y'all communities. Want more info? Learn more about our Facebook Group!
Safe Travels and Happy Camping!