San Antonio, Texas - South Texas Region
RV Park Tour: Admiralty RV Resort in San Antonio, Texas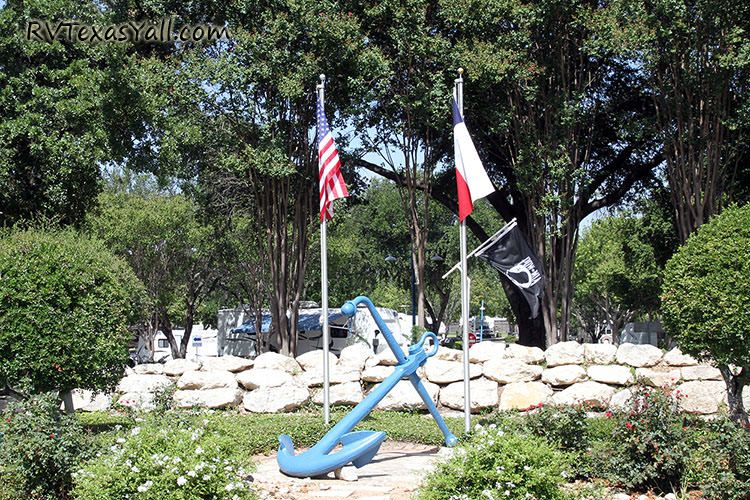 Entering Admiralty RV Resort
If you are headed to San Antonio to visit SeaWorld, consider staying at Admiralty RV Resort. This 207 site RV Resort is located just one mile from SeaWorld San Antonio. During our stay here we were able to get from our campsite to our parking space at SeaWorld in less than 5 minutes!
Admiralty RV Resort hosts pull-through and back-in RV campsites. All sites include full-hookups, a concrete pad, a brick patio with a picnic table, and cable TV.
Premium sites include at least some shade from a tree. Some campsites also include an additional parking space next to the site. During our stay we saw everything from very small pull-behind trailers and pop-ups to big high-end Class A coaches. This resort is big rig friendly and offers Military discounts.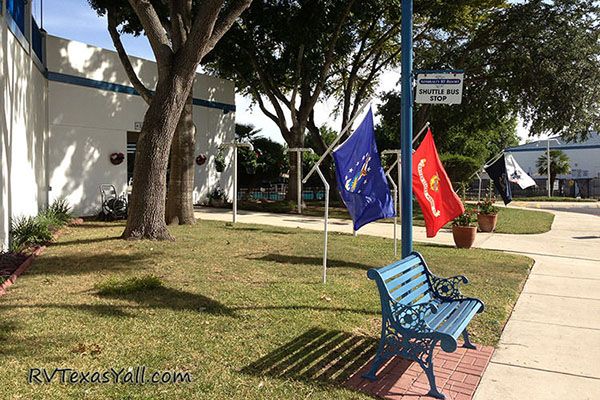 SeaWorld Shuttle Stop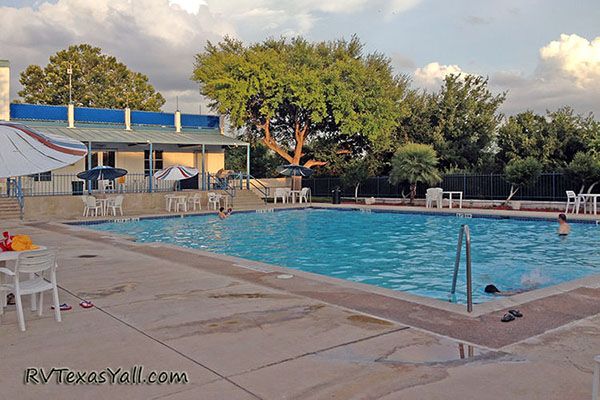 Admiralty Swimming Pool
There is a lot of concrete in this park, but the landscaping that is here is well maintained. Most of the sites are very close together. The bad part about the proximity of the sites to each other is that we felt a little bit cramped outside. We were also disturbed one night by a family arriving very late during the night and setting up in the site next to us. In fairness, however, these folks were loud in general and conducted their setup as if it were noon (yelling back and forth to each other and so on), so we would have likely been disturbed by them even if the sites were larger. The positive about the closeness of the sites is that with our tree plus our camper and the Tiffin motorhome parked on the other side of our patio, we had shade most of the day!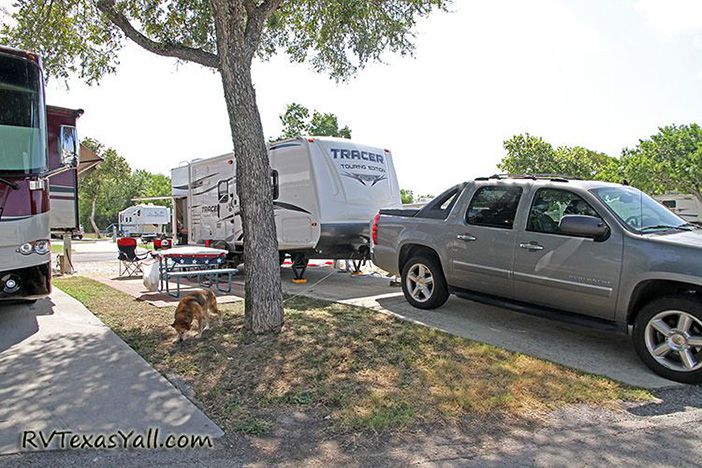 Our Campsite at Admiralty RV Resort
Admiralty brought in a new management team about 4 months ago: husband and wife team JB and Marty. Their current staff are all very friendly and do a great job of keeping the facility clean. Our site was missing its picnic table when we arrived, but when we mentioned it to JB, he brought one to us right away.
Amenities here include a huge swimming pool, a basketball half-court, 2 horseshoe pits, 2 pet playgrounds, a fitness center, a playground, a library/jigsaw puzzle room, and a laundry room. All of the amenities are well maintained. Basketballs and horseshoes are available for loan at the Office. The Office also includes a small RV supply store and a computer for guest use. Please note that the Office is open from 8am until 5pm (as of this writing). Amenities that go through the Office including access to basketballs, horseshoes and the fitness center are only available during these hours.
Other amenities include a free shuttle to SeaWorld. It departs at 10am and returns at 5pm daily. They ask that you sign up for the shuttle service in advance so they can plan for the correct number of people. Wi-Fi access is free for the first 24 hours, and available for a fee after that time.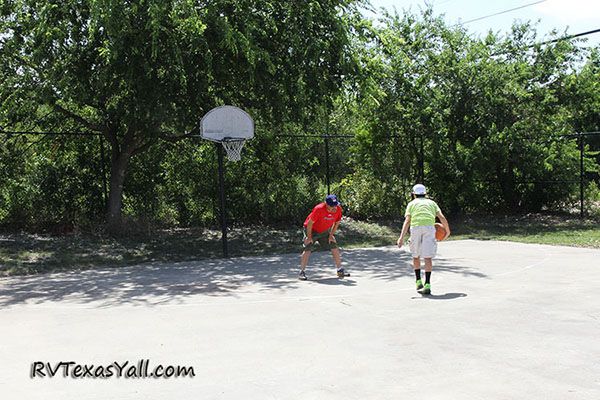 Basketball Court at Admiralty RV Resort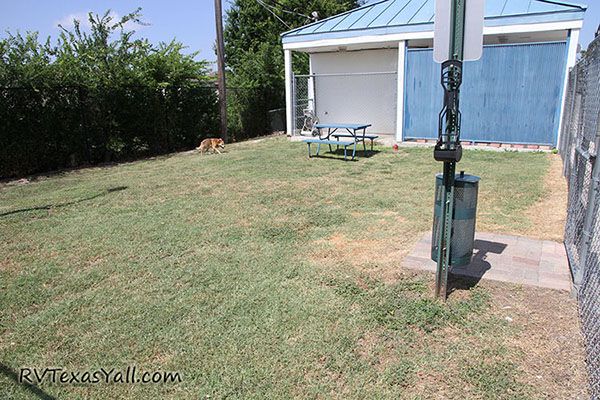 1 of 2 Offleash Pet Parks
The resort also offers 3 restroom/shower buildings, all of which were clean. One of these buildings was getting a new air conditioning system during our visit.
Admiralty RV Resort is located at 1485 N Ellison Dr, San Antonio TX 78251. It took us less than 5 minutes to get to SeaWorld/Aquatica and about 30 minutes to get to downtown San Antonio.
While we were here we also visited The Wolff, the Guinness World Record Museum in downtown, and San Antonio Missions National Historical Park.
And if you want a break from cooking, check out our long-time favorite, Mi Tierra in Market Square, or the gem we found on this trip: Tacos y Burritos Metro Basilica 2 only 10 minutes away from Admiralty RV Resort! Both are phenomenal.
ALSO IN THE AREA: More RV Resorts in South Texas
IF YOU LIKE THIS POST, CHECK OUT: Our Other Texas RV Park Write-Ups
Subscribe To Our Newsletter to stay connected and receive an email with our latest posts and updates!
Tell Us What You Think! Alrighty you've heard what we think, now we want to hear about your experiences. Please share your pictures and comments in the RV Texas Y'all Community on Facebook or in the RV Texas Y'all Community on RVillage. Not a member of one of our communities yet? We'd love for you to participate! And, of course, they are absolutely FREE! Join us to share your experiences and interact with others folks in the RV Texas Y'all communities. Want more info? Learn more about our Facebook Group!
Safe Travels and Happy Camping!