New Braunfels, Texas - Texas Hill Country Region
Campground Tour: Mountain Breeze Campground in New Braunfels, Texas
Since 1951, Mountain Breeze has been offering camping on the Guadalupe River in the Texas Hill Country. Mountain Breeze specializes in tent camping, but also has a handful of RV campsites with 30amp electric and water hookups. There are no sewer connections or dump stations here. Air conditioned cabins are also available.
The campground is home to an onsite bar, a grill and a small store. Entertainment includes live music, sand volleyball and horseshoes. Mountain Breeze is also a full outfitter for enjoying the river. You can rent tubes and rafts onsite and they will take you up river so you can float to the campground or you can get into the river at the campground and they will pick you up down river.
Tent campers can set up down by the river. RV sites are on the bluff near the office. Cabins are located near the entrance of the campground. RV sites are dirt and grass. Some are very shaded. Our site on this visit was shaded by a large tree, and was very close to level. Recycling is available onsite.
During the weekends and busy seasons, this campground is a party destination (like many riverside campgrounds). Visit during the week or during the off-season for a more peaceful experience.
Mountain Breeze Campground is located at 9250 River Road, New Braunfels, Texas. For a full tour of Mountain Breeze Campground, please watch our video above.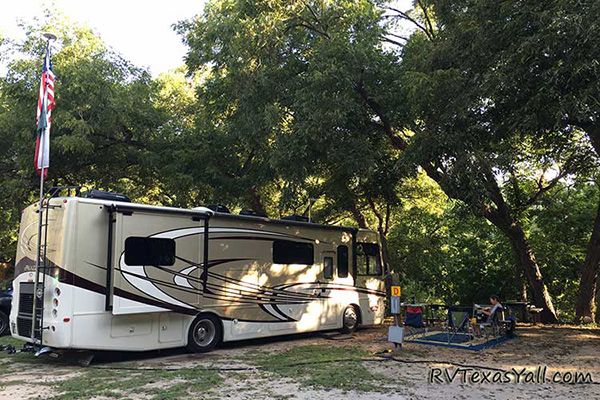 Our Campsite at Mountain Breeze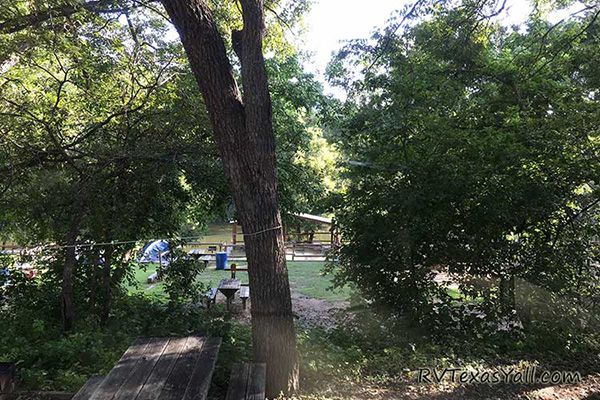 The View Through Our Windshield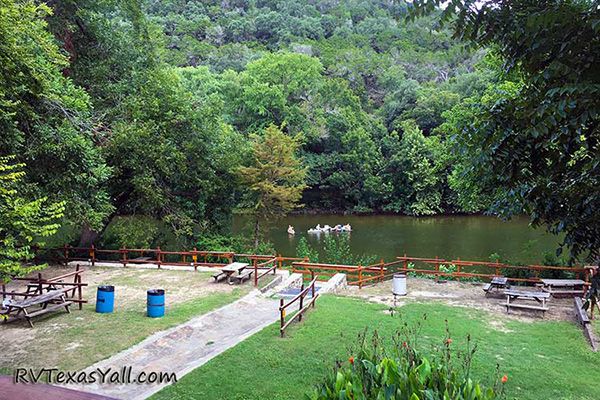 View from the Grill Patio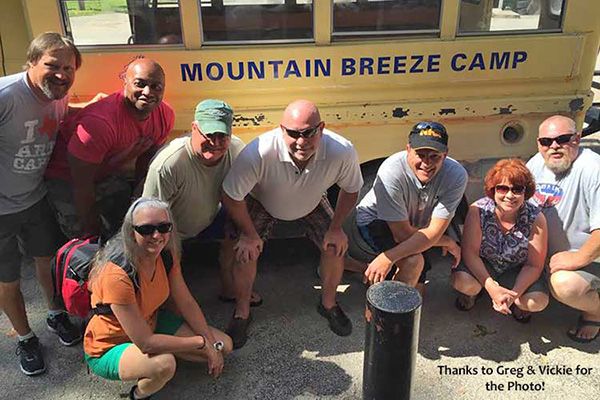 Fun Place to Relax with Friends
ALSO IN THE AREA: More Campgrounds in the Texas Hill Country
IF YOU LIKE THIS POST, CHECK OUT: Our Other Texas Campground Write-Ups
ALSO FILMED AT MOUNTAIN BREEZE: Interesting Folks: World Record Holder Steve "The Grape Guy"!
Subscribe To Our Newsletter to stay connected and receive an email with our latest posts and updates!
Tell Us What You Think! Alrighty you've heard what we think, now we want to hear about your experiences. Please share your pictures and comments in the RV Texas Y'all Community on Facebook or in the RV Texas Y'all Community on RVillage. Not a member of one of our communities yet? We'd love for you to participate! And, of course, they are absolutely FREE! Join us to share your experiences and interact with others folks in the RV Texas Y'all communities. Want more info? Learn more about our Facebook Group!
Safe Travels and Happy Camping!