Our Weekend Trip to Aransas Pass and Corpus Christi:
Video: RV Trip to Corpus Christi | Southern Oaks RV Resort | Whataburger Field | USS Lexington
In this video, we travel down the Texas Gulf Coast to Aransas Pass and Corpus Christi. We show you our RV site at Southern Oaks Luxury RV Resort in Aransas Pass and take you along to Whataburger Field and the USS Lexington in Corpus. If you enjoy this video, please hit the "Like" button on YouTube. If you'd like to see more of our videos as we create them, please subscribe to our YouTube Channel! Thanks!
As with a lot of the Texas Gulf Coast, this area was impacted significantly by Hurricane Harvey in late August 2017. The Rockport, Aransas Pass, Port Aransas region took a direct hit by Harvey as a very strong Category 4 hurricane. During our visit in August 2018, it was good to see this region getting back on its feet.
A prime example of the Harvey recovery was at the RV park. We stayed at Southern Oaks Luxury RV Resort in Aransas Pass. This park was heavily damaged in the storm, but now has a new park headquarters and a completely rebuilt community center. It is in great shape, very clean, very quiet and offers good sized RV sites that are paved with grass in between (and some trees). Each site features a picnic table and full hookups (50amp electric only, so bring your converter if you have an RV that runs on 30amp). The park also has a good sized dog park, pool tables, swimming pool, laundry room, game room/library, small gym, horseshoes, basketball court, playground and community grills. You can stay by the night, week, month or longer term, or you can choose to buy a small piece of land in the back of the park to serve as your homebase.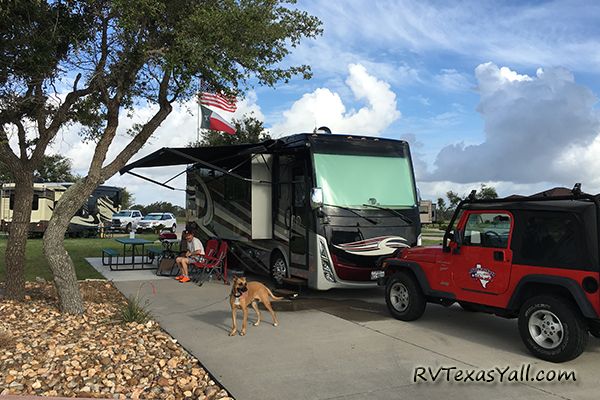 Our Campsite at Southern Oaks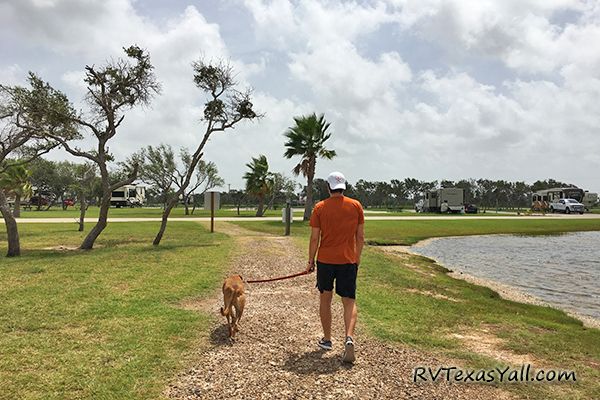 Lakeside Path at Southern Oaks
While we were here, we drove about 20 minutes from Southern Oaks into Corpus Christi. It is a straight shot from the park to the historic Harbor Bridge that is the gateway into Corpus. We watched a Corpus Christi Hooks baseball game at Whataburger Field (AA affiliate team for the Houston Astros) and toured the historic USS Lexington. Both of these attractions were amazing and just on the Corpus side of the Harbor Bridge, making them really easy to get to from the RV park. We'll be posting IGTV videos and posts specifically focused on Whataburger Field and the USS Lexington, so be sure to watch for those. You'll definitely want to see them when you're in the area.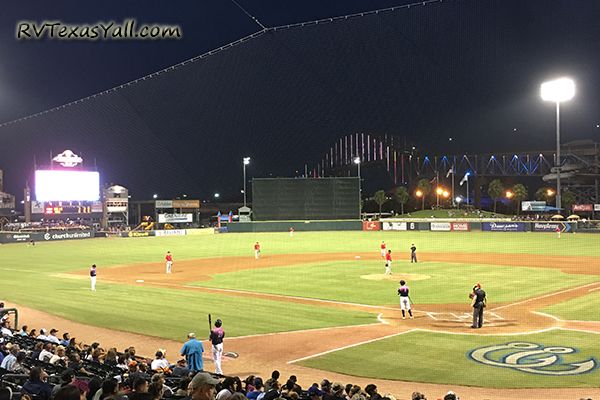 Whataburger Field in Corpus Christi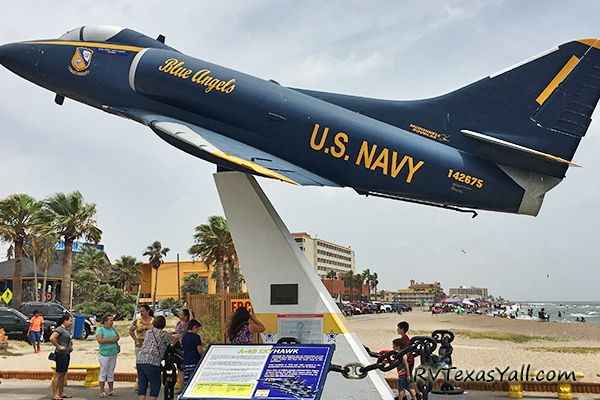 Blue Angels Plane at USS Lexington
We had a great time on this quick weekend trip and look forward to our next trip to the area. We hope that you'll take the time to visit. They are up and running and ready for visitors!