Matagorda TX
Region: Texas Gulf Coast
Population of Matagorda TX (2019): 434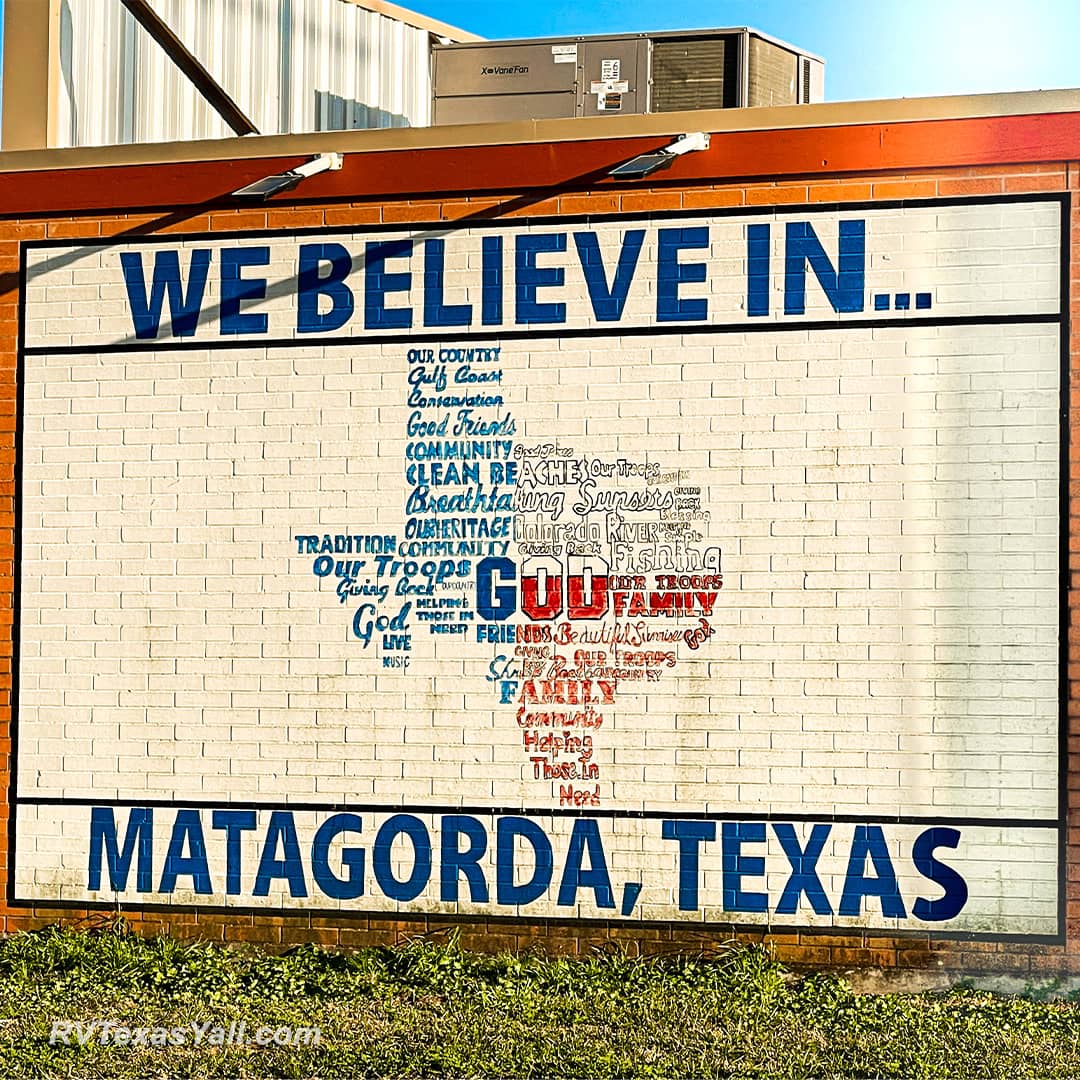 Matagorda Mural
If you are interested in fishing, boating, beachcombing, birdwatching, or just plain relaxing and enjoying life at a slower pace in a beautiful area with miles of coastline and friendly people, you definitely need to consider visiting Matagorda, Texas. This sleepy fishing village of less than 500 people has been a renowned fishing location for generations. A trip here during the summer would likely be a completely different experience than what we had in March. We hear the town comes to life with lots of tourists enjoying the surf and sand during the warmer months. But in the "off-season", it seems miles away from any hustle and bustle.
We enjoyed our stay so much, we extended our visit from 5 nights to 2 weeks, so that we could live like a local in 'Gorda!
Watch Our Video On Our Visit To Matagorda TX
Video: Visiting Matagorda, Texas
18 Things To Do in Matagorda, Texas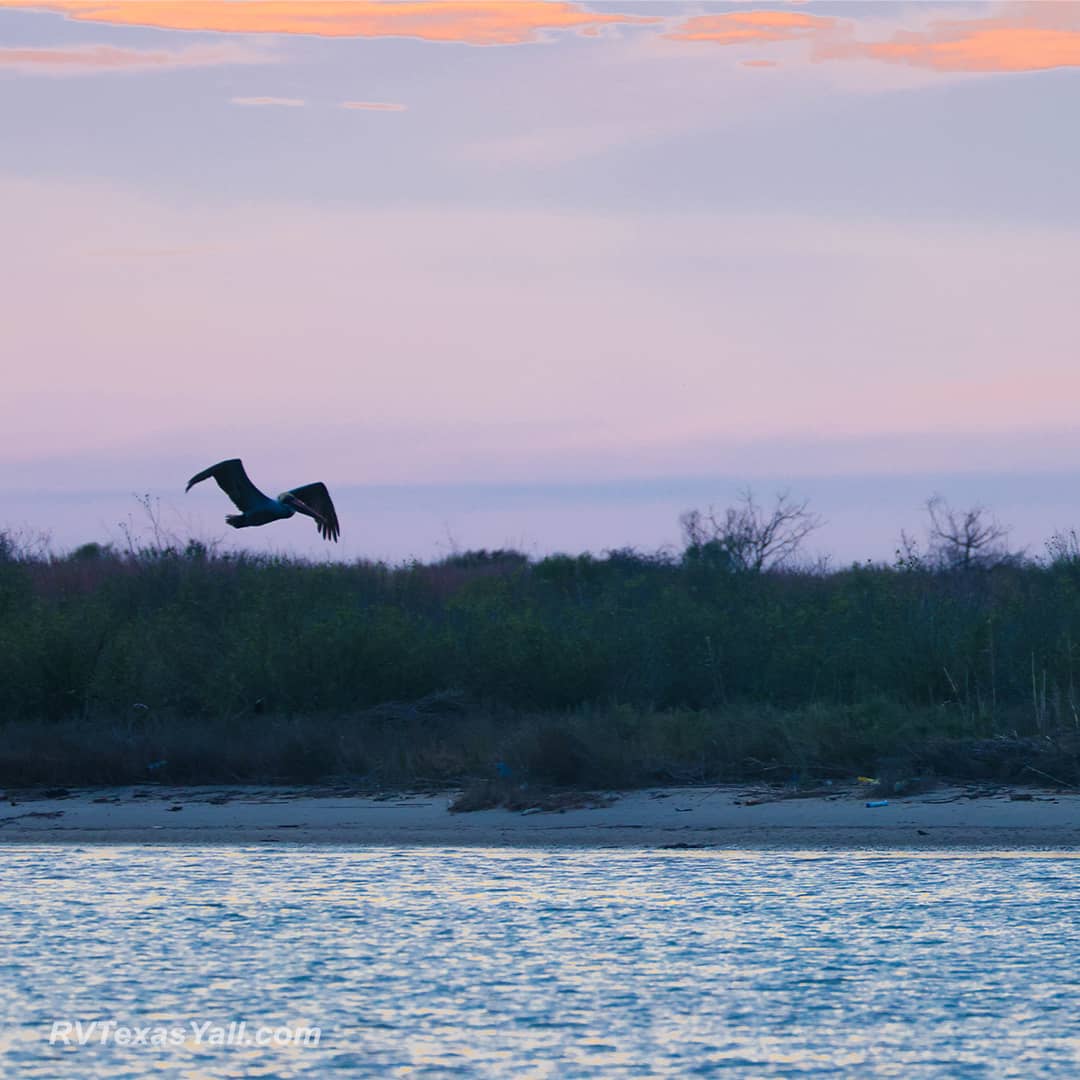 Pelican at Sunset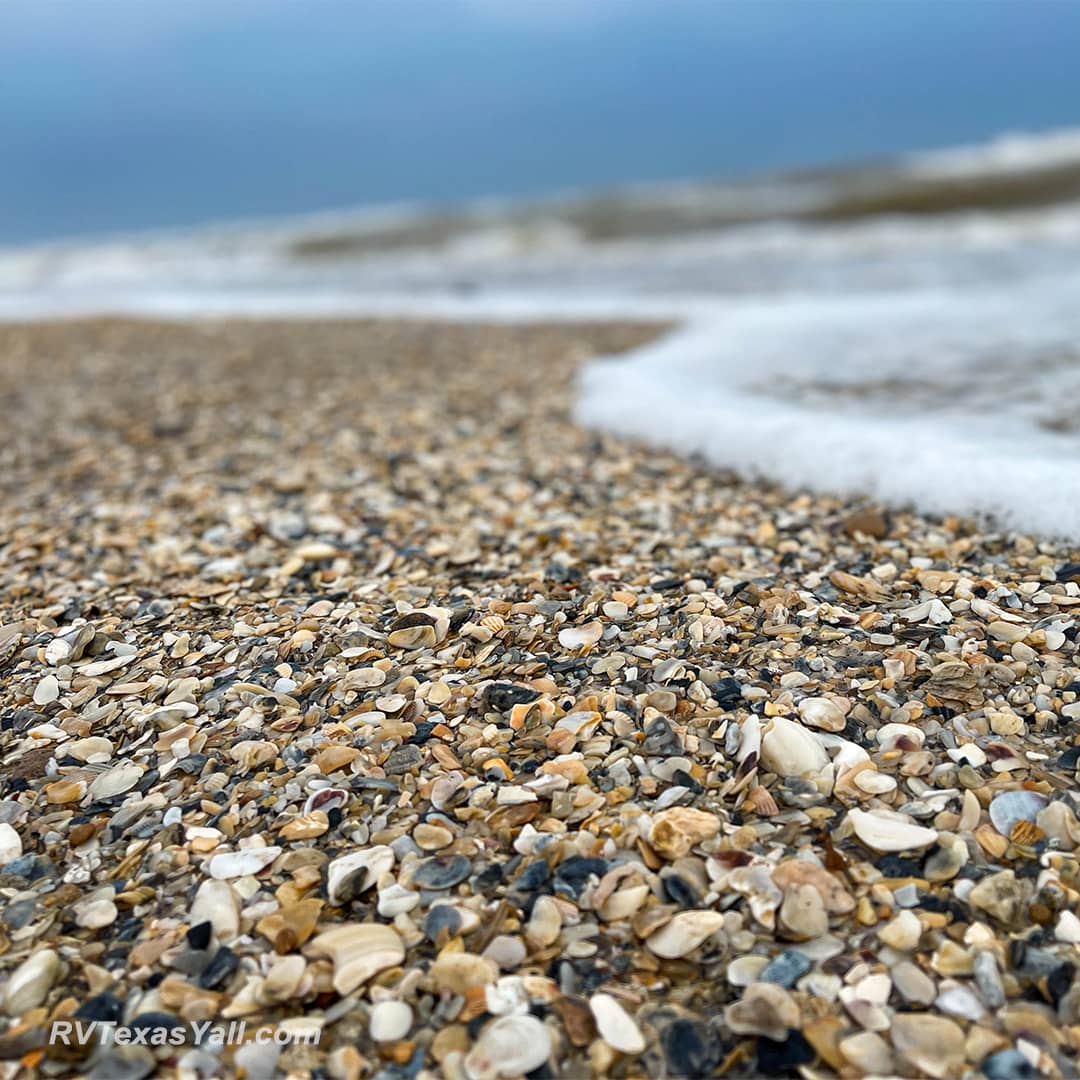 Shell Beach
Put your kayak in the water and explore the wetland paddling trails in East Matagorda Bay.
Have a drink and play some pool or table shuffleboard at The Cove - 214 Fisher St, Matagorda (look for the blue building with the small sign by the street).
Browse the shops and pick up some Matagorda swag from local merchants. While you are in town, you are a short walk from just about everything. During our stay we visited:
Buy a $10 Annual Beach Permit from Stanley's General Store or Matagorda Bay Nature Park to drive on miles and miles of beach (but beware... the sugar sand on most of the beaches here is soft and deep. It is very easy to get your vehicle stuck in the sand. And never drive into water of any kind... there's no way of knowing how deep it is.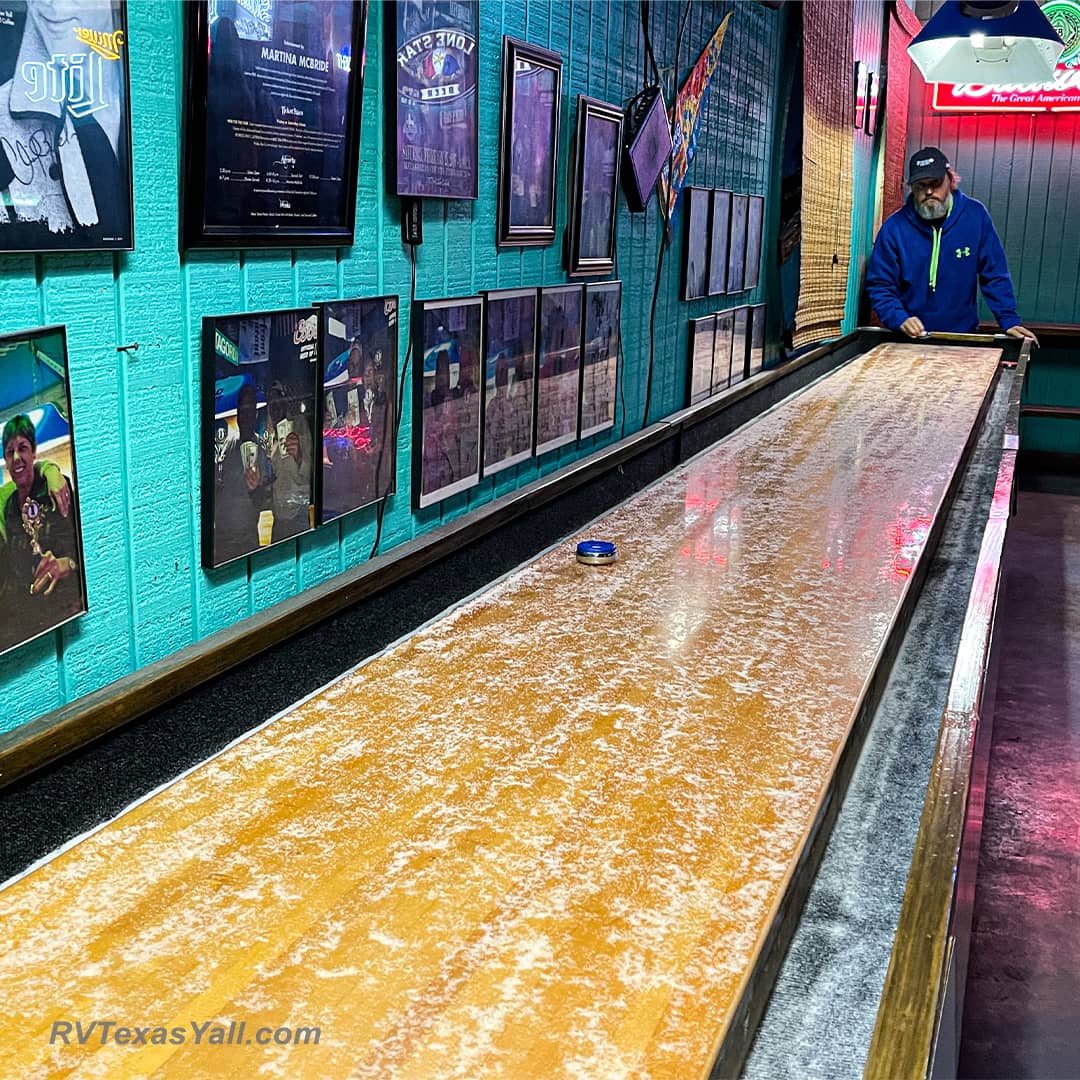 Shuffleboard Tournament at The Cove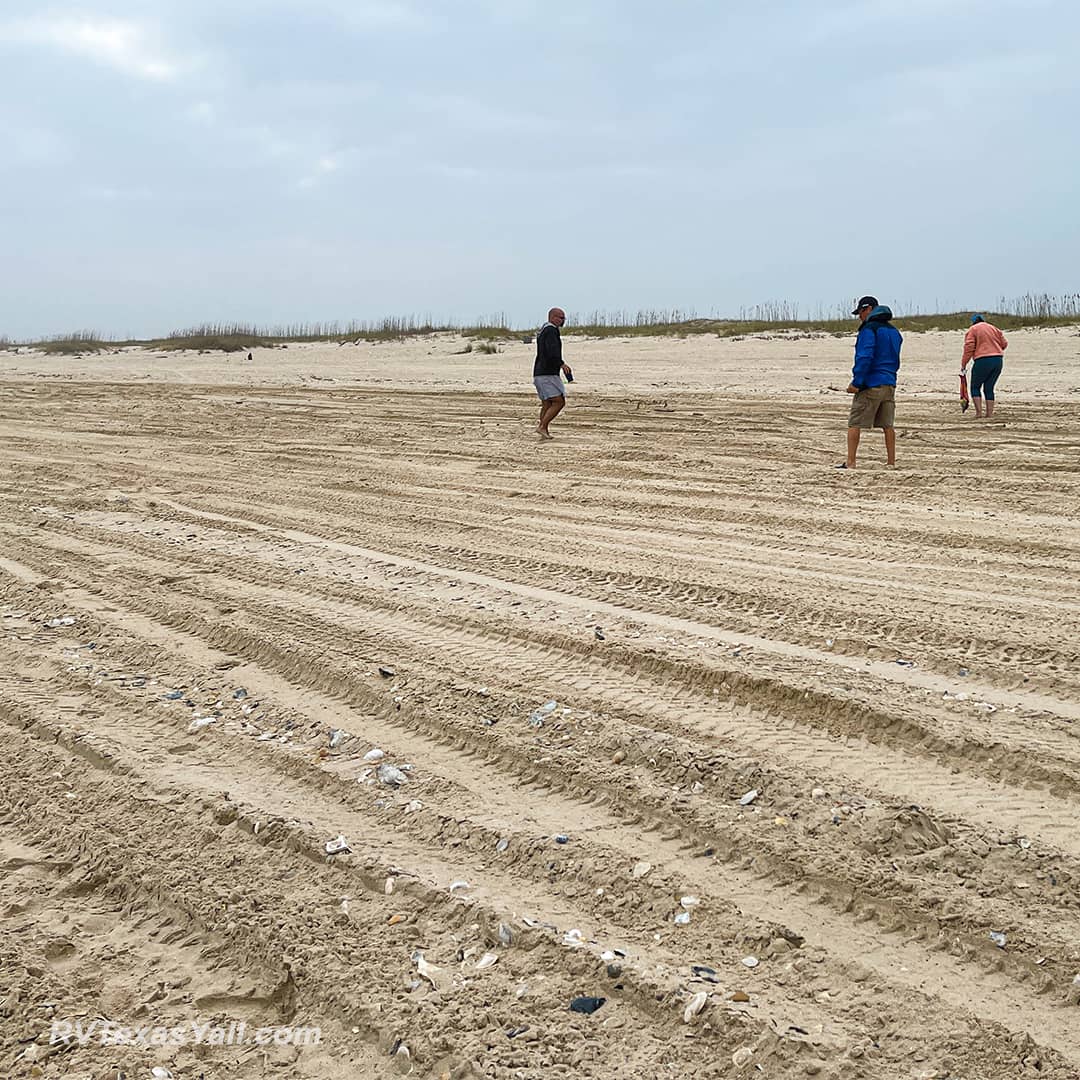 Searching for Shells
Bring your fishing license to try your luck via boat, fishing pier or shore in the Gulf of Mexico, Colorado River, Jetty Park or Matagorda Bay. If you don't have a fishing license, you can pick one up at Stanley's.
Put your boat into the water and enjoy the day. There is a boat launch next to Matagorda Bay Nature Park.
Strap on your binoculars, grab your camera and go birding! Matagorda birding is pretty amazing. This is a great place to watch pelicans, seagulls, egrets, osprey, spoonbills and all types of fishing birds as they fly, swim, dive and hunt in the gulf, river, marshes and native grasses. We had our first Bald Eagle sightings on a boat ride on the Colorado River. And the local wildlife doesn't stop at birds. We saw pods of dolphins and herds of deer, as well.
Search for seashells. If beach combing is more your speed, you can find some amazing shells on this stretch of the Gulf Coast!
Have a picnic at one of the many picnic tables or play mini golf at LCRA Matagorda Bay Nature Park.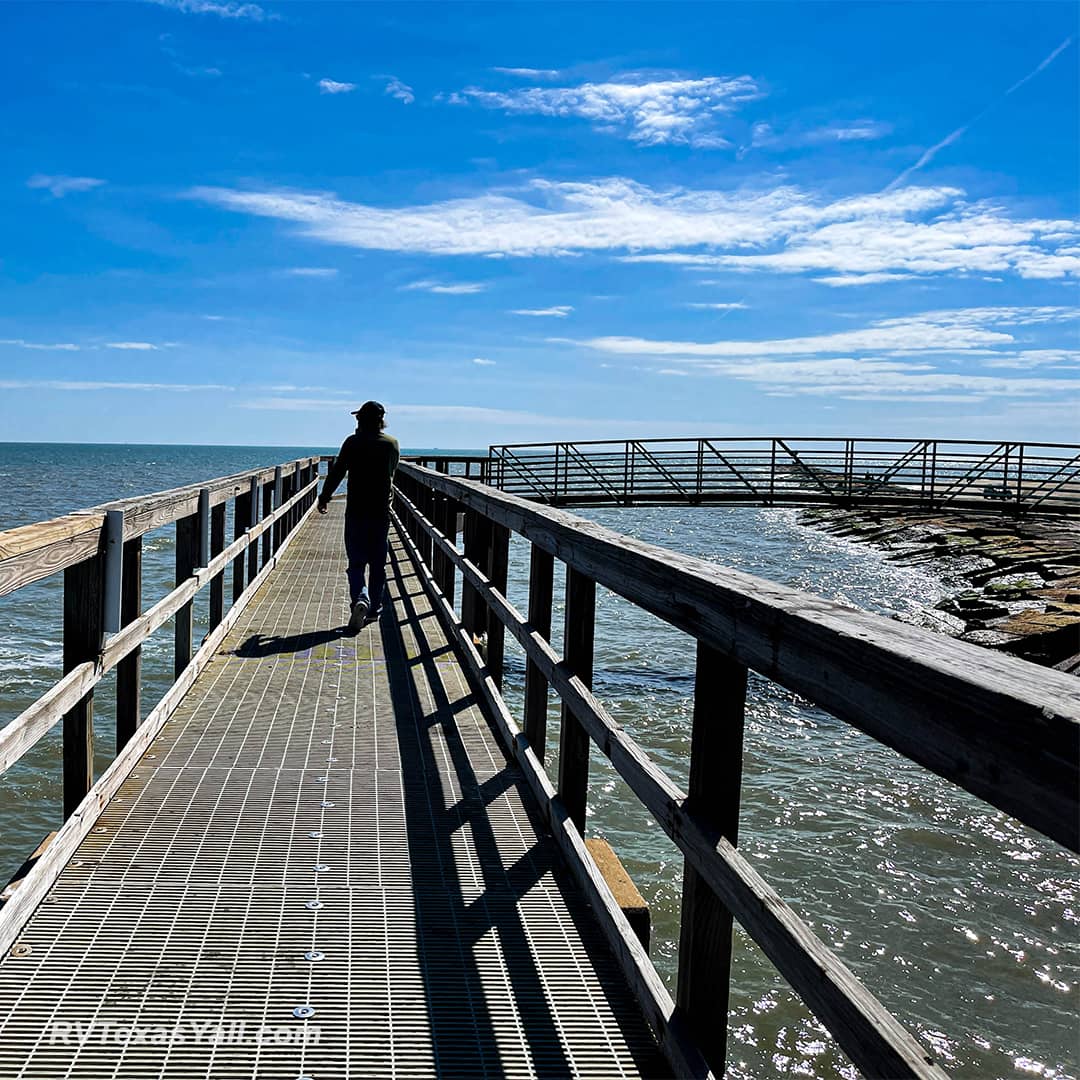 Boardwalk Over the Water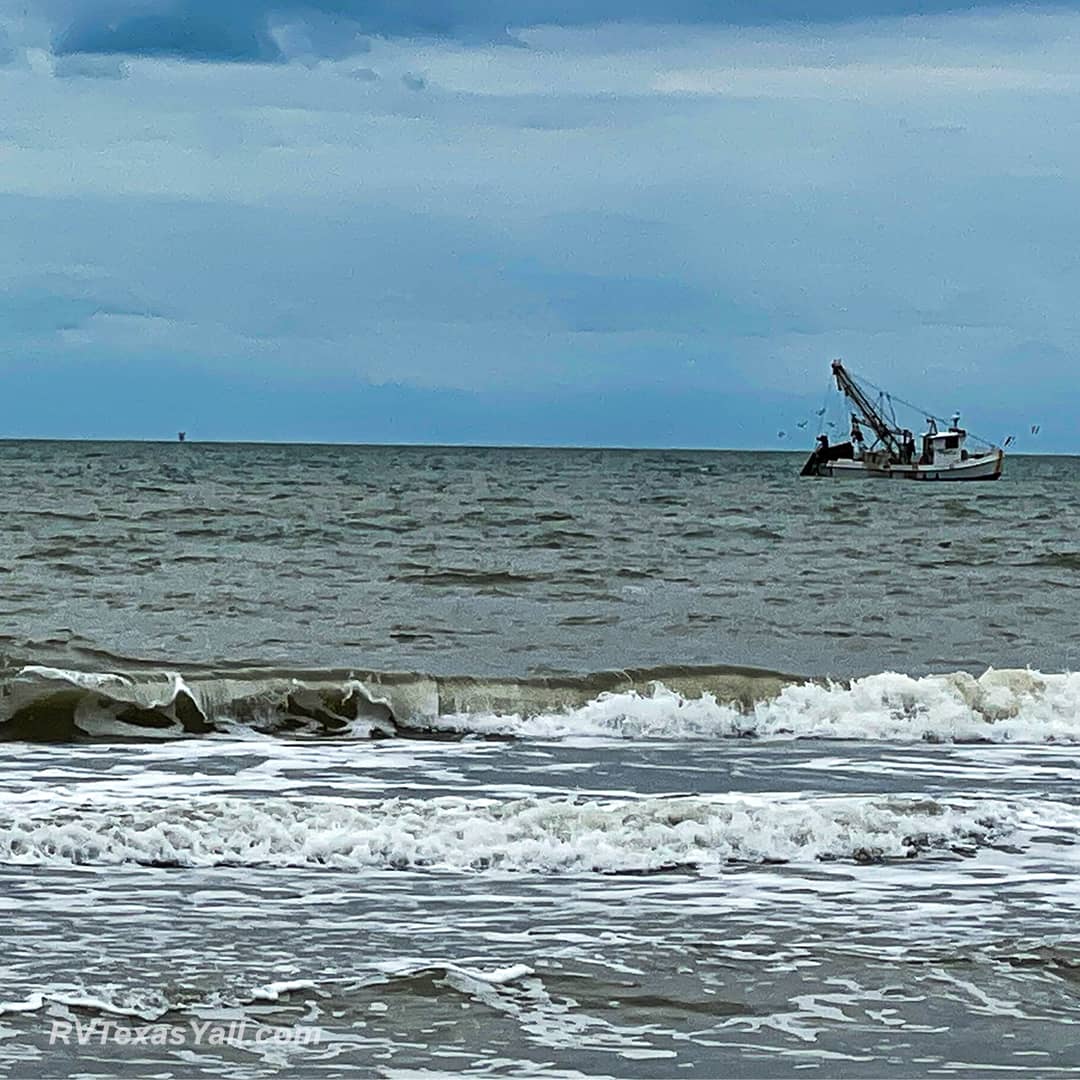 Shrimp Boat
While you're over at the Nature Park, wander over to the day use pavilion and stroll across the incredibly long, elevated boardwalk over the dunes, beach and waters of the Gulf of Mexico near the jetties! (Watch your step coming down if you choose to explore the jetties... the boardwalk steps in that area needed serious repair during our visit.)
Explore the history of Matagorda. The town dates back to 1827 and is the third oldest town in Texas! You'll find historical markers throughout the town. Matagorda is home to the first Episcopal Church in Texas (Christ Episcopal Church established in 1839) and one of the oldest cemeteries in the state. It is the resting place of some of the Old 300 Settlers who arrived here with Stephen F. Austin, American Revolution and Texas War For Independence Heroes. Samuel Rhoads Fisher who signed the Texas Declaration of Independence is buried in Matagorda. His home, built in 1832, still stands. It is the oldest building in Matagorda, having survived almost two centuries of hurricanes.
Go for a hike. While there are no traditional hiking trails in town or at Matagorda Bay Nature Park (as there are in many Texas parks), you can explore the town by foot or take a stroll down on the beach. A large parking lot is available at the end of FM 2031.
Be careful where you swim. Even if it seems like shallow water, the currents in much of the Matagorda Beach area can be treacherous.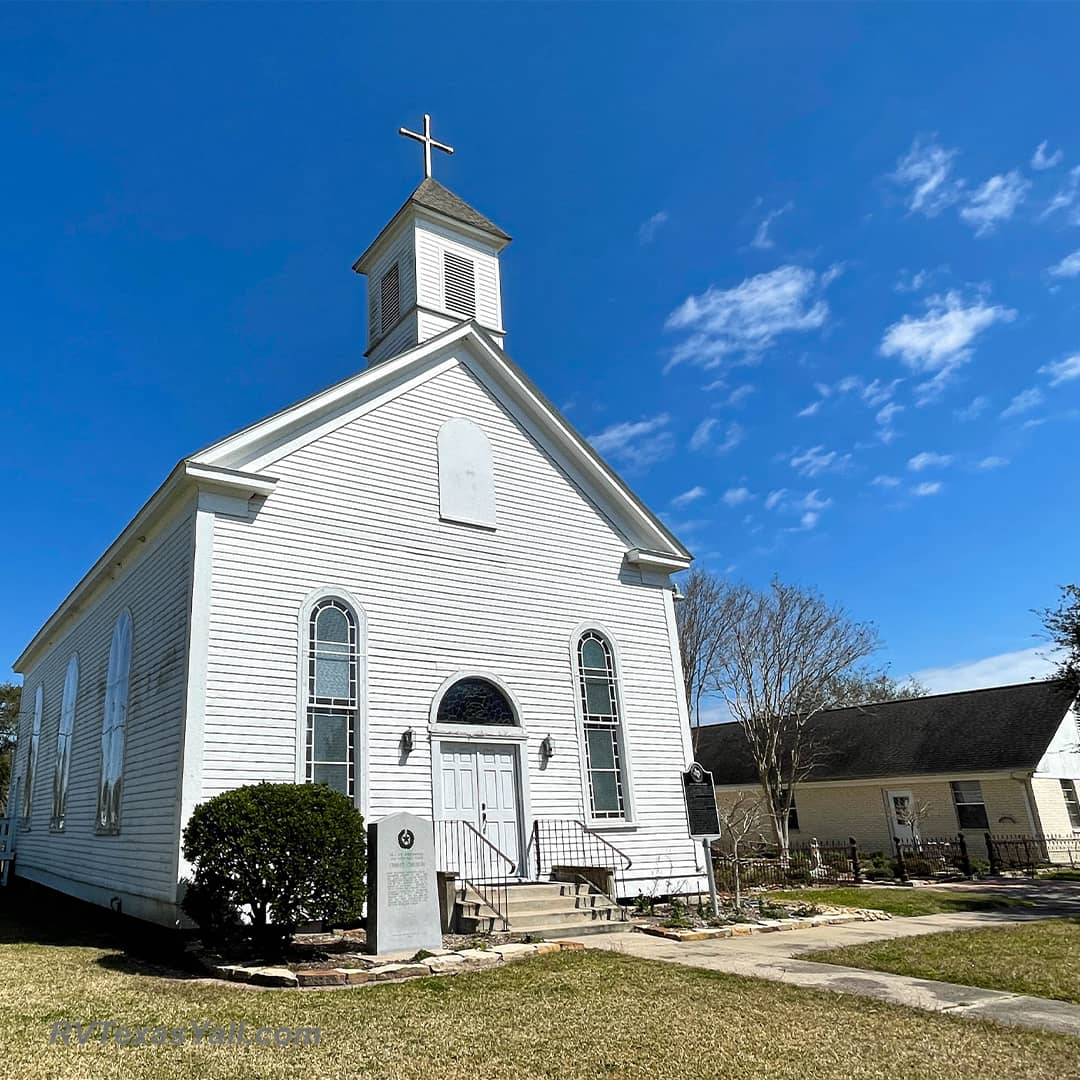 Texas' Oldest Episcopal Church (1839)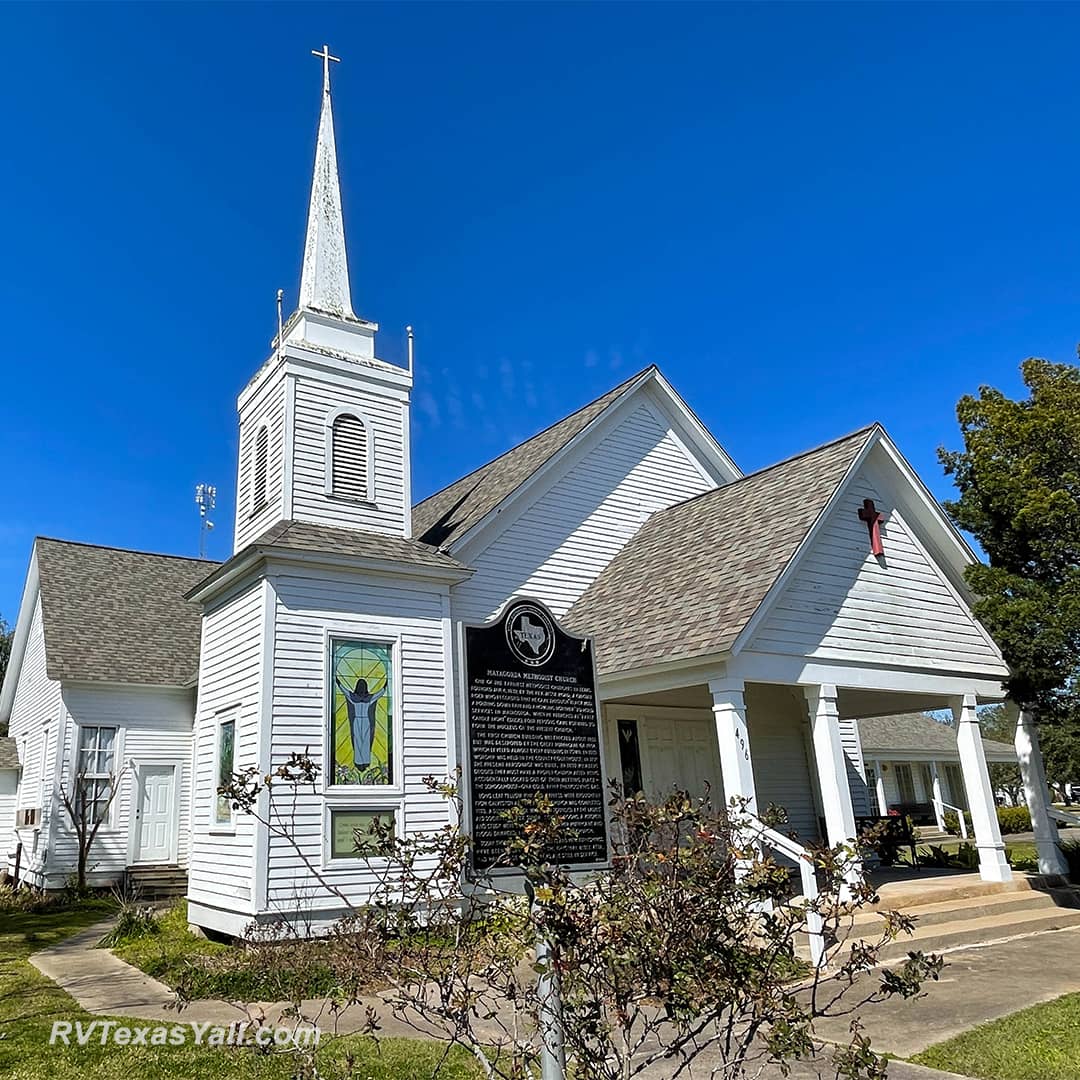 Matagorda Methodist Church (1839)
Watch the shrimp boats, private small boats, barges and other watercraft pass by from the shores of the beach, the Colorado River canal or the marina on the Intracoastal Waterway.
And while you're watching the boats, check out the Colorado River Locks! Completed in 1954, these locks join the Gulf Intracoastal Waterway and the Colorado River. The Colorado River Lock chambers measure 1,200 feet long and 75 feet wide and are located on both the East and West sides of the Colorado River. No pumps are needed. The entire system works by gravity and is responsible for "the transit of more than 12,000 tows, over 30,000 recreational or commercial vessels and 20 million tons of product annually" according to the US Army Corps of Engineers.
Live like a local! The people of Matagorda are friendly and welcoming. Take the time to visit the local businesses and have a conversation.
Attend the annual Matagorda Surf and Turf Festival to support beach and bay beautification and conservation. The festival is held every March.
Enjoy a nice meal at one of the restaurants we mention below.
Take in the nightly sunsets. They can be spectacular here.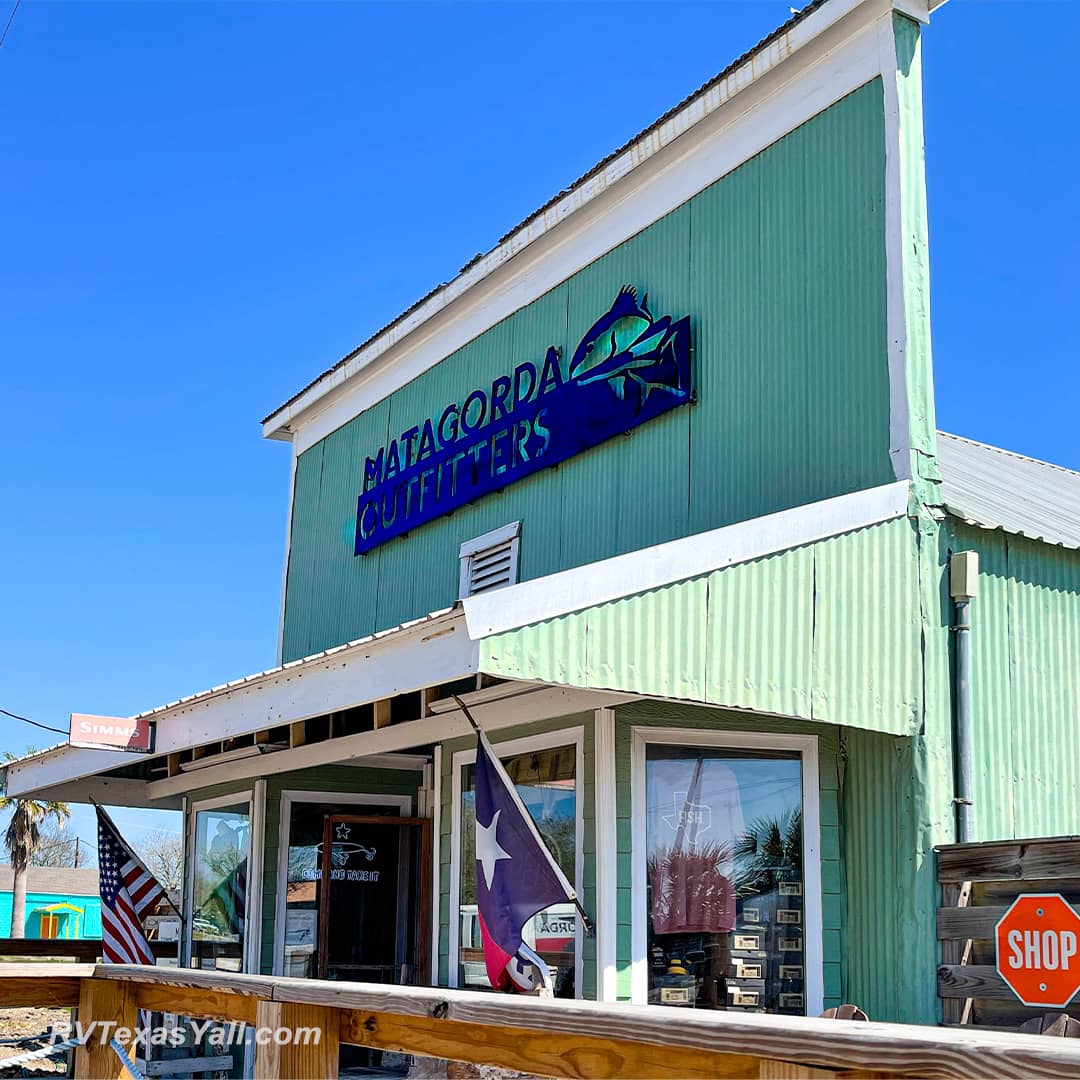 Matagorda Outfitters
Matagorda Surf and Turf Festival
Where Is Matagorda TX?
The town of Matagorda, Texas sits on the Texas Gulf Coast at the intersection of the mouth of the Colorado River, the Intercoastal Waterway, and the Gulf of Mexico. Once the county seat of Matagorda County, Matagorda is 21 miles south of the current county seat, Bay City. At one time, Matagorda was located on Matagorda Bay. After decades of shifts in the Colorado River (both natural and man-made), Matagorda Bay (or West Bay) is now separated from East Matagorda Bay by a peninsula of coastal marshes. The town of Matagorda sits at the top of that peninsula on Texas State Highway 60.
Matagorda is approximately 100 miles southwest of Houston, 100 miles down the Texas coast from Galveston, 150 miles up the coast from Corpus Christi, and about 200 miles southeast of San Antonio.
Some of the other Texas coastal communities near Matagorda are Palacios (33 miles), Sargent (35 miles), and Port Lavaca (61 miles).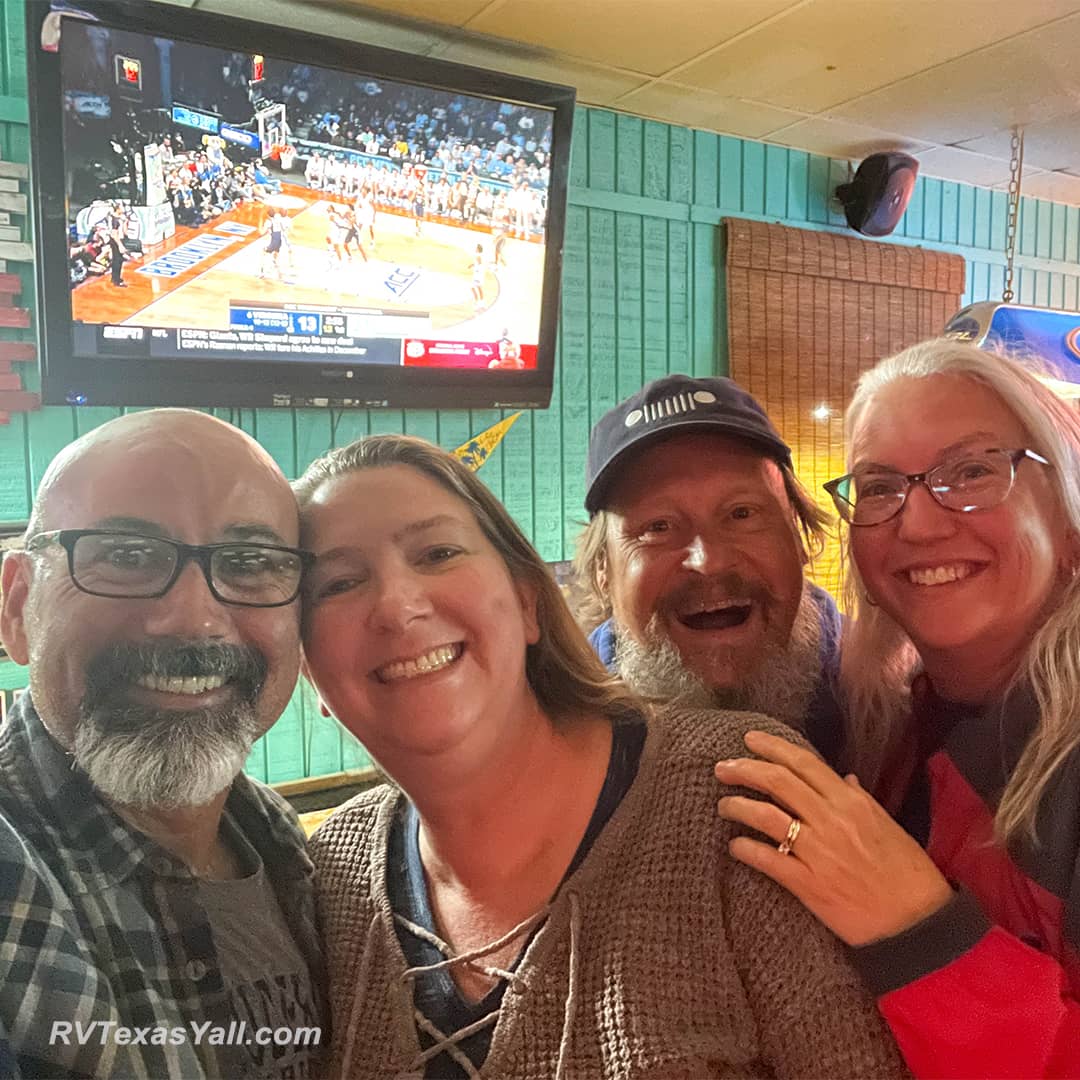 Hanging Out With Local Friends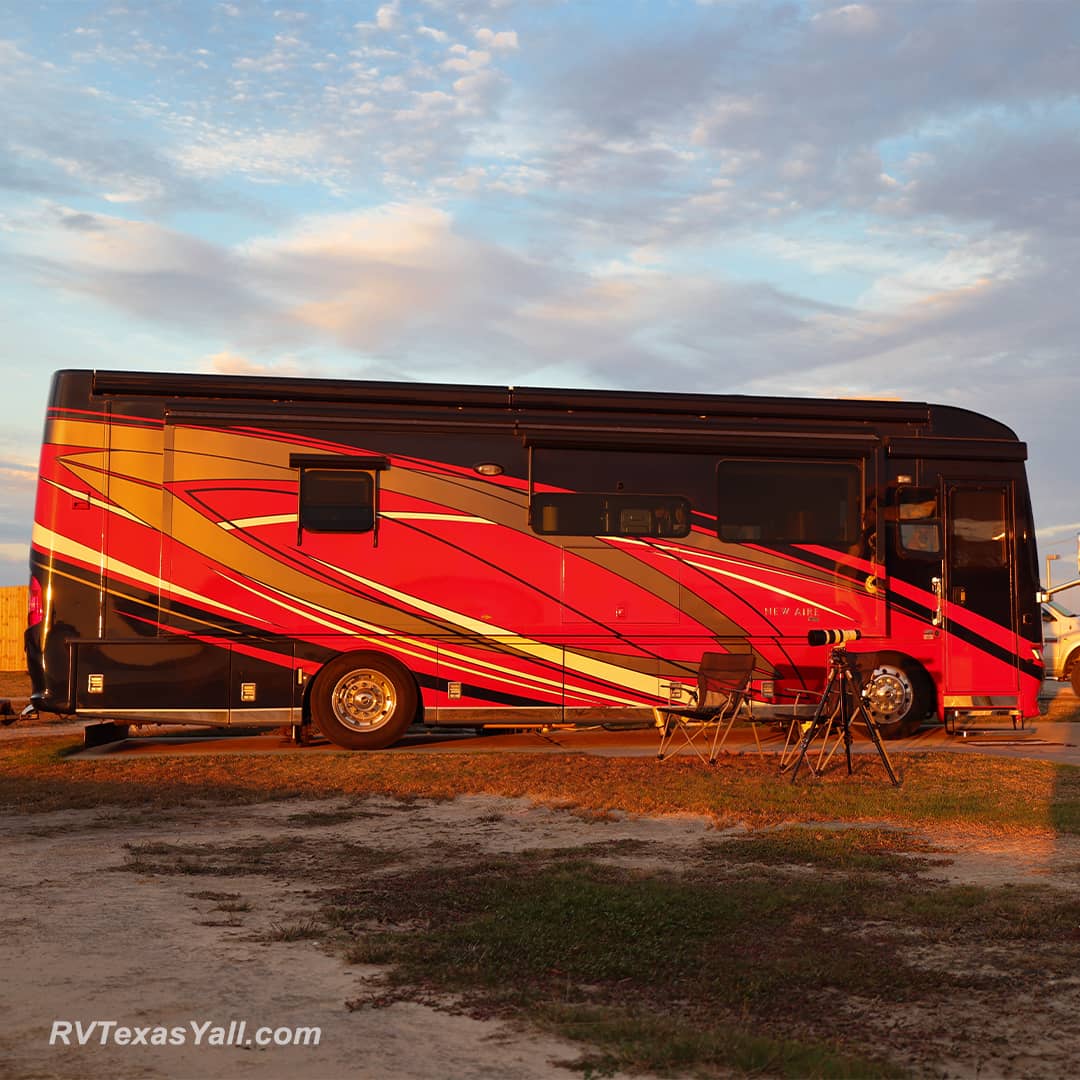 Our RV at Sunset
Where To Stay in Matagorda TX
Matagorda is full of vacation rental properties for overnight stays. There are a lot of options for folks looking to rent a house near the beach, bay or river canal. RVers also have several options. Our favorite campground / RV park here is Matagorda Bay Nature Park, a 1,600-acre park and nature preserve owned and operated by the Lower Colorado River Authority (LCRA). This fantastic park offers RV and tent camping with full hookups, Airstream camper rentals and (coming soon) bungalow rentals. And the park is just a short drive (about 6 miles) from the middle of town and easy walking distance to the beach. Check out our Matagorda Bay Nature Park Visitors' Guide for everything you need to know about the park including a detailed park video.
We've listed more of the Matagorda area RV parks on our RV Parks on the Texas Gulf Coast page.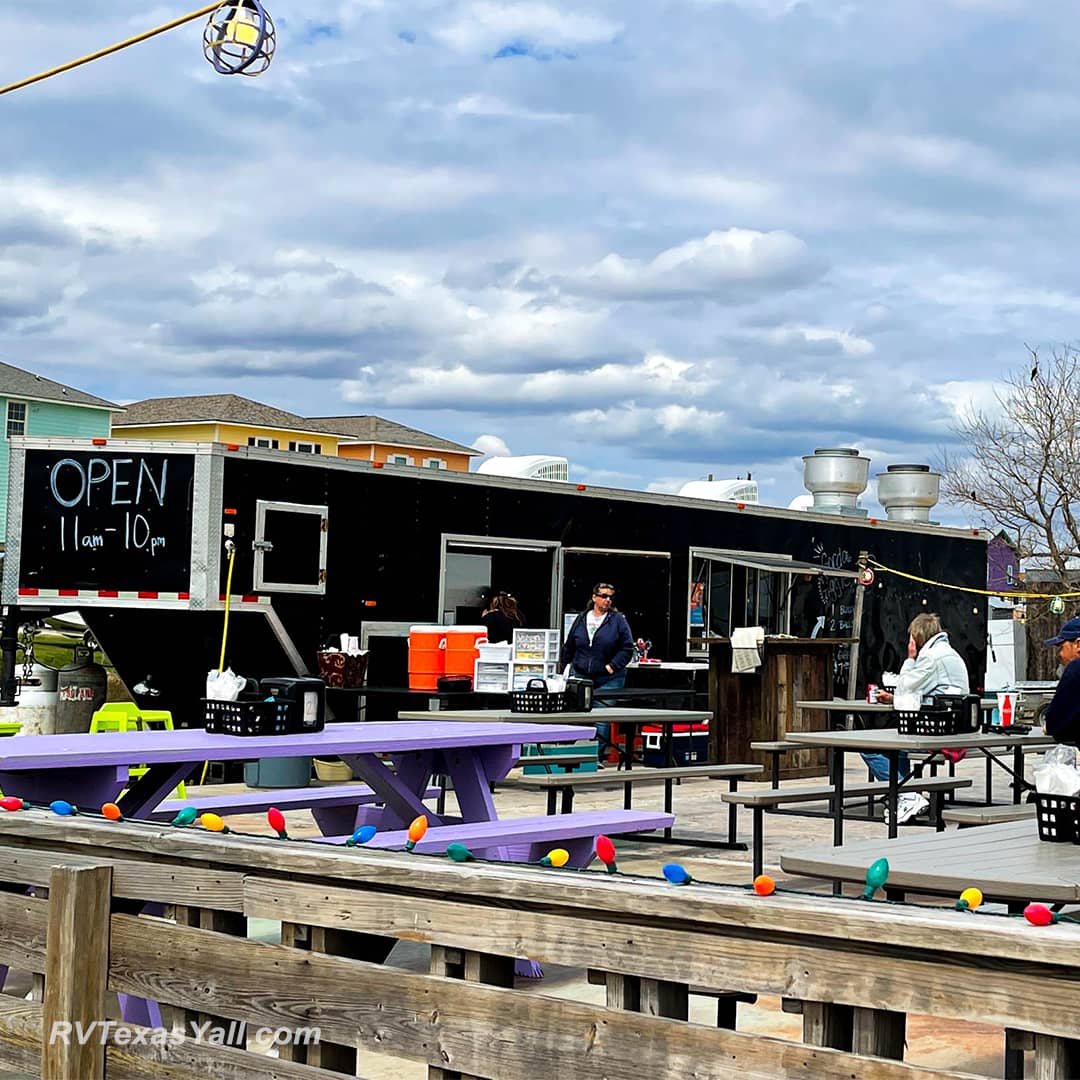 Snapper's Bar and Grill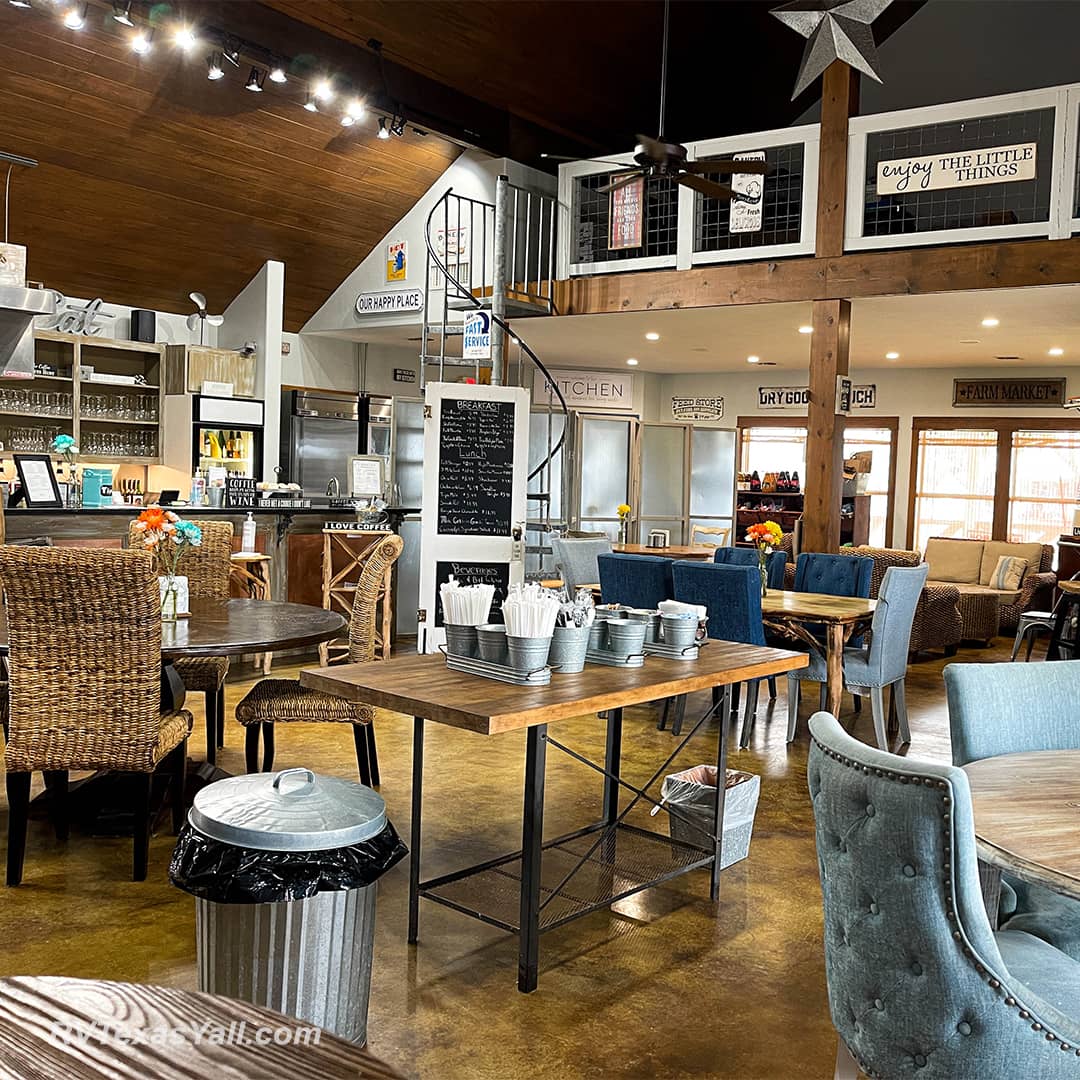 Inside Cassady's Cafe
Where To Eat in Matagorda TX
We enjoyed some really good meals in Matagorda. When you're in town, be sure to check out:
Snapper's Bar and Grill - Seafood, Burgers, Sandwiches - 1710 FM 2031, Matagorda TX (between the bridge and Matagorda Bay Nature Park)
Cassady's Cafe - Breakfast, Lunch, Coffee, Smoothies, Frozen Pre-Made Meals To Go - 22996 Highway 60, Matagorda TX (on your way into town from Bay City)
Poco Playa - Fajitas, Seafood, Burgers, Gumbo - 582 Fisher St, Matagorda TX (at the stop sign)
Waterfront Restaurant - Seafood, Steaks, Chicken - 190 County Road 255, Matagorda TX (at the marina)
Stanley's General Store - Breakfast Sandwiches/Tacos, Burgers, Sandwiches, Fried Chicken - 752 Market Street, Matagorda (between the stop sign and the bridge)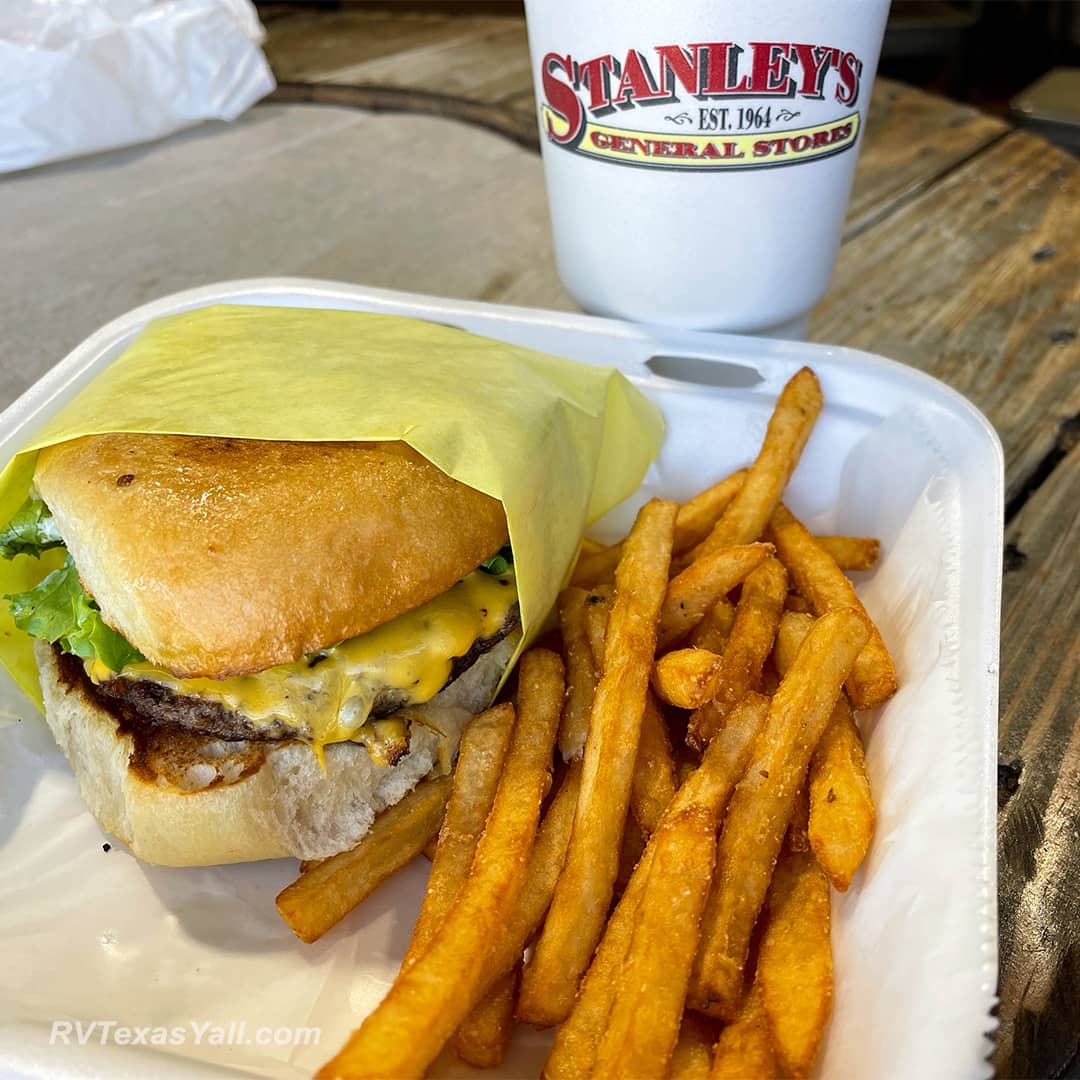 Stanley's Burger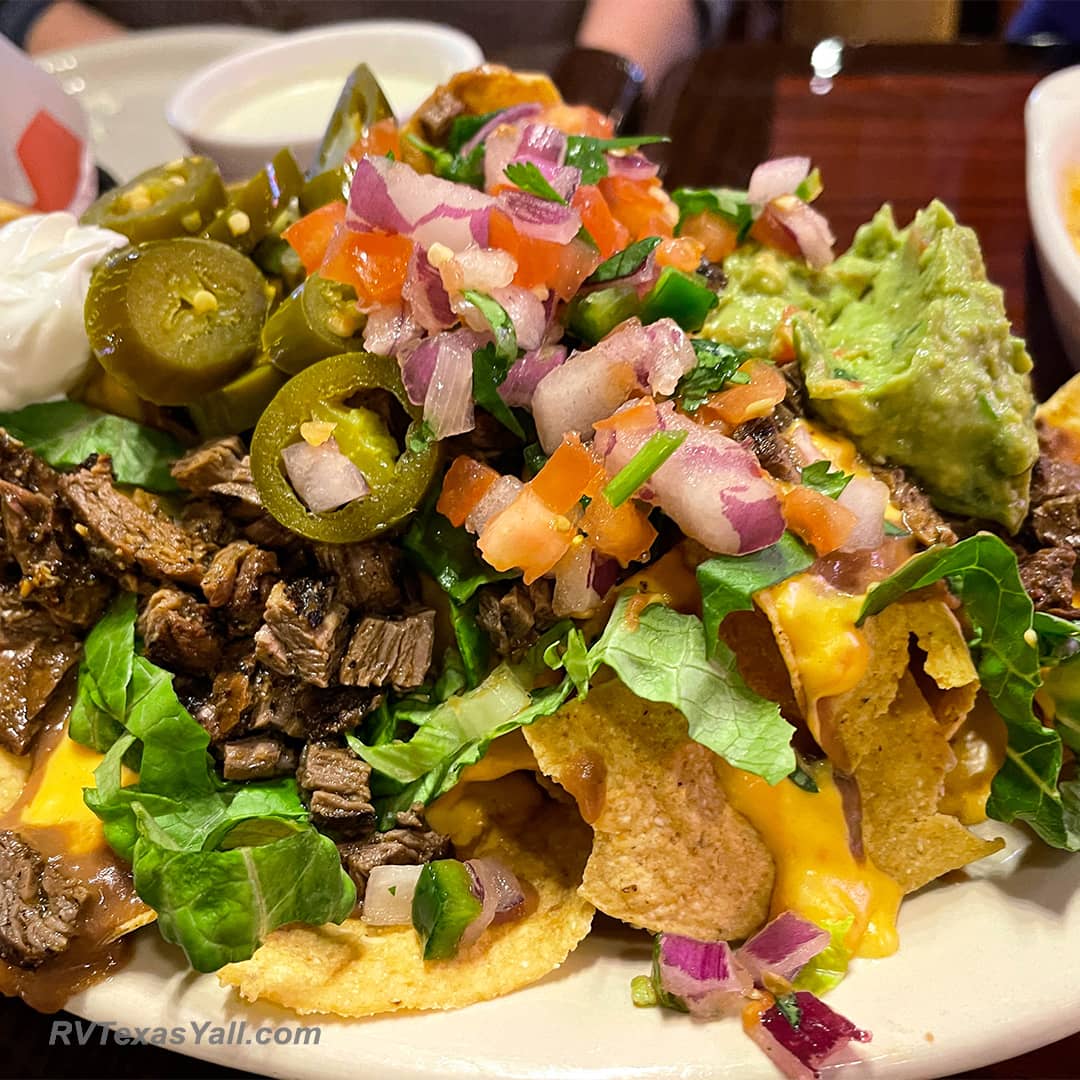 Poco Playa Nachos
Where To Find Groceries in Matagorda TX
There are two options for groceries in Matagorda: Stanley's General Store and Dollar General.
A Bit of History on Matagorda
In 1827 Elias R. Wightman, Hosea H. League and Ira Ingram established a township here with the help of Stephen F Austin and his Old 300 colonists. The town became known as Matagorda in 1829, growing quickly to become the third largest shipping port in Texas. By 1834, Matagorda was the third largest town in Texas and recognized as a leading center of culture and commerce. It went on to become the state's second major seaport and immigration center and served as the first County Seat of Matagorda County.
We share more of the history of Matagorda in our post about Matagorda Bay Nature Park.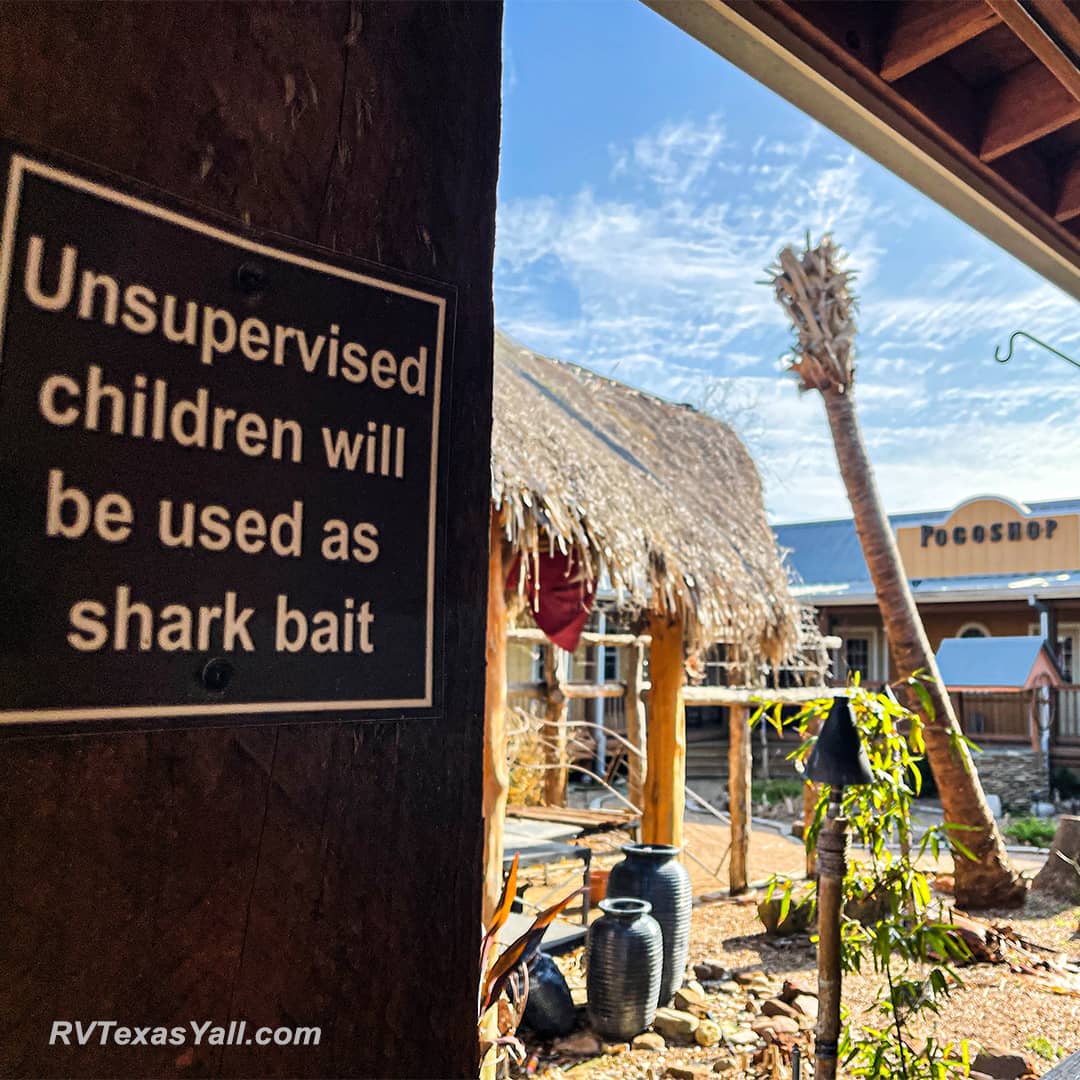 Funny Sign in Matagorda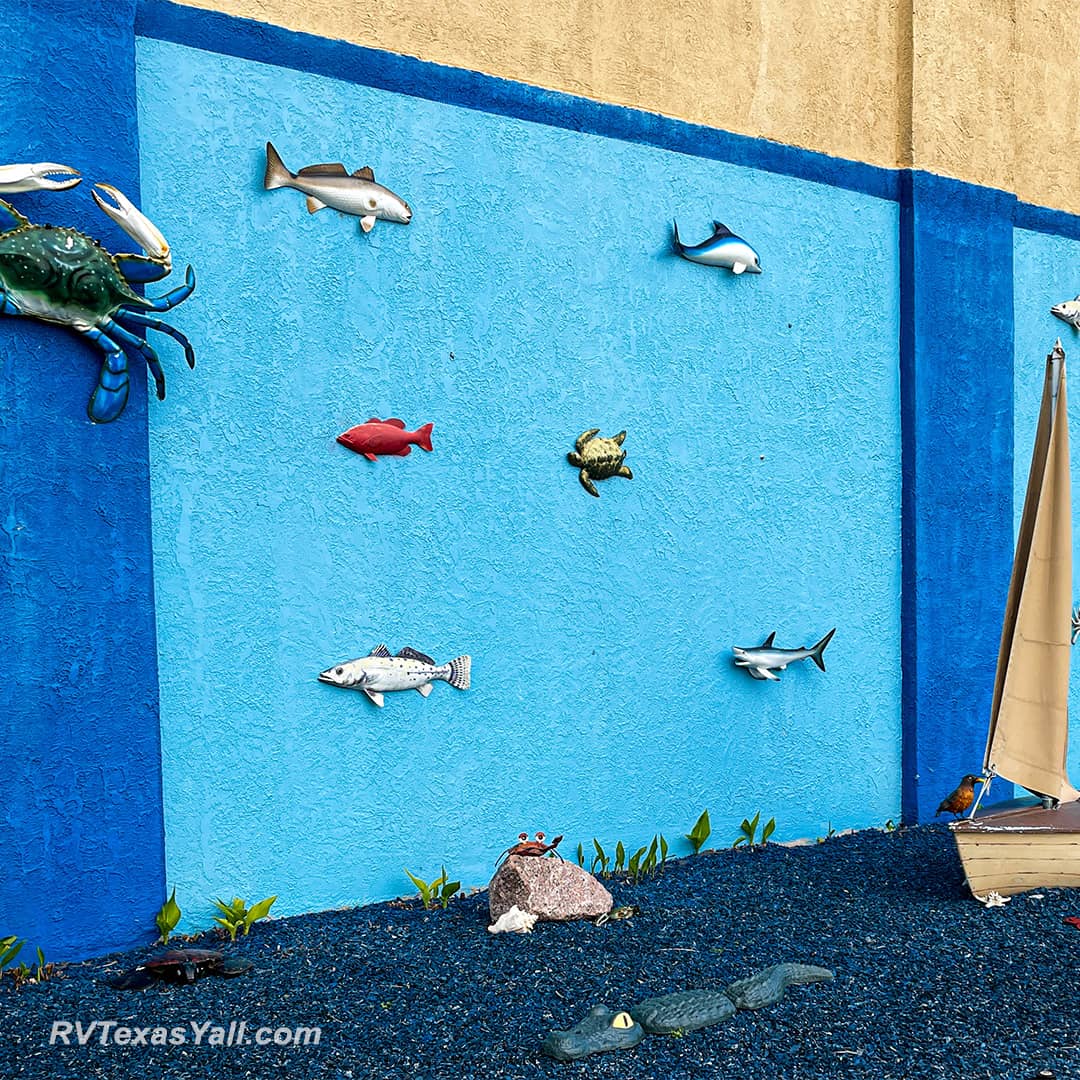 Mural at Lena's
When Is The Best Time To Visit Matagorda TX?
As we mentioned, Summer is hopping here in Matagorda. The shoulder seasons and Winter are less crowded and more laid back. But no matter when you visit, take the time to soak it all in and experience the 'Gorda way of life. We will definitely be back!