RV Texas Y'all Podcast Episode 006
Listen Here!
Audio: RV Texas Y'all Podcast, Ep 6
Published March 1, 2021
If you cannot see the audio player just above this sentence, click on this link to play the episode.
In This Episode
In this episode, we visit with two of the owners of Jamaica Beach RV Resort on Galveston Island, Ron Gustafson and Aric Salois. Ron and Aric share what it's like working together in a 3-generation family-owned and operated business, what life is normally like at their destination RV resort on the Texas Gulf Coast, and the unprecedented challenges they faced during Winter Storm Uri.
We rode out the storm in our RV at Jamaica Beach RV Resort. We share the hightlights about how we prepared for the storm, how that preparation worked out and a few things we learned along the way. To see more of the details on how we prepared, the experience of being in the RV for 84 hours without power in freezing temps (and a week without potable water), and more tips for RVing in freezing weather, check out the links below.
Mentioned In This Episode
Jamaica Beach RV Resort Website
Jamaica Beach RV Resort on Facebook
Jamaica Beach RV Resort on Instagram
Winter Storm in an RV: What We Learned Video
Preparing Our RV For a Winter Storm
What It Was Like RVing in a Historic Winter Storm
What Life Is Normally Like at Jamaica Beach RV Resort
Our First Visit to Jamaica Beach RV Resort
Subscribe to the RV Texas Y'all Podcast!
Like what you hear? Subscribe to us on your favorite podcast network including: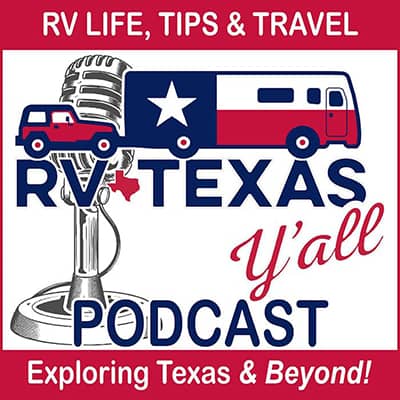 - Audible
- Breaker
- Deezer
- Pandora
- Spotify
- Stitcher
- TuneIn
If you enjoy our podcast, please leave us a review in your favorite podcast app and share our episodes with your friends and family!
Of course, you can always listen to any of our episodes right here on our website!
Subscribe to our Newsletter for weekly updates on new content and other interesting stuff!