Galveston, Texas - Texas Gulf Coast Region
We made our first trip to Jamaica Beach RV Resort on Galveston Island back in 2013. We were really impressed on that first trip. The Gustafson family and their staff really set the bar high for RV resort experiences. We have returned to Jamaica Beach at least once a year every year since that first trip and we have never been disappointed! The Gustafsons (Ron, Dora, Nate, Angie, and Aric have become like extended family to us and we always look forward to our stays with them. You may remember the original write-up we did for that first visit. But a lot has changed with this park since then, so we figure it's about time for an update!
You can watch our video tour of Jamaica Beach RV Resort here...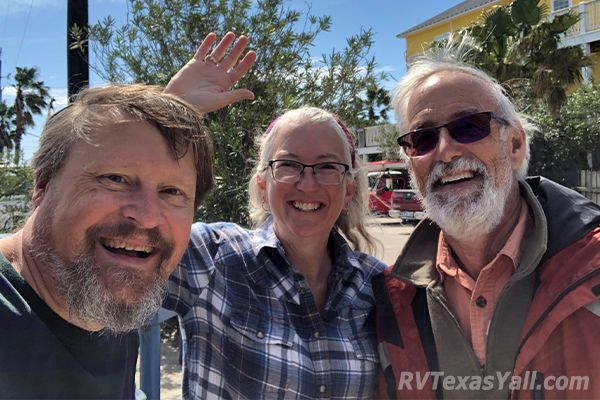 With Ron Gustafson of Jamaica Beach RV Resort
What Makes Jamaica Beach RV Resort Special
Jamaica Beach RV Resort is still 100% family owned and operated by the Gustafson family. The Gustafson family are truly special people. They believe 100% in working hard to create a welcoming family atmosphere that everyone can enjoy. Three generations of the family live onsite and participate actively in the resort. That fact, in itself, sets this park apart from other RV parks. But the differences go way beyond that!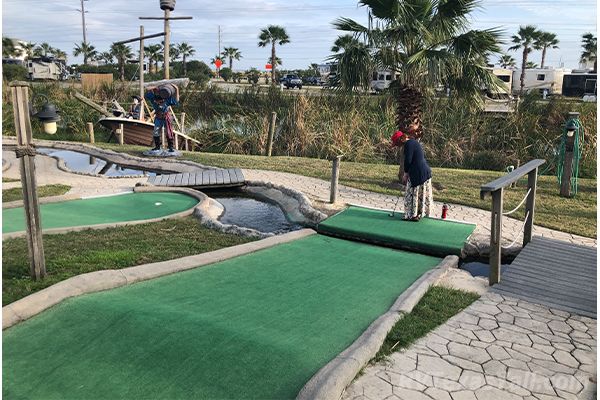 Playing Mini Golf at Jamaica Beach RV Resort
Amenities at Jamaica Beach RV Resort
You can't talk about Jamaica Beach RV Resort without talking about all of the amenities currently available within the park. As of 2020, Jamaica Beach is home to:

its own 18 hole mini golf course
2 swimming pools
an awesome lazy river
an indoor hot tub
2 shuffleboard courts
2 pickleball courts
a basketball half-court
a gathering pavilion with firepits
an exercise room
3 restroom buildings with showers and laundry facilities
a small store
onsite pizza made to order
a clubhouse with pool table and library
a ping-pong table
a sauna
2 dog parks (one of which is HUGE!)
a nature trail
a splash pad
an outdoor chess board
2 horseshoe pits
a playground
outdoor movies
home-cooked breakfast served Wednesdays and Saturdays for $6 per person
propane available on site
And there's more on the way! Over the years we've learned that with the Gustafson family, there's ALWAYS more on the way. We have watched them build this park to the amazing destination RV resort that it is with their own hands and the help of their amazing staff. Everyone here takes pride in delivering the best possible guest experience and they are ALWAYS working to improve.
Currently, they are building 3 cabins so that folks without RVs will be able to enjoy the amenities here. So if you have friends or family who aren't RVers, they'll soon be able to meet you at Jamaica Beach RV Resort!
Summer at Jamaica Beach RV Resort
As Native Houstonians, we grew up coming to Galveston Island in the Summer. Summer is a great time to enjoy an active family vacation. Jamaica Beach (the actual beach) is right across the street. And of course, those pools, splash pad and lazy river are open all day. Some folks like to spend their entire visit enjoying the amenities of the resort, while others enjoy the proximity of nearby Galveston, Galveston Island State Park or a drive out to Surfside or Bolivar.
The entire Texas coast is an active place in the Summer, and Galveston definitely has plenty to do for folks of all ages. Don't forget one of our favorite stops on the island: La King's Confectionery for delicous ice cream and malts to cool you down!
Galveston Island is home to a lot more than just its beaches. In Galveston, you'll find interesting history, awesome museums, tons of great restaurants, and island themed shopping for everything from art to clothes to things you never knew you needed until you saw them.
You can board a cruise ship in Galveston or kayak in Galveston Bay or the Gulf of Mexico.
You can bike the Galveston Seawall, try your luck at fishing, take a hike at the state park, or just soak in the sun on the beach.
And all of this is just minutes away from Jamaica Beach RV Resort! There is so much to see and do in Galveston, that we've created a playlist of some of our favorite things to enjoy on the island. You can watch it here...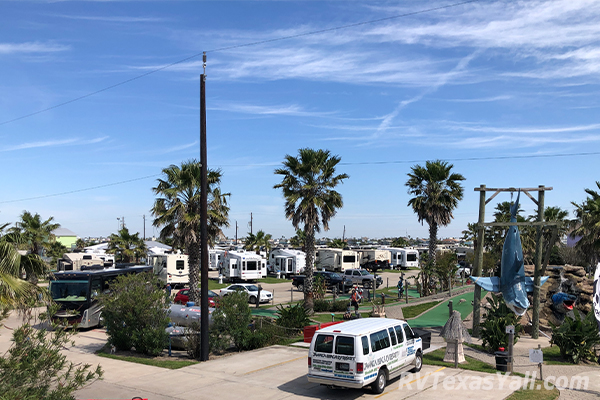 View from the Clubhouse at Jamaica Beach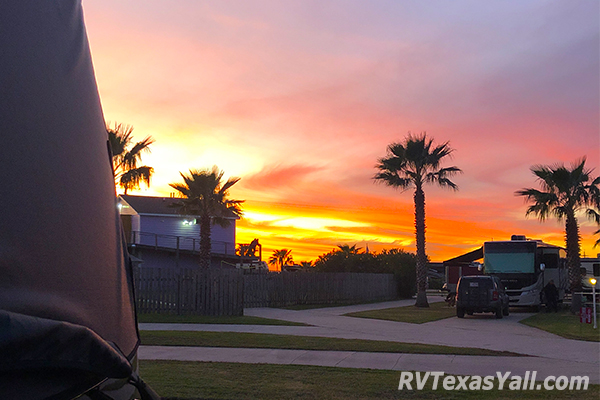 Sunset at Jamaica Beach RV Resort
Wintering at Jamaica Beach RV Resort
We love staying at Jamaica Beach RV Resort so much, that it was our home for the entire Winter of 2019/2020. We met some fantastic folks who also really enjoyed their time there and we made plans to meet here again for more fun!
Park activities make it easy to make new friends. The park hosts Thanksgiving Dinner, a Christmas Party, New Year's Eve Celebration, Valentine's Day Dinner and Mardi Gras Cook-Out. And that's only the big events! Small groups offer everything from yoga to pickleball lessons.
Winter life on the island is laid back and relaxing. This is a great time to get up early and walk the beach looking for seashells or watch the birds as they migrate.
"Winter Texans" come to Galveston to escape the cold winters since snow on the island is exceptionally rare. Folks who can come and stay a month or two here at Jamaica Beach RV Resort will find a community of RVers from all over the USA and Canada. Weekly potlucks and happy hours here at the park are tons of fun.
Though life rolls at a slower pace on the island, it certainly doesn't stop! In fact, Winter is one of our favorite times to be here. During the "off-season", you can walk the beaches without crowds, enjoy the museums, the farmers' market and the restaurants and life in the Historic Strand District.
Some of the cruise ships call Galveston home year-round and it's common for folks to enjoy a week cruise during their stay here. In fact, while we were there, over 60 guests and staff of the park (including several members of the Gustafson family) enjoyed a cruise together.
And then there are the festivals! During Winter in Galveston you'll find fun events like Dickens On The Strand, Galveston Museum Day and Galveston Mardi Gras!
To see more about what it's like to Winter in Galveston, watch this video...
More Details About Jamaica Beach RV Resort
You'll find Jamaica Beach RV Resort on the Texas Gulf Coast just outside of the town of Jamaica Beach at 17200 FM 3005 (also listed as 17200 Termini-San Luis Pass Rd), Galveston TX 77554.
The resort is approximately 10 miles from the west end of the Galveston Seawall and about 1 mile from Galveston Island State Park. Downtown Houston is 65 miles away.
Their location is convenient to get to things without being in the middle of everything. This makes it a nice place to relax after you've had a busy day of exploring.
Jamaica Beach RV Resort is currently home to 181 pull-through RV sites, all with full-hookups, cable TV and 30/50 amp electricity. All campsites have concrete pads with grass between sites. Each has a picnic table. They were in the process of upgrading their wi-fi system during our last visit. (Like we said, always improving.)
This park has sites that can accomodate any size rig.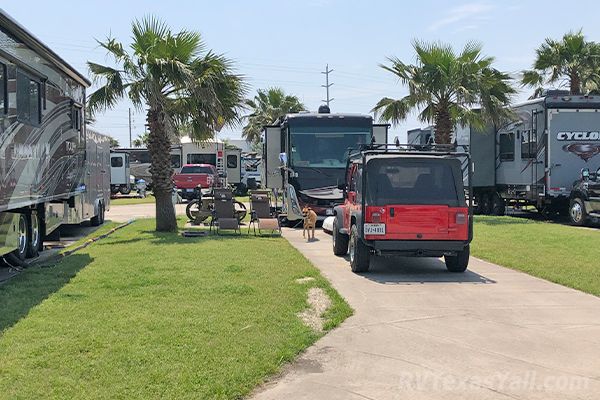 One of Our Many Campsites at Jamaica Beach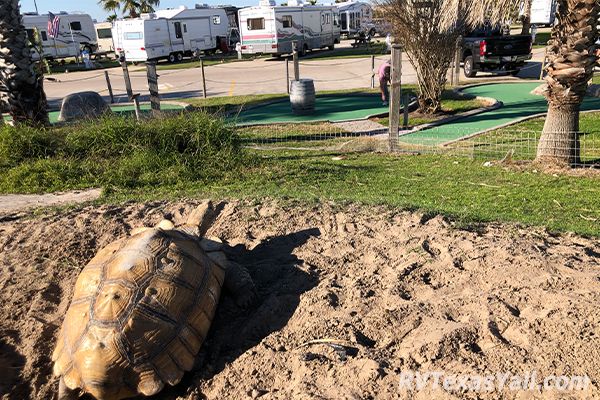 Resident Tortoise Overlooking the Mini Golf
You can connect with Jamaica Beach RV Resort on Facebook where they post updates on activities and what's going on at the resort.
You Will LOVE Jamaica Beach RV Resort!
If you've been with us for a while, then you already know that we absolutely love this park. And all of the folks who have stayed at Jamaica Beach RV Resort on our recommendation have told us that they love it too. (And, since we've been recommending it for so long, that's A LOT of folks! So we feel very confident in saying that you will love staying here too. (There's a reason why we chose Jamaica Beach RV Resort as our #1 RV Resort in 2019!) We hope you'll give them a visit. And when you do, please tell them that Tom and Stacie at RV Texas Y'all say "Hi!".