The Best Portable Charcoal Grill?
We love cooking with charcoal! And, over the years, we've owned a lot of different charcoal grills. It's been tough to find a portable charcoal grill with a decent amount of cooking area, that's easy to carry for RVing, camping or tailgating, and that will hold up to travel and the weather of the great outdoors. We recently purchased a unique new grill that might just tick all of the boxes, the all new NOMAD Grill and Smoker.
In this video, we unbox our new NOMAD Grill and try it out for the first time. We'll share our first impressions and measure it to share the exact dimensions.
We believe this NOMAD Grill is a great addition to our outdoor camp kitchen and a phenomenal complimentary cooker to sit next to our other favorite outdoor cooker, our Green Mountain Grill Davy Crockett portable pellet grill. Between the two, we can cook just about anything outside. (And everything tastes better when it's cooked outdoors!)
Video: Portable Charcoal Grill Review
NOMAD Grill and Smoker Specifications
Grill Mode
Weight: 31 pounds with optional second grate
Dimensions: 20.5"x27.5"x9.5" (open)
Cooking Space: 425 Square Inches
Smoker Mode
Weight: 28 pounds with one grate
Dimensions: 20.5"x15"x9.5" (closed - includes handle)
Cooking Space: 212 Square Inches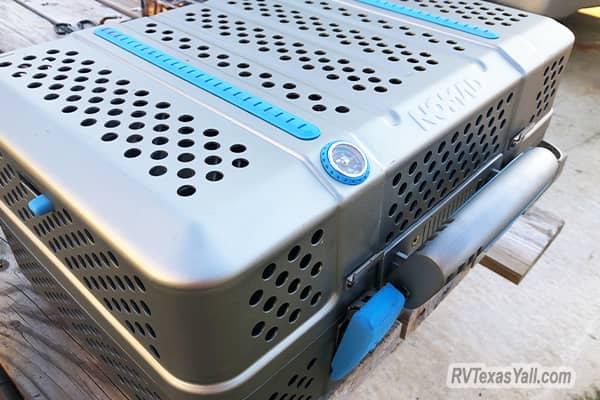 Close-Up View of Our NOMAD Grill
Features of the NOMAD Grill and Smoker
Separate inside and outside layers keeps outer shell temperatures low.
Lightweight aircraft alloy materials for durability.
Aluminum exterior treated for corrosion-resistance.
Aluminum unibody cookboxes.
Stainless steel magnetic grates.
Air control vents on 2 sides.
Gasket-free sealing lid holds in heat and keeps rain out.
Food-grade silicone on handles, sides and latches to protect surface. Withstands temperatures up to 550 degrees Farenheit.
Easy to read temperature gauge.
NOMAD also sells NOMAD Fire: 100% all-natural fruitwood charcoal. Large pieces, designed to burn hotter and longer while putting off less smoke and ash, NOMAD Fire is available in 5 pound boxes. But you can also use any other type of charcoal with the grill.
They also offer a subscription service for their NOMAD Fire charcoal that offers a discount on multiple purchases.
Oh, and by the way... NOMAD Grills is located in Dallas, Texas! And y'all know we love supporting local Texas companies.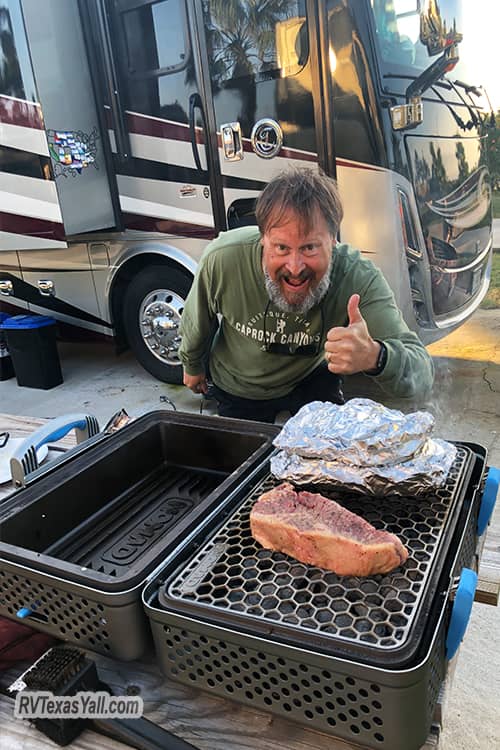 Grilling Steak On Our NOMAD Grill
Our Opinion of the NOMAD Grill?
We were REALLY impressed by our first several cooks on the NOMAD Grill. It seems to be very well made and will be easy to carry in our RV.
We love the tight sealing lid! After we are done cooking, we close the grill and close the side vents to extinguish the coals. It creates such a tight seal, that there is often usable charcoal left to relight and start our next cook with. Plus (and this is a HUGE bonus for us), when we leave the closed and latched NOMAD Grill outside in the rain, the inside stays completely dry! And we've experienced this several times... heavy rainfalls have yet to get any moisture inside our closed and latched NOMAD Grill.
We are also impressed that the outside of the grill stays significantly cooler than the inside of the grill while we are cooking. We've had no problem cooking with our NOMAD Grill on wood picnic tables.
The temperature gauge is easy to read and seems to be accurate.
So far, we have grilled burgers, steaks and vegetables in a pouch. We have also smoked a whole chicken. Everything we have cooked on our NOMAD Grill has turned out great so far!
We look forward to using this grill for many years to come and we'll keep you updated on how it performs and lasts.
Shipping was FREE! And we received our NOMAD Grill right away with a nice note thanking us for our order.
Is the NOMAD Grill Easy to Clean?
Holy cow y'all! It doesn't get much easier to clean than this! After a cook, we close the side vents, close the grill and latch it shut. A few hours later, it is completely cooled down and we usually have useable charcoal left for the next cook. We remove any large pieces and then remove the ashes. The deep solid piece cook boxes allow for sweeping out with a handheld whisk broom or vacuuming with a portable shop vac.
Then you can just wipe out the box with a damp cloth and dry it well. The stainless steel grates are super quick to clean also.
And if you don't have time to clean everything up after your tailgate or day out, the latched cooker will hold all of the ash until you get home without spilling and leaving a mess in your truck or basement bay.
How Much Is The NOMAD Grill?
This is a premium grill. It is definitely not inexpensive. But after receiving our NOMAD Grill, seeing how well it is made, how easy it is to pack and carry, and cooking on it several times, we are very happy with our purchase. If it fits your budget, we highly recommend the NOMAD Grill!
Visit the NOMAD Grills website for current pricing or to buy a NOMAD Grill and Smoker.
We like the NOMAD Grill so much that we have joined their affiliate program. Please use one of the links on this page to visit their website and place an order if you decide it's right for you. We appreciate you supporting future RV Texas Y'all content!