Camp Cooking Recipe: Easy Dutch Oven Beef Stew Cooked Over a Campfire
This post contains affiliate links. Please see our disclosure for more information.

Video -- Campfire Cooking: Dutch Oven Beef Stew

We love cooking outdoors when we are camping! In this post, we share our super easy recipe for beef stew cooked over the campfire! This is a very flexible recipe. You can use whatever you vegetables you like and whatever you have on hand. It is simple, but delicious and filling... a perfect camping dish! Tom calls this one "Cowboy Beef Stew" because it's cooked in our cast iron dutch oven hanging on our tripod over the campfire. Call it whatever you want as long as you call us for supper! :)
Dutch Oven Beef Stew Ingredients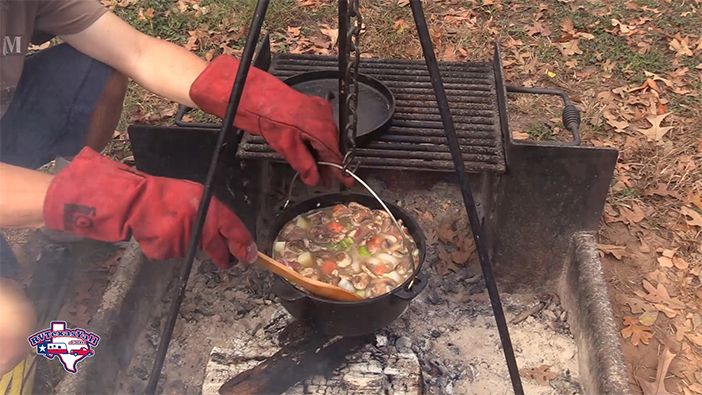 Beef Stew Cooking Over the Campfire
What We Put in the Beef Stew:
2 lb Beef Tips or Stew Meat
1 Large Onion, chopped
4-6 cloves Garlic, minced
3-4 Carrots, chopped
1-2 Stalks of Celery, chopped
4-5 Red Potatoes, chopped (or whatever potatoes you like)
Sliced Mushrooms
32oz Beef Stock
Flour
1-2 Bay Leaves
Onion Powder
Garlic Powder
Salt
Pepper
Olive Oil
Cooking Tools We Used to Make This Beef Stew:
How to Make Dutch Oven Beef Stew
Preheat your dutch oven by hanging it over the campfire.
Add a bit of olive oil to your dutch oven. If your dutch oven is well seasoned, you might not need the olive oil.
While your dutch oven is heating up, prepare your meat. Add flour and seasonings (salt, pepper, onion powder, garlic powder) into a sealable plastic bag. Mix the flour and seasonings together and then drop your bite-sized pieces of stew meat into the bag. Seal up and shake the bag to coat all the pieces of meat evenly.
Put the flour-coated stew meat into the pre-heated dutch oven to brown. We like to place the pieces in by hand so that if we have extra flour in the bag, we don't end up with a lot of extra flour in the stew.
While the beef is browning, you can chop your vegetables. You can use whatever vegetables you have on hand. We typically use onion, garlic, celery, carrots, mushrooms and potatoes.
Stir the meat to make sure it browns evenly.
Add in the beef stock, bay leaves, all vegetables, pepper and salt (according to the size of your dutch oven and your personal taste).
Stir around, put the lid on the dutch oven, and let it do its thing.
Check about every 30 minutes and stir to make sure your stew isn't cooking too fast. If it seems to be, raise the dutch oven up higher on the tripod. If it's cooking too slowly for you, lower the dutch oven a bit closer to the campfire. You're looking for a simmer, not a hard boil.
Total cook time for our 10 inch dutch oven was about 1 hour 45 minutes. You're looking for the meat to be tender.
If you would like a thicker stew, you can stir in a little bit more flour. It's best to dilute the flour in a bit of water before adding it to the stew to prevent clumping. If you would like more of a broth-based soup, you can omit the flour altogether.
That's all there is to it other than to Eat and Enjoy!