Camp Cooking Recipes: Smoked Brisket and Sides!
This post contains affiliate links. Please see our disclosure for more information.

Video: Easy Smoked Brisket

Tom has been so excited to share this video with y'all! He loves smoking brisket. Honestly, that was one of the main reasons we began looking at portable pellet grills... he wanted to be able to smoke a brisket from our campsite. And, we have to tell you, our Davy Crockett by Green Mountain Grills made the whole process super easy. The result was absolutely delicious! And what goes better with brisket than pinto beans and coleslaw? Here are the recipes...
Oh, and before we forget... we bought the brisket and ham hock we used in the video from Vincek's Smokehouse in East Bernard, Texas. Vincek's is a really good family owned meat market, smokehouse and bakery. Check them out when you're in the area!
Easy and Awesome Smoked Brisket Recipe
Smoked Brisket Ingredients:
8.5lb Brisket
Salt
Pepper
That's it folks!
How to Smoke Brisket
Take your brisket out of the refrigerator and let it begin to warm up a bit on a table or countertop while you are getting your pellet grill ready.
Fill your pellet hopper. Pre-heat your pellet grill to 225 degrees.
Season your brisket on all sides (don't forget the ends) with salt and then pepper.
Place the brisket on the grill uncovered, fat side down.
Set the temperature probe to 165 degrees. Make sure the probe is solidly in the meat, not the fat. A probe in the fat will give you a false temperature reading.
Close the lid and resist any temptation to peek until your probe alerts you that it has reached 165 degrees.
Remove the brisket, wrap it in heavy duty aluminum foil and place it back on the grill.
Insert the temperature probe back into the brisket (again making sure to avoid a fatty area.)
Set the temperature probe to 202 degrees.
Check your pellet level and add more pellets if necessary.
Leave it alone until you get notified that your meat probe has reached 202 degrees.
Remove the wrapped brisket from the grill. While still wrapped in foil, wrap it in towels on a table or counter to let it rest. (Mark from M&M BBQ shared with us that placing it in a cooler will cause it to continue to cook, not rest. Thanks Mark!)
Let it rest for 2 hours.
Slice across the grain and enjoy!
No-Soak Pinto Beans Recipe
This recipe will also work with the traditional method of soaking your beans overnight and then cooking on the stovetop or in a crockpot until done. But if you're short on time and/or forgot to soak your beans, use the Instant Pot!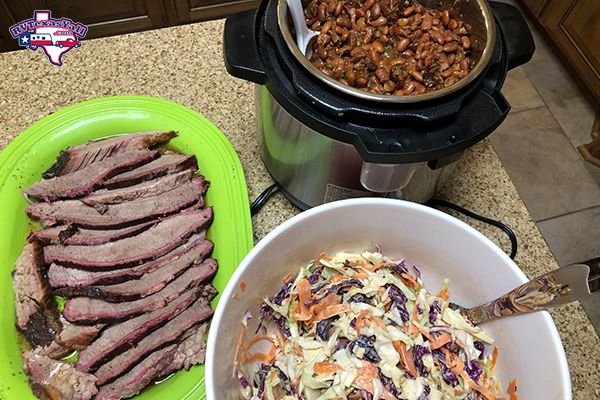 Ready to Eat!
Pinto Beans Ingredients:
2 1/2 cups Dry Pinto Beans
1 Smoked Ham Hock (or Bacon)
1/2 Yellow Onion, chopped
2-3 cloves Garlic, chopped
1/2 bunch Cilantro, chopped
2 Jalapenos, seeded and chopped
1 can Diced Tomatoes (No Salt)
2 cups Beef Broth
2 teaspoon Salt
1 teaspoon Cumin
3/4 teaspoon Chili Powder
1/2 teaspoon Smoked Paprika
1/2 teaspoon Pepper
1/2 teaspoon Oregano
Water
Olive Oil
How to Make No-Soak Pinto Beans
Rinse pinto beans and check for rocks and bad beans. Remove any that don't look good.
Set Instant Pot to Sautee and let heat up.
Add just enough olive oil to the pot to coat the bottom. Sautee chopped meat from ham hock with onion, garlic and jalapeno. If you are using bacon instead of ham hock, you can skip the olive oil.
Once onions are translucent, turn off Instant Pot.
Stir in beans and all other ingredients including the bone from the ham hock. Add water to bring mixture up to Fill Line inside Instant Pot (up to 3 cups).
Seal Instant Pot and set to Pressure Cook for 45 minutes.
Let the pressure release naturally (around 20 minutes or so).
Stir and dig in!
Homemade Coleslaw Recipe
Coleslaw Ingredients:
1/2 large head Green Cabbage, shredded
1/2 head Purple (Red) Cabbage, shredded
2 large Carrots, shredded
Coleslaw Dressing Ingredients:
1/2 cup Mayonnaise
1 1/2 Tablespoons Apple Cider Vinegar
1 1/2 Tablespoons Honey
1 1/2 teaspoons Ground Mustard
1/4 teaspoon Pepper
How to Make Coleslaw
Combine all dressing ingredients and mix well.
In a large bowl (larger than you think you'll need), toss green cabbage, purple/red cabbage and carrots.
Pour dressing over veggies and toss thoroughly making sure that everything is equally coated.
Cover bowl and place in refrigerator for at least one hour.
If you think about it, toss it again from time to time while it is chilling.
Toss again just prior to serving.
Eat!
Cooking Tools We Used to Make These Recipes: