Camp Cooking Recipes: Cooking for the Holidays!
This post contains affiliate links. Please see our disclosure for more information.
Video: Easy Smoked Turkey and Holiday Sides
The holidays are coming and prime camping season is here. Why not put the two together and go camping during the holidays? But can you really cook a complete holiday meal from an RV? And can you keep it simple so it doesn't take up the whole day or require a lot of ingredients? Yes you can!
In this video, we share how easy it was to smoke a turkey and prepare holiday side dishes from our RV. To smoke the turkey we used our Davy Crockett Pellet Grill by Green Mountain Grills and it turned out tender and juicy. We continue to be very impressed by the "set it and forget it" ease of cooking with the Davy Crockett. We wanted to keep things super simple with these recipes to really test if we could make a tasty holiday meal with very little effort and only a few ingredients. We have to say we were impressed by how well things turned out. But we would make a few adjustments from what we showed in the video. We'll talk about those adjustments with each section below.
Super Simple Smoked Turkey Recipe
Smoked Turkey Ingredients:
10lb Turkey
Salt
Pepper
Melted Butter or Olive Oil
How to Smoke a Turkey
Wash the turkey and pat it dry. Make sure you remove the neck and any bags of giblets from the cavities on each end. (Be sure your turkey is completely thawed before you start.)
Fill your pellet hopper. Pre-heat your pellet grill to 225 degrees.
Brush the entire turkey with melted butter, then sprinkle on salt and pepper. To keep this recipe as simple as possible, we did not put anything in the cavity of the bird other than melted butter, salt and pepper.
Place the turkey on the grill, breast side up and uncovered.
Set the temperature probe to 165 degrees. Insert the probe into the thickest part of the turkey breast without touching bone.
Close the lid and resist any temptation to peek until your probe alerts you that it has reached 165 degrees.
Remove the turkey from the grill, cover with heavy duty aluminum foil and let it rest at least 10 minutes.
Our total cook time was 2 hours and 45 minutes.
Adjustments We Would Make:
Our turkey turned out great. It was moist and juicy, and so incredibly easy! In the future we would make the following adjustments...
We chose a 10 pound turkey to make sure it would fit on the grill. We could have fit a 13-14 pound turkey. We'll probably cook a larger bird in the future to feed more folks or have more leftovers.
We expected the turkey to take up to 5 hours to cook. It came out great, but in the future, we'll cook it at 215 degrees on our Davy Crockett Grill to get a bit more smoky flavor.
Next time, we might put a little something in the cavity: onion, wedges of citrus fruit, herbs... just to give it even more depth of flavor. If you do this, we'd suggest keeping the grill temperature at 225 degrees so that cook time doesn't extend too long. But it was delicious even with just butter, salt and pepper.
Green Bean Casserole Recipe
We've been making green bean casserole as part of our holiday meals for decades, but this is our first attempt to make it with frozen green beans. We have limited pantry space for can goods and try to cook more with fresh or frozen veggies when we can. Fresh veggies can be tough to find depending on where we are, so we typically keep a few frozen veggie options on board at all times these days.
Our RV has a microwave/convection oven with a rotating tray. Our cooking dishes are limited to those that can rotate as they cook without hitting the oven walls.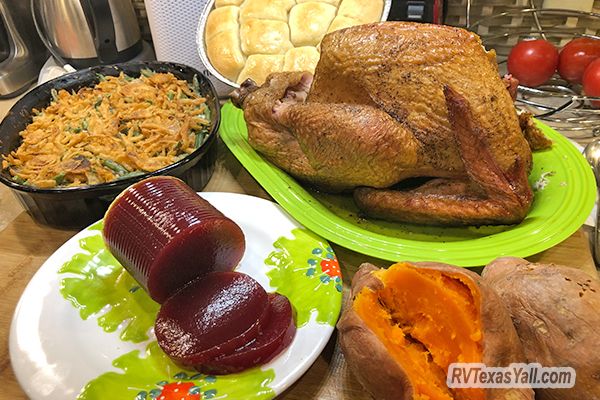 Ready to Eat!
Green Bean Casserole Ingredients:
6 cups Frozen Green Beans (or 2 cans)
1 can Cream of Mushroom Soup
1/4 cup Milk
3/4 teaspoon Worcheshire Sauce
4 oz Crispy Onions
How to Make Green Bean Casserole
Heat oven to 350 degrees.
Mix Mushroom Soup, Worcheshire Sauce and Milk together (Use enough milk to obtain a good consistency. You want to thin out the soup a bit without making it too liquidy.)
Crush 1/4 of the crispy onions and stir into the soup mixture.
Stir in the green beans and transfer to cooking dish.
Cook for one hour, stirring halfway through cooking time. (If using canned green beans, cook for 25 minutes without stirring.)
Remove from oven, stir and then add remaining crispy onions on top.
Return to oven for an additional 10 minutes.
Adjustments We Would Make:
In the video, we cooked the casserole for 40 minutes before adding the crispy onions. This wasn't quite enough time. So we've upped the cooking time in the recipe to one hour. However, you could also cook the frozen green beans before adding them to the other ingredients and then cut the bake time down to 20 minutes.
Another option might be to cook the green bean casserole in the crockpot? We've never done this before, but it might be worth giving it a try. I think though, we'd still want to finish it off topped with the crispy onions in the oven.
And thanks to Posse Member Lisa M. for the idea to thaw out the frozen green beans before we cooked them. We think we could have done fine with an initial cook time of 30-40 minutes with thawed beans.
Microwaved Sweet Potatoes
In sticking with the super simple cooking theme, we threw a couple of sweet potatoes in the microwave to complete the meal.
Sweet Potato Ingredients:
2 medium Sweet Potatoes
butter
How to Microwave Sweet Potatoes
Use a fork to poke several holes in each sweet potato. We make 3-4 "x" patterns in each potato.
Place the sweet potatoes in the microwave and cook until soft at full power for 12 minutes.
When the cook time expires, cut potatoes open, add pat of butter and serve.
Adjustments We Would Make:
Our biggest challenge in making this meal was that we used our microwave/convection oven for everything other than the turkey. To cut down on overall cooking time, we could have heated up the rolls on the Davy Crockett Grill after the turkey came off. That would allow us to cook the sweet potatoes and rolls at the same time.
Another option for cooking the sweet potatoes would be to wrap them individually in aluminum foil and place them on the pellet grill with the turkey.
Yeast Rolls
Speaking of rolls, remember... we were keeping it simple. So we bought a tray of frozen yeast rolls, let them thaw out and heated them in the convection oven. (Don't forget the cranberry sauce... and again... canned makes it simple... plus Tom loves canned cranberry sauce! LOL)
Viola! A Super Easy Complete Holiday Meal Cooked at Our RV!
This meal was so incredibly easy. The entire prep and cook time for everthing took about 4 hours, but we could have shortened that a bit by moving the rolls to the grill after the turkey was done.
Cooking Tools We Used to Make These Recipes:
Other Kitchen Tools We Love: