Camp Cooking Recipes: Super Bowl Party Food!
This post contains affiliate links. Please see our disclosure for more information.

Video: Super Bowl Cooking at Our Campsite

We always enjoy celebrating events like the Super Bowl with good food. And even though this year we weren't near any parties, we wanted to continue this tradition at our campsite. We had a few challenges: 1) the park we were staying at did not allow propane cooking outside (which took frying out of the equation), 2) the weather was iffy with rain off and on all day, and 3) just after we started our prep work, we were informed that the campground had received a boil water notice! We were determined not to throw in the towel on our cooking plans, so we made a few adjustments, tried some different things, and had great results. The amount of spices you use depends on your personal taste. As always feel free to substitute other spices, change or discard meats if you prefer. Here are the recipes...
Stuffed Jalapenos Recipe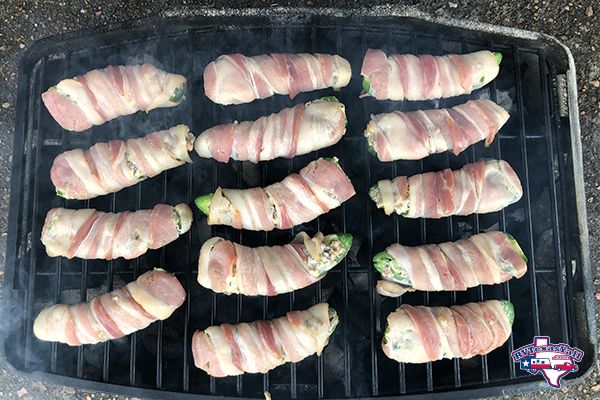 Stuffed Jalapenos on the Grill
Stuffed Jalapeno Ingredients:
7 Large Jalapenos
3 Green Onions, chopped
3-4 cloves Garlic, minced
1/2 handful Cilantro, chopped
8oz Cream Cheese, softened and cubed
1 cup Sharp Cheddar Cheese, shredded
16oz Ground Pork (or any ground meat: chorizo, beef, turkey, chicken...)
14 slices Bacon
Salt
Pepper
Onion Powder
Cumin
How to Make Stuffed Jalapenos
Heat up coals for your charcoal grill.
Cut jalapenos in half lengthwise and remove seeds.
Mix green onion, cilantro, cheddar cheese and cream cheese in a bowl.
Cook pork, garlic and spices together until pork is thoroughly cooked.
Let pork cool down.
Once the pork is cool, add it to the green onion and cheese mixture. Combine together well.
Stuff the jalapeno halves with the cheese and pork mixture.
Wrap a strip of bacon around each stuffed pepper.
When your coals are ready, place the bacon wrapped peppers on the grill and close the lid.
Cook until the bacon is done.
Left over stuffed peppers can be refrigerated and reheated later.
If you don't use all of the pork and cheese mixture, you can use it later to stuff chicken or more jalapenos.
Grilled Chicken Wings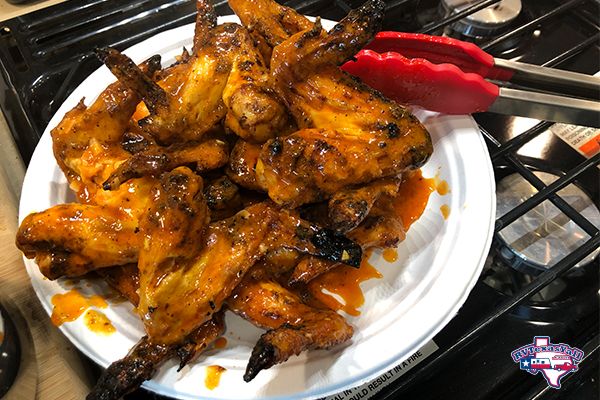 Grilled Chicken Wings
Grilled Chicken Wing Ingredients:
12 Chicken Wings
Salt
Pepper
Smoked Paprika (or regular Paprika if you prefer)
Onion Powder
Garlic Powder
Olive Oil
1/2 cup Chicken Broth
1 1/2 sticks Butter, cubed
4 cloves Garlic, minced
12oz Hot Sauce
How to Make Grilled Chicken Wings
Heat up coals for your charcoal grill.
Rub olive oil and all spices on all sides of chicken wings. The amount of each spice is based on your personal preference.
Once coals are ready, place wings on grill and close the lid. Let cook until chicken is done and skin is crispy.
While chicken is cooking, prepare the sauce...
Add chicken broth and garlic into a pot large enough to dip the wings in, but small enough to make sure the sauce will be deep enough to submerge a wing.
Add butter a bit at a time while broth is lightly simmering.
Once all of the butter has been added to the broth and garlic and is melted, bring to a light boil. Keep an eye on it and stir constantly so that the butter does not burn.
Add the entire bottle of hot sauce and return to boil.
Once the sauce begins to boil, turn the flame off.
Dip the cooked chicken wings in the sauce one at a time. Dip a second time for even more flavor.
Be sure you have plenty of napkins available. This one is messy, but so tasty!
Leftovers can be refrigerated and reheated. Save any sauce you have left over to redip them.
Fresh celery or carrot sticks make a great side and can also be dipped in the sauce.
Ranch or Bluecheese Dressing make a great dipping sauce for the finished wings if you want a little something extra.
Queso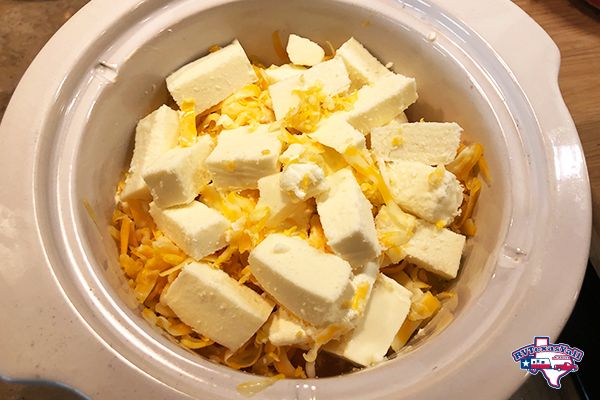 Cheese Ready to Melt
Queso Ingredients:
8oz Cream Cheese, cubed
10 oz Queso Fresco, cubed
4oz Colby Jack Cheese, shredded
10oz Rotel
How to Make Queso
Add Rotel to small crockpot set on "Low".
Add the cheeses a bit at a time to the crockpot, stirring them in.
You can use any combination of melting cheeses that you like. We typically include a "melting" queso fresco, but the grocery store we shopped at before the video only had "crumbling" queso fresco. It worked and tasted good, but wasn't 100% smooth.
Once the cheeses are all in the crockpot and stirred in, put the lid on.
Heat on low, stirring occasionally until melted.
Leftovers can be refrigerated and reheated.
If you'd prefer not to use Rotel, you can start by sauteeing some chopped jalapeno, onion, garlic, cilantro and tomato, then add the cheese and a bit of milk to the mixture and stir. Add a little more milk if the queso is too thick.
Cooking Tools We Used to Make These Recipes: