We Love the RVing Community!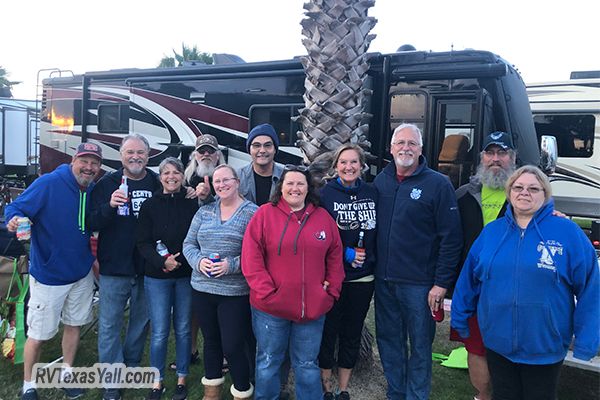 Our 2020 Super Bowl Party
We had an awesome day visiting with everyone during our Super Bowl party! It reminded us a lot of the days in our sticks and bricks home when we would get together with friends and family. You don't have to lose that sense of community when you travel. In fact, we've found that it is really easy to make connections with other RVers because we already have a lot in common. Be sure to get outside and meet your neighbors as you're traveling!
Our friends who joined us for Super Bowl Sunday came from 3 local RV parks. It was great visiting with everyone, and seeing them all get to know each other and share stories. RVing is really all about community. And as we all head to our next destinations, it's never goodbye... it's always "see ya next time" where ever that might be!
Camp Cooking Recipes: Super Bowl Party, RV Style!
This post contains affiliate links. Please see our disclosure for more information.
As full-time RVers, one of the things we get asked about all of the time is community. Do we miss having a real community? Do we miss having deep relationships and friends around us? Do we get lonely on the road? It might surprise you to hear that we actually feel a very strong sense of community on the road. This past Super Bowl is a prime example of that experience. We decided to host a Super Bowl party at our campsite and invited several folks that we have met through RVing to come hang out with us and enjoy a day of food, friends and fun!
The weather was perfect (gotta love the Texas Gulf Coast in the winter!), the food was delicious and the company was awesome! Thanks to everyone who came out!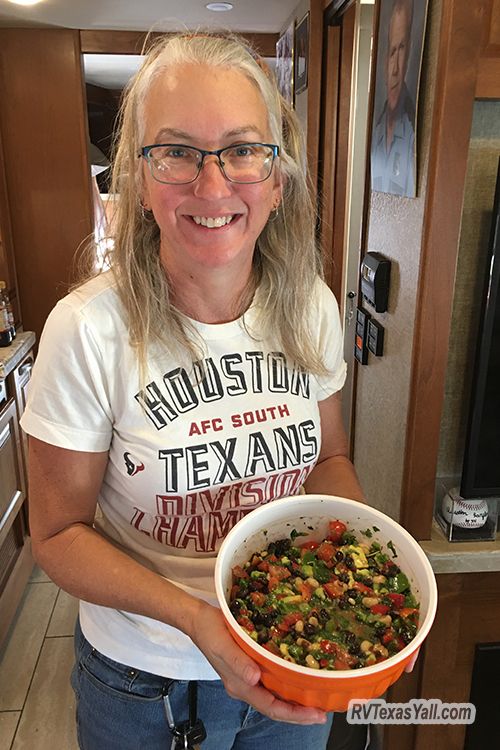 Stacie's Texas Caviar
Texas Caviar Recipe
Texas Caviar Ingredients:
1 can Black Beans, rinsed and drained
1 can Black Eyed Peas, rinsed and drained
2 Jalapenos, chopped
1 Red Bell Pepper, chopped
1 Green Bell Pepper, chopped
3 Green Onions, chopped
3 Cloves of Garlic, diced
1 cup Cilantro, chopped
20-25 Cherry Tomatoes, quartered
1 Avocado, chopped
2 oz Pimentos, drained and rinsed
1-1.5 cup Italian Dressing
Alternative Texas Caviar Ingredients:
You could also add...
Kernel Corn
Red Onion
Lime
How to Make Texas Caviar
Texas Caviar is super simple to make! It's also light, fresh and will last a few days in the refrigerator. Some folks call this Cowboy Caviar.
Mix all of the ingredients except the Italian Dressing in a bowl.
Add the Italian Dressing a little bit at a time.
Taste the Texas Caviar as you go until you reach the right amount of Italian Dressing for your personal taste.
Cover the bowl and place in the refrigerator. Let come together as it chills for an hour or so.
Serve with chips, crackers or as a simple, light side dish.
Homemade BBQ Sauce Recipe
For years, Tom has made his chicken wings with his hot sauce recipe. We included this recipe and how we grilled the chicken wings in last year's Super Bowl post. We LOVE those wings, but we wanted to try something different. So this year, Tom decided to make homemade BBQ sauce!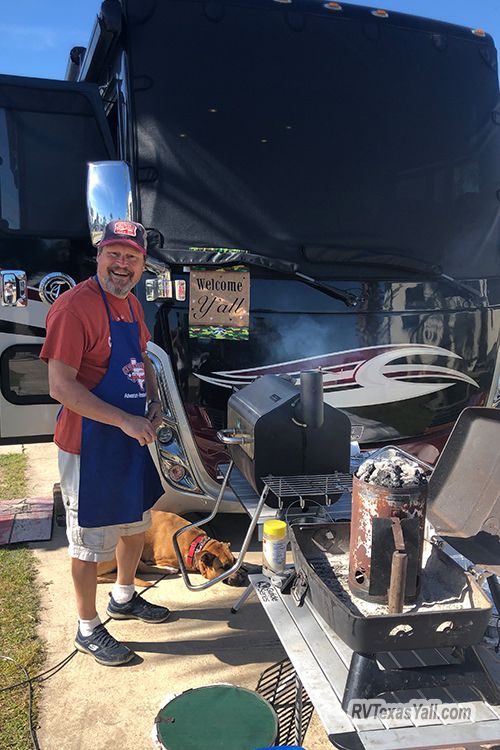 Tom Cooking
Homemade Bar-B-Que Sauce Ingredients:
1.5 cups Ketchup
1.5 cups Brown Sugar
0.5 cup Red Wine Vinegar
0.5 cup Water
2.5 tablespoons Dry Mustard
1 tablespoon Worcheshire Sauce
2 teaspoons Smoked Paprika
2 teaspoons Sea Salt
1.5 teaspoons Black Pepper
How to Homemade BBQ Sauce
Again, making homemade BBQ sauce is really easy!
Mix all of the ingredients together.
That's it! No cooking required!
Taste the sauce and add more of any of the ingredients for your personal taste.
If you want to spice it up, you can add in some of your favorite hot sauce.
We used this BBQ sauce on half of our grilled chicken wings. Just dip the grilled wings in the sauce immediately after removing them from the grill. We like to double dip each of our wings!
Smoked Pork Tenderloin
We had planned to smoke another pork butt for the party. But the grocery store ran out. So we substituted pork tenderloin.
Smoked Pork Tenderloin Ingredients:
Pork Tenderloin
Olive Oil
Salt
Black Pepper
Garlic Powder
How to Smoke Pork Tenderloin with a Pellet Smoker
Set pellet smoker to 225 degrees.
Coat each tenderloin evenly with olive oil, salt, pepper and garlic powder.
Place tenderloins on grill and insert temperature probe.
Cook the tenderloins to an internal temperature of 145 degrees.
Remove from grill, wrap in foil and a towel and let rest at least 30 minutes before serving.
Chicken Wings and Coleslaw Recipes
If you'd like the recipes for our original grilled chicken wings, please visit our Super Bowl Cooking On The Road post from last year. You'll also find our recipes for stuffed jalepenos and queso in this post.
For our recipe for homemade coleslaw, check out our Easy Smoked Brisket post. You'll also find our no-soak pinto beans recipe in that write-up.
Cooking Tools We Used to Make These Recipes:
Other Kitchen Tools We Love: