Minor League Baseball Parks: Whataburger Field
We love baseball! And we love visiting baseball parks to watch the game at all levels. Texas has some great minor league professional baseball parks. We've seen games at Dell Diamond in Round Rock and Nelson Wolff Municipal Stadium in San Antonio. So, of course, when we decided to take a trip down to Corpus Christi, we had to make sure that the Corpus Christi Hooks would be in town so we could see a game at Whataburger Field!
This video is published on our IGTV channel (Instagram TV). If you would like to learn more about IGTV, check out our post, "Announcing Our New IGTV Channel". If you haven't already, connect with us on Instagram so you'll be able to see our new IGTV videos as we post them, as well as our stories and photos.
Whataburger Field is home to the Corpus Christi Hooks, the Double-A Affiliate team for the Houston Astros. As with many professional minor league baseball parks, Whataburger Field has some unique features. One of those features greets you as you walk up to the gate; "For the Love of the Game" by Dallas sculptor Seth Vandable is thought to be the largest bronze sculptor of a baseball player in the world at 22 feet tall! Inside the stadium, you'll find a beautiful view of the Harbor Bridge which has been the gateway to Corpus Christi since 1959 and an ode to the history of this location prior to the building of the ballpark with big cotton presses dating back to the 1920s behind the outfield. You'll also see cargo ships passing through the channel just beyond the outfield here as this park is located near the shipping port.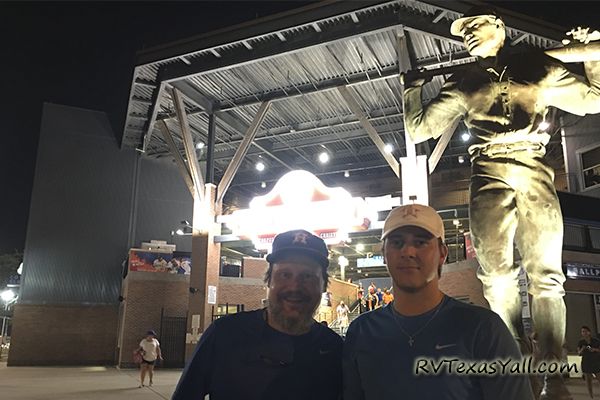 World's Tallest Bronze Statue of a Baseball Player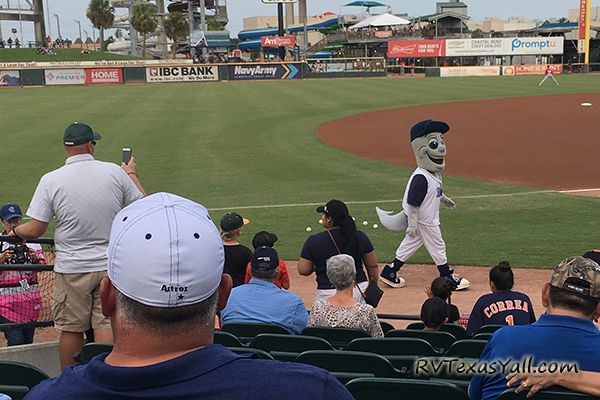 Corpus Christi Hooks Mascot Rusty Hook
Whataburger Field, which opened in 2005, was designed by the same folks who designed Dell Diamond in Round Rock. That's fitting since prior to coming to Corpus Christi, the Hooks played as the AA Round Rock Express up there. Triple-A baseball moved into Round Rock for the Texas Rangers and the old Express became the Hooks down here in Corpus. The ballpark features wide concourses that are easy to get around, several dining options, and a spray park, swimming pool, rock climbing wall, playground and basketball court behind the outfield. Every seat has a good view and parking is located right across the street. Parking attendants accept credit cards, so there's no need to carry cash.
Minor league baseball entertainment is always interesting. Audience participation games are run between innings and the team is home to two mascots: Rusty Hook and Sammy Seagull. This is a fun ballpark with a good view of the historic Harbor Bridge (although we hear Harbor Bridge will be replaced by 2021). It is conveniently located right next to the bridge and just across from the USS Lexington, Texas State Aquarium, North Beach and several other attractions. It was about a 20 minute drive for us to get here from Aransas Pass during our weekend trip down to this area. We look forward to watching another game here in the future.