Share Your RV Experiences!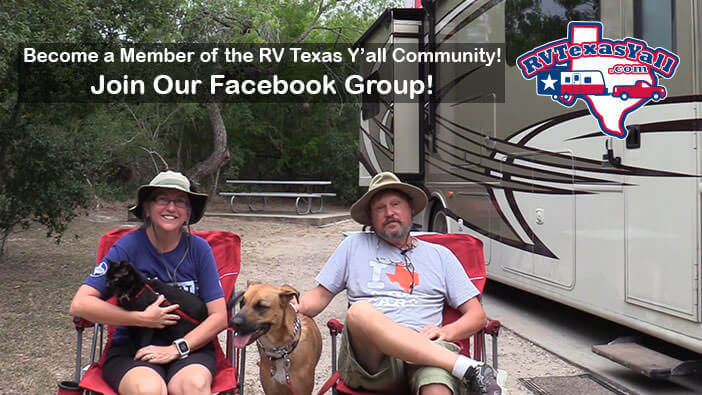 Join Our Facebook Group!
One of the things we love most about RVing is all of the great folks we meet. RVers are always ready to share their experiences and tips on things that they've learned, great places they've stayed and must see destinations. Social media makes it easy for us to share our experiences on the road, but we'd like to hear more about yours. So we have created the RV Texas Y'all Community on Facebook!
What is the RV Texas Y'all Community?
Our community is a Facebook Group that welcomes members to share their experiences, photos and questions related to their travels and RV life. It is a place for anyone interested in RVing, camping or just exploring the Great State of Texas and Beyond to come together and learn from each other.
How is the RV Texas Y'all Facebook Group Different from the RV Texas Y'all Facebook Page?
Our Facebook Page is a way for us to share interesting information that we find online, photos that we take and what's new on our website. Our Facebook Group (the RV Texas Y'all Community) is an easy place for all of our members to share their photos and trip recommendations. We encourage everyone to respond to questions and share your experiences.
How Do I Join the RV Texas Y'all Community?
Joining is easy!
1. Follow this link to our Facebook Group.
2. Click on "Join Group".
3. We will approve you as a member, and you will be able to read posts, like, comment and share your own photos, experiences and questions.
Why is it a Closed Group?
We have set it up as a "Closed Group" to hopefully avoid posts from spammers. Everyone in the group has to be approved by us or added by another member. But, of course, you and any of your friends and family who are interested in RVing, camping and/or exploring the Great State of Texas and beyond are welcome to join and participate!
What Do I Do After I Join the Community?
Feel free to post pictures and/or highlights from your trips, your RV, interesting places you visit, restaurant recommendations from your travels or questions related to RVing and roadtrips. We also encourage you to respond to other folks' posts and share information with the group. And please, feel free to share the group with your friends and family. All members have the ability to add other folks to the community and we welcome new members... the more the merrier!
How Do I Add Other Members?
As a member of the RV Texas Y'all Community, you can add your friends and family to the group using the "Add Members" box on the right side of the screen on your desktop or the "Add Members" button on the mobile app while you are on our Group page.
What Are the Group Rules?
There are only a few simple rules that we ask of everyone in our Community:
1. Please be positive and respectful. There is enough negativity in the world today. We don't need it here.
2. Please do not use our Community to sell anything unless you receive specific permission from us.
3. Please do not post anything that might be controversial. This is not the place to discuss politics, religion or anything outside of the realm of RVing, camping and roadtripping around the Lone Star State and other fun destinations.
4. No question is a dumb question. Please be open to folks looking for tips on RVing and travel and help to answer their questions when you can.
5. Have fun and enjoy the Community! We're glad you're here! :)
Subscribe To Our Newsletter to stay connected and receive an email with our latest posts and updates!
Safe Travels and Happy Camping!