San Antonio, Texas - South Texas Region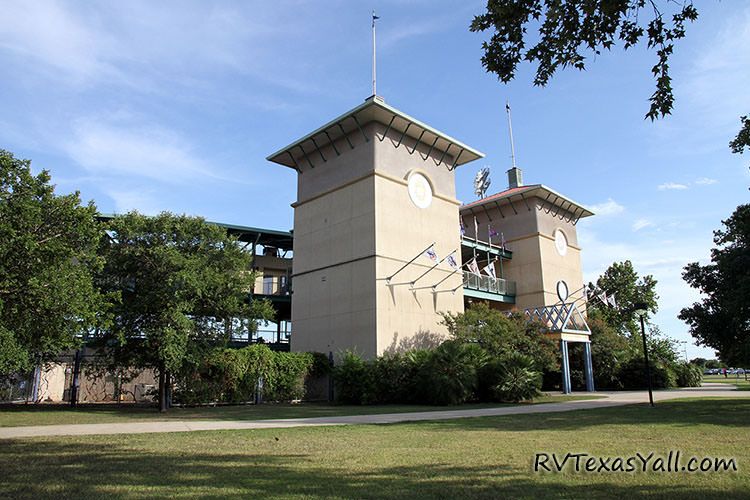 Wolff Stadium
As Native Houstonians, we've been to San Antonio many times over the years. San Antonio has so many options for travelers to see and do: the Alamo, the Riverwalk, SeaWorld, Fiesta Texas, San Antonio Missions National Historical Park, all kinds of museums... the list can seem endless. But this summer, we began our quest to visit all of the minor league baseball parks in Texas, so we had to make time for a game at "The Wolff". And we are glad that we did!
Opened in 1994, The Wolff is home to the San Antonio Missions, Double-A affiliate of the San Diego Padres. It seats approximately 9,200 people if you count the seats and the grassy berm behind left field. Box seats are individual seats while reserved seats are bleacher seats. There is a children's play area (the HEBuddy Fun Zone) on the first base side and an all-you-can-eat fiesta deck on the third base side for parties. A variety of concessions are available throughout the park from hotdogs to Italian ices to jalapeno poppers!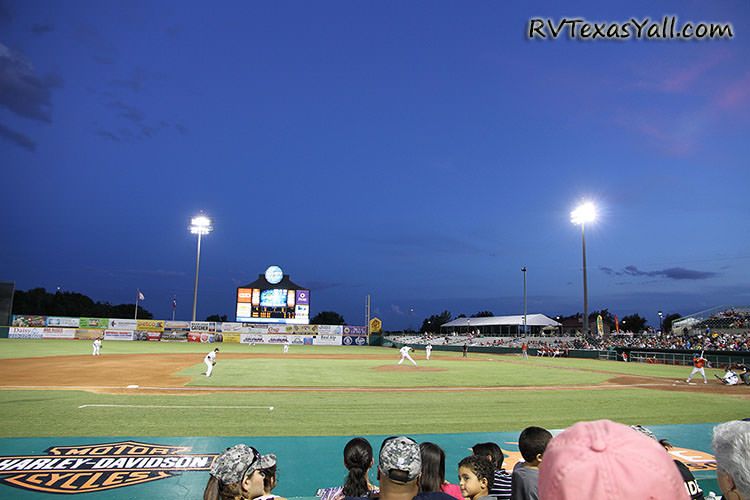 The View From Our Seats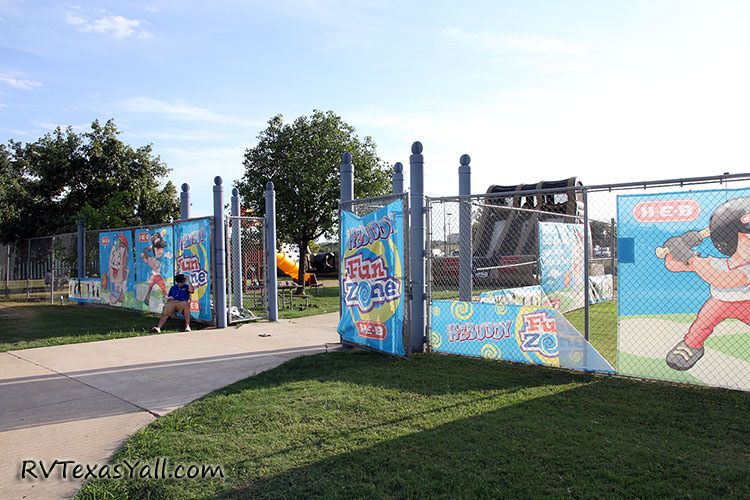 Fenced Fun Zone for Kids
You really don't have to worry too much about where your seats are. Most (if not all) of the seats in this stadium get you close to the action on the field. Our seats were behind the third base dugout (the Missions dugout) in row 6, so we had a great view.
The numbers on this field are 310 feet in left field, 402 feet in center, 340 feet in right field. If you like to see the speed of the pitches, look for a box below and to the right of the scoreboard just below the homerun line on the right field wall.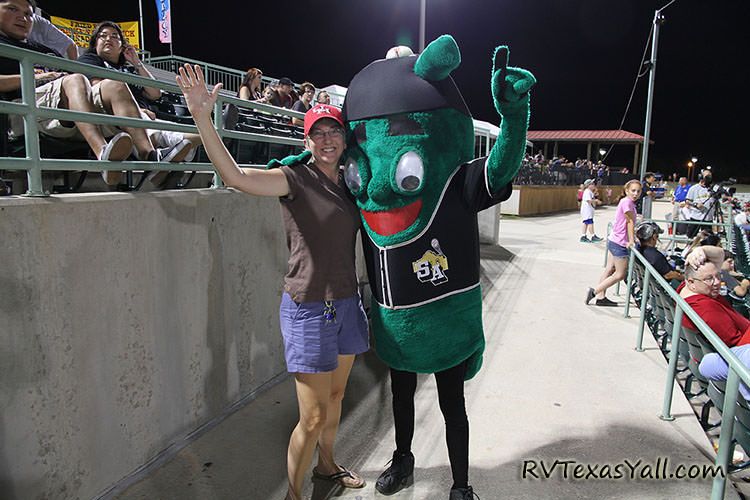 The Hottest Mascot in MiLB: Ballapeno!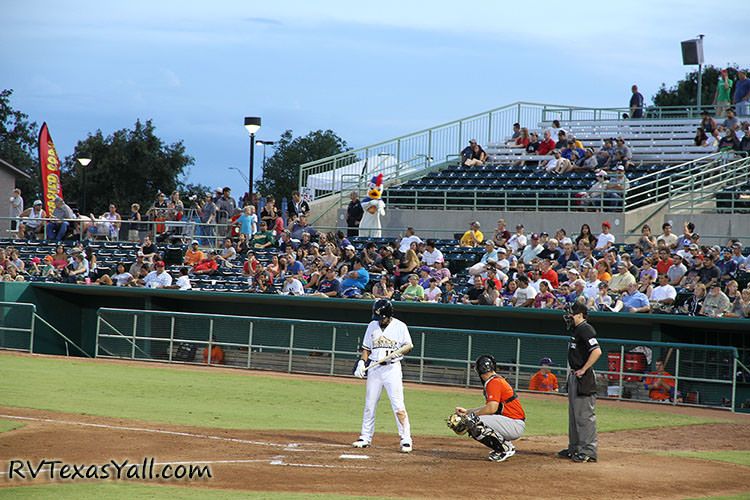 Chicken Sending Signals to the Catcher
One thing this game had a lot of was mascot action! The Missions' mascot, Ballapeno (@Ballapeno on Twitter), was joined by the Church's Chicken mascot for the first part of the game and then by Henry's Puffy Taco. The chicken was hilarious in his play calling and the puffy taco has some dance moves. It was fun to see all of the mascot interaction with fans throughout what would become a marathon game.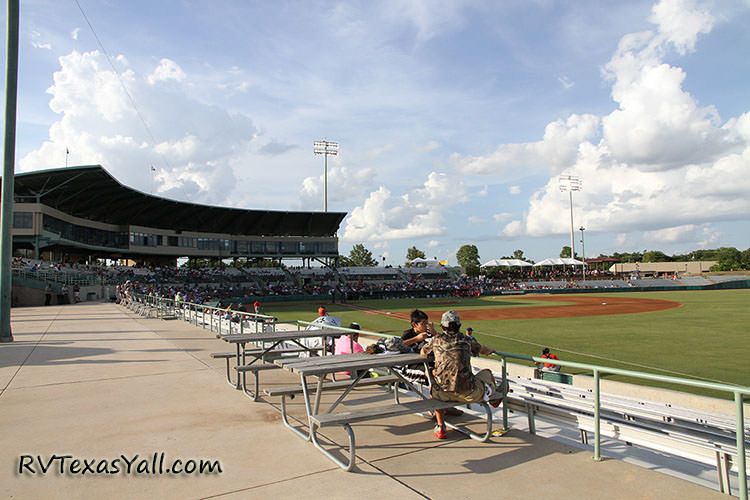 View From Right Field
And I do mean marathon game. Some folks complete entire marathons in less time than this game took! The San Antonio Missions hosted the Midland Rockhounds (Double-A affiliate of the Oakland A's) in a 5 hour and 5 minute, 15-inning game! No one scored until the 11th inning when each team scored one run. In the 15th, the Missions ran out of pitchers and sent First Baseman Johan Limonta to the mound. Props to him for stepping up in an unusual situation. Final score: Rockhounds 3 Missions 1.
Nelson W Wolff Municipal Stadium is located at 5757 US 90, San Antonio TX 78227. It is on the West side of San Antonio between Old US Highway 90 and current US Highway 90 at S Callaghan Rd. Parking is $5 and is right next to the Stadium. (They offer $2 parking on Tuesdays).
Everyone we have talked to who has been to this ballpark really enjoys it. And we absolutely agree. Add it to your list of fun places to visit in San Antonio!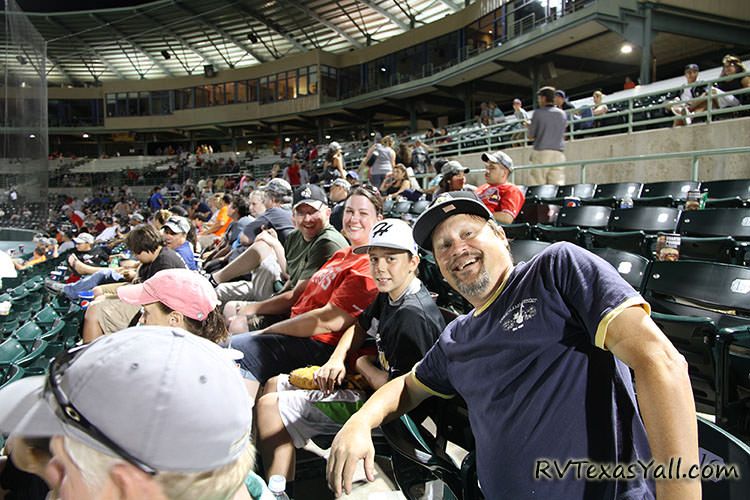 Great Time with Family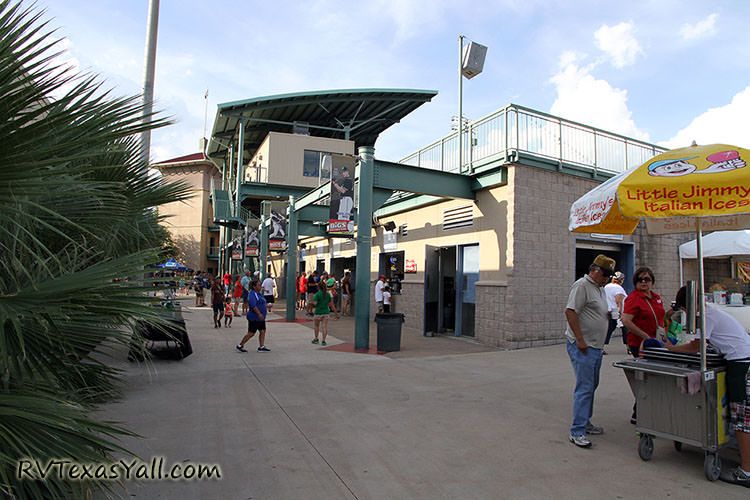 The Concourse of Wolff Stadium
Oh, and before I forget... Shout out to my brother, Derek, and Melanie for hosting us at the game and joining us for a lot of San Antonio fun! It was great spending time with y'all! And now for something completely different... a dancing, smart-phone-using puffy taco! Where else can you see that?!...
Even Dancing Puffy Tacos Use Cell Phones
ALSO IN THE AREA: South Texas
IF YOU LIKE THIS POST, CHECK OUT: Write-Ups on Other Fun Things to Do in Texas
Whataburger Field: Home of the Corpus Christi Hooks
Dell Diamond: Home of the Round Rock Express
Subscribe To Our Newsletter to stay connected and receive an email with our latest posts and updates!
Tell Us What You Think! Alrighty you've heard what we think, now we want to hear about your experiences. Please share your pictures and comments in the RV Texas Y'all Community on Facebook or in the RV Texas Y'all Community on RVillage. Not a member of one of our communities yet? We'd love for you to participate! And, of course, they are absolutely FREE! Join us to share your experiences and interact with others folks in the RV Texas Y'all communities. Want more info? Learn more about our Facebook Group!
Safe Travels and Happy Camping!