RV Texas Y'all is on IGTV!
Have you heard about the new Instagram expansion? Just a few days ago, Instagram launched a new addition to their network called "IGTV" (short for "Instagram TV"). This new video service is a place to watch uploaded videos (similar to YouTube), but in the vertical format that works well with phones. We've been playing around with the new IGTV over the last several days, and we think we've come up with a good way for us to bring you unique content that we aren't sharing anywhere else. Check out our very first IGTV video introducing our plans for our new channel below! (And to learn more about IGTV and how to use IGTV, scroll down below the video where we share what we've learned so far.)
What Do I Need to Watch IGTV?
Well, as you can see from the above video, you can watch our content here on our website. We plan to embed our IGTV videos in our posts just like we do our YouTube videos. So if you don't have a smart phone, don't worry... you can watch us from this website!
If you do have a smart phone, you can access IGTV through the Instagram or IGTV apps.
If you don't yet have an Instagram account, creating one is super simple from your smart phone. Just download the free Instagram app, set up your profile (you can set it to private if you want so you have control over exactly who sees anything you post), and then search for friends and other accounts that you want to follow. As with all social media, you can find us listed as @rvtexasyall.
Once you have an Instagram account, you'll want to download the free IGTV app. Similar to Periscope and Twitter, Instagram and IGTV work together, giving you a couple of choices in how you watch the video content. The first time we signed into IGTV from our phone, it recognized our Instagram account settings and we could immediately see IGTV videos from folks we follow on Instagram. Pretty slick!
How Do I Use IGTV?
While you are watching a video in IGTV, you can tap on the video to make the pause/play, like, comment, share and browse feature pop up at the bottom of the screen. The channel's Instagram profile pic and name, along with the title of the video will appear at the top of the screen. If you click on the video title, the description of the video will drop down. If you click on the channel's profile picture, their channel information will open at the bottom of the screen. Tapping on the "browse" button at the bottom will also open the channel's information: the channel's profile picture, name, bio, and number of followers. You'll also see the videos they have published on IGTV and the follow button so you can follow them if you don't already. (If the follow icon has a check mark in it, you already follow this channel on Instagram and IGTV. In this case, clicking on it will unfollow them.) If you click on the channel's profile picture here, it will open their Instagram page.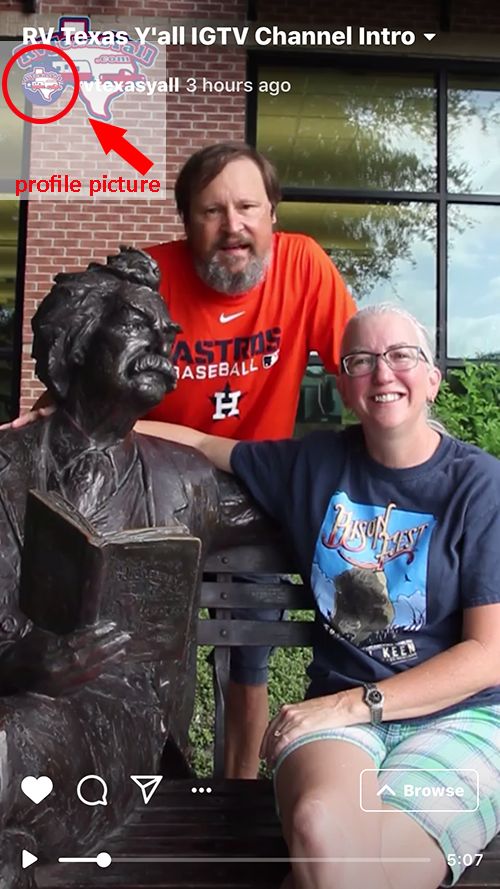 Where to find the channel's profile pic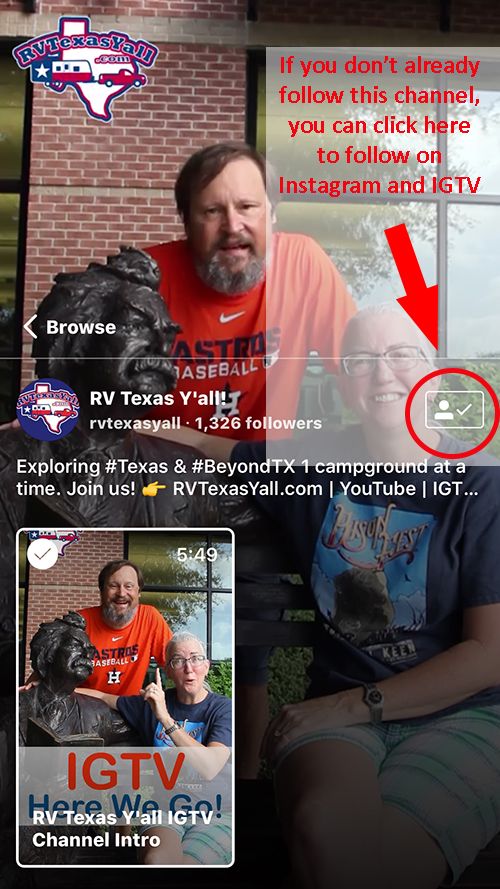 How to follow if you don't already
If you hit "browse" again while the channel info is open, you will see a search bar where you can type in something you'd like to look for, and videos IGTV thinks you would be interested in (placed within "For You", "Following" and "Popular" tabs.
After you have updated your Instagram app, you can also access IGTV videos from folks you follow on Instagram. You'll notice a new IGTV logo at the top of the Instagram screen. It will change colors when someone you follow posts a new IGTV video. You can click on that icon to open IGTV. You can also access IGTV from the Instagram profile pages of folks who have IGTV channels. So, from our Instagram profile, you'll see a round IGTV button next to the round buttons of pics we've saved from our stories. If you click on that round IGTV button on our Instagram profile, it will take you to our IGTV channel.
I think that about sums it up! If you haven't already, go follow us on Instagram so you'll be able to see our new IGTV videos as we post them, as well as our stories and photos. We'd also love to hear your comments on ideas for us when it comes to our IGTV channel. Drop us a note!
Subscribe To Our Newsletter to stay connected and receive an email with our latest posts and updates!
Tell Us What You Think! Please share your pictures and comments in the RV Texas Y'all Community on Facebook or in the RV Texas Y'all Community on RVillage. Not a member of one of our communities yet? We'd love for you to participate! And, of course, they are absolutely FREE! Join us to share your experiences and interact with others folks in the RV Texas Y'all communities. Want more info? Learn more about our Facebook Group!
Safe Travels and Happy Camping!