Round Rock, Texas - Texas Hill Country Region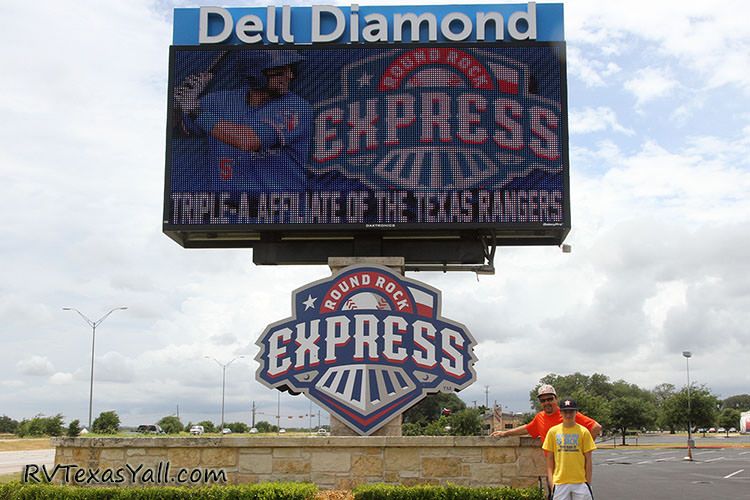 Dell Diamond Sign
We're big sports fans and enjoy watching all levels of baseball. So on our list of things to do is visit all of the professional baseball parks in Texas. While we were in Austin, we were lucky enough to catch a game at Dell Diamond in Round Rock, Texas. Even better for us (we're from Houston), the game that fit into our schedule perfectly featured the Oklahoma City Redhawks (then the Triple-A affiliate of the Houston Astros) vs the Round Rock Express (Triple-A affiliate of the Texas Rangers)!
Dell Diamond, home of the Round Rock Express, was built in 2000. It's a very fan-friendly ballpark. All of the staff that we met were nice people who seemed to really enjoy their jobs. The facilities were spotless, the tickets were very reasonably priced, and the concession prices were fair. We were here on a Monday night which was Dollar Hot Dog Night. The hot dog buns were fresh (which isn't always the case in some parks). But Coke lovers beware: this is a Pepsi park.
A unique aspect of this park is actually its waste disposal. Throughout the park, you will find trash cans, recycling cans, and compost cans. Food waste is composted. They've also installed a water reuse system to care for their field and landscaping that minimizes water waste.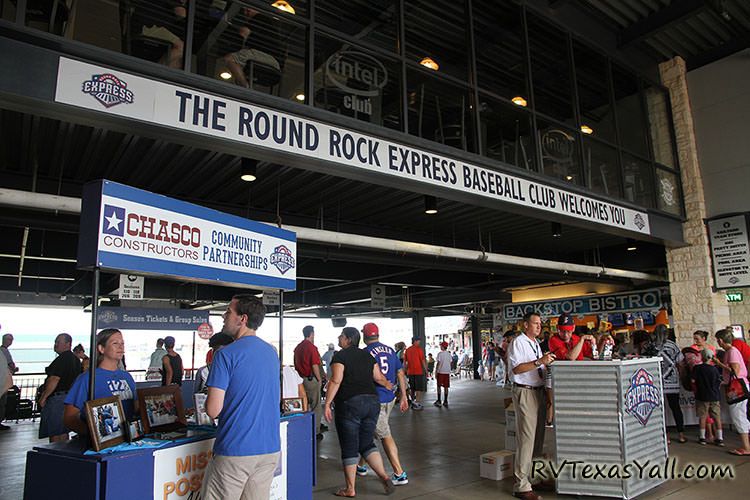 Welcome to Dell Diamond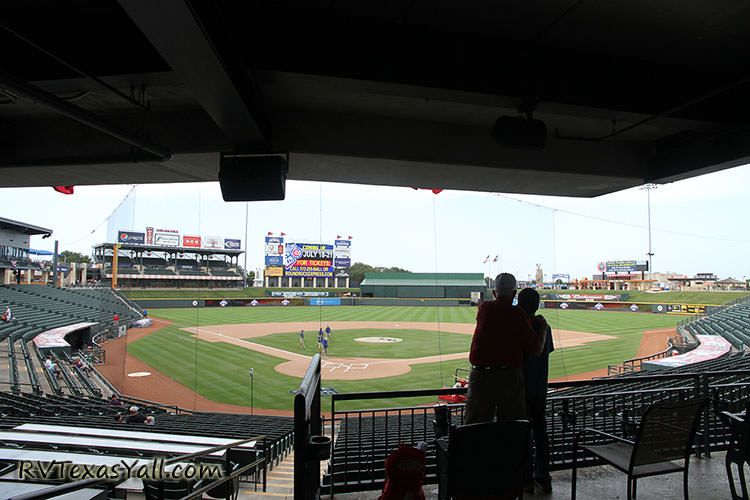 View Behind Home Plate
For you students of the game the measurements of the field are: 330 feet on the left field line, 407 feet at center, and 325 feet on the right field line. The outfield wall is 8 feet high. The stadium seats about 11,500 people including the grassy berm areas. We sat in section 121, row 4 which gave an excellent view of the playing field except for the far right field corner. There are 2 levels of seating in most of the park (with the second level being suites). Left field features the "Home Run Porch". Both teams enter the field via a walkway at the left field line next to the Home Run Porch. Players were signing autographs as they were walking in, so this is a good place to be if you collect autographs. Get there early and bring your own pen and whatever you'd like the players to sign. Some of the players were also available for autographs after the game near their dugouts.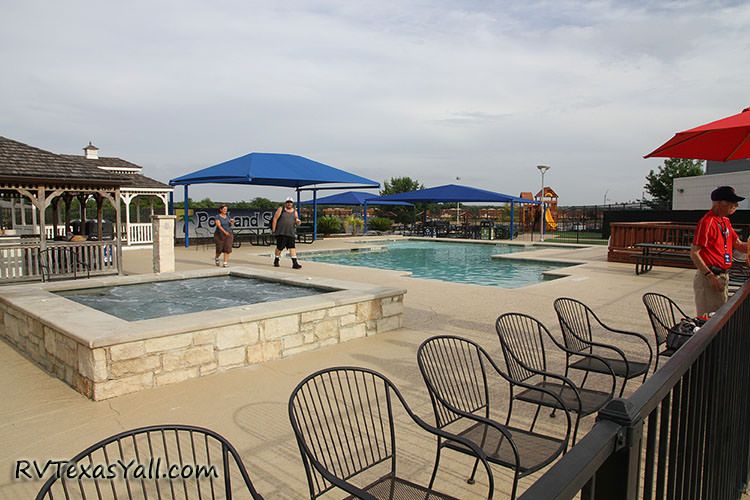 Swimming Pool at Dell Diamond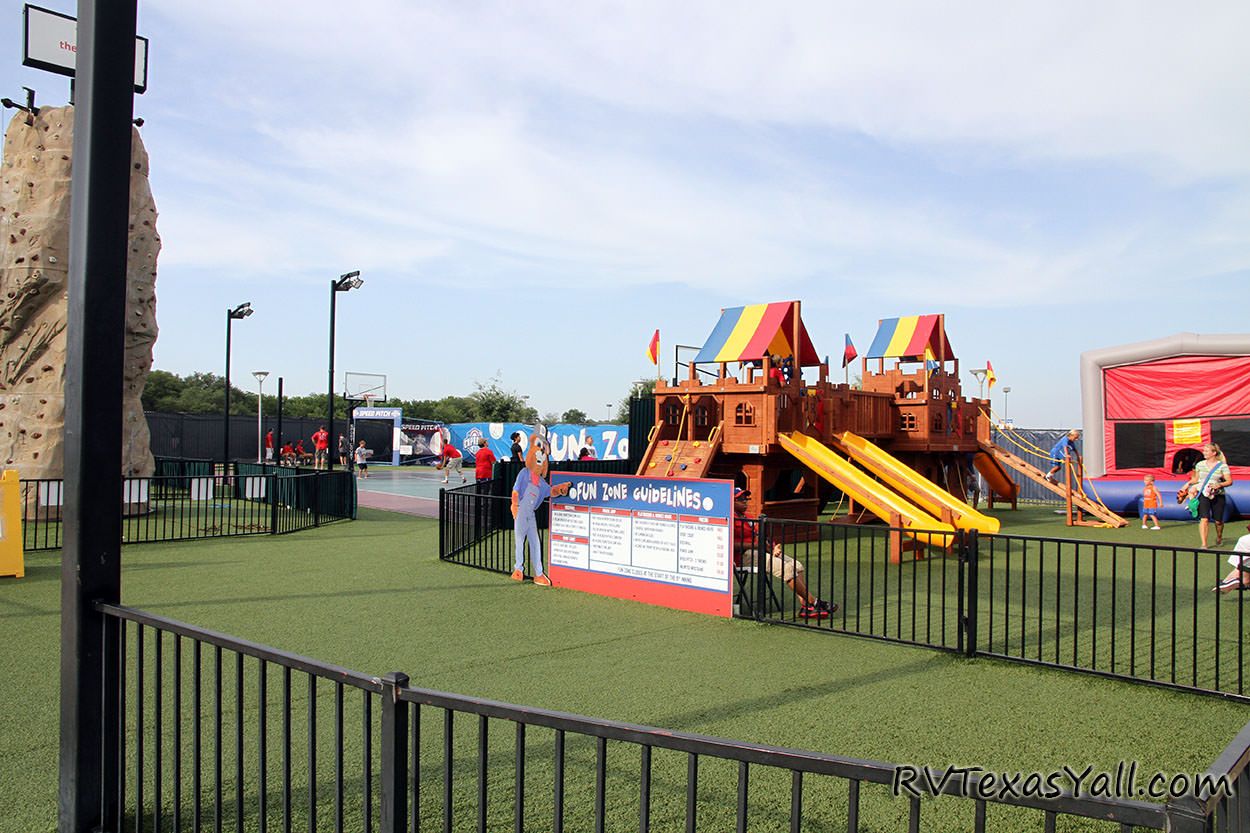 The Fun Zone
Other fun stuff here: the area beyond the outfield features a swimming pool, hot tub, basketball court, climbing wall, bounce house, a bungee trampoline area and more. Between innings, selected guests participate in games on the field. Get there about an hour before the game starts if you'd like to have a chance at being selected. Austin was picked to race the Round Rock mascot, Spike, on tricycles after the second inning. It was a fun race, but Spike and his big mascot feet came in a close second. :) We also saw two boys competing to shake ping-pong balls out of kleenex boxes strapped to their backs, and two adult men compete in a "bat race" that left them dizzy and falling over their own feet.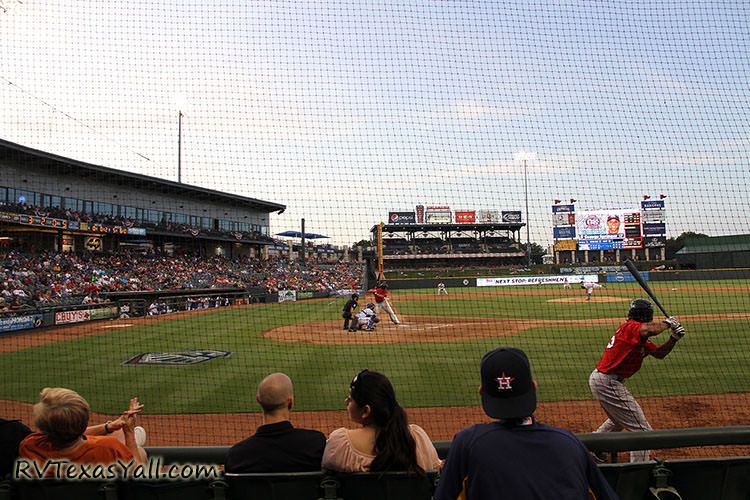 View From Our Seats
As for the game: we saw a great performance by a young right-handed pitcher for Oklahoma City, #34 Asher Wojciechowski. "Wojo" threw a complete game, one-hitter, shutout and faced the minimum number of batters! There were several innings in which he threw 9 pitches or less and he was backed by a solid Redhawks defense. I believe this is the first time an OKC pitcher has faced only the minimum number of batters. The Redhawks beat the Express 5-0 in this game.
For the Express, we saw Manny Ramirez (yes, that Manny Ramirez) in his second start as a member of the Round Rock team. In his final at bat of the night, Ramirez hit one that looked like it was surely headed for the Home Run Porch. The crowd went crazy... everyone at Dell Diamond was on their feet cheering... until it was caught on the warning track. We heard Manny did hit a homerun the next night in an Express win.
If you are a baseball fan, definitely put Dell Diamond on your bucket list of ballparks to visit. We had a great time at this top-notch minor league facility. You can find it at 3400 East Palm Valley, Round Rock, Texas 78665. East Palm Valley is also known as Highway 79. You can get to it either from IH-35 or Texas 130. Parking is right at the ballpark and is $5. If you stop by early in the day to buy tickets, we found a ticket office open on the right field side.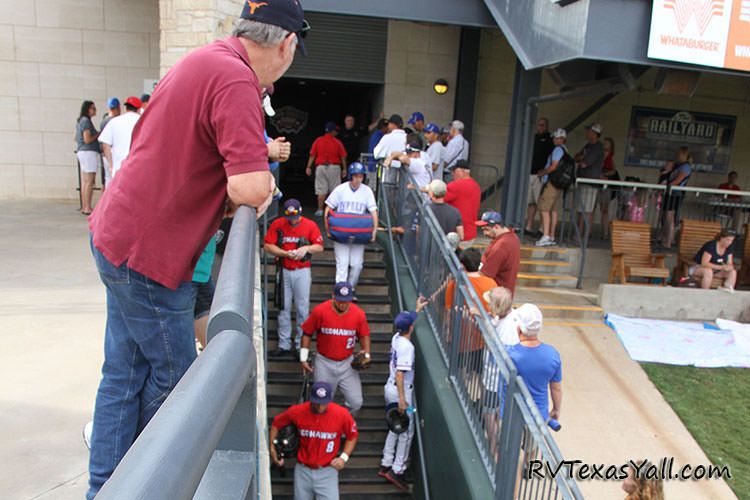 Players Entering the Field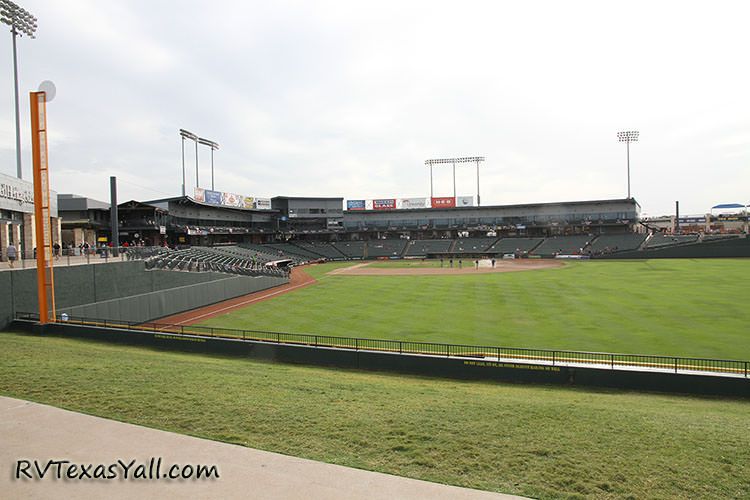 View from Right Field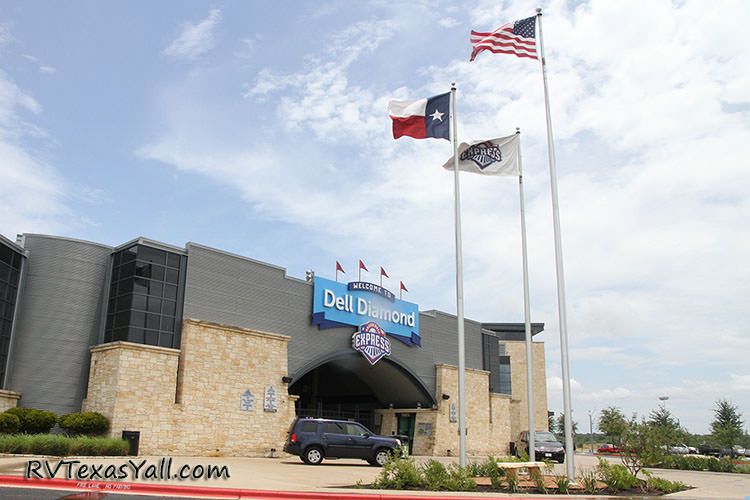 Dell Diamond in Round Rock, TX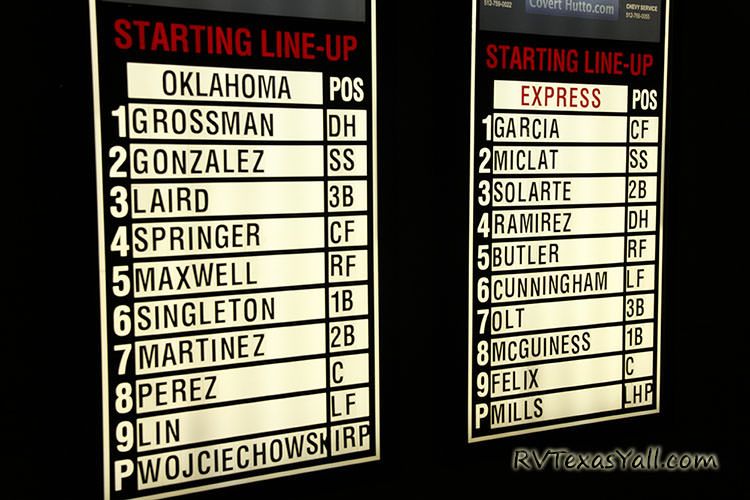 The Game's Lineup: Future MLB Stars?
UPDATE: The Oklahoma City RedHawks are now the Triple-A Affiliate of the Los Angeles Dodgers. Their new name is the Oklahoma City Dodgers. The Astros Triple-A Affiliate is now the Fresno Grizzlies in Fresno, California.
ALSO IN THE AREA: The Texas Hill Country
IF YOU LIKE THIS POST, CHECK OUT: Write-Ups on Other Fun Things to Do in Texas
Whataburger Field: Home of the Corpus Christi Hooks
Nelson Wolff Municipal Stadium: Home of the San Antonio Missions
Subscribe To Our Newsletter to stay connected and receive an email with our latest posts and updates!
Tell Us What You Think! Alrighty you've heard what we think, now we want to hear about your experiences. Please share your pictures and comments in the RV Texas Y'all Community on Facebook or in the RV Texas Y'all Community on RVillage. Not a member of one of our communities yet? We'd love for you to participate! And, of course, they are absolutely FREE! Join us to share your experiences and interact with others folks in the RV Texas Y'all communities. Want more info? Learn more about our Facebook Group!
Safe Travels and Happy Camping!