We Got to Meet Kait and Joe Russo!
This post contains affiliate links. Please see our disclosure for more information.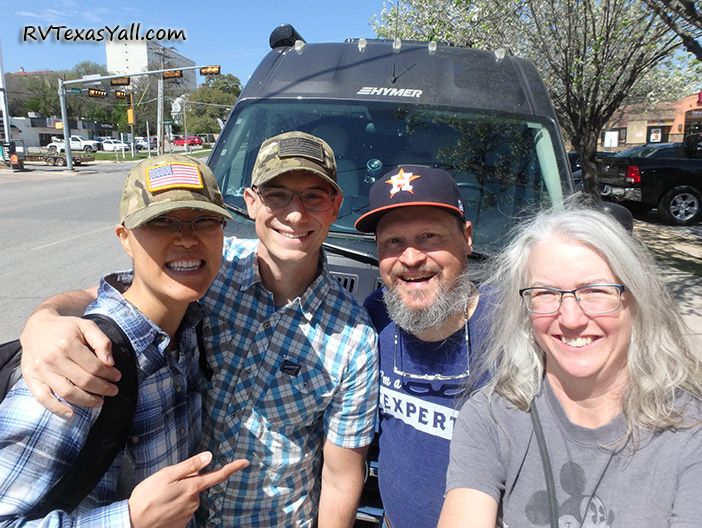 We're The Russos and RV Texas Y'all!
Y'all know how we love visiting with fellow RVers. RV folks are the best! An overwhelming number of people that we've met who enjoy this lifestyle are friendly, happy and willing to help and share information. Joe and Kait Russo are no exception to this rule.
We've followed the Russos on their full-time RV journey almost since it began back in 2015. We subscribe to their YouTube Channel, read their travel blog and follow them on Facebook and Instagram. They always come across as positive, energetic, and happy. Their videos and posts look like they are enjoying their lives on the road and they've inspired many folks to get into RVing.
So what about real life? We were excited to get to spend an afternoon with Joe and Kait while they were visiting San Marcos recently. With the Russos... what you see, is what you get! Our visit with them matched up exactly with our expectations. They are genuine, friendly folks with a positive energy and we really enjoyed our time with them.
Who are the Russos?
If you've never heard of the Russos, we highly recommend you check them out. You can read a detailed account of how it all started for them in Joe's first book, "Take Risks". It is a very interesting story that covers how they came up with the idea to leave their old lives behind in search of adventure and all of the challenges, triumphs and funny little things that happened along the way. We really enjoyed the book, and look forward to the next installment in the Russo series. In this book, Joe also shares details on their RV shopping experience and things they learned while they were deciding on their first RV. If you don't yet know the Russo's story, here's a quick highlight:
In late 2015, they left their corporate jobs and sold their sticks and bricks home in the Los Angeles area to travel for a year in a Newmar Class A Gas Motorhome towing a Jeep Wrangler. They enjoyed the RV lifestyle so much, that they have stayed on the road, but have downsized even further. Since spring 2017 they have lived, worked and traveled full time in a Hymer Class B Camper Van! They chronicle their camper van life in their videos and on their blog. Currently, they publish a new video every Wednesday. Here's their most recent video about traveling in Texas...
We're The Russos Video: Padre Island National Seashore and the USS Lexington
What We Learned from the Russos
Kait and Joe inspired us to dream big and think small. By downsizing into a camper van, they now have the ability to travel almost anywhere. Their lives are very spontaneous because they don't have to plan extensively based on the size of their RV. They can even camp in tent sites!
Over the past couple of years, they have come to the realization that it is not "stuff" that makes them happy. What makes them happy is exploring the country together and experiencing life on their own terms. And, while downsizing wasn't easy for them, it has absolutely been worth it.
Y'all probably know by now that we plan to hit the road full-time in the future. Our conversation with the Russos has us thinking about our plans on an entirely different level. We'll see what that turns into, but we really appreciate the insight they shared with us from their experience of living small out on the road.
Big Thanks to Joe and Kait for taking the time to meet up with us. We look forward to visiting again in the future!