San Marcos, Texas - Texas Hill Country Region
We first visited Pecan Park Riverside RV Park just outside of San Marcos, Texas back in 2016. We scheduled a last minute trip to the area for a baseball tournament and wanted to take our RV. The problem? It was 4th of July weekend!
We had met Pecan Park owners David and Rachael Rowley at the Houston RV Show several times, so we thought we'd give them a call. Lucky for us, someone had cancelled their weekend reservations and we were able to get a campsite at the park!
Even though the park was full that weekend, we were surprised by how quiet it was. Folks celebrated the holiday and had fun without being too rowdy. It was very different from what we expected at a riverside park.
There are a TON of fun things to see and do in San Marcos, Texas and Pecan Park is a great location to use as your basecamp while you're exploring! You can see some of the fun places we enjoy in San Marcos in this video...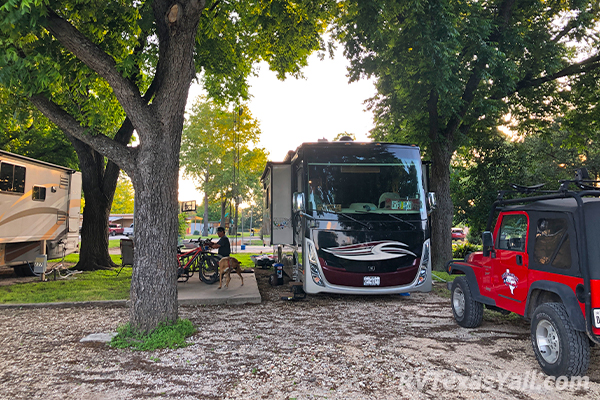 One of Our Campsites at Pecan Park
We returned to Pecan Park in 2019 with a bit more planning and enjoyed a campsite under shade trees with a view of the San Marcos River!
What Makes Pecan Park Special
Number one for us is that it doesn't feel like an RV park. The older section of Pecan Park is covered with trees and green grass. Some of the campsites come with firepits and firewood is available on site. Even though this is an RV Park (tents are not allowed), parking the RV here feels like camping.
You can hear the birds singing and the river flowing. Pecan Park Riverside offers a piece of tranquility right on the edge of the town of San Marcos!
Equally Important to us... Y'all know we love supporting family businesses, and Pecan Park Riverside RV Park is a family business. The Rowley Family has owned Pecan Park since 2006 and they take an active role here. David and Rachael are Native Texans who've lived in the Hill Country all of their lives. Rachael graduated from Texas State here in San Marcos! They love this area and are a great source of information for things to see and do while you're here.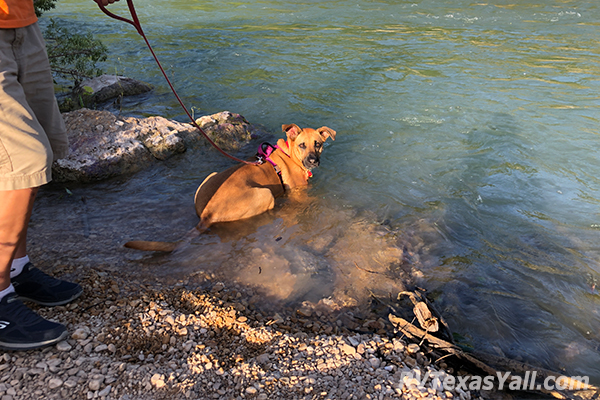 Star Cooling Off in the San Marcos River
Amenities at Pecan Park Riverside RV Park
The two main attractions at Pecan Park are the direct access to the San Marcos River and the park's proximity to everything in San Marcos. But the park also offers:

an indoor swimming pool
an indoor hot tub
an indoor kiddie pool
bathhouse with showers and laundry facilities
a small store
a clubhouse with library
children's library area
a movie library
puzzle exchange
2 dog parks (one with lights)
shaded sites with mature trees
a playground
community firepit
park activities
firewood available on site
propane available on site
During the Summer, this is a great place to come to dip your toes in the cold river or watch tubers as they float by.
During the Winter, the park welcomes Winter Texans looking for a peaceful retreat with access to fun things to do.
When you check-in, be sure to ask for a calendar of activities. Pecan Park often hosts fun activities like outdoor movies and s'mores at the community firepit!
Convenient to San Marcos Attractions
San Marcos, Texas sits right on the edge of the Texas Hill Country. The ancient Balcones Fault Line runs through here. While it is no longer an active fault, it has formed a very unique ecosystem here in San Marcos. In fact, we chose San Marcos as our pick for Town With The Most Interesting Geography of 2019.
The Edwards Aquifer feeds the springs of the headwaters of the San Marcos River just a few miles from here. You can learn more about the springs, Edwards Aquifer and Balcones Fault Line by visiting the following places in San Marcos:

All of these attractions and several more are just a few minutes drive away from Pecan Park.
There are also several great restaurants to choose from in the area including some with views of the river. And don't forget the San Marcos Farmers Market!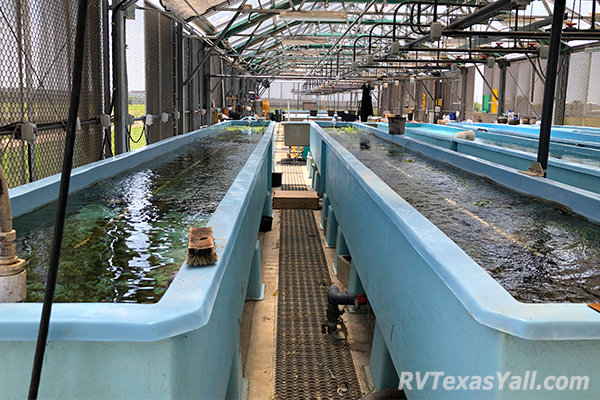 San Marcos Aquatic Resources Center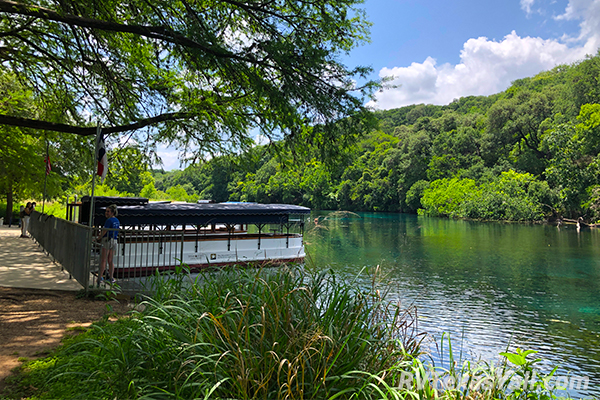 Glass Bottom Boats at The Meadows Center
More Details About Pecan Park Riverside RV Park
You'll find Pecan Park Riverside RV Park in the beautiful Texas Hill Country just outside of the city of San Marcos at 50 Squirrel Run, San Marcos, TX 78666.
Other nearby towns worth exploring include Lockhart (15 miles away), Luling (21 miles), Wimberley (21 miles), New Braunfels (22 miles), and Seguin (25 miles). (Just to name a few). This is a great basecamp for exploring some really neat towns and eating great food (make sure you get some BBQ!).
Austin is about 30 miles north of Pecan Park, and San Antonio is roughly 50 miles south.
Pecan Park is currently home to 116 back-in and pull-through RV sites, all with full-hookups, cable TV and 30/50 amp electricity. Sites are on crushed limestone. Some sites have picnic tabes on concrete patios, some include a propane grill.
The sites in the older section of the park are shaded. The sites in the back of the park have litte to no shade. Some sites come with a fire pit and some have river views.
This park has sites that can accomodate any size rig.
If you'd like to see more of Pecan Park, you can watch our video tour from our first trip here...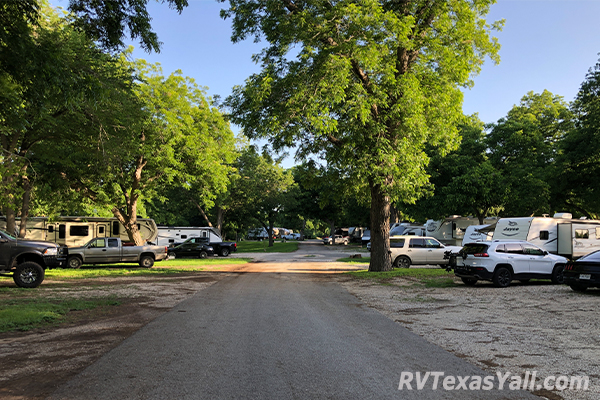 Mature Trees at Pecan Park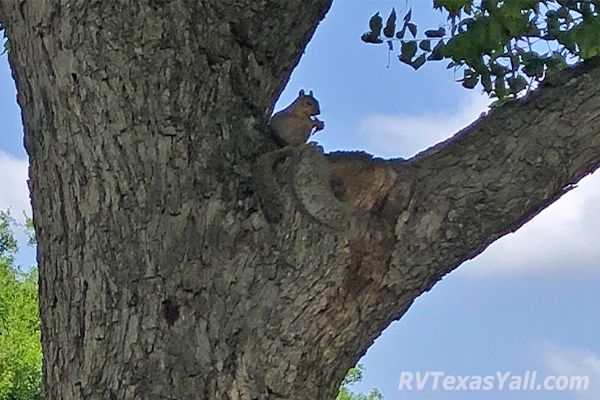 Pecan Park Wildlife
Our Favorite Things About Pecan Park Riverside
The staff here have always been really friendly. And we love that the park has a natural feel that you wouldn't usually find in an RV park. The beautiful old shade trees and views of the San Marcos River are what earned Pecan Park our choice as Most Scenic Campsite in 2019! Be sure to tell David, Rachael and the folks at Pecan Park that Tom and Stacie at RV Texas Y'all said "Howdy" next time you're in San Marcos.