San Antonio, Texas - South Texas Region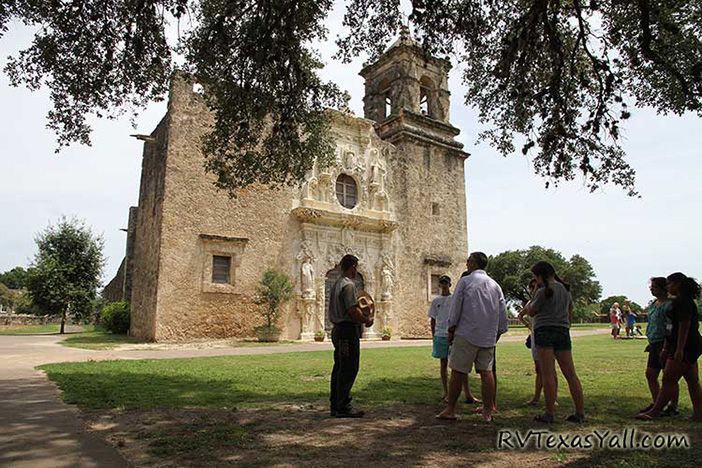 Ranger Tour at San Antonio Missions NHP
One of the things that we love about our home state is its history. Texas is rich in history. And as we tour around the state, we're learning that a big part of Texas History can be found in the Spanish Missions. Our previous visits to the Alamo, Mission Espiritu Santo in Goliad, and Mission Tejas in Weches were very interesting. So while we were in San Antonio, we took the time to visit San Antonio Missions National Historical Park. We're so glad we did!
This collection of historic missions encompasses 826 acres and became a National Historical Park in 1978. All of the missions are located along the San Antonio River, which was a vital component of the original land selection. All are within a few miles of each other. You can easily drive from mission to mission, or you can travel along the newly completed Riverwalk Hike and Bike Trail! Rental bikes are available. A portion of this trail was closed when we visited due to damage from a flood. But it has since reopened.
The park is made up of 4 separate pieces of land, each home to an 18th century Spanish Mission: Mission Concepcion, Mission San Jose, Mission San Juan, and Mission Espada. Between Mission San Juan and Mission Espada, you will also find the Espada Aqueduct, the oldest Spanish irrigation system still in use in the region.
Mission Concepción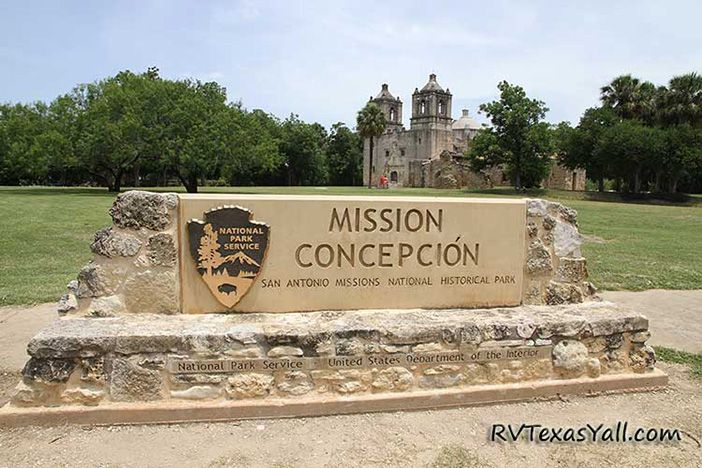 Mission Concepción Sign
Located about 3 miles from the Alamo, is Mission Nuestra Señora de la Purisima Concepción de Acuña (also known as Mission Concepción). This is where we began our visit. Originally founded in East Texas in 1716, this mission was restablished here in 1731 to protect Spanish territory from the French. It is the oldest unrestored stone church in America! The walls of this church are 45 inches thick (solid stone on the outsides, filled with small stones in between). This is such a solid structure built on bedrock, that it is the only San Antonio area mission church that still has its original roof and walls. Because the roof has always protected the interior, this is still an excellent place to see the original "frescos" (murals painted on plaster) which were painted on the interior walls centuries ago. You'll find Mission Concepción at 807 Mission Road, San Antonio, TX 78210.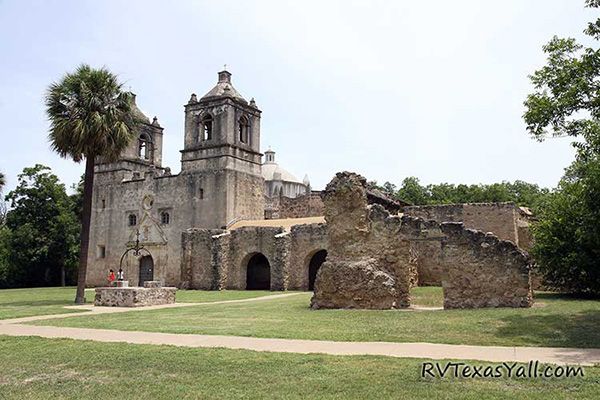 Mission Concepción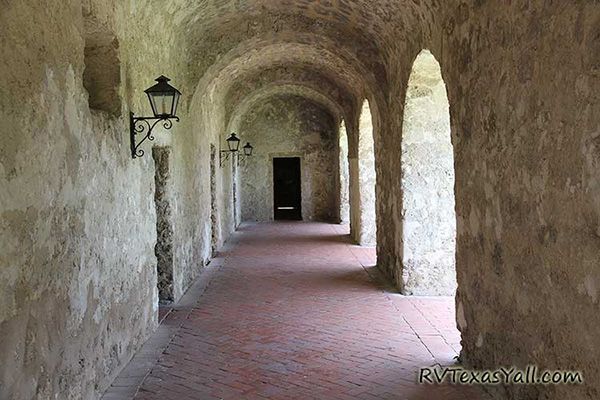 Mission Concepción Portico
Mission San José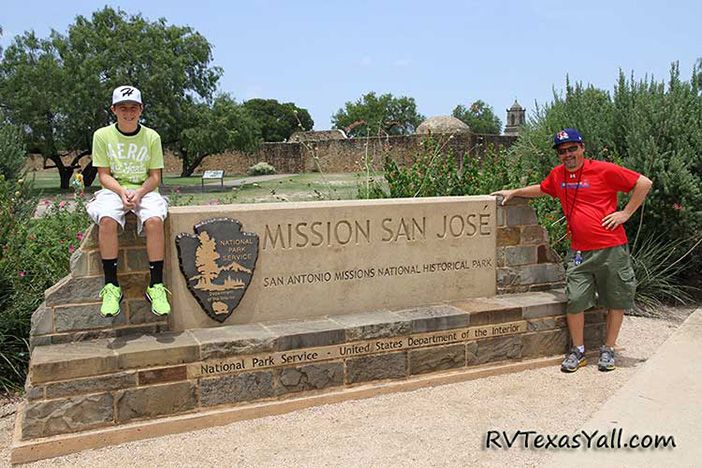 Mission San José Sign
Approximately 2.5 miles from Mission Concepción, you'll find Mission San José y San Miguel de Aguayo (Mission San José). They call this the "Queen of the Missions", as it is the largest of the local missions. In its prime, it was recognized as a major cultural center. This is the most restored of the San Antonio missions. It was almost fully restored during the 1930s after the church bell tower collapsed. Mission San José was founded in 1720, making it the 2nd mission built in this area (Mission San Antonio de Valero - the Alamo - was first). It was declared a State and National Historic Site in 1941. While you are here, make time to visit the park museum and see the movie, Gente de Razon. Mission San José is located at 6701 San Jose Dr, San Antonio, Texas 78214.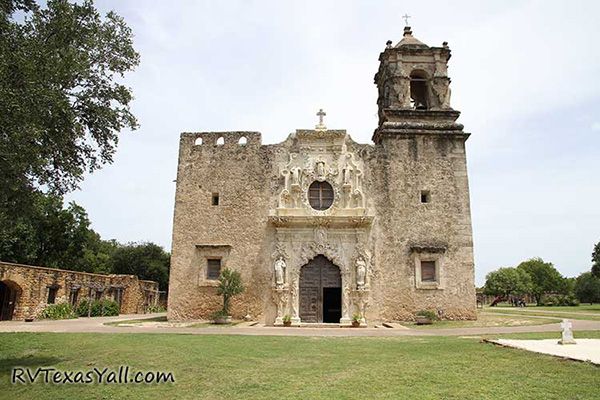 Mission San José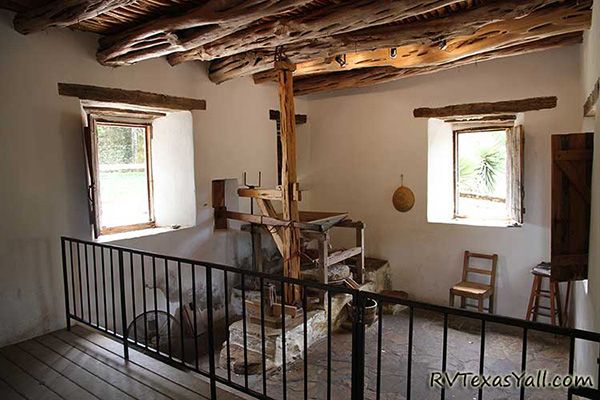 The Oldest Mill in Texas is at Mission San José
Mission San Juan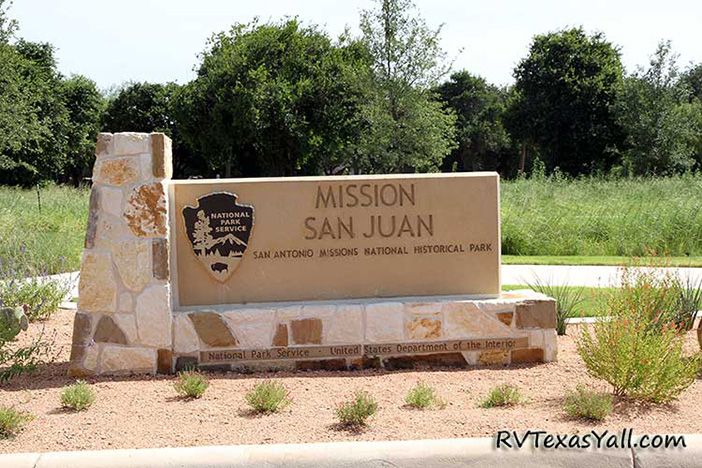 Mission San Juan Sign
Travel another 5.5 miles down the road and you will find Mission San Juan Capistrano (Mission San Juan). This mission was originally founded in 1716 as Mission San José de los Nazonis in East Texas. It was unsuccessful there, so in March of 1731 the Spanish transported whatever they could to the banks of the San Antonio river and reestablished as Mission San Juan Capistrano. This mission is interesting because it was never completed as planned. Work began in 1772 to build a larger church, but a decline in population and lack of Indian workers caused construction to be stopped in 1786 when it was only halfway completed. Mission San Juan Capistrano was known for its ranching and farming made possible by advanced irrigation techniques. It's trade network reached to Louisiana and down into Mexico. The church at this mission re-opened earlier this year after a year and a half of restoration. The San Juan Acequia (irrigation system) is scheduled to be restored along with a Spanish Colonial Demonstration Farm. Mission San Juan Capistrano is located at 9101 Graf Road, San Antonio, Texas 78214.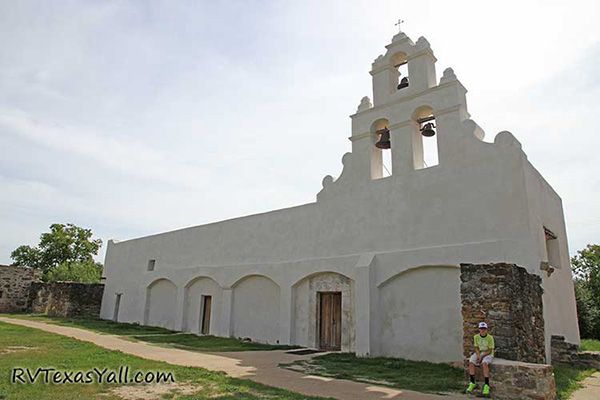 Mission San Juan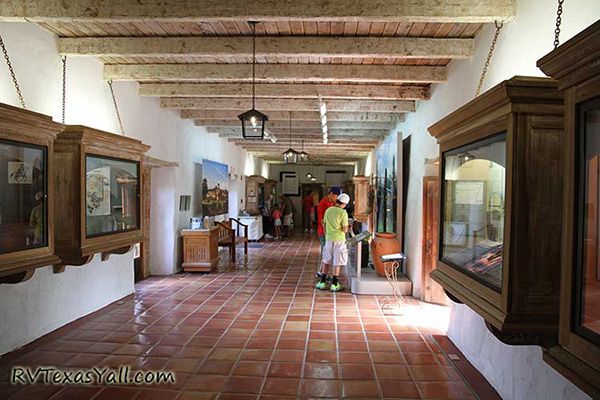 Exhibits at Mission San Juan
Mission Espada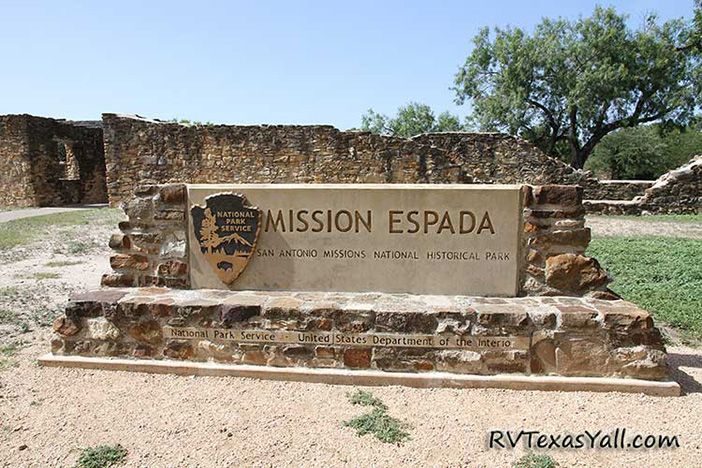 Mission Espada Sign
Approximately 2 more miles away is the final mission in the National Historical Park, Mission San Francisco de la Espada (or Mission Espada). This mission was particularly interesting to us because it was originally founded in 1690 as Mission San Francisco de los Tejas (Mission Tejas)! The mission relocated here in 1731 and the church was completed in 1756. Mission Espada was the only San Antonio area mission that produced tiles and bricks. In 1826 Comanche raiders destroyed the cornfields and killed the livestock. The mission suffered another serious blow later in 1826 when a fire destroyed most of its buildings. The chapel remained standing and a few families continued to live here. You'll find Mission Espada at 10040 Espada Road, San Antonio, Texas 78214. You will pass under Interstate 410 on the way. Be sure to stop and see the Espada Aqueduct as you travel between Mission San Juan and Mission Espada.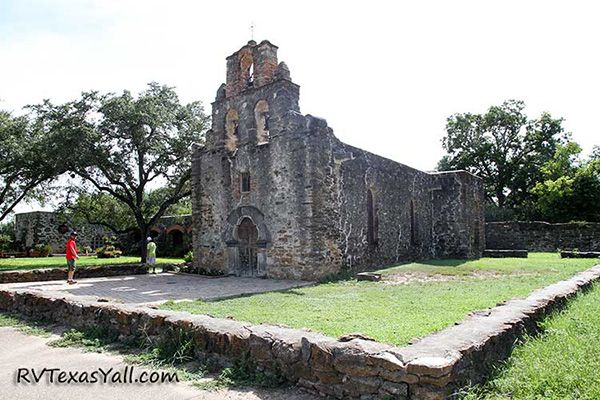 Mission Espada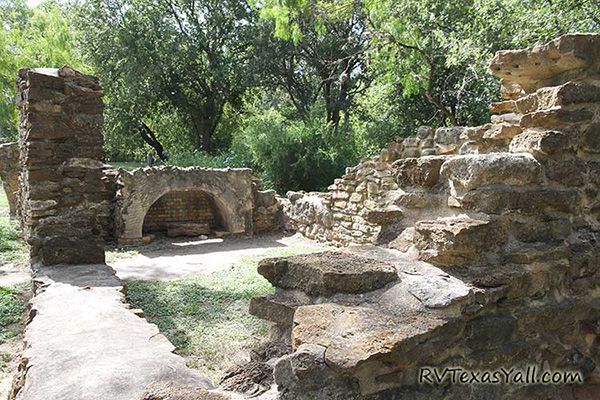 Mission Espada Ruins
San Antonio Missions National Historical Park is a fantastic step back in time. Plan to spend most of the day exploring. We recommend arriving in the morning so that you will have time to explore and see everything without being rushed. (We started around Noon and the Mission Espada Visitor's Center was closed by the time we got there.) Each mission is unique. Some offer guided tours, some have artifact exhibits. All still house active churches. And the entire park is FREE (this includes the museum and movie at Mission San Jose)! Mission San Jose also houses a bookstore / gift shop. We bought a National Parks passport and had it stamped at each of the missions. It's a fun way to keep a record of the National Parks that you visit. Enjoy!
In July 2015, the World Heritage Committee of the United Nations Educational, Scientific, and Cultural Organization (UNESCO) named the 5 San Antonio Missions in San Antonio including the four missions included in San Antonio Missions National Historical Park and the Alamo as a World Heritage Site.
Subscribe To Our Newsletter to stay connected and receive an email with our latest posts and updates!
Tell Us What You Think! Alrighty you've heard what we think, now we want to hear about your experiences. Please share your pictures and comments in the RV Texas Y'all Community on Facebook or in the RV Texas Y'all Community on RVillage. Not a member of one of our communities yet? We'd love for you to participate! And, of course, they are absolutely FREE! Join us to share your experiences and interact with others folks in the RV Texas Y'all communities. Want more info? Learn more about our Facebook Group!
Safe Travels and Happy Camping!