Austin, Texas - Texas Hill Country Region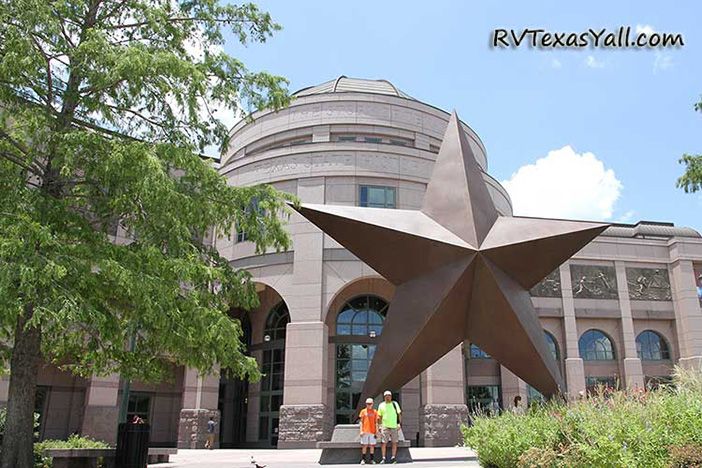 The Bullock Texas State History Museum
When you are in Austin, be sure to set several hours aside to visit the Bullock Texas State History Museum. Opened in 2001, this museum houses an impressive collection of Texas artifacts: from the reproduction skeleton of a French explorer who found himself stranded in the Gulf of Mexico to the original 2,000 pound iron Goddess of Liberty who topped the Capitol Building until 1985 when she was replaced by a replica. Here you see everything from Stephen F Austin's gun to Babe Zaharias' golf putter. If you are a Texan or interested in Texas history, put this on your list of Must Sees!
Your 3-story, interactive tour of Texas history begins with local Native American tribes who lived here in the 1500s. The exhibits continue chronologically through early Spanish explorers, French entry, mission estabishment, ranching, colonization, the Fathers of Texas (Stephen F Austin, Sam Houston, Mirabeau Lamar...), the battle for independence from Mexico, the Republic of Texas, joining the United States, the Civil War, farming and trade, industrialization, the oil boom, Texas' role in WWI and WWII, and the moon landing.
We loved the fact that so many of the topics covered in this museum are places that we have visited: Washington-on-the-Brazos, Goliad, Presidio La Bahia, the Alamo, San Jacinto, the Caddo Mounds, Fort Davis, the San Antonio Missions... this is a great way to tie all of the pieces of Texas history together (and it gave us ideas of more places to visit!).
Anyone interested in early Texas explorers or shipwrecks should definitely check out the museum's 1st floor exhibit of the La Belle, the final ship remaining in French explorer La Salle's expedition fleet. The La Belle sank in Matagorda Bay during a storm in 1686. It was discovered by archeologists in 1995 along with over 1.6 million artifacts. In 1996, researchers built a wall around the shipwreck and pumped water out so that they could excavate the remains of the La Belle and its artifacts as if it were on dry land! Check out the Bullock Museum's page on the La Belle excavation and preservation for a photo of this incredible setup.
The Bullock Texas State History Museum is located at 1800 N Congress Ave, Austin TX 78701. They are between the Capitol Building and the University of Texas campus. The museum offers FREE admission on the first Sunday of every month. We visited on one of the free Sundays. It was busy, but not overcrowded. Make sure you check the operating times and get to the museum early in the day so you'll have a chance to take in a show at the Texas Spirit Theater. We barely missed showtime on the day we visited, but we hear it's a great experience. We'll catch it next time!
Besides its extensive collection of Texas historical artifacts and the shows in the Texas Spirit Theater, the Bullock Museum also includes a cafe and an IMAX theater. Be sure to check the schedule for public lectures, storytimes and other events you might be interested in. And finally, their gift shop is phenomenal! We truly cannot say enough about how impressed we were with the Bullock Museum. This is absolutely one of the best and most interesting museums we have ever visited. We will absolutely be back!
ALSO IN THE AREA: the Texas Hill Country
IF YOU LIKE THIS POST, CHECK OUT:
Write-Ups on Other Historical Sites in Texas
From the Ice Age to the Space Age: 100 Historical Sites to Visit in Texas
AND YOU MIGHT ALSO ENJOY: Write-Ups on Other Fun Things to Do in Texas
Subscribe To Our Newsletter to stay connected and receive an email with our latest posts and updates!
Tell Us What You Think! Alrighty you've heard what we think, now we want to hear about your experiences. Please share your pictures and comments in the RV Texas Y'all Community on Facebook or in the RV Texas Y'all Community on RVillage. Not a member of one of our communities yet? We'd love for you to participate! And, of course, they are absolutely FREE! Join us to share your experiences and interact with others folks in the RV Texas Y'all communities. Want more info? Learn more about our Facebook Group!
Safe Travels and Happy Camping!