RV Texas Y'all Podcast Episode 004
Listen Here!
Audio: RV Texas Y'all Podcast, Ep 4
Published February 6, 2021
If you cannot see the audio player just above this sentence, click on this link to play the episode.
In This Episode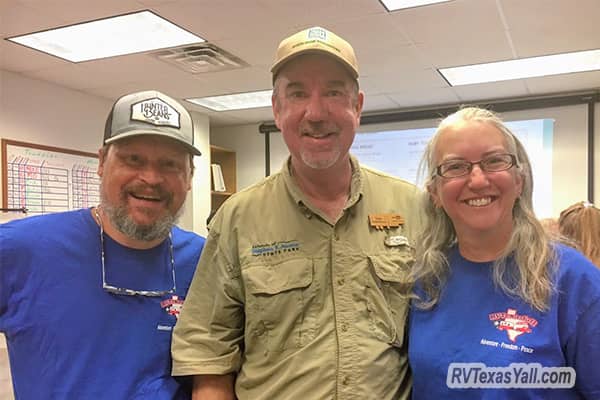 Tom, Ranger Tom and Stacie a Few Years Back
In this episode, we introduce you to our long-time friend, fellow RVer, Texas Master Naturalist, park volunteer, Certified Interpretive Guide, and kayak trip leader "Ranger" Tom Shaughnessy! Tom will be joining us on future episodes of the podcast to share his vast knowledge of the great outdoors in a new segment we're calling "Get Outside With Ranger Tom".
In our Texas Tidbit this week, Stacie discusses a bit about the 31 Flags Over Texas??? There are actually a lot more than 6 important flags in Texas history!
And in The ABCs of RVing: C is for Converter! Tom talks about the role a converter plays in your RV and how it can impact your trip.
Mentioned In This Episode
Airbnb Geocaching Experience With Ranger Tom
Airbnb Columbus Paddling Trail Experience With Ranger Tom
Friends of Stephen F Austin State Park
The Leave No Trace Center for Outdoor Ethics
Help Rebuild Stephen F Austin State Park 2016
Camping at Stephen F Austin State Park
South Shore Park on Lake Bastrop
Have ideas for a future segment of "Get Outside With Ranger Tom"? Email your suggestions to Ranger Tom!
Subscribe to the RV Texas Y'all Podcast!
Like what you hear? Subscribe to us on your favorite podcast network including: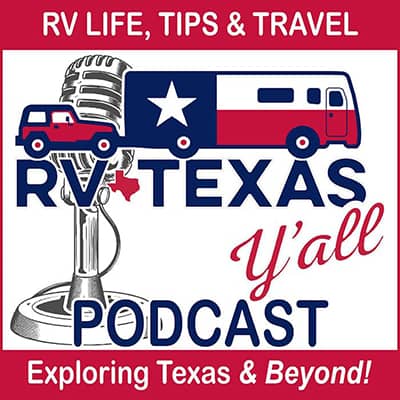 - Audible
- Breaker
- Castbox
- Deezer
- Spotify
- Spreaker
- Stitcher
- TuneIn
If you enjoy our podcast, please leave us a review in your favorite podcast app and share our episodes with your friends and family!
Of course, you can always listen to any of our episodes right here on our website!
Subscribe to our Newsletter for weekly updates on new content and other interesting stuff!