Thank You To Everyone Who Contacted Us
SOLD!
That was quick! We appreciate all of the interest in our Breeze and everyone who reached out to us about it. Our Breeze has officially been sold and is with its new owners. Now we wait for our new RV to be ready!
Our Tiffin Breeze 31BR: Short On Size But Loaded On Features!
Price: $169,500 Or Best Offer
VIN: 5VBRCW4A4HA117808
After 3 years of ownership, our beloved 2017 Tiffin Breeze 31BR is for sale! This Breeze has been all that we hoped for and more. It has taken us everywhere we wanted to go in the past 3 years and has been a reliable and very comfortable home on wheels. We are not leaving the RV lifestyle... far from it! But it's time for us to move on to our next RV, so we're excited to find a good home for our Breeze.
If you or someone you know are looking for a small Class A diesel motorhome under 35', this just might be it! Here are the details...
To Make An Offer On This Tiffin Breeze
After you have reviewed this full post, please contact Tom through email if you are interested in buying this small Class A diesel motorhome!
This sale will go through a dealership. Details are below.
Video Highlights of Our 2017 Tiffin Breeze 31BR
In this video, we take you on a brief tour to point out upgrades and changes that have been made to this Breeze...
Video: 2017 Tiffin Breeze 31BR For Sale | Small Class A Diesel Motorhome
Upgrades and Extras On This 2017 Tiffin Breeze 31BR
4 Brand New House Batteries: US2200 XC2 by US Battery (Installed April 2021)
Tyron Safety Bands in the Front Tires
Magne Shade Windshield, Door, Side Cockpit Window Shades and Windshield Wiper Covers
2 160 Watt Zamp Solar Panels on the Roof (320 Watts Total)
Zamp Solar Charge Controller
2 Propane Quick Connects on Camping Side
Tow Car Air Brake Line and Connection
Custom Entry and Interior Step Rugs
Winegard Wi-Fi Extender
weBoost Cell Phone Booster
Winegard In-Motion Satellite Dish
Directv Satellite Receiver
4 Televisions (Front, Midship, Bedroom and Exterior)
2 Air Conditioners: Upgraded Low Profile 15K BTU AC with Heat Pump in Front, 13.5K BTU AC in Rear
Electric Fireplace
2 Ducted Propane Furnaces (Front and Rear)
Central Vacuum System With All Accessories
Whirlpool Residential Refrigerator/Freezer With Ice Maker
Brand New High Pointe Microwave/Convection Oven** (Installed by Tiffin in April 2021)
Brand New Kitchen Faucet with Sprayer (Installed April 2021)
Brand New Shower Head (Installed April 2021)
Brand New Water Pump (Installed April 2021)
Custom Wood Cutting Board Over 3 Burner Propane Cooktop
Interior Skylight Cover for Added Insulation
Reflectix-Style Insulation Installed in All Upper Cabinets
Roof Vent Covers Installed Over Both Vent Fans
New Filters for All Air Conditioner Return Vents
Paper Towel Holder Installed Below Upper Kitchen Cabinet
Upgraded LED Lighting With Extra Bulbs
Carefree Sunblocker To Extend Awning Shade
PowerPulse Battery Maintenance System on All Batteries
FlagPole Buddy Ladder Flag Pole Mount
Privacy Stained-Glass-Look Film Installed on Bath Window
** We are not using the new microwave/convection oven. We will leave it completely new for the next owner.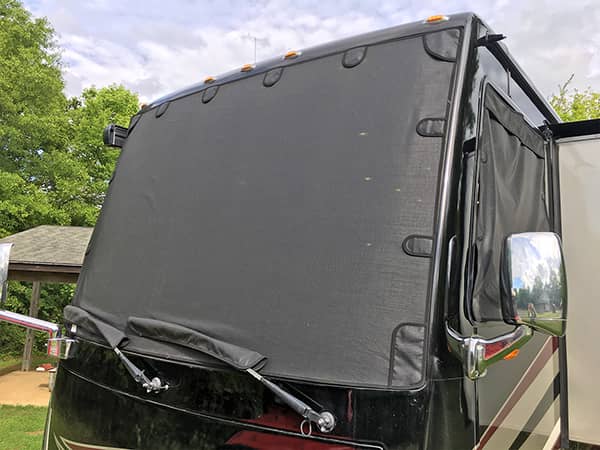 Magne Shade on Windshield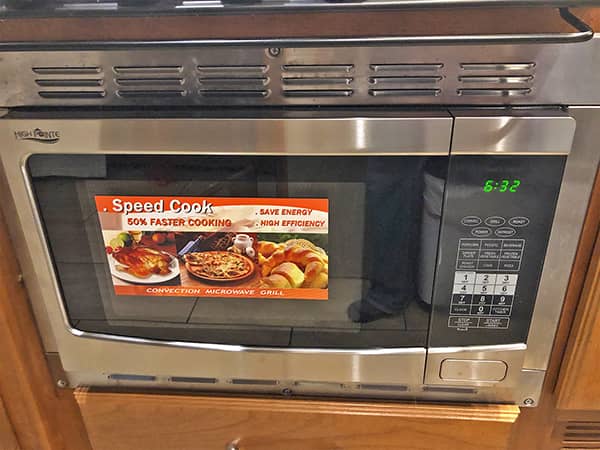 Brand New Microwave Convection Oven
More Features Of This 2017 Tiffin Breeze 31BR
Chassis: Tiffin PowerGlide
2 AGM Chassis Batteries
Diesel Engine: Cummins ISV5.0 275
Transmission: Allison 6-Speed Automatic
Tires: Michelin 265/70R19.5
Independent Front Suspension
Air Ride System
Full Air Brakes
Generator: Cummins Onan RV QD 6000
50Amp Electric Power
Kenwood Stereo (Satellite Radio Ready)
Surround Sound Speakers in Living Area
Multiplex Wiring
Rearview Camera
Sideview Cameras Activated by Turn Signals
External Tripod Satellite Hookup in Addition to Roof Mounted In-Motion Satellite Dish
Electric Awning With Cover and LED lights
Electric Door Awning With Cover
Slide Toppers On All 3 Slides
Exterior LED Porch Light and Door Light
Auto Entry and Step Lights
External 110 Plugs On Both Sides of Coach
Auto-On Storage Bay Lights
Black Tank Flush
Full House Water Filter
Solar and Privacy Shades Throughout
6-gallon DSI Gas/Electric Water Heater
Power Captains' Chairs
Power Foot Rest on Passenger Captain's Chair
Dual Cockpit Fans
Opposing Hydraulic Slides in Living Area
Booth Dinette Converts to Bed
Storage Under Both Booth Dinette Chairs
Sofa Converts to Queen Bed With Air Mattress (Air Mattress stores inside sofa.)
Double Bowl Stainless Steel Sink With Solid Surface Covers
Solid Surface Countertops
Full Tile Backsplash
Solid Wood Cabinets
Hinged Doors on All Upper Cabinets
Queen Bed With Memory Foam Mattress
Storage Under Bed
Nightstands on Both Sides of Walk-Around Bed
Slide in Bedroom
Full Rear Closet With Sliding Mirrored Doors and Auto Lights
Full Wood Pocket Doors in Bedroom and Bathroom
Seat in Shower
Sliding Glass Shower Door
Medicine Cabinet
6 Seat Belts (Captains' Chairs + 2 in Dinette and 2 in Sofa)
110 outlets and USB Outlets Throughout Coach
Ladder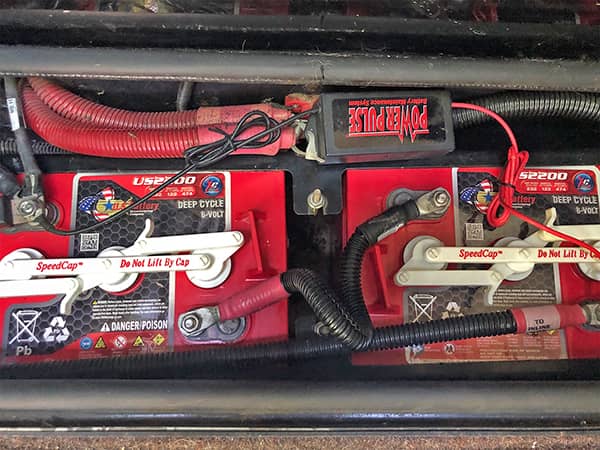 New House Batteries Installed April 2021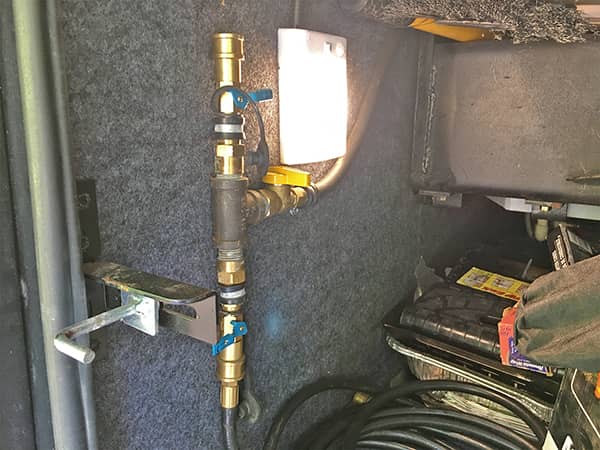 Dual Propane Quick Connects
2017 Tiffin Breeze 31BR Specifications
The height listed below is the height we were measured at. All other specs come from the 2017 Tiffin Breeze Brochure.
Length: 31'6"
Height: 11'7"
Width: 95"
Interior Height: 78"
Interior Width: 91"
GAWR* - Front: 9,500 lb
GAWR - Rear: 15,000 lb
GVWR*: 24,500 lb
GCWR*: 29,000 lb
CCC*: 3,573 lb
Towing Capacity: 4,500 lb
Wheel Base: 182"
Fuel Tank: 70 gallons
Fresh Water Tank: 70 gallons
Grey Water Tank: 55 gallons
Black Water Tank: 33 gallons
LPG Tank (Propane): 20 gallons
Basement Storage: Approx 79 cu ft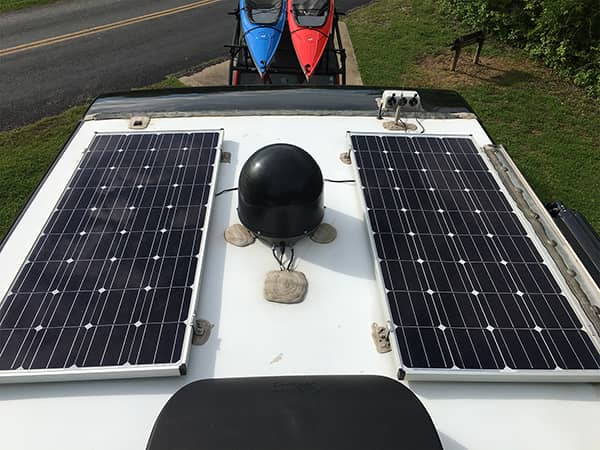 320 Watts of Solar on Roof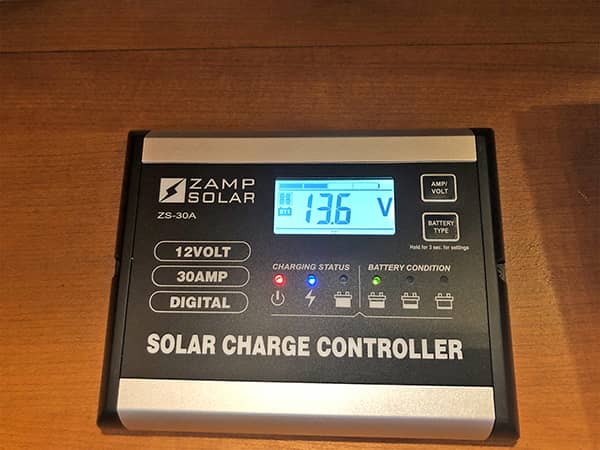 Zamp Solar Charge Controller
Recent Service and Maintenance On This 2017 Tiffin Breeze
Mileage As Of This Post: 22,835
Mileage At Last Full Engine Service: 22,058
Annual preventative maintenance was completed on the chassis, engine and generator in March 2021 by Bay Diesel in Red Bay, Alabama. Oil and fuel filters were changed at this time on both the engine and generator, along with grease/lube of the chassis and check of all fluid levels.
Touch up paint and other work was performed by the Tiffin Service Center in Red Bay, Alabama in April 2021. Everything that we knew that needed to be tweaked or repaired was done by Tiffin at that time.
How Much Is This 2017 Tiffin Breeze 31BR?
We are asking $169,500 or Best Offer. Please contact Tom via email with serious questions or if you are interested in purchasing this RV.
This Sale Will Go Through A Dealership
To make you and us more comfortable, this sale will be processed through National Indoor RV Center (NIRVC) in Lewisville, Texas just outside of Dallas. They will help us complete all of the paperwork associated with the transaction. They can also provide financing and will take trade-ins toward this purchase!
POTENTIAL BUYERS: Do NOT contact NIRVC about this coach. Please send all questions and offers to Tom via email. After we have worked out a potential deal, we will get the dealership involved.
We know there is going to be A LOT of interest in this motorhome. Please only contact us with serious inquiries at this time so that we can get back to everyone quickly. Thank you!
More Pictures of This 2017 Tiffin Breeze 31BR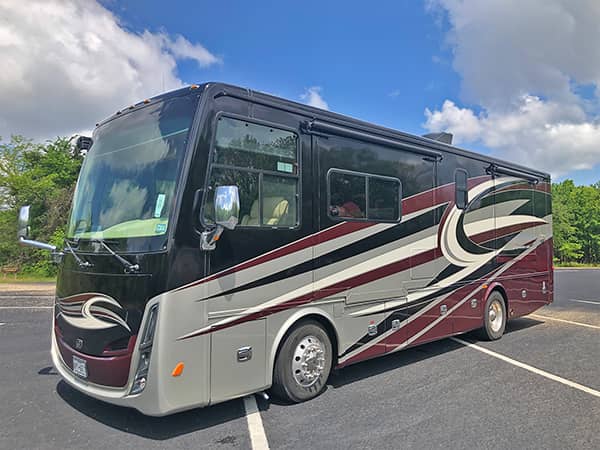 Driver Side of Breeze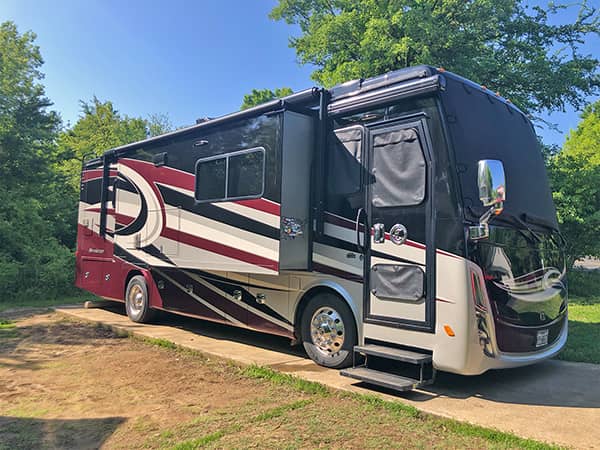 The Breeze Set Up for Camping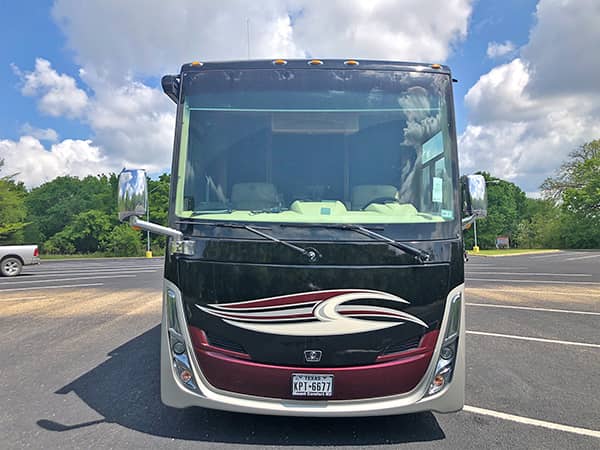 Front of Breeze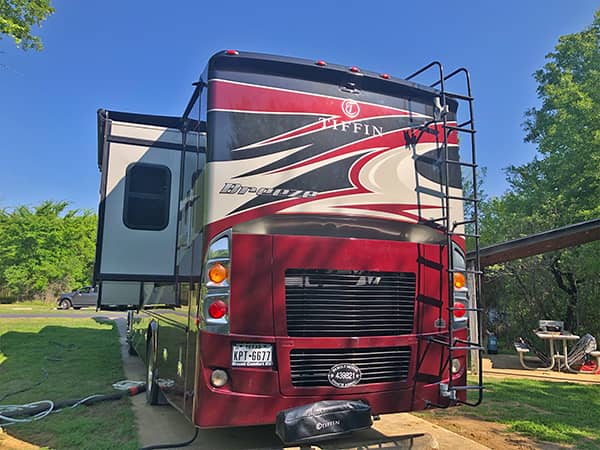 Rear of Breeze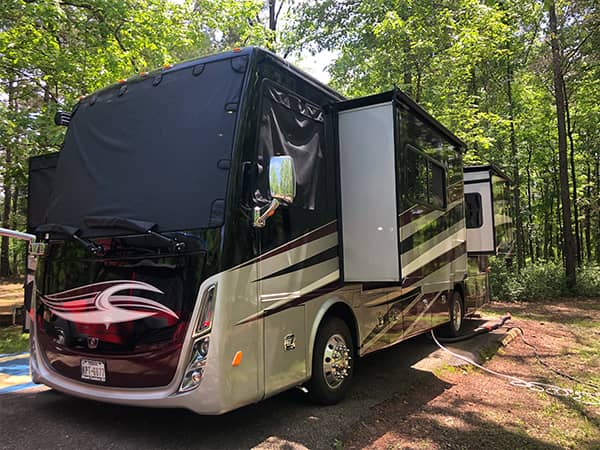 Driver Side With Slides Out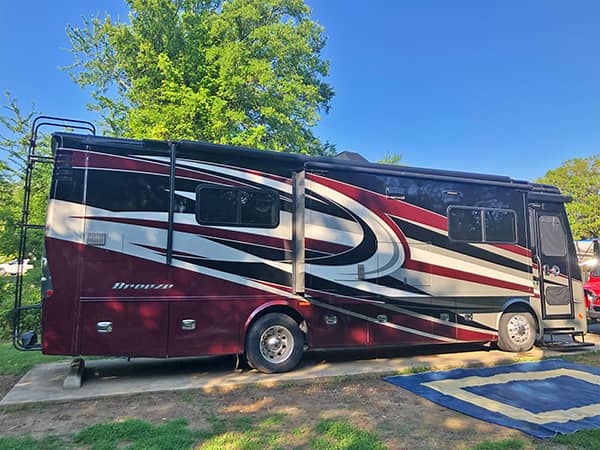 Full Side View of the Breeze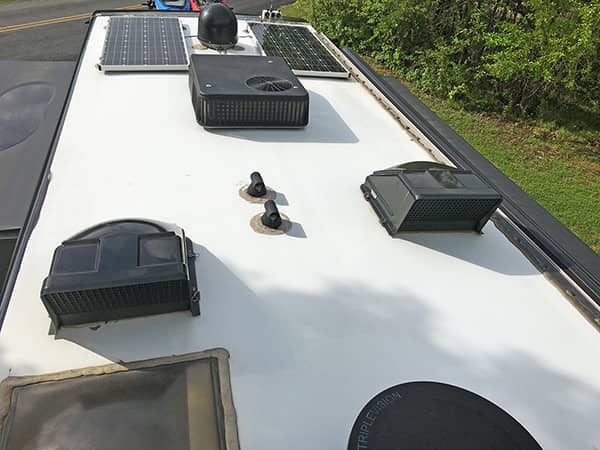 Roof of the Breeze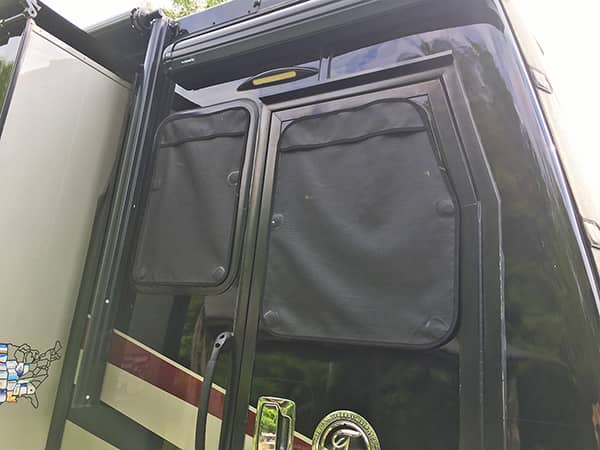 Magne Shades on Door and Passenger Side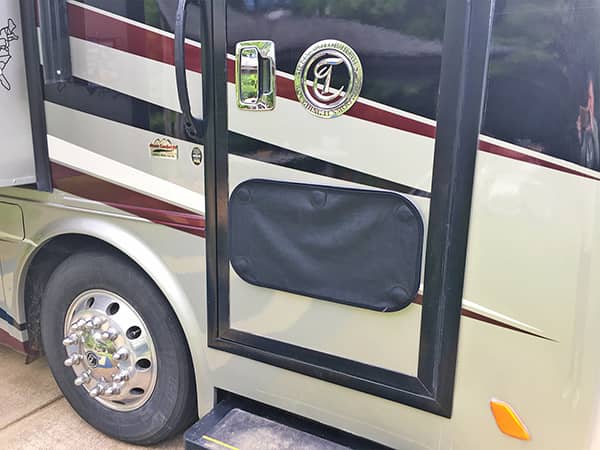 Pet Window Magne Shade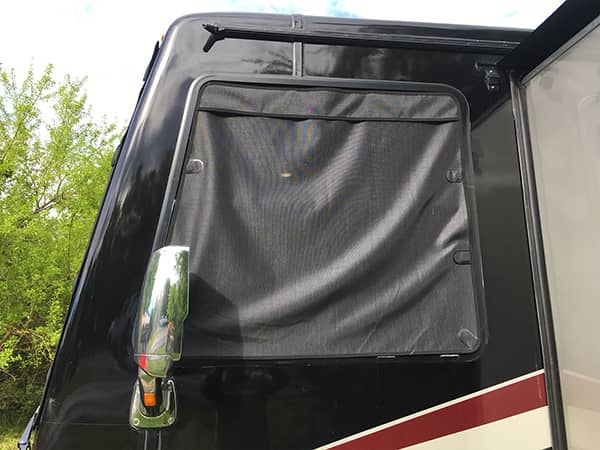 Driver Window Magne Shade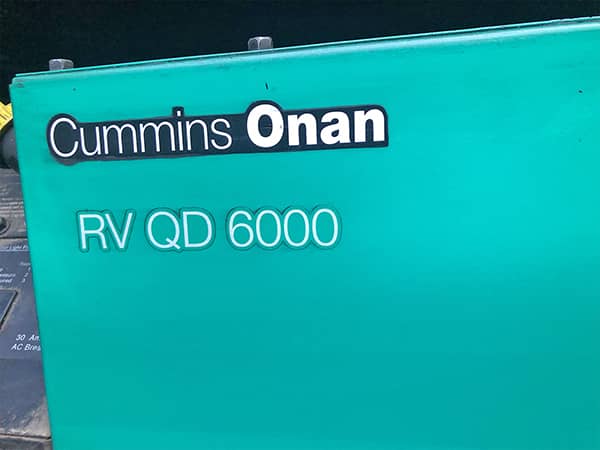 Cummins Onan Generator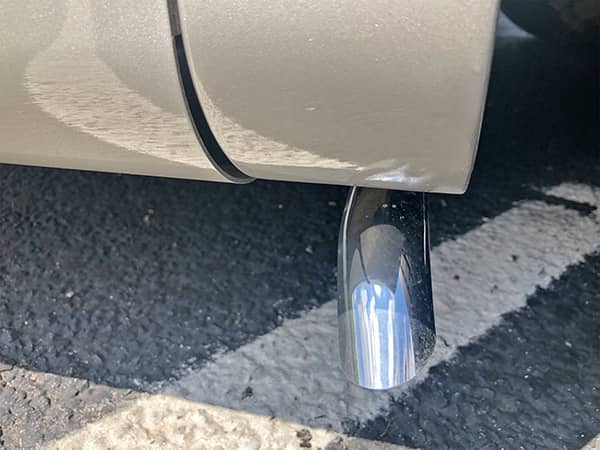 Generator Exhaust Pipe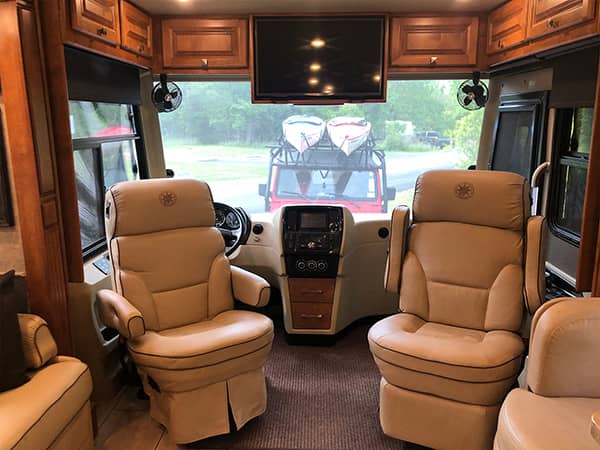 Captains Chairs and Custom Rug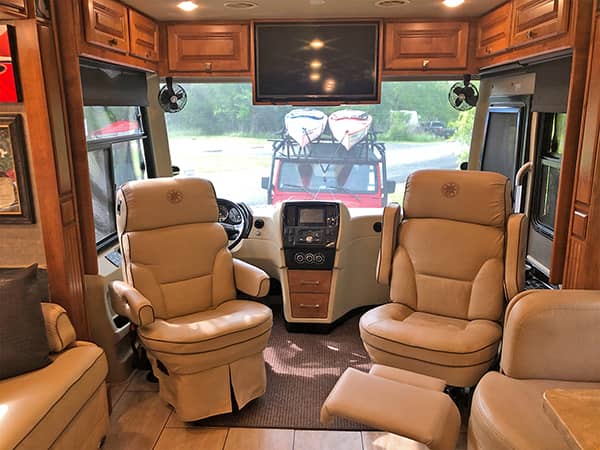 Passenger Seat Footrest
Sofa, Residential Fridge and Fireplace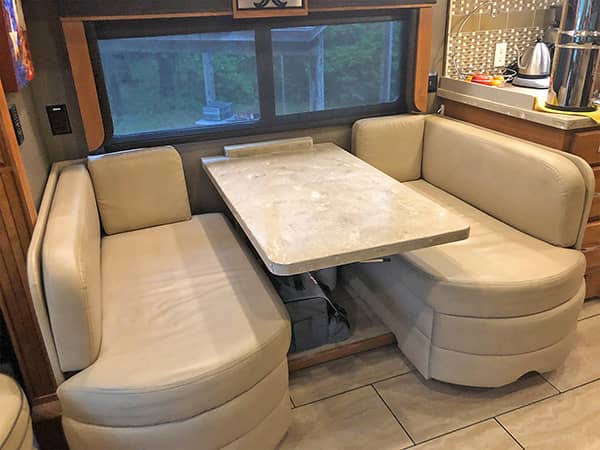 Booth Dinette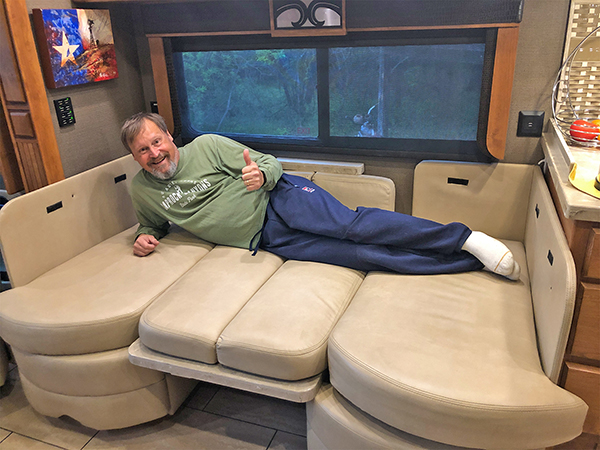 Dinette Converts to Bed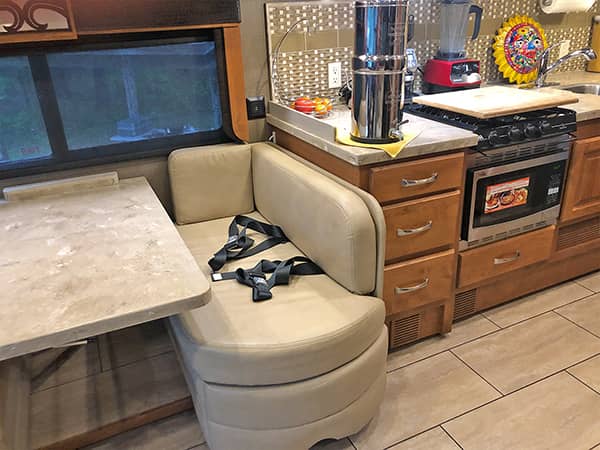 Seat Belts in Dinette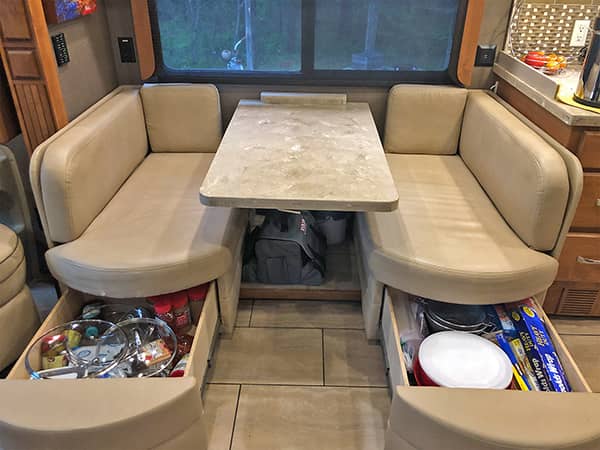 Storage Under Dinette Seats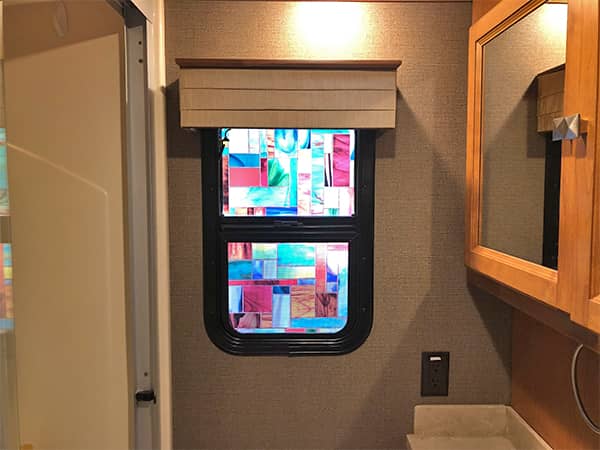 Privacy Window Film in Bath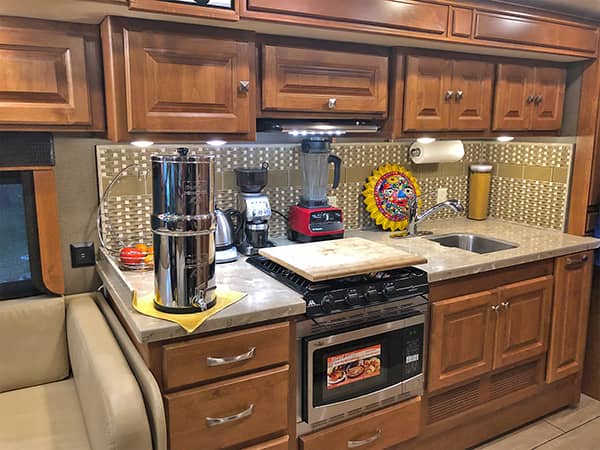 Kitchen in the Breeze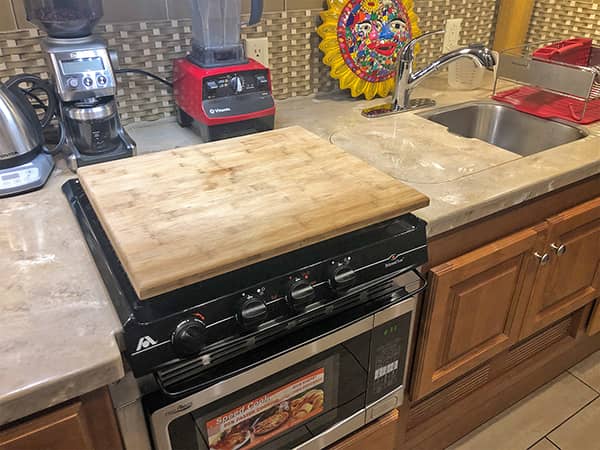 Custom Cutting Board Stove Topper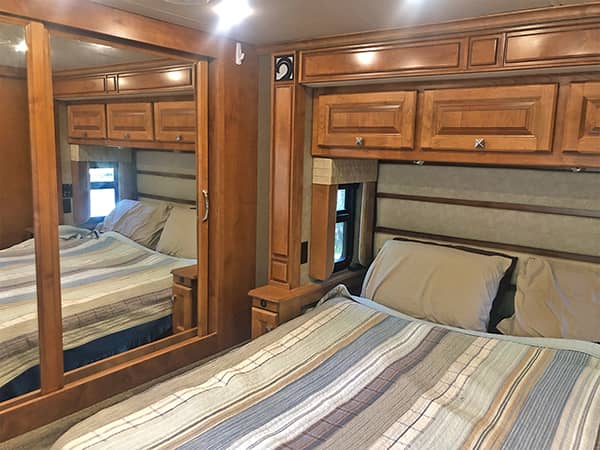 Breeze Bedroom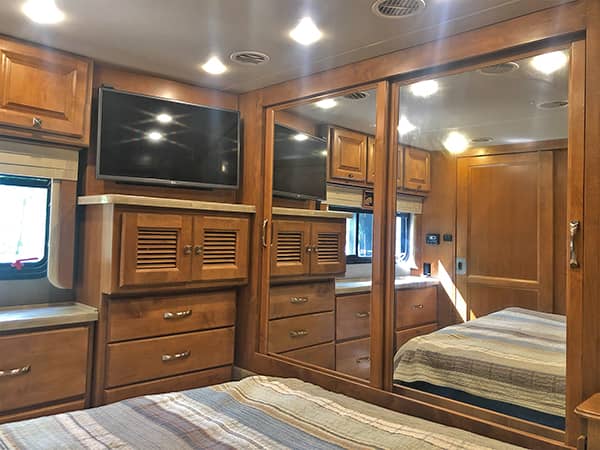 Full Wall Closet in Bedroom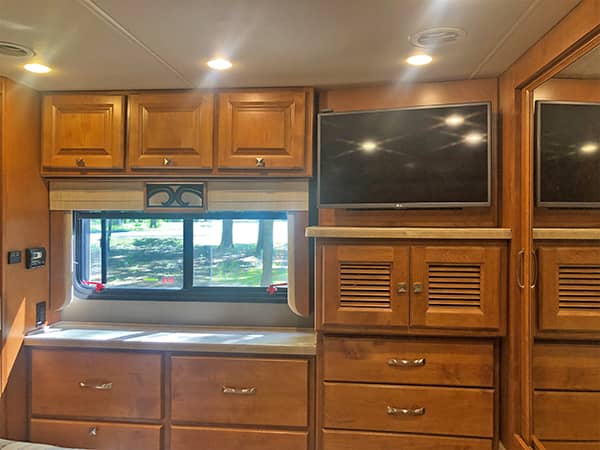 Breeze Bedroom Drawers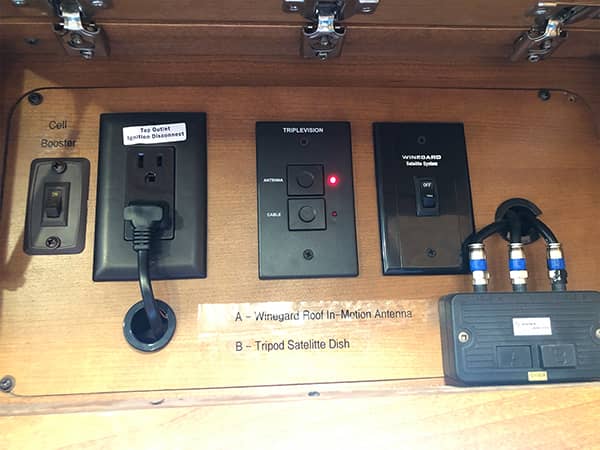 Booster, TV and Satellite Controls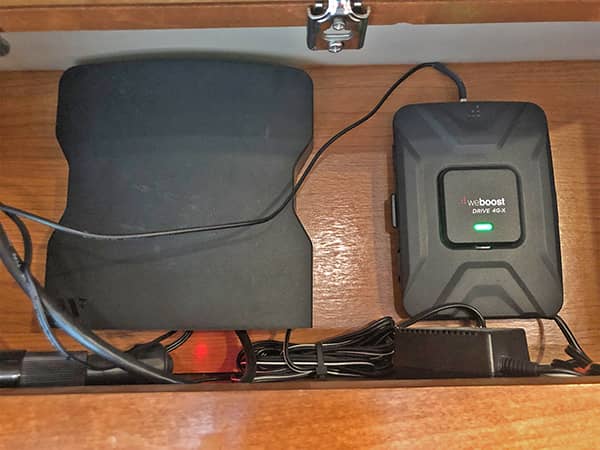 WiFi and Cell Phone Boosters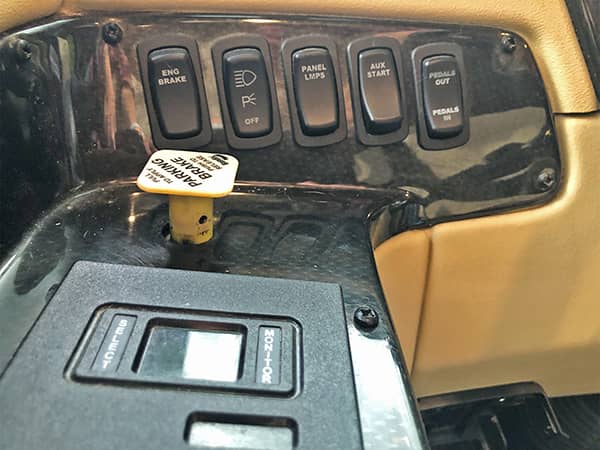 Breeze Cockpit Switches
Why We Chose This Breeze 3 Years Ago
When we bought this Breeze in 2018, we were looking for a small Class A Diesel Motorhome. The Tiffin Breeze 31BR was the SMALLEST Class A Diesel Pusher on the market at that time. (And we think that it still the case today.) We had heard great things about Tiffin customer service, as well.
This Tiffin Breeze is our 3rd Class A motorhome. We love Class A motorhomes because of the amazing views out of the big windshield as we travel our beautiful state and country. It's also a plus to be able to get to the bathroom or kitchen without putting out the slides while traveling.
We have loved our time with this Breeze. It's small size has given us a much wider selection of campsites than our friends in bigger RVs. The smaller length, shorter height and more narrow body make this Breeze very easy to manuever through state and national parks as well as all other types of campgrounds where RVs are welcome.
This Breeze has been very reliable and comfortable for us. It is all we hoped it would be and more.
As for the Tiffin customer service, in our experience it has been absolutely top notch. Tiffin technicians have been very helpful any time we have called with a question and we have been very happy with the service that we have received at the Tiffin Service Center in Red Bay, Alabama in 2020 and 2021.
We are not selling this Breeze because we don't like it. It's simply time for us to make a change. We expect this Breeze to be on the roads exploring for many more decades of adventure.
Full Walk-Through Video Of This Tiffin Breeze 31BR
We found this Tiffin Breeze on YouTube when the first owner traded it in. Here's the video that brought it to our attention. Chris Anderson did a great job of showing the coach nose to tail and with the slides in and out. If you'd like to see inside all of the storage compartments and cabinets with a full tour, check out this video from 2018...
More Videos and Posts Featuring This 2017 Tiffin Breeze 31BR
If you'd like to see more of the history of this motorhome, check out these posts...
All Of Our Posts On Our Tiffin Breeze 31BR
Annual RV Maintenance In Red Bay AL 2021
Our 2 Year Review of Our Tiffin Breeze
Our First Year Review of the Tiffin Breeze
Why We Bought Our Tiffin Breeze 31BR
This 31' Tiffin Allegro Breeze Gives A Lot of Camping Options!
During our 3 years of owning this RV, we have camped inside National Parks, State Parks, Forest Service Parks, River Authority Parks, County Parks, City Parks, RV Parks and on friends' property. We also Dry Camped/Boondocked for 28 out of 30 days. We were able to camp in several campsites that even our 35' friends couldn't fit into. We had no trouble maneuvering through the campgrounds. And the onboard solar, generator, propane and heated bay water tanks made camping without hookups stress-free.
How To Contact Us About This Motorhome
Please email Tom if you are interested in buying this awesome small Class A diesel motorhome!
*Notes
GAWR - Gross Axle Weight Rating
GVWR - Gross Vehicle Weight Rating
GCWR - Gross Combined Weight Rating (motorhome and tow vehicle)
CCC - Cargo Carrying Capacity
You can also see this listing on RV Trader