RV Texas Y'all Podcast Episode 008
Listen Here!
Audio: RV Texas Y'all Podcast, Ep 8
Published April 13, 2021
If you cannot see the audio player just above this sentence, click on this link to play the episode.
In This Episode
This week we talk about why we think Red Bay, Alabama is a special place for RVers. We've made Red Bay an annual stop for the past couple of years. This small town, founded in 1907, is full of good, honest, friendly and hard-working folks... many of whom are highly skilled at every type of work under the sun when it comes to motorhomes.
Red Bay AL is home to Tiffin Motorhomes and the Tiffin Motorhomes service center. So you will always see a ton of Tiffins, old and new around town. But, many of the vendors and RV service shops in and around Red Bay are happy to use their talents to work on, repair or improve just about any type of RV.
We share our thoughts on Red Bay and its people, where to stay when in town, where we like to eat, and fun things to do in the area.
In our Texas Tidbit this week, did you know that a Texas road trip can take you practically around the world? (and actually beyond!)
And in the ABCs of RVing: F is for Fresh Water Tank.
Mentioned In This Episode
Video: Tiffin Motorhomes Factory Tour 2019
Video: Tiffin Motorhomes Paint Factory Tour and Service 2019
Video: Unique Finds and Annual Diesel Maintenance 2019
Red Bay Downtown RV Park: 256.460.8108
Bay Diesel and Air Conditioning: 256.356.8803
RV Cleaning Service - Ricky Johnson: 256.668.0211
Service Providers in the Red Bay Area
Additional Tips for Visiting Red Bay, Alabama
The Tiffin Service Center is first come, first served. However, the other service vendors in the area set up appointments. To be sure you get any service work done (outside of Tiffin itself), it's best to schedule appointments several weeks, or even months, in advance.
The RV parks will accept drive-ins without reservations IF they have availability. Most folks having RV service done in Red Bay don't know for certain how long they will be in town. So again, it's best to check with the parks ahead of time and at least get your name on the waitlist.
As of this podcast, Tiffin RVs under one year from original date of purchase are eligible for full service in the Tiffin service bays and can stay at the service center if space is available. Tiffin RVs under 4 years old cannot stay at the Tiffin service center, but are eligible for full service. Tiffin RVs under 10 years old are eligible for a 3-hour Express Bay visit in the Tiffin service center.
All other RVs are free to use any of the service providers other than the official Tiffin service center.
All Tiffin owners have access to Tiffin customer laundry room located in the Tiffin service center campground. It has been very clean and well-maintained on our visits.
Tiffin recently opened 2 new customer service lounges on Main Street just across the street from the Red Bay Hotel. One is pet friendly.
Subscribe to the RV Texas Y'all Podcast!
Like what you hear? Subscribe to us on your favorite podcast network including: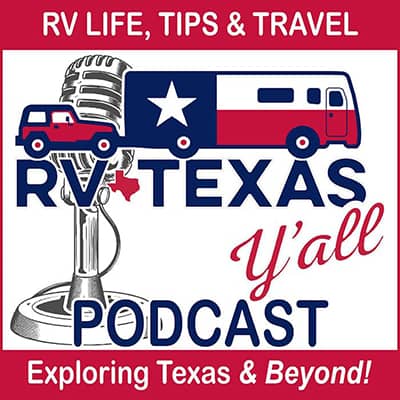 - Audible
- Breaker
- Deezer
- Pandora
- Spotify
- Stitcher
- TuneIn
If you enjoy our podcast, please leave us a review in your favorite podcast app and share our episodes with your friends and family!
Of course, you can always listen to any of our episodes right here on our website!
Subscribe to our Newsletter for weekly updates on new content and other interesting stuff!