Goliad, Texas - South Texas Region
Goliad State Park and Historic Site in Goliad, Texas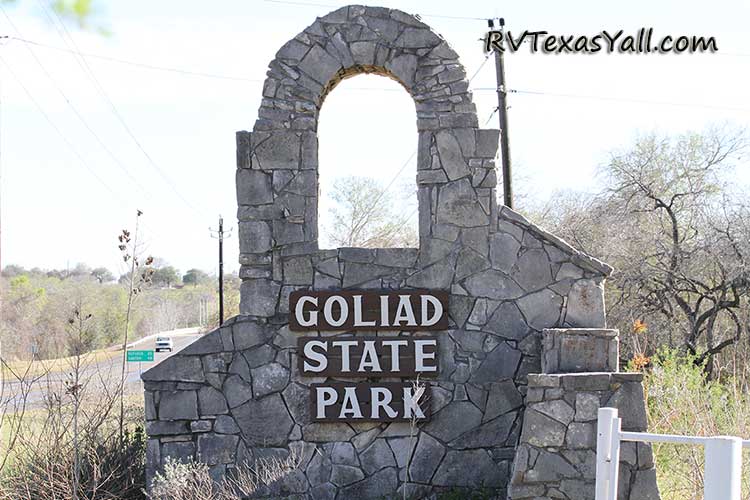 Entrance to Goliad State Park
Goliad State Park is located on Highway 77 just off of Interstate 59.  It's about 3 hours Southwest of Houston, 1.5 hours South of San Antonio, and a little more than an hour North of Corpus Christi. 
It is home to the Mission Nuestra Senora del Espiritu Santo de Zuniga (also known as Mission Espiritu Santo), a Spanish mission originally established in 1722 and moved to this location in 1749.  The mission operated until 1830.
At one time, the mission controlled 1Million acres of land on which they raised thousands of cattle.  The first major Texas cattle drive is thought to have started on this land.  After the mission closed, the property fell into neglect with much of its stone being taken for other construction projects.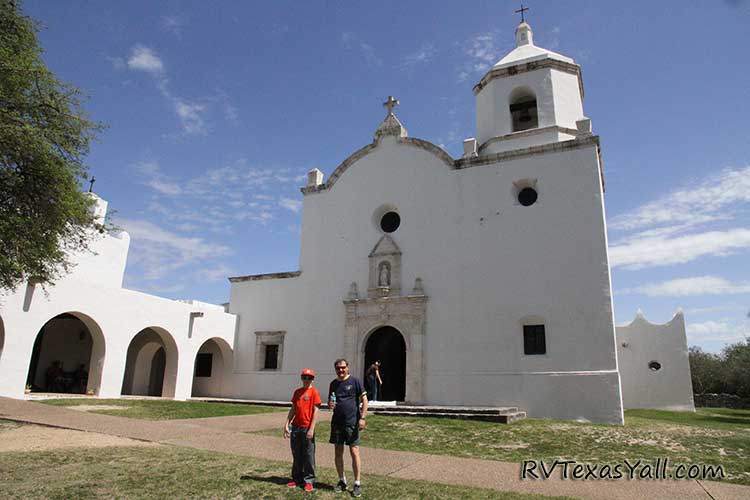 Mission Espiritu Santo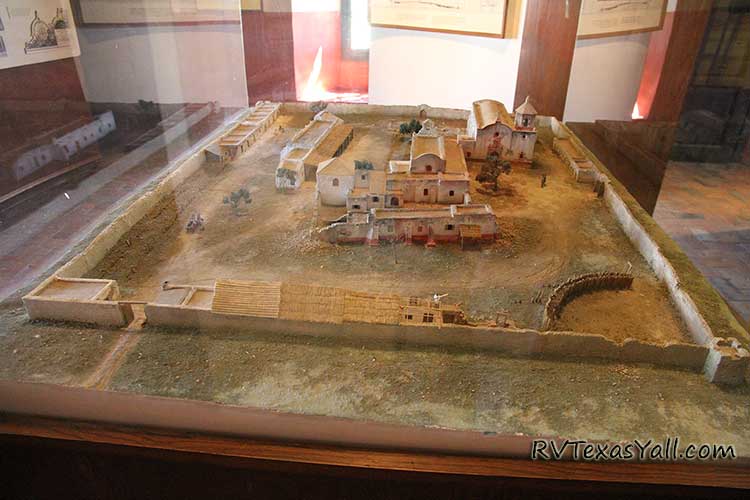 Museum Display at Goliad State Park
The mission grounds underwent major renovation by the Civilian Conservation Corps (CCC) from 1935 to 1941.  (Make sure you watch the Bonus Footage at the end of our Goliad State Park video above to learn more about the CCC and their impact on Texas State Parks!) Today, the mission houses a museum documenting the history of the property and the people who lived here.  Guided tours of the mission grounds are offered every Saturday and Sunday.  This tour is excellent!  Thank you to Beth, the historian who led our tour.  The museum and mission tour are free to anyone who is staying at or who has paid admission to Goliad State Park.  We also took a short hike from the mission down to the stone quarry and kiln to see where the building materials were gathered.
Just a short hike or bike ride away along a marked trail, you will find another Texas historical gem:  Presidio La Bahia, a Spanish fort established here in 1749 with Mission Espiritu Santo to prevent the encroachment of the English and French.
Other historical sites nearby:  the Fannin Battleground, the birthplace of General Ignacio Zaragoza (the hero of the Battle of Cinco de Mayo that led to Mexico's independence from France), and a statue of Senora Francita Alavez.  She is called the "Angel of Goliad" for her work to spare the lives of several of Fannin's men at Goliad.
The town of Goliad hosts Market Days on the second Saturday of every month.  We missed it on this trip, but other campers told us that they love Goliad's Market Days.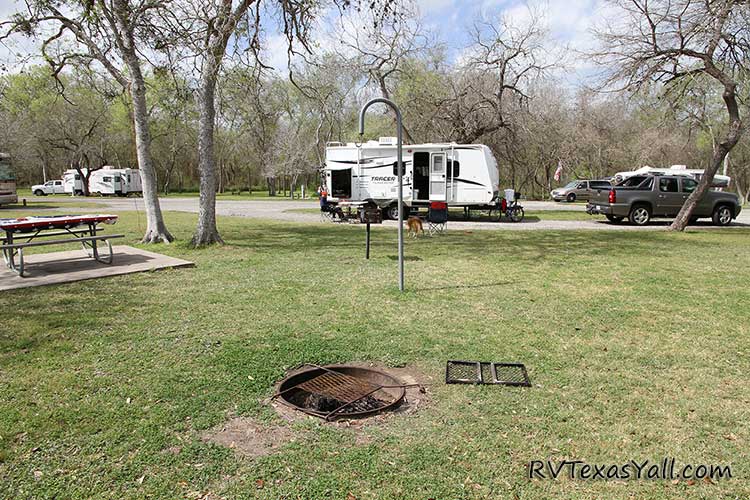 Our Campsite at Goliad State Park
As for camping, Goliad State Park offers 20 full-hookup (30 and 50 amp), pull-through RV sites.  They also have 5 screened shelters, 24 campsites with water and electricity, another 14 tent only sites with water, and a group dining hall.
Our campsite was huge and perfectly level.  It included a picnic table, lantern pole, fire ring and BBQ grill.  We were at the front of the park only a short walk from the mission as well as hiking / biking trails.
The park and the restroom facilities were always spotless.  The restroom facilities included handsoap at the sinks and a private dressing area for each shower. Many of our fellow RVers rate this as one of their favorite State Parks.
For you birders out there, the park is located along the Great Texas Coastal Birding Trail.  Water lovers will enjoy canoeing or kayaking on the San Antonio River.  And there is a small fishing area on the banks of the San Antonio River near the back of the park.  Forgot your fishing gear?  No problem!  Goliad State Park participates in the Tackle Loaner Program.
We'd like to thank all of the rangers and volunteers who made our first trip to Goliad State Park and Historic Site so memorable.  This certainly will not be our last visit!  We spent 3 nights and still have things we want to see and do in the future.  Everyone was extremely friendly, helpful and knowledgeable about the rich history of the area.  I'd like to send a special "Thank You" to Angela, Samantha and Park Host Ted for their time.
If you would like to make a donation to help fund maintenance and improvements or volunteer your time, please contact The Amigos of Goliad State Park at 361.645.3405 or write to them at PO Box 935, Goliad TX 77963.  Anyone can become a member, and individual memberships are only $10.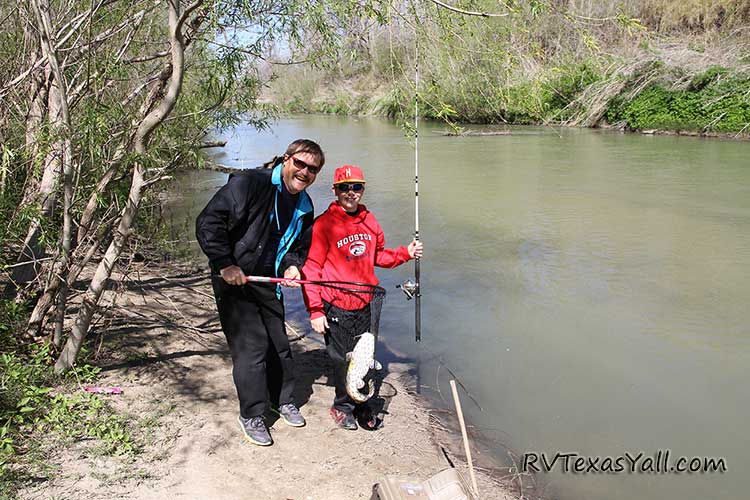 Fishing in the San Antonio River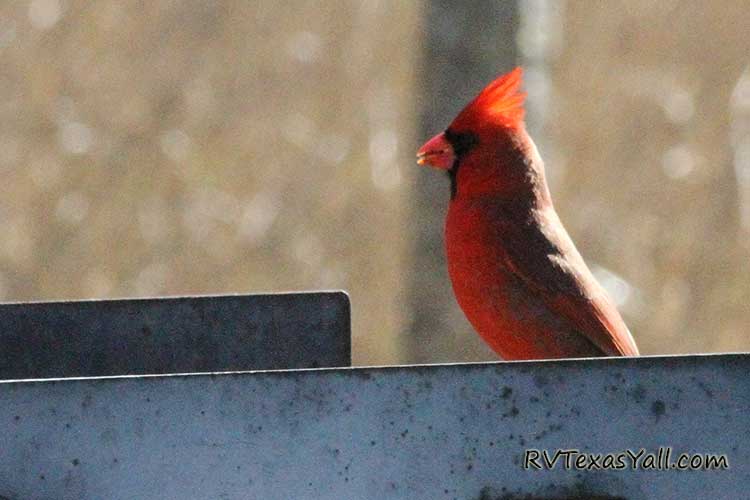 Bird Watching
UPDATE: We just returned from another fantastic trip to Goliad. On this trip, we also took in more in the town of Goliad. Goliad State Park and Historic Site is just outside of the city limits of Goliad. The historic town square offers an art gallery, a bakery, several restaurants, the Goliad County History Museum and the county courthouse. Since we visited during the first weekend in December, we enjoyed taking in the Christmas in Goliad celebration.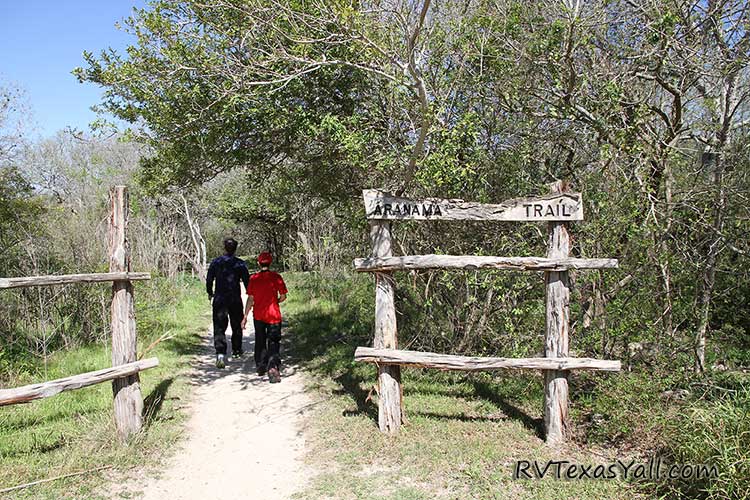 Hiking to the Old Stone Quarry
We saw a lot of rain during this visit to Goliad, but the RV loops, mission area and day use areas took the rain very well. The tent camping areas are on lower ground than the rest of the park as they sit right on the river. I'd watch the rain forecast closely if I were tent camping, but for RVing, the park held up great in the rain!
After two visits here, Goliad has become one of our favorite Texas State Parks. Until next time, we'll remember Goliad!
ALSO IN THE AREA: More Campgrounds in South Texas
IF YOU LIKE THIS POST, CHECK OUT: Our Other Texas Campground Write-Ups
Subscribe To Our Newsletter to stay connected and receive an email with our latest posts and updates!
Tell Us What You Think! Alrighty you've heard what we think, now we want to hear about your experiences. Please share your pictures and comments in the RV Texas Y'all Community on Facebook or in the RV Texas Y'all Community on RVillage. Not a member of one of our communities yet? We'd love for you to participate! And, of course, they are absolutely FREE! Join us to share your experiences and interact with others folks in the RV Texas Y'all communities. Want more info? Learn more about our Facebook Group!
Safe Travels and Happy Camping!