Tips on Buying an RV
RV Buying Tips: What to Look For When You're Buying an RV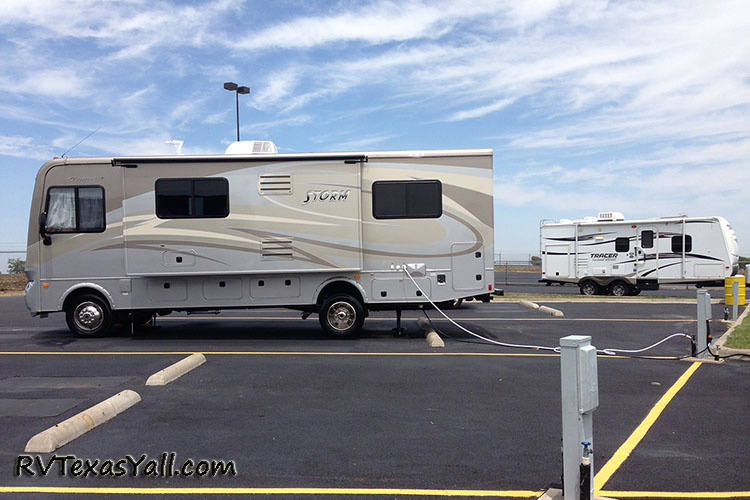 Shopping for a recreational vehicle can be an adventure all its own. There are no across the board right or wrong choices and there are a lot of things to consider. For a brief description of the varieties of RVs that are available, take a look at our Types of RVs page. And here are a few buying tips to help you with the process...
Take a head count.
Think about the number of people that will be sleeping in your RV. Someone who travels alone will have very different needs from a big family or group of friends that camp together. Make sure that the unit you are considering has a suitable bed for each person. Sometimes RV beds are shorter than the beds you have at home. Don't be afraid to lay down in the RV to make sure the beds fit your group comfortably.
Stand in the shower.
This might sound strange, but a big plus of owning an RV is the convenience that it brings. Most RVs have some type of shower in them, some very small, others quite spacious. Stand in the shower and close the shower door (or pull the curtain) to make sure that you are comfortable with the size.
Sit on the toilet.
This may sound even more odd than standing in the shower, but the bathrooms in some RVs are very small. What good is having a toilet if you can't use it? So while you are touring the RV, walk into the bathroom, close the door and sit on the toilet to make sure that the space is suitable for you. (Thanks to Melany S. for submitting this tip on
our Facebook page
.)
Pay close attention to the yellow sticker.
Every RV has a yellow sticker posted on it somewhere (it might be outside, on the inside of the cabin door or inside near the driver in the case of a motorized unit). This yellow sticker lets you know exactly how much the unit weighs on its own and how much weight it can carry. Be sure to factor in the weight of water in the tanks and propane. You should always make sure that the total weight of your RV never surpasses what it is safely rated to handle. Don't assume that a larger RV can carry more weight. Sometimes the opposite is true... the weight of the unit itself may be pushing the limits of what it can safely support. There are many ways to weigh your RV to make sure that you are safe and your weight is distributed properly.
If you are buying a pull-behind trailer or a fifth-wheel...
Make sure that your truck has more than ample towing capacity to pull your RV when fully loaded. Any wind or hills you drive through will make towing more difficult, so make sure that you don't overtax your engine.
Don't always take the salesman's word for it.
RV salesmen usually sell a wide variety of recreational vehicles -- all of which are completely different from one another. It can be incredibly challenging to learn every detail about every unit and all of the constant changes and updates made by all of the manufacturers. As you begin to narrow your choices, make sure you do your own research to confirm details about the units you are interested in, including weight limits and towing requirements.
Study the storage spaces.
When comparing similar units, consider the storage areas (both inside and outside). Where will you keep your clothes, towels, food, kitchenwares, cookware, cleaning supplies, outdoor cooking equipment, chairs, etc. Some folks travel lighter than others, so make sure that the available storage meets your needs. And if you plan to cook, make sure that the rig you are looking at has a pantry. We are amazed how many units we have seen that do not have storage space even closely resembling a pantry! This is even true in some large, very high end, expensive motorhomes. Never assume.
Practice making the bed.
The placement of the bed in some RVs can be space saving. But that creative location might make the bed a real pain to put sheets on or get in and out of, for that matter. Paying attention to this before you buy might save you a lot of frustration later. (Thanks to Melany S. for submitting this tip on
our Facebook page
.)
Go inside with the slides in and with the slides out.
Some RVs that feel amazing when the slides are out, leave a completely different impression when you see them with the slides in. Of course, there will be less space and some things will be more difficult (if not impossible) to access, but it's important to know exactly what you will be dealing with in a given unit. How easy is it to access the important storage areas? How easy will it be to load and unload with the slides in? If you are looking at motorized units, will you be able to access other parts of the RV while you are on the road?
Look out the windows.
Windows are one of the first things we notice when looking at an RV. We, personally, look for large windows that let in a lot of light (and breezes when opened). We are always surprised by how many RVs build prominent windows on the road side (which would look at your hookups, the street, or your neighbor depending on where you are camping). We prefer RVs that also have large windows looking into our own campsite. Having windows on both sides improves the view, lets in more light and provides a cross breeze when the windows are open, meaning we use the air conditioner a lot less in the spring and fall.
Count the seatbelts.
If you are looking at motorized RVs, pay attention to how many seatbelts are included and where they are located. We know it sounds crazy but, just because a motorhome can sleep 6 people, doesn't mean that it comes with seatbelts for 6 people. Often, the number of seatbelts will be two or four, regardless of the number of sleeping areas. Where are the seatbelts located? Some manufacturers will include seatbelts on the forward facing booth dinette seat, but not the rear facing dinette seat, for example. What type of view will your passengers have? What type of view will you have of them (do the slide walls block the view between the cockpit and the living area)? If your passengers are prone to carsickness, where would they ride?
Do your research.
It's easy to get caught up in the excitement of purchasing an RV. But, this is a big purchase. Before you buy, make sure you do your research. Compare similar models. Visit local dealerships (or maybe take a roadtrip to visit a few a short drive away). Check out RV forums to see what folks are saying about those units online. Make sure that you are happy with the unit you are selecting and the deal you are getting.
Think about renting first.
While we love RVing, camping "ain't for everybody". If you have never camped or traveled in an RV before, you may want to make sure that you will enjoy the lifestyle. The best way to do that? Rent one! Try it out. See if you and your family will actually use it. If not... you're basically paying for an awful lot of unused hotel room stays each month. Check out our
RV Rentals section
for a list of RV rental companies in Texas. (Thanks to Ryan A. for submitting this tip on
our Facebook page
.)
Consider visiting an RV Show.
RV Shows are a great way to compare manufacturers, models and dealers. Look at different types of RVs, take tours, sit inside, open cabinets, look at the quality, ask questions, and visit with other RVers. We discovered our first RV (a PrimeTime Tracer Travel Trailer) at the Houston RV Show, went home, researched it, stopped back in at the dealer to have another look and ask questions, and then jumped into the world of RV ownership. Prior to that RV Show, we didn't know that unit even existed! For a list of RV Shows, check out our
Texas RV Shows
page.
Expect Changes
It is common practice for RV manufacturers to make changes to optional and standard equipment during the course of a model year. So, even when comparing the same model RV by the same manufacturer in the same model year, study the details. There may be differences that are important to you.
Understand pricing.
Standard practice in the RV industry is to discount from the MSRP. Some dealers list only MSRP on their websites, others list a sales price showing a discount. Don't be afraid to ask the dealership about the actual sales price. Don't make your decisions based solely on the posted MSRP.
Check the batteries.
Towable RVs will come equipped with house batteries (or battery depending on the size of the unit). Motorized units will have house and chassis batteries. Some RVs sit on lots for a long time before being purchased. It doesn't necessarily mean that there is anything wrong with that unit, maybe it hadn't been discovered by the right person yet. However, sitting on a lot for months and being shown to potential buyers might mean that by the time you discover this little gem its batteries need help. RV batteries need to be checked and most need to have water added to them regularly. Failure to do so will result in a substantially shortened battery life. Always make sure to have the batteries fully tested prior to finalizing your purchase.
Run the air conditioner.
We do live in Texas, which means that we have the luxury of being able to camp all year long. But it also means that we have Texas summers. An air conditioner is considered a must have by most folks who RV here. But all RV ACs are not created equal. Some can be very noisy and may not cool the unit as much as you'd like. So when you are comparing rigs, don't forget to check out the ACs. (Thanks to Melany S. for submitting this tip on
our Facebook page
.)
Ask questions.
Don't be afraid to ask questions. Have the salesman or a dealer technician not just tell you, but actually show you how everything works. As part of the buying experience, the dealership will walk you through your unit. Consider taping the walk through with your phone so you can refer back to it in the future. If the tech forgets to explain something, ask them about it. They want you to feel confident in your purchase and will likely be happy to explain and demonstrate.
Be patient.
You are buying a house on wheels, not an automobile. RVs are very complicated and have unique needs. Many RV dealers don't fix issues on a unit until that unit is sold, so "make ready" may take several days after your purchase. Don't expect to just drive in, pick out the perfect rig, sign on the dotted line and drive off into the camping sunset. A little extra time spent when you purchase, can save camping time later. During your buying walk through, go through the unit very carefully, open every cabinet, push every button. Make a list of anything that needs attention so the dealer can fix it for you before you take delivery.
Take a "Shake Down Cruise".
As soon as possible after taking delivery of your new RV, take it camping at a park near your home. Try everything out on this trip. Make sure you understand how to use everything and what every button does. Make a note of any questions or issues to report to your dealer so they can make the necessary adjustments for you.
Enjoy!
RVing is about relaxing! Now that you've got the RV that's right for you, get out there and enjoy the great outdoors! And if you'd like a little bit more advice on things to consider while you are shopping for RVs, take a look at our
More RV Buying Tips
post!